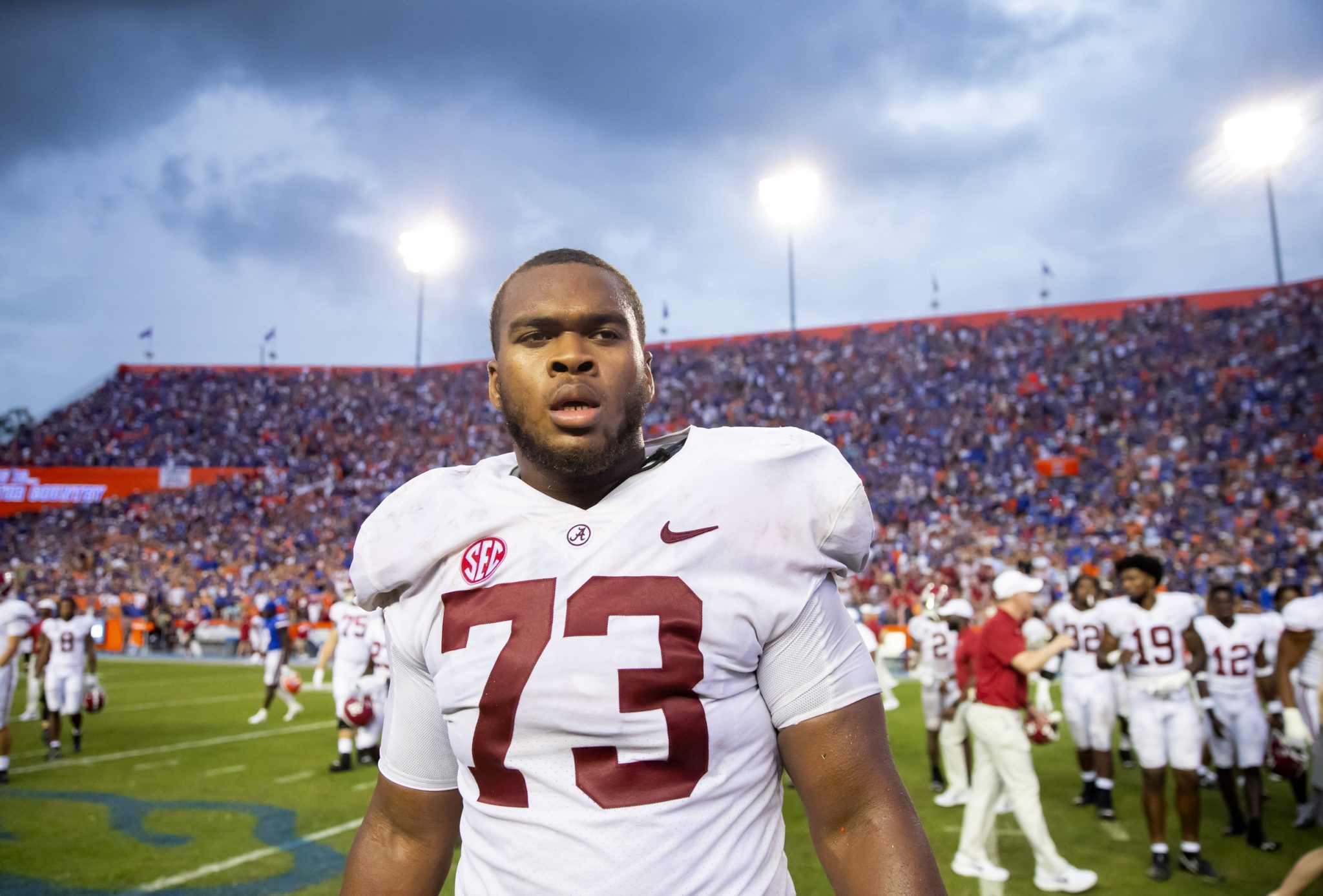 SEC
Something worth remembering with players sitting out at the NFL Combine
I'm guilty as charged.
When I saw that the likes of Derek Stingley Jr., Evan Neal and Matt Corral were all sitting out of drills at this week's NFL Combine, I fired off a snarky tweet that more or less had a "kids these days" stench to it.
And I'll be honest, that stench was fair because the tweet stunk (check out that interaction):
I am also skipping the combine and will instead just work out in my garage.

— Connor O'Gara (@cjogara) February 28, 2022
Besides humor, what that tweet failed to capture was something that I admittedly forget whenever I have a knee-jerk reaction to a player sitting out of the NFL Combine.
Players at this level are seen more than ever. They're picked apart in ways that I don't even fully fathom.
We've now got a website like Pro Football Focus, which grades every player on every play. You can watch or stream essentially any college football you want. If you want to take it a step further, you can pay to have access of the "All-22," which plenty of people with large social media followings do. You can pause and rewind live television and break down when a left tackle gets steamrolled by the edge rusher, make a clip and fire it off on Twitter. Lord knows #DraftTwitter "experts" spend fall Saturdays doing that instead of rooting for specific teams.
So no, I probably shouldn't make a snarky comment upon hearing that someone doesn't want to compete in the underwear Olympics.
You might say that comment has the stench of "everyone these days wants a participation trophy." I'm actually not saying that. There's give and take. Because of the way in which the sport is consumed, rookie minimum contracts have grown exponentially in the last decade. We're no longer living in a time in which NFL players need offseason jobs. Progress, that is. Throw in the new world of Name, Image and Likeness (NIL) and there's no question that today's football world is far more lucrative than any that preceded it.
Still, no amount of money can change the fact that being picked apart can weigh heavily on anyone. Never mind the fact that everyone at the NFL Combine is in the 99.9 percentile of the sport. Most of us who criticize those individuals (myself included) will clap back at the first person who tweets something snarky at us.
Imagine if Arch Manning acted like that. We'd all react to his reactions. He won't because he's not on social media except for an extremely private Instagram account, but you get the point.
Speaking of the most famous football legacy on the planet right now, if you had an internet connection, you could watch all of his games during his junior season of high school. Sometimes, you could see them on a national audience on NBC Sports Network or ESPN. Go search "Arch Manning" under the video tabs on Twitter and you can find no shortage of actual game clips like this:
*Opens 2026 NFL draft doc…*

Arch Manning, y'all pic.twitter.com/DBs2Civ72U

— Matt Miller (@nfldraftscout) October 3, 2020
When uncle Peyton Manning was at Tennessee, about half of his games in his first 2 years were either pay-per-view or on regional RayCom Sports. Shoot, a couple of his games weren't on TV at all.
If you were alive when Herschel Walker burst onto the scene, surely you remember him becoming appointment viewing. The only problem? His first game on TV wasn't until Game No. 7 when he had that legendary showdown against eventual Heisman Trophy winner George Rogers. In his entire college career, Walker had 11 games broadcast on national TV. Arch Manning will have more games available to a national audience in his senior year of high school.
I'm not breaking any news by saying times have changed, and so have the way in which we consumed these athletes. Yeah, it's a bummer when a guy says he's sitting out the NFL Combine or a bowl game. Sure, it's not like it used to be. The NFL Combine still serves a purpose, but it's no longer the same "ultimate job interview" it once was because of how seen college athletes are.
And to be clear, that's a good thing. More exposure grows the sport. My sleep schedule might not agree with me watching Oregon-Washington State at 2 in the morning after a long college football Saturday, but if it means watching a potential first-round skill player, why wouldn't I want to check that out?
We now have that luxury in ways that I'm not totally sure we all understand.
Now don't get it twisted. Are there instances in which a player makes a misguided choice to sit out one of those events and they fail to cash in on a prime opportunity to help themselves AND their team? Sure. As long as players aren't under contract, I expect that'll continue to happen. It'll never not be frustrating.
For plenty of athletes at the NFL Combine, exposure is a good thing. They need more of it, or at the very least, they need a side-by-side to perhaps combat some of the doubts evaluators had watching them in games. Hence, why they're doing everything.
Then again, think about someone like Stingley. He was targeted only 35 times the last 2 years as he dealt with injuries and, well, being someone was at the top of every scouting report by the end of his true freshman season. Some might've wanted to see a healthy Stingley offer up some 2019 flashbacks in Indianapolis. But despite the frustrating 2 years, think of how much his play has been dissected — much was made about his struggles in the 2020 Mizzou game — even going back to his high school days as a 5-star recruit and a household name in the state of Louisiana before he ever stepped on LSU's campus.
That's why there seems to be a bit of pushback with the combine and players sitting out. In theory, it should have less significance than ever. We now have more ways to watch players than ever. They're scrutinized in ways that couldn't have happened pre-social media, pre-TV rights boom and pre-draft coverage explosion. If you're expected to be a top pick like Neal, what do you really have to gain by competing in 1 more test of your physical abilities? Haven't you shown enough?
That's not to say the Combine totally lacks significance. It is still a job interview. Showing up in terrible shape will still take a hit to the bank account, as will bombing interviews OR doing so well in interviews that teams start creating smoke screens in an effort to get a player later in the draft. That's not changing anytime soon.
But the next time you see a player sit out of drill and you roll your eyes or fire off a snarky tweet as bad as mine, remember that the game has changed.
It's probably about time that we changed with it.