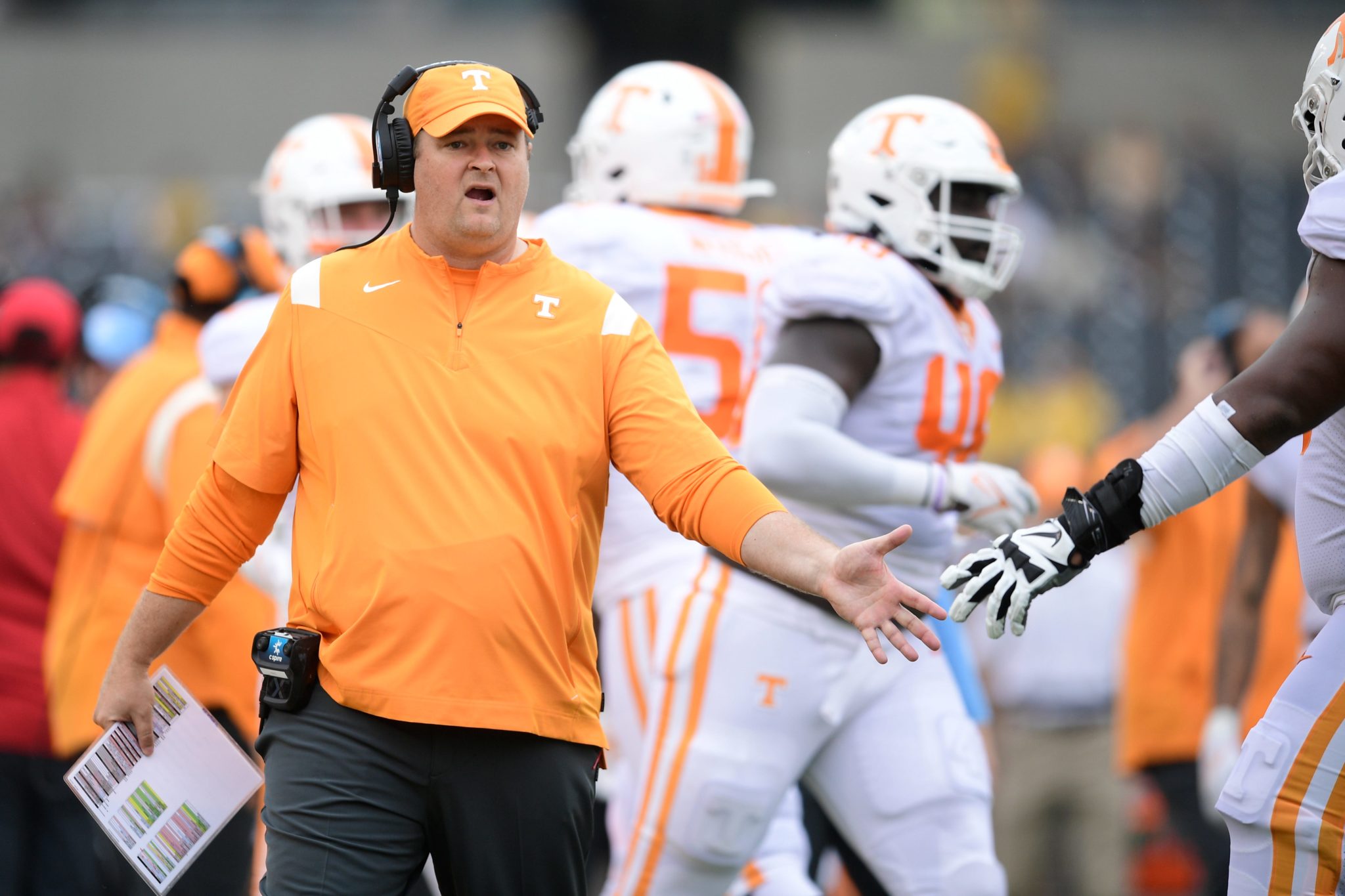 SEC
Monday Down South: Sometime soon, Josh Heupel is going to turn around Tennessee's rivalry woes
Weekly takeaways, trends and technicalities from the weekend's action. Note that usual Monday Down South columnist Matt Hinton is away this week, so SDS Senior National Columnist Connor O'Gara is pinch-hitting.
In a smoke-filled haze of Bryant-Denny Stadium, surely there were Tennessee fans who put their heads down and thought "same ole, same ole." For the 15th consecutive meeting, Nick Saban beat the Vols. The story the box score told was that for the 6th consecutive year, Alabama won by at least 3 scores. To the casual observer ready to make Tennessee jokes, The Third Saturday in October again proved to be a house of horrors ahead of Halloween.
But dare I say, Josh Heupel is much closer to ending that terrifying ritual than what 52-24 would've indicated.
For a brief moment in time, Tennessee fans had hope that their team was about to take over in the 4th quarter with a chance to tie the game in Tuscaloosa. Ironic, it was, that a Bryce Young fumble on the goal line sparked that feeling when just a short 2 years ago, Jarrett Guarantano's rogue goal-line keeper and fumble yielded perhaps the only thing resembling a "what if" in the Alabama-Tennessee rivalry in recent memory. Of course, unlike Guarantano's fumble that was returned for 6, Young's fumble didn't result in the game-changing play that the Vols needed to make it a 60-minute game.
That's coming, though. Soon.
And for what it's worth, that's not just a "Tennessee against Alabama" thing. That's a "Tennessee against its big 3 rivals" thing. Since 2010, the Vols are 3-32 against Alabama, Florida and Georgia. The last win came 5 years ago in the famous "Dobbs-Nail Boot" game against Georgia. That's 15 consecutive losses, only 1 of which was decided by single digits (the Feleipe Franks Hail Mary in 2017).
So why now? And what makes this different than the time Jeremy Pruitt cried after watching his team *only* lose to Georgia by 26 points in 2018?
Great question. In a word, scheme.
Scheme is the reason Heupel's upside — at least within the confines of a 60-minute game — is vastly different than any we saw under Pruitt, Butch Jones or Derek Dooley. An Alabama fan watching Saturday night's game would tell you that it was self-inflicted mistakes. Actually, that's what Saban said. He's not wrong about that.
But think about this: The Tide had not 1, not 2, but 3 separate coverage busts in the secondary and Tennessee capitalized. With all due respect to Guarantano, he wasn't ever the guy who could truly make you pay; he was the guy you waited for to make a back-breaking mistake.
Let's look at that last touchdown that Tennessee scored to make it a 1-score game. Josh Jobe was clearly not ready for the snap. That's all Cedric Tillman needed to get behind him, and Hooker, who is a capable deep-ball passer, recognized that and hit him in stride for 6.
.@Vol_Football is keeping it close 👀 pic.twitter.com/aibsTbG82W

— SEC Network (@SECNetwork) October 24, 2021
What forces that? It's having an offense that plays with tempo and can occasionally catch a defensive back on his heels. It's having an offense that actually emphasizes downfield passing instead of throwing in front of the sticks every single 3rd down like the previous regime insisted on doing. It's having a quarterback who legitimately does multiple things well and fits the description of "dual threat."
Now remember that Tennessee was without its best offensive linemen (Cade Mays and Cooper Mays), it had a banged-up backfield with Tiyon Evans not at 100% and oh, in case you forgot, Hooker was questionable with a knee injury all week. Yet that team, in Year 1 of the Heupel era, just scored more points against Alabama than any Tennessee team since 2003. Again, that's scheme.
Never mind the fact that the Vols' best defensive player from 2019-20, Henry To'o To'o, was smoking a cigar on the opposite sideline by night's end. Despite all of that defensive attrition with 6-7 starters gone, Tim Banks still turned Tennessee into a middle-of-the-pack SEC unit. Three of those 4 losses came to Young, Matt Corral and Kenny Pickett. All of those guys are in the top 4 of the Heisman Trophy odds heading into Week 9. To recap, that's a first-year defensive coordinator who had a gutted defense that faced 3 Heisman favorites in the first 8 games of the season, and yet, the Vols are actually in the top 1/3 in FBS in yards per play allowed.
Now just imagine what that group can be once Tennessee can go out and get transfers and recruits without the potential NCAA cloud hanging over the program (Heupel said in July that he expects to get an NCAA ruling on the Pruitt-era sanctions at some point in 2021).
Heupel's system is going to attract transfers. Believe that. All we heard in the offseason from receivers like Velus Jones Jr. was about how fun this offense was to play in. Now, without the previous rules that forced undergraduates to sit a year, Heupel should be able to get into the portal and have a favorable case to go land more talent at the skill-player spots. Scheme works, but drops have hurt the Vols with their current personnel. They need more dudes.
In the immediate future, Tennessee will likely suffer a double-digit loss against Georgia once again. Take that for what it is. Heupel should be eligible for National Coach of the Week honors if he engineers 3 scoring drives when the Dawgs come to Knoxville in a couple of weeks. But even this year's Georgia defense has yet to face an offense that could protect well enough to allow the quarterback to consistently attack downfield. Perhaps Heupel's group is the first in that department.
The most realistic scenario is Tennessee going 0-3 against rivals without keeping it within 2 scores (that Florida game flipped entirely with a bad drop by Jimmy Calloway on 4th-and-5 in the 3rd quarter). It'll be easy to look at the box score and just suggest that the Vols are forever destined to look up at their rivals. For all we know, Saban will never lose a game to Tennessee as long as he's at Alabama and perhaps Kirby Smart's lone blemish against the Vols will be that time he decided that Lorenzo Carter needed to be on the last line of defense on a Hail Mary.
But I digress.
Heupel's team has a modern approach to finally hang with the big boys. He's got the Xs and Os. Adding the Jimmys and Joes is the next part.
And soon, perhaps, Tennessee will have meaningful late-4th quarter reps in Tuscaloosa instead of being stuck in smokey deja vu.
Notebook
Around the conference.
Ole Miss 31, LSU 17: For about a quarter and a half, it felt like we were about to start making the case for Ed Orgeron to win his job back. LSU looked like it picked up where it left off offensively, Damone Clark was everywhere on defense and the Tigers appeared poised to give Ole Miss a 60-minute game.
Then, of course, reality set in. Reality is that even at roughly 75%, Matt Corral is still capable of extraordinary things. He ran over LSU defenders into the end zone. He bought time with his legs and made plays downfield. He even slid! OK, so that's not that extraordinary, but combine that with the Ole Miss ground game and it was all she wrote. Snoop Conner hit the century mark and Jerrion Ealy looked like the best version of himself.
Good to finally see that version of Jerrion Ealy in 2021. pic.twitter.com/V4Tevg1ixE

— Connor O'Gara (@cjogara) October 23, 2021
This day was really about the Ole Miss defense recognizing that their quarterback wasn't at 100% and actually doing something about it. Chance Campbell was everywhere, MoMo Sanogo came up big and DJ Durkin's group showed significant improvement after last year's mess in Baton Rouge. Granted, it helped that Kayshon Boutte wasn't out there.
Ole Miss is showing that it can win games in different ways. It doesn't need to just be like what we saw against Arkansas. There's more experience on the defensive end, which helps, but there's also more versatility in the ground game. Ole Miss didn't need Corral to run the ball 30 times for the second week in a row.
Imagine being Arch Manning and watching Saturday unfold. Your uncle was enshrined with his number retired, you watched a Heisman Trophy candidate at quarterback make big-time plays and you saw the 6th-biggest crowd in Vaught-Hemingway Stadium history on a sunny, mid-70s day. That's quite the sell from Lane Kiffin, who would've loved to have hung 50 on LSU. But still, he's not nitpicking on a day like that.
Texas A&M 44, South Carolina 14: South Carolina entered the day having not scored a touchdown against A&M since 2018. By night's end, it felt miraculous that the Gamecocks reached pay dirt twice. They had just 11 yards in the entire first half, they didn't have a single drive all night that started in A&M territory and no South Carolina drive hit the 3-minute mark. It was total domination from start to finish.
It wasn't a surprise to see A&M's defense dominate a South Carolina offense that completely lacks an identity (maybe Jason Brown is the guy now?). What was encouraging was seeing the 4 A&M skill players we spent all offseason talking about truly shine. Jalen Wydermyer had 2 scores, Devon Achane had a career-high in rushing with 154 yards while Isaiah Spiller also hit the century mark. Ainias Smith also delivered this 95-yard punt return the first time A&M touched the ball.
AINIAS SMITH 95-YD HOUSE CALL 😤 @AggieFootball pic.twitter.com/ghmkzFsBEp

— SEC Network (@SECNetwork) October 23, 2021
South Carolina's defense isn't particularly bad, either. But A&M's offense, after it looked totally lost 3 weeks ago, has its mojo. The offensive line that faced much scrutiny has been significantly better, Zach Calzada is making big-time throws and his pass-catchers are getting separation. What a concept.
It's wild to think about how we'd be discussing A&M if it could've just mustered a late scoring drive to beat MSU. That now looks like one of the more baffling SEC results of the season, but it's also one of the most pivotal. With how well the Aggies are playing, they'd be in position to perhaps run the table and get to Atlanta if not for that brutal second SEC loss.
Mississippi State 45, Vanderbilt 6: It was easy to forget that when Mike Leach's teams dominate, we get the best version of Leach. Like, the one who will break down Halloween candy (more on that in a minute). A banged up Will Rogers led MSU to its best single-game scoring output of the season. That was actually the first time MSU broke 30 against SEC competition.
Of course, it was against a Vandy team who could very well allow 40-plus to every non-South Carolina SEC team in 2021. It felt like Clark Lea, for whatever reason, insisted on sending extra pressure instead of dropping into drop-8 coverage all day. Whatever the case, it didn't work. Rogers' connection with Makai Polk is the best thing that MSU has going right now. Rogers is still going to make a few mistakes over the course of the game. Whether that's a way-too-deep sack or an unnecessary interception, it's only a matter of time.
Vandy had just 16 first-half plays to MSU's 50. The Commodores didn't get their second first down of the day until there was less than 2 minutes left. Credit Zach Arnett's defense for bouncing back after a horrendous showing against Alabama.
Leach would've had a lot of explaining to do if his offense couldn't get rolling. Instead, he just got to explain the ins and outs of Halloween candy.
Mike Leach on Halloween candy 😂

Amazing. pic.twitter.com/3c2NRCuI0A

— SEC Network (@SECNetwork) October 23, 2021
We need more MSU blowouts if that's the type of content they'll yield.
Arkansas 45, Arkansas-Pine Bluff 3: Arkansas needed a game like that in 2020. That is, a stop the bleeding, get healthy game. It was 14-0 before you could even say "Woo Pig." That was music to the ears of Arkansas fans who hadn't celebrated a win since Texas A&M a month ago.
Arkansas Pine-Bluff had the unenviable task of trying to tackle/cover/touch Treylon Burks. In the first half alone, Burks had 6 touches for 145 yards and 3 touchdowns. The Golden Lions attempted to use press coverage on a third-down play in which they sent pressure and, well, it went about how you'd expect it. A walk-in touchdown was the result, in case you were wondering.
KJ Jefferson was crisp all afternoon. SEC Network's Andraya Carter reported that Jefferson went to bed at 9 p.m. all week in hopes of getting some extra rest. He got some more on Saturday with essentially all of the second half to rest. (It really wasn't fair to put Jefferson against FCS defenders. At one point, a poor Pine Bluff defender got hurt trying to bring him down.)
Most importantly, Barry Odom's defense got to feel good about playing football. Tre Williams and Zach Williams kept pressure on and allowed Arkansas to only rush 3. That's really what hadn't been there in the past 3 weeks. Now, Arkansas will get a bye week and the Hogs are hopeful that Markell Utsey will return to a defensive line that needed a breather. There's still reason to be skeptical of Arkansas' defensive potential the rest of the way without Jalen Catalon — the biggest play of the day allowed came on testing Myles Slusher over the top — but Saturday was a breath of fresh air.
As Pittman said, Arkansas needs to get healthy next week before the stretch run.
Obscure stat of the week
Welp, this tells the story.
South Carolina loses to Texas A&M 44-14.

South Carolina finishes with 185 yards of offense. 170 of those yards came in the fourth quarter, with Jason Brown in at quarterback.

— Augusta Stone (@augustalstone) October 24, 2021
The Gamecocks' offense was that bad. Before the 4th quarter, the longest drive of the day went 5 plays for 17 yards. It's a good thing the Aggies called off the dogs late because otherwise, South Carolina was going to be in for a historically bad day instead of just a normally bad day. It's hard to get only 15 yards in the first 3 quarters in this era of college football. That's the downside of starting a former grad assistant at quarterback.
Superlatives
(Matt keeps a running total for the season. It'll be up to him whether he includes this week in his total … but for now, let's assume this is a one-off.)
1. Texas A&M RBs Devon Achane and Isaiah Spiller. Both guys got over the century mark against a South Carolina defense that wasn't terrible against the run. Achane had a career-high 154 rushing yards and a score while Spiller racked up 122 scrimmage yards. Perhaps this spot should've gone to the A&M offensive line, who looked dominant for the third consecutive week. The Aggies are dangerous.
2. Alabama DL Will Anderson. Another All-American performance from Anderson? Yep. He led the Tide with 8 stops, 5 of which were solo. He was credited with 1.5 sacks but it felt like so much more. Granted, it wasn't as unblockable as he was against MSU, but the Vols were a bit short-handed up front without top offensive lineman Cade Mays. That might not have made a difference with Anderson playing at that level.
3. Ole Miss LB Chance Campbell and LSU LB Damone Clark. They combined for 67 tackles on the day. OK, not quite, but you thought about it for a brief second. Clark had 20 (!) tackles and earned some serious praise from his head coach in the process. Clark forced a fumble, he got in the backfield for 2.5 tackles for loss and he continued to be one of the few bright spots left for LSU. Campbell, on the other hand, is the key difference-maker for a team with a whole lot still in front of it. The Maryland transfer had 10 stops, a sack and a forced fumble. If you're wondering why it looks like Ole Miss is significantly better on the defensive end compared to last year, watch Campbell play a series or 2.
4. MSU QB Will Rogers and Alabama QB Bryce Young. Let's start with Rogers because while he had the 2 interceptions, he still threw for 386 yards and 4 scores even though he was clearly still nursing that shoulder injury. Rogers connected with Makai Polk on a nice score downfield and showed why the Air Raid can make you pay when you send pressure. Rogers is the league's leading passer, which doesn't look like it's changing anytime soon. Young, on the other hand, delivered another performance that was beyond his years. Young is the only FBS quarterback with 2 touchdown passes in 8 games this year. He's firmly in the Heisman race until further notice.
5. Arkansas WR Treylon Burks and Arkansas PR Nathan Parodi. I mean, Burks shouldn't have been allowed to play in that game. Had he played a full 60 minutes, Kendal Briles could've gotten him 400 yards from scrimmage. The SEC's best receiver had 6 touches for 145 yards and 3 scores, which only added to the belief that he's in the All-America discussion. Parodi, meanwhile, had Arkansas' first punt return touchdown in nearly a decade. He had a nice little cutback on the left sideline and that was all she wrote.
SEC Power Rankings
(By the way, these are my power rankings (Connor O'Gara). That's why you won't see any indication as to where each team was last week. I'll let Matt pick up where he left off next week.)
1. Georgia (7-0). The Dawgs won East games by an average of 29,2 points in 2017. So far, they're at 35.3 points. Three East games are coming up, and dare I say, that margin might grow?
2. Alabama (7-1). It's still incredible to think that the Tide haven't lost to an East team at home since Matthew Stafford's walk-off in 2007. Coverage busts were costly, but that offense can still pour it on in a hurry.
3. Ole Miss (6-1). On a day in which Matt Corral wasn't at 100%, Ole Miss delivered its best defensive performance against SEC competition in the Lane Kiffin era.
4. Kentucky (6-1). The Cats are an SEC win away from clinching their second winning season in SEC play since the Jimmy Carter administration, and they might be favored in their final 3 conference matchups.
5. Texas A&M (6-2). The Aggies' roller-coaster season went from without an offense to averaging 40 points per game in a 3-game winning streak that began with Alabama. Just as we all predicted.
6. Auburn (5-2). Demetris Robertson had a total of 3 receiving touchdowns in 2 seasons at Georgia. He matched that in 7 games at Auburn (he's also 22 yards from besting his highest single-season total at UGA).
7. Arkansas (5-3). All 3 losses are to teams ranked in the top 5 of these rankings, but without Jalen Catalon, the Hogs have major defensive questions to answer in the latter half of the season.
8. LSU (4-4). Outgoing Ed Orgeron wasn't able to lead a defensive turnaround against an offense as explosive and balanced as Ole Miss. In the past 2 years, LSU has 7 losses by double digits, which matched the total from 2015-19.
9. Florida (4-3). The Gators are in danger of going into November with 4 SEC losses for the first time since 2011, which was Year 1 of the Will Muschamp era.
10. Tennessee (4-4). Three of the Vols' 4 losses came to arguably the top 3 candidates for the Heisman Trophy with Bryce Young, Matt Corral and Kenny Pickett, and they were within a score of all of them in the 4th quarter.
11. MSU (4-3). Zach Arnett's defense followed its worst defensive performance of the Mike Leach era with its best defensive performance. That's also the difference between facing Alabama and Vandy.
12. Mizzou (3-4). The Tigers already allowed their most rushing touchdowns (21) since they allowed 27 scores in 13 games in 2017. No SEC team has surrendered 36 — that's Mizzou's current pace — since Arkansas (39) in 2016.
13. South Carolina (4-4). Eleven first-half yards is a tough thing to do for a Power 5 team. Perhaps Jason Brown's late showing against a bunch of backups can provide a little spark without Luke Doty for the year.
14. Vanderbilt (2-6). On the bright side, the defense got 2 interceptions for the 4th consecutive game. On the not-so-bright side, that's a 5-score loss for the 3rd time in 4 SEC games.
#ItMightMeanTooMuch
In case you missed it on SEC Nation, yes, this man dressed suspiciously similar to Lane Kiffin got a real tattoo of Paul Finebaum's signature.
The final product. @finebaum says he's got next 😆 #SECNation pic.twitter.com/kOQCdN4v8O

— SEC Network (@SECNetwork) October 23, 2021
That's one way to spend your Saturday.