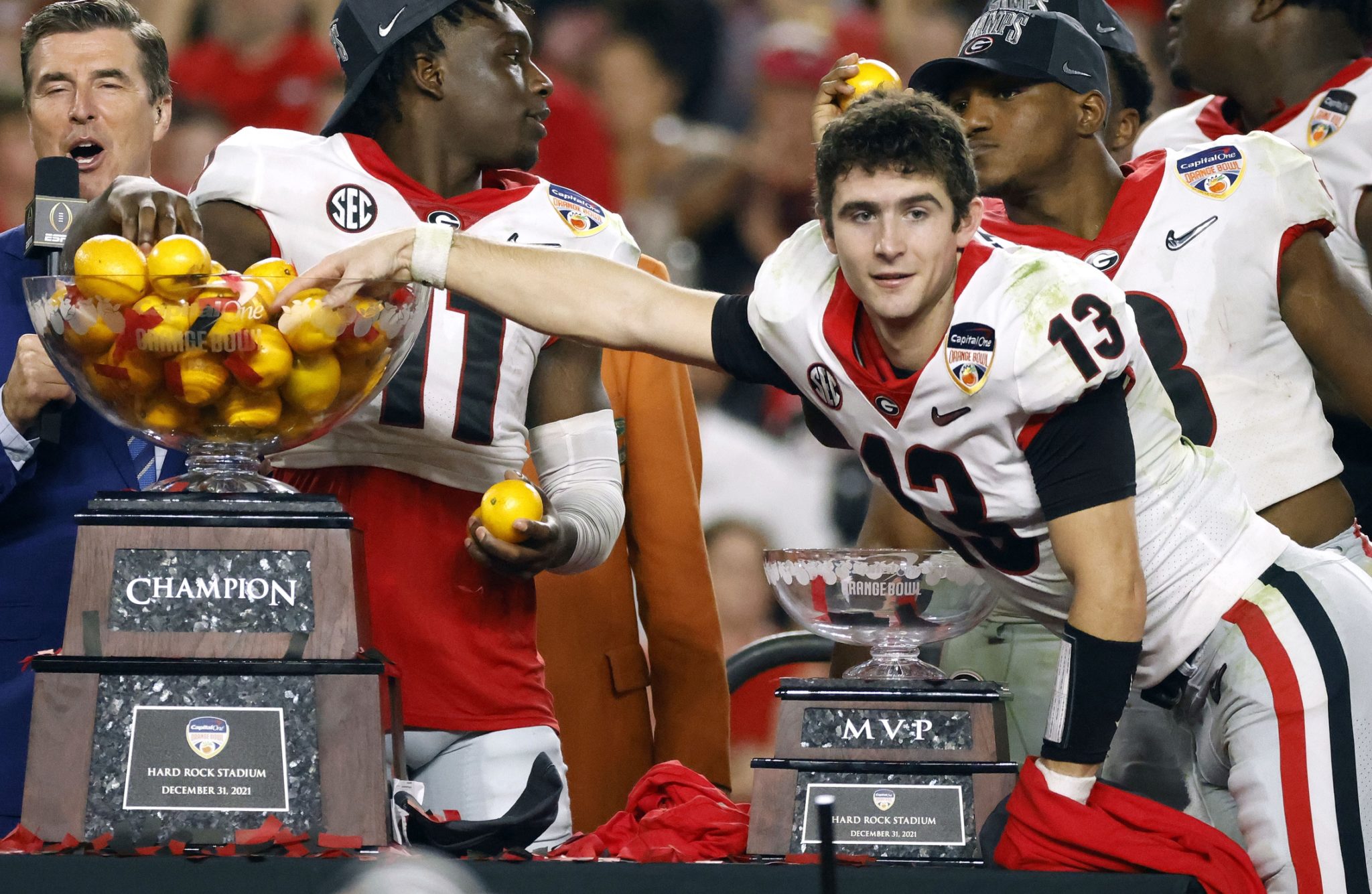 SEC
Sorry, anti-SEC crowd: Another all-SEC Championship silences your early bowl season takes
Three tweets.
When Georgia was putting the finishing touches on Michigan, Emmanuel Acho and Danny Kanell had a combined 3 tweets about college football on Friday. In case you forgot, Friday was Playoff day. It turned out to be Playoff blowout day for the SEC.
But don't tell that to Acho or Kanell. They only had 3 tweets to offer up on the slate.
To be fair, Kanell was at a New Year's Eve party (per 1 of his 2 CFB tweets on the day to that point). Clearly he couldn't get to a TV to watch 2 different SEC teams roll to blowout victories.
And Acho, well, he made time to retweet himself on Thursday for his rant about the SEC after it got off to a 1-5 start to bowl season:
The vaunted SEC is now 1-5 in bowl games this year! 🤣🤣🤣 https://t.co/85HyDFbIJj

— Emmanuel Acho (@EmmanuelAcho) December 31, 2021
You see, Acho and Kanell aren't the only ones who didn't take to social media to complain about SEC bias (while also revealing their own bias). They're certainly the faces of it, though.
It was Acho who said after Georgia earned a Playoff berth that the Dawgs were being propped up by SEC bias, and that they lacked top-20 wins (he conveniently cut it off at the top 20 even though Georgia routed Top 25 Kentucky and Arkansas).
I'd love to know how SEC bias allowed Georgia to dismantle Michigan.
On a neutral site, the Dawgs dropped the hammer. It was never in doubt. A Michigan team that hadn't trailed by more than 4 points all year was staring at a deficit from the opening drive.
Isn't that supposed to mean that Michigan was being propped up by the Big Ten? Like, the league that has had 1 team play for a national title (Ohio State) this century? But I digress.
You see, "0-4" and "1-5" were fun for Acho and Kanell. Because when you have a window to bash the conference with 11 of the past 15 national championships, you do it.
Whoops. Did I say 11 of 15? Friday's Playoff blowout day meant that the SEC will improve to 12 national champs in a 16-year stretch. But sure, let's get worked up about the results of games played by 6- and 7-win teams.
Two things can be true at the same time. One is that the SEC got off to a bad start. There's no denying that Mississippi State laid a giant egg while Florida, Mizzou, Auburn and Tennessee all squandered winnable games. But using that start to justify some take about the league being propped up only would've had any sort of substance if Georgia lost to Michigan.
That never came close to happening.
And with Kanell, who famously credited UCF with a national championship the last time the SEC had 2 teams deciding the real national championship, Friday's results prevented any chance of that happening. Why? Cincinnati actually got a seat at the table. The Bearcats weren't the victims of an unfair system. They got their shot at Alabama and like so many others, they suffocated.
Kanell didn't have that out at his disposal on Friday. That explains his Twitter silence.
Whoops. He did fire this off at night's end:
3-5

— Danny Kanell (@dannykanell) January 1, 2022
Let's be honest here. Bowl results are used to argue whatever narrative you want, even though they're essentially their own season, and in this era of transfer portal/opt-out/coaching changes, they've never been more random.
For what it's worth, I'm not even sitting here claiming that the SEC was deeper than any other conference. But you lose any legitimacy to the belief that the league is getting unfair treatment when both of its Playoff teams earned a spot in the title game in such convincing fashion.
Sorry, that's reality. You can't blame the system when the SEC's run — now 12 national titles in 16 years is official — is with 2 different systems. We're about to see a third consecutive national title and 4th in 5 years. If Georgia beats Alabama, it'll be 3 different SEC programs that won national titles.
Meanwhile in other conferences, we've seen:
A) The Big Ten have 0 non-Ohio State teams compete for a national title in the 21st century
B) The Pac-12 go 5 years without a Playoff team and 17 seasons without a national champ
C) The Big 12 remain winless in Playoff semifinals and 0 national titles in last 16 seasons
D) The ACC have 1 team win a Playoff game
E) All the above
It's "E." It's always "E."
Sure, MSU fans flexing about the SEC might rub outsiders the wrong way, especially if they know that the Bulldogs have 1 winning record in SEC play in the 21st century. But everyone would do that if their conference dominated like the SEC has for the last decade and a half.
Sometimes, like on Friday night in the final minutes of Georgia's beatdown of Michigan in the final minutes of the Orange Bowl, the "S-E-C" chants are heard loud and clear. The Kanells and Achos of the world are irked by that. They sometimes let that skew their impression of the league.
The SEC's 1-5 start to bowl season was their chance to be loud. When the SEC dominates national championships, recruiting rankings and NFL Draft picks, you can't blame Kanell and Acho for trying to get their jabs in.
But on Friday night, they were dealt a knockout blow.