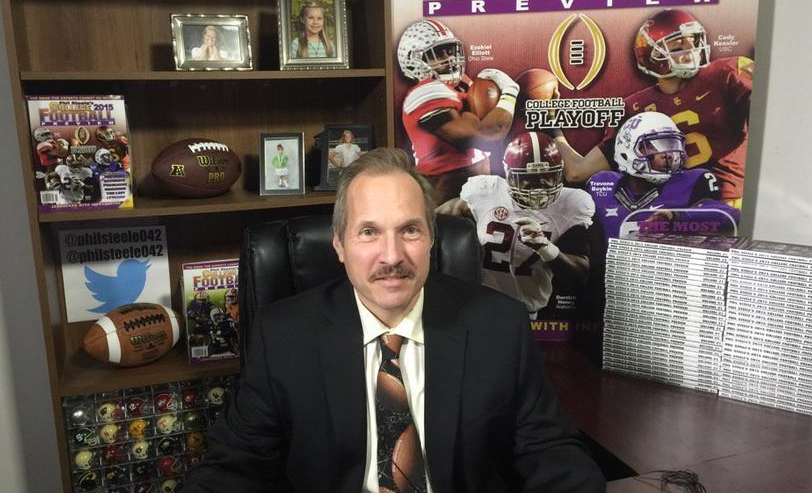 SEC
Southern Fried Q&A: Phil Steele talks SEC with Saturday Down South
College football is religion in the SEC, so Phil Steele's annual College Football Preview issue is The Bible.
The magazine is essential reading for any pigskin fanatic. While the writing is a bit tough to follow for newbies — lots of acronyms and abbreviations — it's impossible to pack more quality info into 350 pages.
You're never more than a few keystrokes away from some self-proclaimed expert making predictions for the upcoming season. However, Steele's accuracy over the years is nothing short of legendary in the business. Fellow media members look forward to the mag arriving in the mailbox more than most of their readers do.
Once the final proof is sent off to the printer, Steele makes the rounds on just about every sports talk radio station in the country. It's not unusual for him to do half a dozen guest spots daily for weeks on end.
Fortunately, he still set aside some of his valuable time for this Q&A with Saturday Down South.
John Crist: Florida State is your pick to win the national championship this season. That won't make a lot of SEC fans happy, as many of them think the Seminoles never play anybody. But they start the schedule with Ole Miss and finish it with Florida. Who has a better chance of knocking them off?
Phil Steele: The team with the best chance to knock them off is Clemson, as that game is a toss-up.
Of the two SEC squads, I will go with Ole Miss. The Rebels come in at No. 10 in my Power Poll, while Florida is No. 22. Florida State has a much more experienced team than last year, but the Ole Miss game will be QB Deondre Francois' first start. He could make some freshman mistakes. The Florida game is at the end of the year.
The Ole Miss game is in Orlando. It's a neutral site, but FSU did play its spring game at the Citrus Bowl. The Florida game is in the friendly confines of Doak Campbell Stadium.
JC: Alabama has become such a machine that they'll be my pick to win the SEC West every season going forward. No matter who the Crimson Tide lose to the NFL Draft, there's a couple of four- and five-star kids waiting in the wings. Who is their biggest threat in the division?
PS: I might have gone with someone different to win the West this year, but with DE Jonathan Allen, LB Reuben Foster and SS Eddie Jackson all turning down the NFL, the Tide have my No. 1-rated defense.
Their biggest threat is LSU. LSU has RB Leonard Fournette and two NFL-caliber WRs in Malachi Dupre and Travin Dural. They have my No. 5-rated O-line, and Brandon Harris has two years' experience to go with a great arm, mobility and size. If he becomes a little above average, they will be explosive. The defense brings in Dave Aranda, who did wonders at Wisconsin, and has nine returning starters and more talent to work with than he had with the Badgers.
LSU hosts that big meeting between the two Nov. 5.
JC: All the stars appear to have lined up for Tennessee this season. The Volunteers return a ton of starters. The rest of the SEC East appears to be in rebuilding mode. If Butch Jones and Co. can't get it done this year, they may never get it done. How confident are you in the Vols?
PS: The Vols are my pick to win the East, but a four-game stretch will determine whether they get to the SEC title game.
On Sept. 24, they host Florida, which has a Top 10 defense and beaten them 11 straight years. The next week they have to travel to Georgia, and RB Nick Chubb should be up to speed by Week 5. They then go on the road a second straight week to College Station to take on a talented and dangerous Aggies squad. If they have anything left in the tank, they host Alabama the very next week.
They can probably afford one loss in that four-game stretch, but not two. Seven of my nine sets of power ratings still picked the Vols to win the East, and I give them about a 70-percent chance of doing so.
JC: There are three first-year coaches in the East for 2016: Kirby Smart at Georgia, Barry Odom at Missouri and Will Muschamp at South Carolina. Which one is in the best position to exceed expectations in Year 1? Conversely, who may have a bigger rebuilding job than originally expected?
PS: While I think Kirby Smart has the best record of the three coaches, I will go with Barry Odom of Missouri. The expectations for Georgia this year are second place in the East, and they will be in the preseason Top 25. I have them matching that at second in the East and No. 23.
Missouri is picked either fifth or sixth in the East coming off a losing season. I feel Missouri has a Top 15 defense, and they are not going through the typical learning curve of a new head coach in having to learn the players and the players learning new schemes. Odom was defensive coordinator last year and knows the personnel, and QB Drew Lock should be much better prepared than he was last year as a true freshman.
I have them finishing fourth in the East, which is higher than anyone else.
I think Will Muschamp will do a solid job at South Carolina, but this looks like a rebuilding year. They could have a true freshman at QB. Their top returning RB had just 299 yards rushing last year and top returning WR had just 161 yards receiving. The offensive line drops from 74 to 57 career starts with three starters lost. The defense will be improved but has allowed 430-plus yards per game the last two years. They also lost LB Skai Moore, their No. 1 tackler, to injury at the end of spring.
ESPN and Lindy's have them fourth in the East, so a bounce back is expected. But I think they will struggle to stay out of the cellar.
JC: Seats in the SEC tend to get hotter in a shorter period of time. An argument can be made that Jones, Gus Malzahn, Les Miles, Mark Stoops and Kevin Sumlin are coaching for their jobs this season. Who is under the most pressure to right the ship? Who deserves more time?
PS: Les Miles might be under the most pressure. Expectations are very high, and LSU is favored in every game this year in Las Vegas. He nearly was fired last year, and a three- or four-loss season would likely send him out the door. I feel the other four could survive a three- or four-loss season.
I feel Mark Stoops deserves some more time. I really like the way he is recruiting, and Kentucky has come within inches of a bowl game the last two years. They are a more talented team than when he took over. I see progress, and even if they miss a bowl for the sixth straight year, I would give him another chance.
John Crist is the senior writer for Saturday Down South. You can send him an e-mail directly at jcrist@saturdaydownsouth.com or follow him on Twitter @SaturdayJC.