SEC
Starting 5: Alabama's title chances, Sharife's superstar treatment and Michigan State lays an egg
Welcome back to the Starting 5. The Starting 5 is written multiple times per week by Adam Spencer to keep you up-to-date on all the news and events in the world of college hoops. You can follow Adam on Twitter at @AdamSpencer4 and @SDSBasketball.
1. The Opening Tip
Alabama is cruising through SEC play. The Crimson Tide are 9-0 against SEC competition entering Saturday's brief reprise from league play. They'll take on No. 24 Oklahoma in Norman in a game that is suddenly much more interesting than it appeared when the SEC/Big 12 Challenge pairings were announced.
It'll be an interesting test for the Crimson Tide against a non-SEC foe, but coach Nate Oats has his team firing on all cylinders and doing exactly what it needs to do to win. It seems simple, but the Crimson Tide are maximizing the potential of every offensive possession by essentially eliminating mid-range jump shots.
The Tide's 70-59 win over Kentucky on Tuesday night wasn't as comfortable as the final score indicated, but look at this shot chart: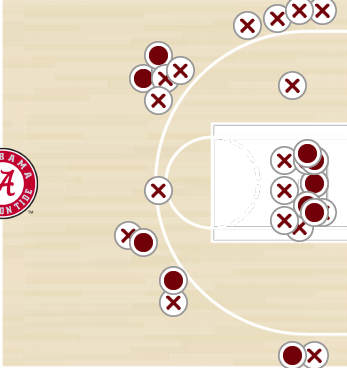 Only 2 shots on that chart weren't from 3-point range or in the paint. And you can bet the 2 shots that were outliers absolutely infuriated Oats.
Here's the shot chart from the win over Mississippi State last weekend: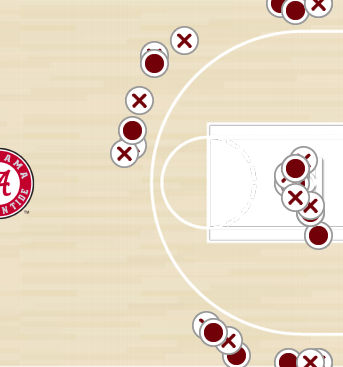 Oats will look at that and say it's a perfect shot chart. Finally, here's the chart from the record-setting win over LSU in which the Tide made 23 3-pointers: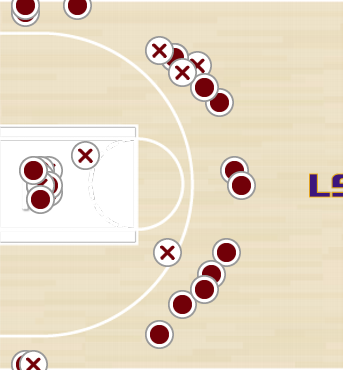 You get the idea. Launch 3s early and often, get to the paint (and the free-throw line) and eliminate low-percentage 2-point shots.
But, it's not just launching 3s with a defender in your face. So, how do you create open 3s? Well, you get into the lane and kick it out to an open shooter. Here are a couple of instances of the Tide doing just that. In the first clip, freshman Josh Primo knocks down the shot. In the second, Jahvon Quinerly hits a big 3 at the end of the first half:
https://twitter.com/CrimsonXover/status/1354228348378079241
A 3 by @RealJahvonQ to close out the half! pic.twitter.com/ED56OWeGfA

— Crimson Crossover (@CrimsonXover) January 27, 2021
If no one provides help defense on the ball-handler, he'll take it to the rim. If a double-team comes, the ball-handler finds the open shooter. And, the most important thing — the Tide are making the open shots.
Drive-and-kick basketball is what has made James Harden an MVP in the NBA. He currently leads the NBA in assists with 11.1 per game. The previous 3 seasons, he's led the league in scoring. The Crimson Tide are bringing elements of that style of play to the SEC, and are having a ton of success doing it.
They look like the favorites to win the SEC. But, can they win the NCAA Tournament, too? That's the big question. SEC Network broadcaster Tom Hart recently appeared on "The Paul Finebaum Show" and explained why he thinks a national championship is in the realm of possibility for the Tide:
Is Alabama men's hoops a legitimate title contender? @tom_hart makes the case pic.twitter.com/IKSn9qE2cm

— Paul Finebaum (@finebaum) January 26, 2021
Hart mentions how Alabama's defense is pretty darn good, too. Indeed, with SEC Player of the Year frontrunner Herb Jones leading the way, the Tide can stifle opponents on defense. Look at this possession in the first half of the Kentucky game:
Alabama forcing a shot clock violation… the last 10 seconds of the shot clock features elite defense from Alabama.
– well executed hedge from Shackelford and Reese
– Herb flawlessly switches weave action twice pic.twitter.com/HqdpEkxVdH

— Bama Basketball Film Room (@BamaFilmRoom) January 27, 2021
The Wildcats couldn't find space to get a shot off over the course of 30 seconds. That's horrendous offense on Kentucky's part, yes, but it's also Alabama doing everything right.
The question is whether or not the Tide can continue to do everything right. As Hart mentions, this is a crazy year in the college basketball world. Anything can happen in the NCAA Tournament. He says Alabama will have to win on an off night.
Well, the Tide showed they could do exactly that against Kentucky. He also said they'll have to beat a team they shouldn't. We'll find out in March if they can do that.
For now, though? I agree with Hart — anything is possible these days. Why couldn't the Tide win it all?
Now, let's move on to some other SEC headlines.
2. Home-court advantage
Auburn PG Sharife Cooper hasn't been eligible for the Tigers for very long, but he's already become a verified superstar.
And, let's just say he got the superstar treatment against Mizzou on Tuesday night. I'm a Mizzou grad, yes, but I'm not bitter, I promise. I was wary of this game for the Tigers heading into Tuesday's action, as Mizzou has struggled against dominant point guards in SEC play:
All I was saying about Mizzou entering this game is they usually struggle against ball-dominant guards.

Vescovi torched them in the first Tennessee game. (Kept in check in the second.)

DJ Stewart torched them in the MSU loss.

OF COURSE Sharife was gonna be a problem tonight.

— Adam Spencer (@AdamSpencer4) January 27, 2021
Cooper finished with 28 points, 8 rebounds and 7 assists. But, he was only 5-for-12 from the field and 0-for-2 from 3-point range. He did his damage at the free-throw line, where he was an incredible 18-for-21. See, that's where the superstar treatment comes in.
Mizzou only made 18 free throws all game (which is largely the fault of big man Jeremiah Tilmon, who went an abysmal 3-for-11 from the charity stripe). Now, to show you I'm not just complaining as a Mizzou fan, this is just awful defense:
Did the refs suck last night? Yeah, they always do.

But you don't get to play this defense all night and then complain about a free throw disparity afterwards.

Sorry for harping on it multiple times, but I mean c'mon.

This is basic. pic.twitter.com/YGpfVd3RaY

— Drew (@orangeanddrew) January 28, 2021
There were some questionable calls, but Mizzou didn't put itself in a position to win. When Cooper was on the court, Auburn was unstoppable. When he was in foul trouble, Mizzou controlled the game.
Unfortunately for Cuonzo Martin and company, they couldn't keep Cooper off the court for long enough. When he's on the floor, he's by far the best player. I mean, look at this insane lob pass:
I've mentioned how much I like how Flanigan cuts with a purpose and this is another great example.

Because he comes around the first screen so hard, his defender doesn't even see the 2nd one coming until Al was already around it.

Easy find for Sharife for the lay in oop. pic.twitter.com/oZcSVKmMXq

— Drew (@orangeanddrew) January 28, 2021
That's a guy who's simply on another level when it comes to passing. He might be the best passer this side of the Mississippi River (with Gonzaga's Jalen Suggs holding that title for the Western United States).
Anyway, Cooper is going to need to be an even bigger superstar if the Tigers are going to take down No. 2 Baylor on Saturday. More on Baylor later.
Now, let's dive into some more SEC stories:
Kentucky is now 5-10 overall and 4-4 in SEC play after a 70-59 loss at Alabama on Tuesday night. However, that game against the Crimson Tide was much closer than the 11-point final score differential would indicate. Once again, the Wildcats simply failed to close out a game in which they held a second-half lead. Here's a stat for you: the Wildcats have led 7 times in the second half this season in games they've lost. That's right. Seven times, Kentucky has blown a second-half lead. Even if the Wildcats had managed to protect only 4 of those leads, they'd be 9-6 right now. When the pressure is on, Kentucky's offense turns into a jumbled mess, like so:
Last possession before Kentucky has to start fouling. The goal is to get the ball to Olivier Sarr. Once they do there is just no spacing. Three players in a pile out front. Allen runs toward the ball along the baseline. Just nothing there. @KentuckyRivals pic.twitter.com/9gcNTA9IcZ

— David Sisk (@CoachDavidSisk) January 27, 2021
Even when the Wildcats manage to create a mismatch, they can't help themselves. Look at this awful pass from Isaiah Jackson, who was being guarded by John Petty Jr.:
58-54 Bama with 2:00 left & as Dickie V says, big possession. Repeated reversals & pindowns lead to John Petty switching onto Isaiah Jackson & the mismatch. Bama doubles the post touch & zones the back side. The dig forces him to rush. Bad pass, bad read. @KentuckyRivals pic.twitter.com/JeRHO13hqk

— David Sisk (@CoachDavidSisk) January 27, 2021
Until this team finds someone who doesn't panic in late-game situations, the Wildcats are going to continue to play well until the last 5 minutes. They have the talent to stay in games, but they don't have the maturity yet to actually win those games.
Tennessee's offense continues to be absolutely horrible. The Vols managed to snap a 2-game losing streak on Tuesday night against Mississippi State, but it was far from pretty, as they eked out a 56-53 win. Yves Pons was the only Tennessee player to score more than 10 points, leading the way with 13 points. Victor Bailey Jr. had 2 points. John Fulkerson finished with 4. The Vols went 3-for-19 from beyond the arc, which is a measly 15.8%. If they don't shoot better than that moving forward, this is going to be a middle-of-the-road SEC squad. That's something I never thought I'd type, since the Vols looked like a Final Four contender earlier in the year.
LSU's defense is going to be a problem moving forward. The Tigers gave up 66 points in a 78-66 win over Texas A&M on Tuesday night. That's the second-most points the Aggies have scored in an SEC game this year. But, as long as freshman Cam Thomas is playing well, LSU's offense can hang with anyone. This is an awful shot. If Thomas played for Alabama, Nate Oats would bench him for this. But, he makes it look so easy:
Today's Play of the Day is LSU Freshman Cam Thomas. Had 32 points in this game with 5 3's. Does a nice job of rising up, hitting a quick fake into a 2 dribble step back squaring up his body and knocking down a contested 2. #NBA #NBATwitter #NBADraft pic.twitter.com/c1Kv4bX8N8

— Jack Liss (@JackLiss8) January 27, 2021
He's a pure scorer, yes, and he led the Tigers with 28 points against A&M. But, he's also showing some improvement as a passer. This is a nice play from the talented freshman:
LSU conclut la partie sur un run de 18-0 et s'impose à Texas A&M. 78-66. Une belle façon de rebondir après 2 défaites consécutives.

Même s'il croque, Cam Thomas enfile toujours des perles.

28pts à 8/21, 4reb et 4ast. pic.twitter.com/E2aRQ4Io0I

— #MidMajors (@MidnightCampus) January 27, 2021
If he can improve the aspects of his game other than scoring, he'll stay in the mix for the SEC Freshman of the Year and SEC Player of the Year awards.
The latest edition of the Starting 5 video series is out! In this week's video, I break down some of the most-underrated players in the SEC:
Those guys all deserve more attention for the seasons they're having. They'll play big roles down the stretch of SEC play.
Now, let's move on to some non-SEC stories from around college basketball.
3. Road trip
We've talked a lot about the Baylor Bears this year, and for good reason. They're the No. 2 overall team in the country and have remained perfect thus far. They picked up an easy win this week, thoroughly embarrassing Kansas State for the second time this season.
The Bears led by 28 (54-26) at halftime. That was their second-largest lead at halftime of a Big 12 game in program history. Interestingly, their biggest halftime lead ever in a Big 12 game was 29, which came against … Kansas State … back in December (when they led 56-27 at the half):
Via @ESPNStatsInfo:  Baylor's 28-point halftime lead over Kansas State is its second-largest ever in a Big 12 conference game — with its largest (29) coming in December … against Kansas State.

— Jeff Borzello (@jeffborzello) January 28, 2021
This time, the Bears did better than the 100-69 final score they compiled in December, embarrassing the Wildcats 107-59. That's right, a 48-point victory in conference play. That's insane.
And, to make things more interesting, former Auburn guard Davion Mitchell led the Bears in scoring with a career-high 31 points (including a 7-for-9 mark from 3-point land):
Career-high 31 PTS on 7/9 from 3 + 12/16 FG overall for #Baylor guard prospect Davion Mitchell as the #Bears trounced #KState 107-59. After last nights performance the 6-2 + 22-year-old has hit 47% (31/66) of his 3's in 15 GP this season, much improved from 32% in 30 GP last year pic.twitter.com/IaBKcjJ2xk

— DraftExpressContent (@DXContent) January 28, 2021
Why is that interesting? Well, Mitchell will get to play his former team on Saturday, when Auburn comes to Baylor as part of the SEC/Big 12 Challenge. More on that game in a bit.
For now, let's take a look around the rest of the college basketball landscape:
EJ Liddell continues to be a beast for the Ohio State Buckeyes. The No. 13 team in the country nearly lost at home to a Penn State team that is only 2-6 in B1G play this season. But, thanks to 4 clutch free throws by Liddell, the Buckeyes continue to be a contender for the conference crown. Liddell finished with 22 points and 7 rebounds. There aren't many big men in the B1G that can hang with him. It'll be tough for him against Kofi Cockburn of Illinois and Luka Garza of Iowa, but he hasn't faced Garza yet. Those 2 matchups between Ohio State and Iowa are going to be fun to watch.
No. 5 Texas lost to No. 24 Oklahoma in Austin this week in a tight game. The final score was 80-79 in favor of the Sooners, and the Longhorns had a chance to win late. However, this was the inbound play they came up with when there were only 2.2 seconds left. Yeah … I know the Longhorns were without head coach Shaka Smart due to COVID-19 protocols, but you have to think someone on the bench could have drawn up something better than that. There was plenty of time to take a dribble or 2 before launching a shot. That's a rough loss for Texas, and one that should have at least been a bit more competitive in the final seconds.
Creighton picked up a big 85-81 win at Seton Hall this week to stay within striking distance of Villanova atop the Big East standings. Mitch Ballock led the way with 29 points for the Blue Jays, including 3 points on a shot from near half-court. Here's FOX Sports' personality Mark Titus hilariously breaking down that play:
Little behind on Creighton vs. Seton Hall but saw this set play from Greg McDermott and couldn't resist breaking down what makes it so special pic.twitter.com/sc3PjM524p

— Mark Titus (@clubtrillion) January 28, 2021
As Titus would say, you have to make shots to win games. That's a really bad shot attempt, but when it goes in, all is forgiven!
Look, I love college basketball. If you read this column regularly, you know that. But, even I had to say enough is enough while watching the Michigan State-Rutgers game on Thursday night. I turned it off and started watching the Jack Ryan series on Amazon Prime for the second time (it's really good, FYI, if you haven't watched it. Just don't expect John Krasinski to be very Jim Halpert-like). Michigan State was led by Aaron Henry, who had a whopping 7 points. Yikes. The Spartans shot 28.6% from the floor (16-for-56), 20% from 3-point range (4-for-20) and 20% from the free-throw line (1-for-5). The Spartans head to No. 13 Ohio State and No. 7 Iowa in their next two games. Brutal. This team is not good.
Now, let's take a look ahead to the weekend's top college basketball games.
4. Outlet pass
There are some great games this weekend, starting with a huge Big Ten showdown in Champaign on Friday night. Then, we'll shift our attention to Saturday's SEC/Big 12 Challenge. Here are the 5 games I can't wait to watch this weekend:
No. 7 Iowa at No. 19 Illinois (Friday at 9 p.m. ET on FS1) — I can't wait to watch National Player of the Year frontrunner Luka Garza go to war with Kofi Cockburn in the paint. Meanwhile, Ayo Dosunmu will try to torch the rest of Iowa's defense to help the Illini pull off a big upset. This should be a fantastic game to watch!
No. 9 Alabama at No. 24 Oklahoma (Saturday at noon ET on ESPN) — This game is way more interesting now than it looked like it would be heading into the season. Oklahoma is ranked and coming off an upset of No. 5 Texas. Alabama is unbeaten in SEC play. Will the Tide continue to roll? Or, will the Sooners throw Nate Oats' team off its conference play rhythm?
Auburn at No. 2 Baylor (Saturday at 4 p.m. ET on ESPN) — I think Baylor will win this game comfortably, but you can never be too sure when Sharife Cooper is involved. He's become a legitimate superstar and it'll be fun to watch him play against the Bears, who have one of the best defenses in the nation.
No. 15 Kansas at No. 18 Tennessee (Saturday at 6 p.m. ET on ESPN) — Recent slides by both teams have taken a little of the shine off this game, but it should still be fun to watch. Watch to see if superstar defender Yves Pons can shut down Kansas's leading scorer, Ochai Agbaji. If he can, the Vols should win.
No. 10 Texas Tech at LSU (Saturday at 2 p.m. ET on ESPN2) — LSU has hit a bit of a rough patch lately, but the Tigers will be fired up for this game. Can LSU follow the offensive blueprint shown by West Virginia and Baylor to find success against the Red Raiders' defense? Or, will Mac McClung have a career night against the Tigers' suspect defense?
It's another loaded weekend of college hoops, and we're not even to February yet. This season is just heating up, folks!
5. Buzzer beaters
Now, let's answer a couple of random questions before we get out of here for the day and enjoy our weekends:
Which conference will win the SEC/Big 12 Challenge?
Saturday's SEC/Big 12 Challenge features 10 games, some good, some not so good. Can I be boring here? I think it will end in a 5-5 tie. From the SEC I have Alabama beating Oklahoma, Tennessee beating Kansas, Mizzou taking down TCU, Texas A&M beating Kansas State and Mississippi State downing Iowa State. From the Big 12, I have Baylor over Auburn, West Virginia over Florida, Texas Tech over LSU, Oklahoma State over Arkansas and Texas over Kentucky. That's 5-5. Hopefully I'm wrong, though. These things are always more fun when one side or the other wins.
What does Sharife Cooper have to do to be the No. 1 overall pick in the 2021 NBA Draft?
I don't think it's going to happen. But, with how much analysts seem to enjoy comparing him to Ja Morant (the No. 2 pick in the 2019 NBA Draft) these days, I suppose it could be possible. I still think Oklahoma State's Cade Cunningham is the No. 1 pick, just because NBA teams will fall in love with his size and versatility. If not Cunningham, Gonzaga freshman PG Jalen Suggs could slide into that top spot. But, don't count out Cooper just yet. If he starts knocking down 3s at a higher rate, he could certainly see his draft stock climb even higher!
Enjoy the Starting 5? Have a question? Want to yell at me about something? Follow me on Twitter @AdamSpencer4 or email me at ASpencer@SaturdayDownSouth.com.