SEC
Starting 5: ETSU shocks the world, Gonzaga as a title contender and James Wiseman fallout
Welcome back to the Starting 5. The Starting 5 is written multiple times per week by Adam Spencer to keep you up-to-date on all the news and events in the world of college hoops. You can follow Adam on Twitter at @AdamSpencer4.
It's almost Christmas, and college basketball has been the gift that keeps on giving this year. No, there aren't any dominant teams (nearly every team that has been ranked No. 1 has immediately lost), but these are the years that are the most fun.
When chaos reigns in college basketball, it makes for great conference tournaments and a legendary NCAA Tournament. I, personally, can't wait to see what 2020 has in store for us on the court.
For now, though, let's get started on today's Starting 5:
1. The Opening Tip
I think I might have found my new favorite player this week, and he comes from the Gonzaga Bulldogs. G Ryan Woolridge put up solid numbers — 11 points, 9 assists and 4 rebounds — but one particular stretch of Wednesday's 94-81 win over North Carolina had my jaw on the floor.
Woolridge didn't score a single point during this stretch, but he did rack up 3 of his 9 assists, and every single one of them deserves our respect.
First, he and PG Joel Ayayi were on a fast break. Both players deserve credit here, as Ayayi could have kept the ball and maybe drawn a foul. However, he dished it to Woolridge, who didn't even take a dribble before dishing back to Ayayi for an easy layup:
Too many players these days try to do it all on fast breaks or just try to draw a foul. This is great work from Joel Ayayi to pass to Ryan Woolridge. Then, Woolridge gives it right back for an easy Ayayi layup. Beautiful basketball from Gonzaga: pic.twitter.com/QQc9lSGdlq

— Adam Spencer (@AdamSpencer4) December 19, 2019
If you don't think that is beautiful basketball, I don't know what to tell you. But Woolridge was just getting started.
Less than 2 minutes came off the clock before he found Drew Timme in the lane for this perfect assist:
Then Woolridge did this, dishing a pass to Drew Timme: pic.twitter.com/KyIoNFNYts

— Adam Spencer (@AdamSpencer4) December 19, 2019
Surely, Woolridge was done after that, right? Wrong, and don't call me Shirley. Look at this court awareness from Woolridge as he sets up Corey Kispert for this 3-pointer on the next Gonzaga possession:
GUYS, THEN HE DID THIS! I think Ryan Woolridge might be my new favorite player. #Gonzaga pic.twitter.com/UBuUPsbYFP

— Adam Spencer (@AdamSpencer4) December 19, 2019
Maybe it's because I'm only 6-feet tall and can only graze the rim when I jump, but I love this sort of unselfish play. To me, a nice pass to set up a teammate is even better than a highlight-reel dunk. I legitimately think Gonzaga has what it takes to be a Final Four team this year (and even a national champion), and Woolridge is a very underrated part of the Bulldogs' success.
I'll be watching the Bulldogs much more closely from now on, so hopefully Woolridge continues to dish out these incredible passes to his teammates.
2. Home-court Advantage
LSU hasn't had the toughest nonconference schedule, but the Tigers have fallen to their 2 top opponents — VCU and Utah State. Both were ranked when they played LSU, and both games were away from Baton Rouge.
However, Wednesday night, the Tigers hosted the East Tennessee State Buccaneers and were absolutely destroyed. The Bucs led by 20 in the 2nd half and cruised to a big-time 74-63 victory.
ETSU coach Steve Forbes is doing some great work and might be getting a bigger job soon. But, perhaps more important, this win by the Bucs prompted my boss, Jon, to mention an ETSU legend to me.
I'm ashamed to say I'd never even heard of Calvin Talford before, but my goodness, could this guy ever dunk a basketball:
I like to think I'm a better person for now knowing that Talford existed. Additionally, I can't wait to see what's next for Forbes and the Buccaneers program.
Now, for some other, non-Calvin Talford notes from around the SEC:
Oh my, does Tennessee ever miss Jordan Bone and Grant Williams. Yes, the Vols miss Admiral Schofield and Kyle Alexander a lot, too, but Bone and Williams were capable of creating their own offense. This year's Tennessee team can't do that, and it hurt them at Cincinnati on Wednesday night. The Vols trailed early, battled back, but then came up short in a 78-66 road loss. Williams and Bone combined for 32.3 points and 9 assists per game last season. That is sorely missed. Flops like this from Yves Pons don't help matters:
Pons given a flop warning pic.twitter.com/ER3oleCiff

— Jordan Dajani (@JordanDajani) December 19, 2019
John Petty was absolutely on fire for Alabama in a 105-87 win over Samford in Birmingham on Wednesday night. Petty drilled 10 3s and finished with 39 points and 10 rebounds, scoring the most points by an Alabama player since star PG Collin Sexton had 40 in 2017:
John Petty Jr.'s 39 pts are the most by an @AlabamaMBB player since Collin Sexton had 40 vs Minnesota in 2017, in the famous "3 on 5" game.

Petty Jr. had 10 3-pt FG tonight. He joins Rotnei Clarke as the only players in SEC history with multiple career games with 10 3-pt FG. pic.twitter.com/fFOhn6mAxa

— ESPN Stats & Info (@ESPNStatsInfo) December 19, 2019
Alabama also set a school record for points in a road game by scoring 105 against Samford. Alex Reese also had 16 points despite battling an injury.
Kerry Blackshear Jr. continues to be inconsistent for Florida, alternating between double-doubles and games where he has lots of foul trouble. Fortunately for the Gators against Providence in Brooklyn on Tuesday, Blackshear's foul trouble didn't hurt them. Florida cruised to an 83-51 victory thanks to a 19-point, 10-rebound double-double from Keyontae Johnson. Tre Mann also showed signs of life, scoring 13 points in the dominant win. On Saturday, the Gators play Utah State (which beat LSU) in the Orange Bowl Classic, which is technically a neutral-site game.
Now, let's take a look at what's going on around the rest of the country.
3. Road Game
The biggest story in the non-SEC world this week was Memphis big man James Wiseman — the No. 1 player in the 2019 recruiting class — announcing he was leaving Memphis. This comes as his NCAA suspension was almost over.
What caused his decision to come out now is unknown, but he announced he'd be focusing on the upcoming NBA Draft via Instagram on Thursday.
So, his Tiger career is over, and being the stats maven that I am, I did a deep dive into his time at Memphis, figuring out exactly how many minutes he played:
James Wiseman's Memphis career lasted exactly 69 minutes.

A new #RaceTo69, @clubtrillion @tatefrazier? https://t.co/FnJetBRtbX

— Adam Spencer (@AdamSpencer4) December 19, 2019
If you thought that was the only joke I'd make about Wiseman, you'd be mistaken. Here's the other one:
Isn't Christmas usually the time where a Wiseman brings good news? https://t.co/FnJetBRtbX

— Adam Spencer (@AdamSpencer4) December 19, 2019
It's OK to make jokes like this, because Wiseman is approximately 4 months from being a multi-millionaire. He's absolutely still going to be a top-10 pick in the draft, so worry less about him and more about what this means for Memphis moving forward.
Now, for some other notes from the non-SEC world:
The Saint Mary's-Arizona State game was one of the craziest games of the year. The Gaels were absolutely dominant in the 1st half, taking a 51-19 lead into halftime. That's not a typo, just check out this box score: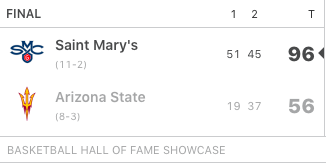 As incredible as that 96-56 win was for the Gaels, though, Alonzo Verge Jr. of Arizona State had a ridiculous game. He came off the bench, played 36 minutes and scored 43 of the Sun Devils' 56 points. That's absolutely wild:
Alonzo Verge scored 43 of ASU's 56 points in loss to Saint Mary's https://t.co/z5QvXOJLwJ

— ACHUSTLE2018 (@achustle2018) December 19, 2019
Naturally, that was his career-high for Arizona State, eclipsing his previous high by 23 points. What a game. Too bad it came in a 40-point loss to Saint Mary's.
It has been a rough year for Georgia Tech. The Yellow Jackets are 4-5 and just suffered a 65-47 loss to Ball State. This might be the worst team in the ACC, and considering the down year the conference is getting ready to experience, that's saying something.
Utah State improved to 11-2 Wednesday, and the Aggies did it in impressive fashion. Justin Bean was in the right place at the right time to give the Aggies a last-second 76-74 victory:
Justin Bean just in time, as @USUBasketball beats South Florida at the buzzer. pic.twitter.com/JwbCczYKXQ

— Dana Greene (@dana_greene) December 19, 2019
Now, Utah State gets to try to pick up another huge nonconference victory against Florida. The Gators have shown they're vulnerable this year.
Maryland has been horrible away from home this year. The Terps fell to 0-2 in true road games Thursday, going down to Seton Hall — another team that has been struggling recently. The Terps don't look like the No. 7 team in the country, but there have been a bunch of top teams looking subpar this year already, so they may remain in the top 10, even after an abysmal 52-48 loss.
Next, let's look ahead to some of the best games of the next few days.
4. Outlet Pass
If you're looking for something to do Saturday, park yourself in front of a TV and watch college basketball. All 5 of my best games between now and Tuesday happen Saturday. Here they are, in order:
Mizzou vs. Illinois in St. Louis (1 p.m. ET on the SEC Network) — I'm an Illinois native and a Mizzou grad (people forget I graduated from Missouri), so obviously this is one of the top games of my entire year. I get that it isn't the most-impactful game nationally, but I'd bet it'll be a close contest.
No. 5 Ohio State vs. No. 6 Kentucky in Las Vegas (5:15 p.m. ET on CBS) — The winner will remain in the top 10, while the loser will have some major questions to answer.
No. 1 Kansas at No. 18 Villanova (Noon ET on FOX) — Can Kansas avoid becoming the latest No. 1 team to lose? (I sure hope not.) Playing in Philly won't be easy for Bill Self's squad.
VCU at Wichita State (Noon ET on ESPN2) — A battle between 2 of the best mid-major programs in recent memory? Sign me up. VCU is 9-2 and Wichita State is 9-1. Should be fun!
No. 20 San Diego State vs. Utah in Los Angeles (6:30 p.m. ET on Pac-12 Network) — Utah is fresh off an upset win over Kentucky. Meanwhile, the Aztecs are one of the last 4 remaining undefeated teams at the Division I level. Should be a fun one in Los Angeles.
See? I told you Saturday's action would be a lot of fun. Check out all 5 of those games and you can still make it to whatever Christmas party you need to go to by 9 p.m. East Coast time. If you're not on the East Coast, even better!
5. Buzzer Beaters
In this section, I'll answer a couple of random questions, which don't necessarily have to be related to basketball. The first question today comes from my good friend Robert:
Who is on your all-name team this year? It's gotta start with Utah's Both Gach, right?
Oh yeah, Both Gach definitely makes the cut. Manhattan's Pauly Paulicap, Arizona State's Remy Martin (who isn't a French cognac, apparently), Rhode Island's Fatts Russell and UCLA's Prince Ali round out my starting 5 (hey, that's the name of this column). I'm sure I missed a few, so feel free to give them a shoutout in the comments section.
Which team will win the SEC this year?
That is a really difficult question, especially considering the team I probably would have picked last week (Kentucky) just lost in Las Vegas to Utah. Still, I think Kentucky's guards (particularly Ashton Hagans) would cause some trouble for Auburn's backcourt. For right now, I'll still give the edge to Kentucky, but watch out for both Auburn and Florida (and even a dark horse like Arkansas).
Enjoy the Starting 5? Have a question? Want to yell at me about something? Follow me on Twitter @AdamSpencer4 or email me at ASpencer@SaturdayDownSouth.com.