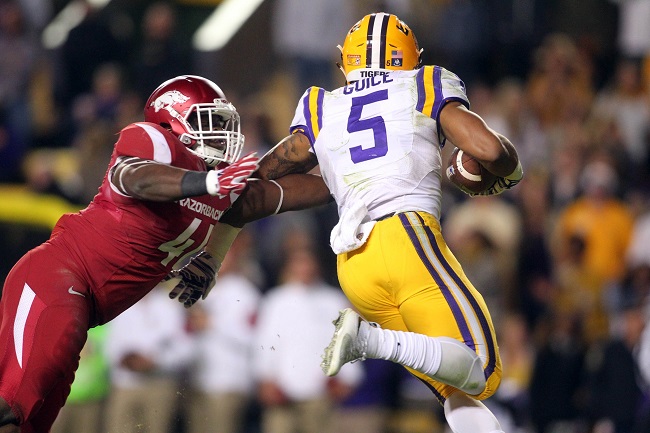 SEC
The most surprising stats of the 2015 season
Let's be honest, there were many unexpected twists and turns in the SEC this season. Let's take a look at the most surprising stat from each team this season.
Florida: With Will Grier as Florida's starting quarterback, the Gator's offense averaged 384 yards per game and 32 points per game. With Treon Harris, Florida's offense averaged 296 yards per game and 17 points per game.
Tennessee: Joshua Dobbs led all SEC quarterbacks — including Mississippi State's Dak Prescott — with 671 rushing yards this season.
Georgia: The Bulldogs passing offense was ranked 104th in the nation, averaging 185.1 yards per game.
Vanderbilt: The Commodores finished fourth in the SEC East.
Kentucky: When RB Stanley "Boom" Williams was in the lineup, he averaged 7.1 yards per carry.
Missouri: The Tigers had the seventh-best defense in the nation, but ranked 124th in the nation in total offense.
South Carolina: Despite starting three different quarterbacks, South Carolina still ranked ahead of Florida, Vanderbilt and Missouri on offense.
Alabama: QB Jacob Coker completed 67 percent of his passes, and threw only two interceptions in the second half of the regular season.
Ole Miss: First-year starter Chad Kelly might have been the best dual-threat quarterback in the SEC, passing for 4,042 yards and 31 TDs and rushing for 500 yards and 10 TDs.
Arkansas: With 1,577 rushing yards this season, Alex Collins surpassed 1,000 yards in all three of his seasons with the Razorbacks.
LSU: Leonard Fournette might be the best running back in the SEC, but his backup — Derrius Guice — averaged 8.5 yards per carry compared to Fournette's 6.5 yards per carry.
Texas A&M: The Aggies quarterback combination of Kyle Allen, Kyler Murray and Jake Hubenak threw for 25 touchdowns with 15 interceptions this season.
Mississippi State: QB Dak Prescott accounted for 73 percent of Mississippi State's total offense this season.
Auburn: Predicted to win the SEC West in 2015, Auburn finished last in the division. It also had the worst offense and the worst defense in the West.