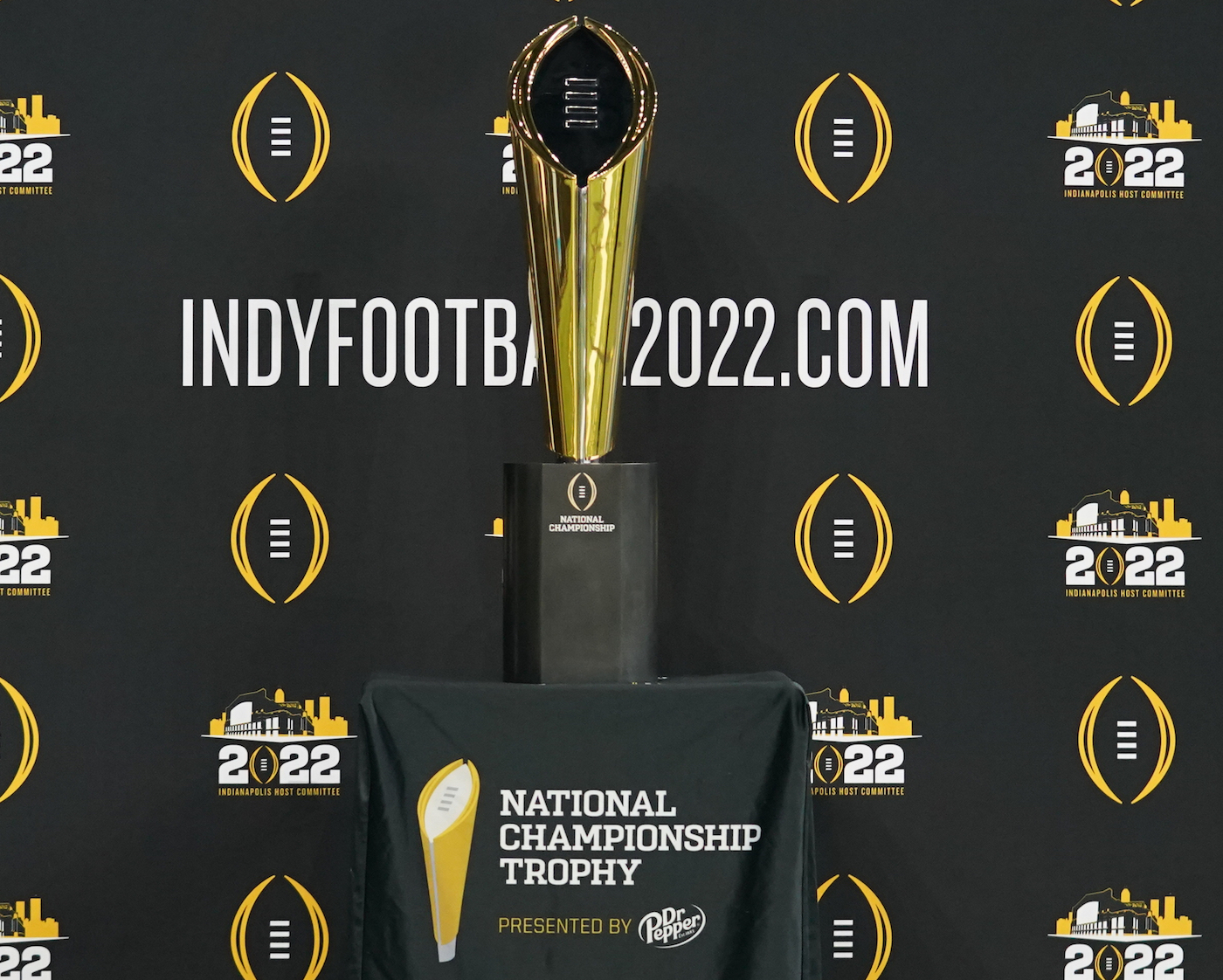 SEC
Takeaways from the fourth Playoff rankings of 2021
I know it's cliché, but it really is sorting itself out.
All of these scenarios we keep talking about this team winning out vs. that team winning out is, to be honest, overplayed. It's fun, but it's overplayed.
I say that because Michigan State and Oregon faded from the Playoff faster than you could say "Gary Barta." The selection committee now has 2 weeks of games remaining to settle on 4 spots for 7 remaining contenders.
Who are the remaining 7 contenders, you ask? Well, they're in order from 1-7, obviously:
Georgia
Ohio State
Alabama
Cincinnati
Michigan
Notre Dame
Oklahoma State
That's the cutoff point. Sorry, Oklahoma. The 1-loss Sooners aren't getting there when they were 9-0 and sitting at No. 8 in the rankings.
As for the rest of the rankings, read 'em and weep!
🚨 The latest top 25 🚨

#CFBPlayoff pic.twitter.com/f1FhXKKTBd

— ESPN College Football (@ESPNCFB) November 24, 2021
Here were my takeaways from Tuesday night's Playoff poll:
1. The battle for No. 2 just got a touch more interesting
Ohio State being ranked No. 2 ahead of Alabama was a significant development for a couple reasons. This was the first switch at the No. 2 spot. The selection committee acknowledged the fact that the Buckeyes destroyed a respected Michigan State squad. You knew they were moving up with Oregon falling out of the top 4, but the only question was No. 2 or No. 3.
Alabama beat a respected Arkansas squad, but the problem was that for the 5th time in 7 SEC contests, Nick Saban's team was in a 1-score game in the fourth quarter. Alabama's average margin of victory against Power 5 teams is only 16.5 points, which is 10 less than Ohio State. Does that mean 1-loss Alabama is suddenly without a path to the Playoff? Of course not. The Tide can win out and actually earn the No. 1 seed. It's also worth mentioning that Alabama is the only remaining contender with 2 wins against the current AP Top 25.
But why that No. 3 spot is significant is because if you were of the belief that the Tide would still be able to make the field with a close loss to Georgia, Tuesday's ranking was a setback. Or perhaps a reality check. Take Barta's post-selection show quotes for what they are, but they clearly see some chinks in Alabama's armor:
Gary Barta: "Alabama's still a great team, have a wonderful win against Ole Miss. The last few weeks, just not showing as much domination on defense."

— Stewart Mandel (@slmandel) November 24, 2021
I've been banging the drum for weeks that Alabama wasn't making the Playoff without that Georgia win. Do we really think that the first 2-loss team to earn a Playoff bid would be someone who didn't win their own conference? I say no, and perhaps others are now on board with that, as well.
The good news for Alabama? It's 1 of 7 teams with a Playoff path heading into Rivalry Week.
2. History
Excuse me a minute while I do some quick math.
This is Year 8 of the Playoff … 6 Playoff rankings every season … this is the fourth ranking of the 2021 season … yep. Got it. For the first time in the 60 Playoff rankings, a Group of 5 team is in the top 4. Many said it would never happen. Cincinnati made some history on Tuesday night.
Why did that happen? The Bearcats clubbed an 8-win SMU team. Those style points that had been lacking were finally there. On top of that, Oregon fell out of the top 10 altogether after it held one of those top-4 spots in each of the first 3 rankings. There really wasn't much of a choice for the selection committee, especially as Notre Dame continues to win and ultimately help Cincinnati's résumé.
Michigan wasn't going to suddenly hurdle Cincinnati for beating 5-win Maryland. And fortunately for the Bearcats, Michigan or Ohio State will be eliminated this weekend. A 2-loss, non-Big Ten champion won't make the field.
It would've been nice for Cincinnati to see the selection committee move 1-loss Houston up from No. 24 so that the AAC Championship a week from Saturday could have an even bigger impact, but take that for what it is. The Bearcats look like a team who can win out and make the field. I mean, they're 3 spots ahead of a 1-loss Oklahoma State team. If the Cowboys could fall in Bedlam this weekend, the Bearcats' path would open even more.
For now, though, let's just appreciate that Tuesday night offered up some history.
3. Here's why Georgia's résumé is still better than many probably realize
If you just glance at it quickly, you'd see that the Dawgs only have 1 win against a team currently in the CFP Top 25, and it's No. 25 Arkansas. So why aren't we talking about Georgia the way that we talked about 9-0 Oklahoma? Two reasons.
One is that Georgia beat every SEC team by at least 3 scores compared to an Oklahoma team who, at the time, had a single-digit average margin of victory against Power 5 competition.
The other reason is if you look at each contender's wins against Power 5 teams with bowl eligibility, well, Georgia takes the cake:
Georgia, 7
Alabama, 5
Notre Dame, 4
Ohio State, 4
Oklahoma, 3
Oklahoma State, 3
Michigan, 2
Cincinnati, 1
That's why we talk about conference strength. Even in a year in which the East really doesn't have that legitimate No. 2 team, Georgia still benefits from playing in a league that has depth and for the most part, handles its business in nonconference play.
The Dawgs will have a Playoff ticket punched by this time next week. The only question will be what seed they'd fall to if they were to lose in the SEC Championship.
4. Let's end with conference supremacy fun!
Hey, if you can't flex about your conference's total Top 25 teams, what are you even doing on Twitter on Tuesday night?
Here's the league-by-league breakdown of Top 25 teams:
SEC: 5
Big Ten: 5
ACC: 4
Big 12: 3
Pac-12: 2
AAC: 2
Ind. 2
Conference USA: 1
Mountain West: 1
Don't look too far into that ACC number. All 4 of those teams are ranked from 17-23. Too much parity for a Playoff team. The same goes for the Pac-12, who is now out of the mix with only No. 11 Oregon and No. 18 Utah.
Is it possible that we'll see a third Power 5 conference eliminated by the end of the weekend? Again, I'm counting 1-loss Oklahoma as a non-contender, which would make Bedlam a potential conference elimination game, as well. It's clear that the SEC and Big Ten are the only 2 conferences with bids essentially guaranteed.
Two more rankings, so many more questions to be answered.