SEC
Thanks to quarterbacks (yes, quarterbacks), is the SEC East on the up and up?
This decade has not been a particularly good one for the SEC East division. In the seven SEC championship games that have occurred this decade, the East division has won exactly zero of them. What's more, they've lost that game by an average margin of almost 25 points.
At least part of the reason for that discrepancy can be summed up in the APs All-SEC teams over this same period. The AP has recognized 15 quarterbacks on its All-SEC first- and second-teams from 2010-16; only three came from the East, and all three were second-teamers. Those would be 2011 (Aaron Murray, Georgia), 2013 (Aaron Murray, Georgia), and then 2016 (Joshua Dobbs, Tennessee). Suffice to say, the SEC East has been marked by unspectacular QB play.
The last SEC East QB to be named All-SEC first team? Tim Tebow in 2009.
That's a pretty major liability in a conference where teams regularly boast NFL-caliber players to form nationally top-ranked defenses. Without strong QB play it's hard to stand out from the rest of the pack, yet SEC East division teams have routinely hired defensive coaches, creating a "crabs in a bucket" sort of effect.
However, there's some sunlight peering over the horizon for 2017 and a chance that the SEC East makes a stronger showing than we've seen of late.
Large-scale transition
The story across the SEC East last year was of multiple teams looking to settle their QB positions or break in young starters. As a result, five of the seven teams return their starting QBs for 2017.
The other two squads are Florida and Tennessee, who you'll notice finished at the top of the league. The Vols' success, disappointing as it was, came largely thanks to the play of the now departed Joshua Dobbs.
The Gators rotated between grad transfer Austin Appleby and walk-on Luke Del Rio, leading to predictably turnover-prone play from the position. Appleby has graduated and Del Rio has been relegated to likely back-up status due to the emergence of redshirt freshman Feleipe Franks and the incoming transfer of Malik Zaire from Notre Dame.
The last SEC East QB to lead the league in yards and TD passes? Aaron Murray (3,893 and 36) in 2012.
So five of the seven teams in the East went into this offseason with the opportunity for stability and improvement at the most important position on the field. The sixth team (Florida) is likely to face transition but with more talented options to choose from. Finally there's Tennessee, which is looking to replace Dobbs with junior Quinten Dormady, a talented passer who could potentially open up the Vols' offense in areas where Dobbs struggled, or dual-threat Jarrett Guarantano.
It's possible that each team will be better off in this regard in comparison to 2016.
Areas of particular breakthrough
A few teams stand out as having a lot to gain from the changes to their QB rotation relative to a season ago. The first might be Missouri, which finished dead last in the East at 2-6 a year ago but now returns 10 starters from an offense that finished 42nd in offensive S&P+ (adjusted stats rankings).
Last season Missouri adopted the offensive style that put Baylor on the map under Art Briles, featuring very wide receiver splits and heavy usage of RPOs (run/pass options) and play-action throws designed to punish teams for loading the box and leaving the receivers in man coverage.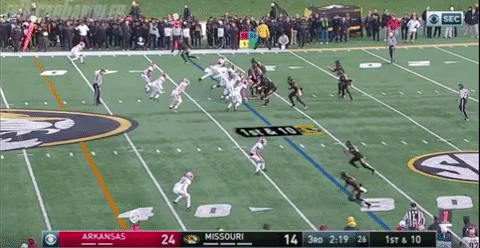 While Drew Lock threw for 3,399 yards and 23 touchdowns, the Tigers were inconsistent in either handling man coverage or protecting Lock …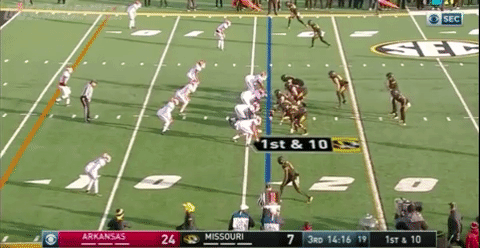 That's a running play with the option to throw a route to the isolated receiver on the bottom, but the left guard gets beat on the edge and sets up Lock to get rocked. The Tigers also struggled to execute a limited variety of man-beating route combinations on the outside. But in 2017 the OL returns and Lock will be in Year 2 of this system with after another offseason nailing down timing with all of his favorite targets from 2016, most notably J'Mon Moore.
South Carolina is another team with a chance to make a considerable leap from 2016. Jake Bentley and all of his top skill talents are back, as is most of the OL that began to piece together down the stretch of 2016. Amongst those returning starters is TE Hayden Hurst, who gives the Gamecocks a nice tool for overmatching defenses in the seams.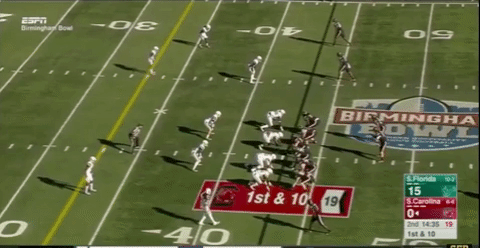 Here you can see Bentley hit the USF Bulls over the middle on a hi-low concept against their weak side linebacker. The LB stays shallow on the underneath route and leaves the window for Bentley to fire the ball up the seam to Hurst. That's not a "security blanket" throw or TE for a young QB; that's an aggressive, down the field weapon.
The frontrunners
Finally we have this year's frontrunners, Georgia and Florida. Both teams turned over nice chunks of their 2016 rosters but are hoping to reload with the next generation bluechip athletes while raising the ceiling for their programs with QB play.
The last time the SEC East had 3 QBs throw for 3,000 yards? 2010 (Mike Hartline, Stephen Garcia and Aaron Murray).
The SEC East could have a strong season overall, but if none of the top teams can make some noise in premier matchups against nationally competitive teams from the West or other conferences, then the breakthrough won't be a recognized narrative.
For Georgia to make good they'll need a big leap from sophomore QB Jacob Eason. He produced some playmaking as a true freshman a year ago …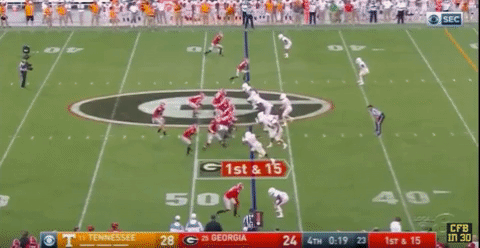 … but they need him to maestro an offense better than the 93rd ranked unit of 2016. His best targets remain and Nick Chubb and Sonny Michel are back, but the Dawgs are rebuilding their offensive line with three underclassmen likely to start this season.
Meanwhile the Gators are bringing back a better looking infrastructure with four starting OL returning and a variety of weapons for the starting QB to use. (Though neither Antonio Callaway nor touted signee James Robinson will be available against Michigan.) The big question is whether they think redshirt freshman Feleipe Franks is ready to run the show or if they'll send Notre Dame grad transfer Malik Zaire out there for a year to run around and buy time.
If either of these teams can put forth a breakthrough season that allows them to rule an improved SEC East, we could see the division's reputation start to rebuild in 2017.