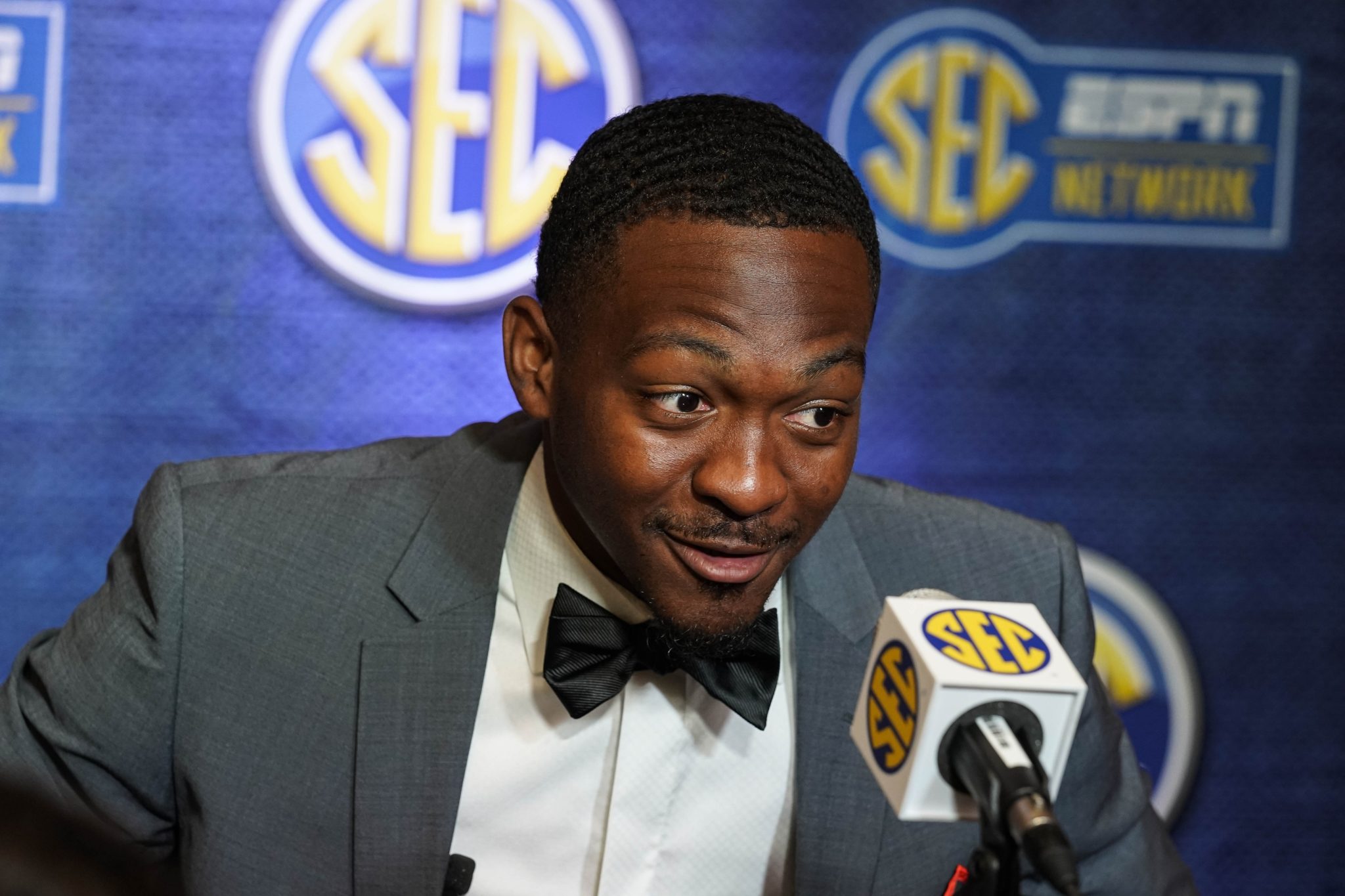 SEC
The best-case scenario for every SEC team in 2022
Let's be realistic.
Not every SEC team has national championship upside. I hate to be that guy, but even in a conference with 3 different national title winners in the last 3 years, there are only a handful of SEC teams who are capable of being the last team standing.
The majority of the conference, even in its wildest scenario, will fall short of the ultimate goal. That's OK. There are still a ton of positives to be gained from a 10-win season. Go ask Kentucky about that. Go ask Arkansas fans what it meant to win 9 games, 4 of which were rivalry games.
It's not all "national championship or bust." There are extremely positive outlooks that couldn't create that path. Talent level, development and coaching dictates that.
Because we're about to begin fall camp, I thought now would be a perfect time to map out a "best-case scenario" for each SEC team. Essentially, what's every 2022 squad's upside? Can they compete for a national title? Or would 7 wins be considered a wild success?
Let's dig into that (I'll only map out regular season and bowl potential).
Alabama
Best-case scenario — 12-0, national champions
While I think it's wildly overlooked that the AP preseason No. 1 only has 1 national title in the last 17 seasons (2017 Alabama), I do think a Nick Saban-coached team with Bryce Young and Will Anderson has that kind of potential. The Tide could be a unanimous preseason No. 1, and it wouldn't surprise me. That's not to say the Tide are flawless. Lord knows they have questions on the offensive line, and ideally, they'd figure out who the stud lockdown corners will be. But after a runner-up season and a bevy of significant transfer portal additions, it's not breaking news to say the Tide could overcome those issues and join the 2009 and 2020 squads as Saban-coached unbeatens.
Arkansas
Best-case scenario — 10-2, New Year's 6 bowl
That's a 2-win improvement for a team that hung tough in every non-Georgia game it played. That included a 1-score loss at Alabama. There are questions about KJ Jefferson's pass-catchers in a post-Treylon Burks world, but another step for the Arkansas signal-caller is part of any "best case scenario." Ideally, Drew Sanders would be just what the doctor ordered as a much-needed pass-rusher, Jalen Catalon would stay healthy and Barry Odom would boast a top-20 defense. That formula, with an elite ground game, will be pivotal with what's an extremely daunting schedule. Losing to Alabama and then at least 1 other time (at BYU, vs. A&M or at MSU) seems like a fair ceiling to set after the Hogs had their best season in a decade.
Auburn
Best-case scenario — 8-4, Florida bowl berth
Part of me would just love to say "well, screw it. It's Auburn. A miracle run is always on the table." Given the number of questions that are being asked about this team, an 8-4 ceiling is hedging against that possibility. Ideally, Zach Calzada would be a perfect fit in Bryan Harsin's tweaked offense, Tank Bigsby would become one of the most electrifying players in America for a full season and Jeff Schmedding's defense would out-perform some conservative expectations. Auburn would love to correct last year's 1-5 mark in games decided by single digits. But there are too many questions on the line of scrimmage and at quarterback to put any logic behind a ceiling above 8-4.
Florida
Best-case scenario — 8-4, Florida bowl berth
Wait. Only 8-4? Dan Mullen and Jim McElwain both performed better than that in Year 1. Why couldn't Billy Napier? I can be a Napier believer and still think his path to a 9-win season is extremely difficult because of how improved the East is and that nonconference schedule. And let's be real. We're talking about a program that's 3-9 in its last 12 games vs. Power 5 competition. Best-case scenario is Anthony Richardson becoming a Heisman Trophy candidate who becomes must-see TV with a ground game that sees Florida produce a 1,000-yard rusher for the first time in 7 years. If Florida can flirt with mediocrity defensively, that'd be a positive sign. But the nonconference showdown against a historically good Utah team with a rotating crossover game at A&M has me thinking a New Year's 6 Bowl in Year is unrealistic.
Georgia
Best-case scenario — 12-0, national champions
Repeating is tough. Darn tough. There's a reason why it hasn't been done in a decade and we've only seen 2 programs accomplish that feat in the 21st century. Of all the things Nick Saban has done as the greatest football coach ever, he has 1 repeat title. Unlike that 2012 Alabama team, which Kirby Smart was a part of, UGA is attempting to pull off that feat after losing 15 players to the NFL Draft. Is it realistic to assume UGA will repeat? No. But this is best case scenario. A team with UGA's talent combined with a relatively similar staff and the same starting quarterback has national championship upside. Any UGA repeat scenario entails Stetson Bennett IV playing like he still has everything to prove, and Smart's defensive line grows up in a hurry. But the Dawgs should be favored by double digits in every regular season game, and that's about as much as they can ask for.
Kentucky
Best-case scenario — 9-3, New Year's 6 bowl
I nearly put 10-2. I did. But then I remembered that the last time Kentucky had fewer than 3 SEC losses in a season was 1977. Do I think Kentucky has potentially its best team in nearly half a century? Not quite. Everyone is talking about the loss of Wan'Dale Robinson, but don't sleep on losing leaders like Josh Paschal and Darrian Kinnard. The most stable thing about Kentucky is Will Levis, who has questions of his own (existing in a post-Robinson world, connecting on deep balls, new OC, etc.). But Mark Stoops has done a tremendous job elevating the floor of his program, and given the unknowns outside of UGA in the East, there's certainly a world in which Kentucky posts a winning SEC record in consecutive seasons for the first time since 1976-77.
LSU
Best-case scenario — 9-3, New Year's 6 bowl
If there's 1 SEC team that I truly don't know what to project, it's LSU. Why? LSU has a new coaching staff, a new starting quarterback and new starters galore via the transfer portal. That's after it had 10 players selected in the 2022 NFL Draft, which is pretty stunning for a 6-win team. I have no idea what LSU's 2022 identity will be. The Tigers have a phenomenal group of receivers — as long as Kayshon Boutte is on the field — with several capable quarterback options and defensively, I love the edge-rushing duo of BJ Ojulari and Ali Gaye. Outside of that? Your guess is as good as mine. In a best-case scenario, John Emery and Noah Cain live up to the hype they got as decorated 2019 recruits and LSU's offense is one of the league's best. But in the ever-humbling West, you don't just step in and win 10 games from the jump.
Mizzou
Best-case scenario — 7-5, Mayo Bowl
Don't get mad at me, Mizzou fans. South Carolina just showed the world that mayo can be fun. Don't tell me that Mizzou or the SEC East are in the place they were in back in 2013-14 when the Tigers shocked the world and made it to Atlanta. Instead, tell me how many SEC road games Mizzou has won since then. It's 7. And of those 7, 2018 Florida was the only one of those teams who went on to play in a bowl game. A 7-21 SEC road record in the last 7 seasons is why the Tigers played a conference game as an AP Top 25 team just twice in that stretch. Ideally, Brady Cook would develop into an above average SEC starter and an improved Mizzou defensive line would help the Tigers overcome their 3rd defensive coordinator in as many years. The Tigers are always ready to win 1 at home that they shouldn't — the home game vs. Kentucky is one to keep an eye on — but it's hard to envision anything more than Eli Drinkwitz getting a mayo dump at season's end.
MSU
Best-case scenario — 9-3, New Year's 6 bowl
I think I was higher on MSU than anybody at SEC Media Days. I had the Bulldogs finishing 4th. As we know, a 4th place team in the West has New Year's 6 Bowl upside. History is working against a program with 1 winning record in SEC play this century, and I have my concerns about Will Rogers' blindside in a post-Charles Cross world. But nobody in the SEC returns more production than MSU. Couple that with the coaching staff stability entering Year 3 with Mike Leach and Zach Arnett, and yeah, I don't think 9 wins is out of question. It would take faster offensive starts and fewer grenade games from Rogers, but outside of games against Alabama and Georgia, there really aren't any other obvious hurdles. MSU will be better than people expect if their pass-rushers stay healthy this year and if they can find a way to replace Cross.
Ole Miss
Best-case scenario — 8-4, Florida bowl berth
The crazy thing is this is supposed to be a "floor" season for Lane Kiffin. The "portal king" was extremely active in recruiting transfers. The additions of Zach Evans, Ulysses Bentley, Michael Trigg and Jaxson Dart have many assuming that the offense will rebuilt overnight behind an offensive line who returns 4 starters. Defensively, though? I have more concerns, and not just because DJ Durkin got poached by A&M. Maybe I'm just so used to seeing horrendous run defenses the majority of the last 5 years at Ole Miss that I picture this new-look front will have issues. I worry about the depth of that group with a back-loaded schedule with latter half games vs. Tank Bigsby, Devon Achane, Jahmyr Gibbs and Arkansas, who returns almost everyone from the No. 1 Power 5 rushing attack last year. That'll limit Kiffin's Year 3 upside.
South Carolina
Best-case scenario — 8-4, Florida bowl berth
South Carolina entered the offseason as the ultimate good vibes team in college football. That's a credit to Shane Beamer and how he weathered the storm with a 7-win Year 1. Adding a quarterback as talented as Spencer Rattler only added to the notion that the Gamecocks are on the rise. The best case for South Carolina is Rattler looking like the 2020 version of himself when he earned Big 12 Championship MVP honors and finished with a quarterback rating better than Trevor Lawrence. Him becoming a 1-and-done would mean he elevated an offense that struggled for much of 2021. A best-case scenario is South Carolina getting better in the trenches on both sides and having former 5-star recruits Zacch Pickens and Jordan Burch turn around a porous run defense. That schedule, which features crossovers at Arkansas and vs. A&M with a nonconference clash at Clemson, is why I can't put a 9-3 ceiling on Beamer's squad.
Tennessee
Best-case scenario — 9-3, New Year's 6 bowl
Tennessee's ceiling has always been limited by the 3 rivals on the schedule. In the post-Phillip Fulmer era, the Vols are a combined 4-35 against Alabama, Florida and Georgia. Anybody saying they have 11-1 upside would be ignoring that. I'm acknowledging that while also saying with how explosive that offense should be, the Vols can hang with anyone. Running it back with Hendon Hooker, Cedric Tillman and Jabari Small means that Tennessee has a best-case scenario of finishing with the No. 1 offense in America. The last Power 5 team to win 10 games with a non-top 90 defense was 2018 Oklahoma, who reached the CFP but ultimately couldn't slow down the Alabama offense. Tennessee doesn't have that type of potential playing that schedule, but reaching the program's first New Year's 6/BCS Bowl since the 1999 season would be a monumental feat just 2 years removed from the Jeremy Pruitt fallout.
Texas A&M
Best-case scenario — 10-2, New Year's 6 bowl
Three things have to happen in order for A&M's ideal season to unfold. One is that whoever starts at quarterback at least has an argument for All-SEC at season's end. The other is that Evan Stewart becomes Jimbo Fisher's best true freshman receiver ever and he gives the Aggies that go-to outside threat that they've been lacking since he arrived in College Station. Last, but certainly not least, would be A&M's extremely young but promising defensive line grows up in a hurry. They don't all need to look like the next coming of Myles Garrett, but A&M's youth cannot be an excuse if it wants a path to a New Year's 6 Bowl. I still don't think that gives A&M, who hasn't played in a conference championship this century, Playoff upside. But being in that conversation in late-November would halt those Kevin Sumlin comps that Fisher's been getting since the end of last season.
Vanderbilt
Best-case scenario — 4-8
I disagree with Clark Lea that in time, Vandy will be the best program in America. Not in football. In 2022, Vandy having a shot at bowl eligibility involves Mike Wright picking up where he left off in November and taking another step in the offense. It would be him making plays when his protection breaks down and keeping defenses on the field. Lea's offensive line, which lost Tyler Steen to Alabama, will limit that potential. But the road to hitting 4-5 wins would include Lea's defense starting to show the identity we saw at Notre Dame. It would've been nice to have seen be more active in the transfer portal. Instead, a team who has yet to win a conference game in the 2020s is still facing an uphill climb to win multiple games against Power 5 competition in 2022.