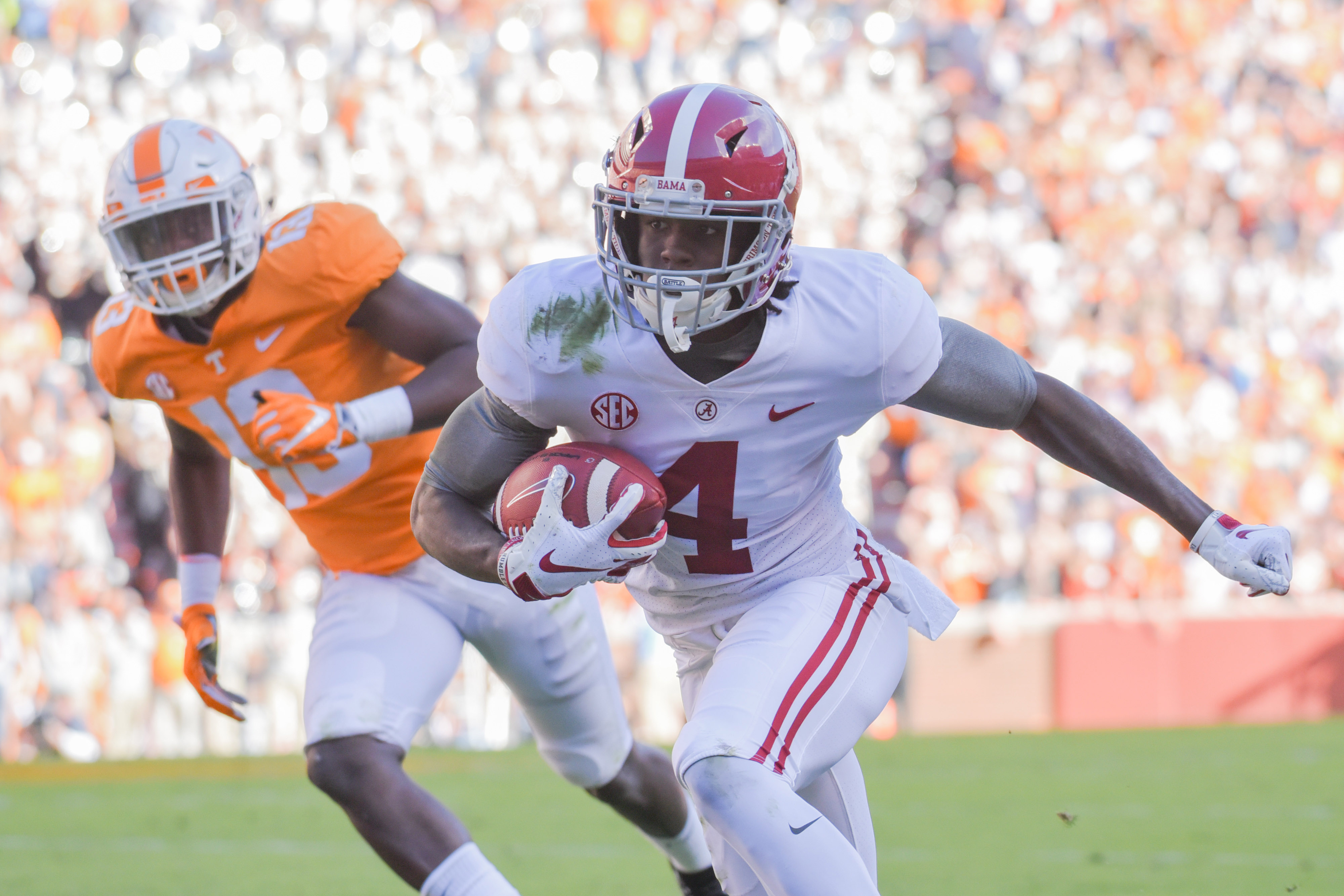 SEC
The most critical non-QB on every SEC West team
It should go without saying, but quarterbacks are pretty important to the success of a football team.
I know, unbelievable insight there.
Granted, there are some exceptions and instances where a player other than the QB is more critical (Herschel Walker circa 1980 being a good example, no offense Buck Belue), but it's rare.
The SEC is going to field a solid crop of QBs this fall, but that doesn't diminish the fact that there are other players on each team who will provide critical value.
So, excluding quarterbacks, who are the most critical players for each team in the SEC West this fall? I thought you'd ask that!
Alabama: WR Jerry Jeudy
Aside from HC Nick Saban and QB Tua Tagovailoa, you can make the case that no one is truly critical to Alabama's ultimate success this year thanks to the immense amount of talent littered throughout the roster. Alabama is one of the few teams in the country that can sustain a few injuries and keep trucking toward the Playoff. With that said, one player who would be brutally difficult to replace is receiver Jerry Jeudy, the face of the best receiving unit in the country.
I know Henry Ruggs, DeVonta Smith and Jaylen Waddle are big time playmakers (and all could be future first-round draft picks), but Jeudy is a rare talent. At 6-1, 192, he's not an overpowering, physical receiver who can bully DBs, but he's a natural route runner with reliable hands who can make plays after the catch. With another offseason to improve timing and rapport with Tua, he just might surpass the impressive numbers he posted as a sophomore (68 receptions, 1,315 yards, 14 touchdowns).
Arkansas: LB De'Jon Harris
Frankly, it's not a stretch to say Harris is the most critical player even if you include quarterbacks. He's certainly been the most critical player the past 2 years, that's for sure, as the Razorbacks have wallowed in sub-par QB play. The 6-0, 244-pound senior has led the Hogs in tackles each of the past 2 years, combining for 233 tackles, 17.5 TFLs and 5.5 sacks, earning All-SEC honors each year.
It's easy to say he's racked up those stats by being the only consistent playmaker on defense, but that'd be unfair to his game. He's about as reliable as they come in terms of making pre- and post-snap reads and is a heat-seeking missile to the ball carrier. If the Hogs are going to improve from 12th in the SEC in yards per play (6.0), they absolutely have to have another big season from Harris.
Auburn: DT Derrick Brown
The Tigers feature arguably the best defensive line in the country, so they have a couple of guys worthy of consideration. Ultimately, it's hard not to point to the big fella in the middle though, who passed up first-round bucks a few months ago to return to The Plains for his senior season.
At 6-5, 325 pounds, he's far from just a big-body who takes up space up front. He's very athletic with a terrific combination of power and quickness, who offers a versatile skill set. He can play the role of 2-gap run stuffer who can anchor against doubles, who also has the ability to penetrate the line and disrupt plays in the backfield. Throw in the fact that he's a very well-respected leader not only in the locker room but on campus, and it's easy to see why Brown is critical to the Tigers success this year.
LSU: S Grant Delpit
If you've read any of the other pieces I've written this offseason, you probably know by now I'm simply enamored with Delpit's game. Not only do I think he's the best defensive player in the country, I think he's the best prospect for the 2020 NFL Draft heading into the 2019 season. So, of course I believe he's an absolutely critical player for the Bayou Bengals this year.
The 6-3, 203-pound junior was electric last year, totaling 74 tackles, 9.5 TFLs, 5 sacks and 5 interceptions, being named a unanimous All-American. Quite frankly, he's the ultimate defensive chess piece with his versatility to affect the game in so many facets – he can stop the run, pressure the QB, play man (press or off) and zone coverage or drop deep into a single high look. He can make plays all over the field, making him a nightmare to play against.
Mississippi State: C Darryl Williams
The Bulldogs drastically retooled and reshuffled their offensive line this offseason. Not only are they replacing C Elgton Jenkins (second-round draft pick) and RG Deion Calhoun (second-team All-SEC last year), but LT Greg Eiland (now RT), RT Stewart Reese (now RG) and LG Darryl Williams (now C) all changed positions.
Key to the success of the new offensive line will be Williams, the lone player up front getting preseason All-SEC nods. He's the most valuable player along the line, their most effective blocker and also the leader and tone-setter. Replacing Jenkins will be no small feat, but Williams is a smart and savvy player who can make the calls up front while continuing to provide devastating run blocking ability to what should be a potent Bulldogs rushing attack.
Ole Miss: RB Scottie Phillips
One primary reason Matt Luke brought in Rich Rodriguez to run the offense was his desire to employ more of a ball control offense that emphasized the rushing attack. Obviously, this makes Phillips, who should be the primary ball carrier, an enormous part of the offense.
Phillips was a revelation last year after transferring in from Jones County JC, rushing for 923 yards (6.3 YPC) and 12 touchdowns in the first 9 games before getting injured early against Texas A&M. He's a decisive runner who can plant and go. He shows good patience, burst and power to get to the second level. The Rebs will have an exciting group of tailbacks to share the load, but they need Phillips to be the bell cow who can move the chains.
Texas A&M: DT Justin Madubuike
The Aggies are replacing numerous key contributors from last year's defense, especially in their front seven. Somehow, they'll have to replace the lost production from Landis Durham (17.5 sacks in 2017 and 2018), Kingsley Keke (7.5 sacks last year) and Daylon Mack (5.5 sacks), all while facing arguably the toughest schedule in the country.
One guy who absolutely needs to have a big year is Madubuike, who was playing as well as anyone on the defensive line by the end of the year. The former DE has done a great job of retaining his explosiveness while adding mass and power, making him a very effective interior pass rusher who can win 1-on-1s in a variety of ways. He'll force countless double-teams this year, which will help free up everyone around him.