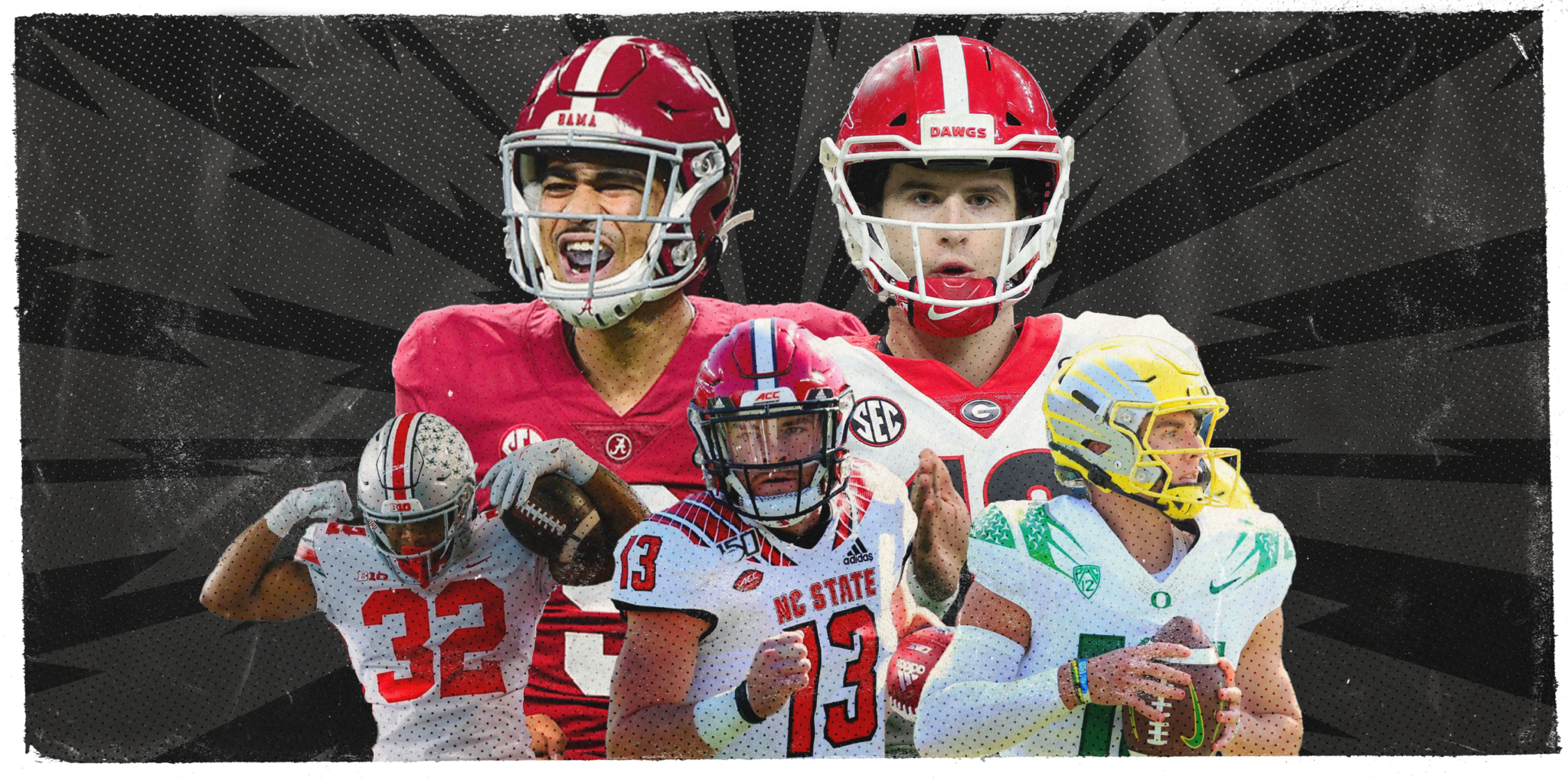 SEC
The SDS Preseason Top 25 for 2022
Editor's note: Welcome back to Top 25 week. Our annual college football preview series begins today with a look at the Top 25 teams in the country. Throughout the week, we'll preview and rank coaches, coordinators, players, transfers, freshmen and more from a national and SEC perspective.
* * * * *
I cannot overstate this — ranking Top 25 teams is not predicting where they will finish.
If you are ranking teams based on strength of schedule, buddy, you've already lost. You can cite strength of schedule as a potential reason a team will/won't finish in a certain spot, but to factor strength of schedule into a preseason ranking is silly.
So then what should you do with a preseason ranking? It's not that hard. Base it on how they would fare playing a game tomorrow. That means you factor in what they did last year, what sort of personnel attrition they had, how they did in the transfer portal and what kind of track record their coach has.
There are teams inside my preseason Top 25 that I do not believe will finish where I have them ranked because of their strength of schedule. That's OK.
I will try to avoid doing the thing where I overrate a team just because I love their returning starting quarterback. That bit me in the behind with Sam Howell and UNC last year. I'll admit that it could blind me again this year.
A preseason Top 25 ranking got more complicated with the transfer portal. This is the first full offseason we had with the 1-time exemption rule in place. We have teams like LSU that loaded up and added 15 transfers to overhaul their roster. That means we have a whole lot of unknowns with how that talent will translate.
OK, enough small talk. Let's rank football teams:
25. Houston
You could make the case that I should be higher on Dana Holgorsen's squad after it won 12 games and returned 74% of its production. Maybe it's just my memory of watching that team struggle to score against a spiraling Auburn squad that's skewing this. Whatever the case, Clayton Tune is back for Year 5 and Nathaniel Dell is on any short list of the top returning Group of 5 receivers. A torn ACL to starting tailback Alton McCaskill in the spring slowed some offseason momentum after last year's No. 17 finish in the AP Poll.
24. Miami
You can love Tyler Van Dyke and Mario Cristobal's start while thinking the Canes are a borderline Top-25 team. Phenomenal coordinator hires (Josh Gattis as Kevin Steele) and recruiting efforts aside, Miami is still coming off a year in which it ranked No. 84 in scoring defense and it went 5-5 vs. Power 5 competition. There will be a lot of pressure on Van Dyke and that new-look group of receivers. The good news? Cristobal made the underrated moves of going to Oxford and poaching running backs coach Kevin Smith and talented back Henry Parrish. A Top-25 finish in Year 1 is well within reach for Cristobal.
23. Michigan State
Let's not do the thing where we underrate Kenneth Walker III. The dude was a straight up godsend. Portal additions like that don't grow on trees. You have to mine for them because they're gold. In a post-Walker world, it's fair to have questions about Mel Tucker's squad, mainly, what does Payton Thorne do as the face of the offense? Fortunately, the Spartans return 8 starters on defense, which doesn't include SEC linebacker transfers Aaron Brule (Mississippi State) and Khris Bogle (Florida). The Spartans' pass defense was the worst in FBS last year. Some more experience returning all over the defense should, in theory, prevent that from being such a liability. There won't be the same margin for error without Walker.
22. Iowa
On one hand, I hate that Kirk Ferentz ran it back with his son, Brian Ferentz, as the offensive coordinator. Iowa averaged 22.8 points per game vs. Power 5 competition. Even worse? The Hawkeyes ranked No. 120 out of 130 FBS teams in yards per play. Iowa ranked No. 116 in FBS in quarterback rating, so naturally, Brian Ferentz got a slight raise and is now the quarterbacks coach. Woof. So why is Iowa here? That defense, man. It was a top-15 scoring unit, and it finished No. 8 in yards/rush allowed. Jack Campbell and Riley Moss should lead a top-10 group that'll be asked to bail Iowa out of some rock fights.
21. BYU
If BYU had won the Independence Bowl, I think there would be more talk about just how dangerous the Cougs are poised to be in 2022. I mean, they went 6-1 vs. Power 5 competition and their lone loss was at Baylor, which finished No. 5 in the AP Poll. BYU ranks No. 2 in FBS in percentage of returning production. I honestly think the reason they aren't getting more love is because of the gauntlet schedule (vs. Baylor, at Oregon, vs. Notre Dame in Las Vegas, vs. Arkansas). Again, that's silly. Kalani Sataki returns an experienced team, and in a post-Zach Wilson world, Jaren Hall proved he was ready. Don't sleep on BYU in 2022.
20. Kentucky
You know about Will Levis by now, but what you may not know about is all the questions around him. First-team All-SEC back Chris Rodriguez's suspension status is to be determined, top target Wan'Dale Robinson is off to the NFL and so is offensive coordinator Liam Coen, who revolutionized the offense. In steps San Francisco 49ers offensive coordinator Rich Scangarello, who will be tasked with guiding Levis to that next step. While Kentucky still has massive leadership voids without Darian Kinnard and Josh Paschal, Mark Stoops has an experienced group of linebackers who are capable of doing the heavy lifting. Another 9-win regular season is on the table.
19. USC
If you read that ranking and thought I was down on USC, you'd be correct. It blows me away that they're getting dark horse national championship love when the Trojans won 4 games last year and they hired a coach who has yet to win a Playoff game. I'm an Alex Grinch believer, but even with those transfer portal additions, I'm not holding my breath on USC being a top-tier defense after it failed to crack the top 100 last year. Yes, Caleb Williams is an upgrade at quarterback and I love all the new weapons, especially Biletnikoff Award winner Jordan Addison and Oregon leading rusher Travis Dye. But look at Williams' numbers against top-70 defenses vs. his numbers against non-top 70 defenses, beginning with when he took over against Texas:
Caleb Williams (8 games)
Non-top 70 defenses
Top-70 defenses
Passing yards/attempt
10.6
6.4
Games w/ 60% passing
5 for 5
0 for 3
Remember that before you parlay Williams to win the Heisman along with USC to run through that schedule on the heels of a 4-win season.
18. Ole Miss
The "portal king" Lane Kiffin didn't mess around. He went out and landed 247sports' No. 2 portal class. This year is supposed to be a floor season, but having the roster overhaul Ole Miss had with 13 Power 5 transfers is absurd. That doesn't even include SMU transfer Ulysses Bentley, who should pair well with TCU transfer Zach Evans and form one of the SEC's top backfield duos. While I'm not sold on Jaxson Dart (I have Luke Altmyer winning the job), I love that Ole Miss has 4 returning offensive line starters and a bevy of new skill-player weapons. The defense is getting a major overhaul with coordinator DJ Durkin off to A&M, and losing the likes of Sam Williams and Chance Campbell to the NFL suggests that run defense could be a major issue. Still, Kiffin won't fall off the face of the earth after delivering Ole Miss its best regular season win total in program history.
17. Tennessee
Orange Kool-Aid is pouring through my veins. Clearly. Like Ole Miss and USC, I have major concerns that the defense won't be able to stop a nosebleed. That's why the Vols aren't getting preseason top-10 love from me. But like Ole Miss and USC, Tennessee should have a top-10 offense. That's all Josh Heupel has done the past 4 years, and something tells me that with Hendon Hooker returning, that'll continue. It's not just Hooker, who had a 31-3 TD-INT ratio and was one of the top rushing quarterbacks at the Power 5 level. It's the wildly underrated Cedric Tillman, who was a top-5 receiver in America in the final 2 months of 2021. It's also Jabari Small returning behind an offensive line that brings back 4 starters. Tennessee should be able to score against anybody, and dare I say, it'll lead to a win in Athens.
"I think TENNESSEE is going to **BEAT** Georgia this year". (Florida too) I wouldn't be surprised at all actually. @SatDownSouth @finebaum @Vol_Football @cjogara pic.twitter.com/3RshrcVKjS

— Audrey Caylor~TRUST NO ONE 🍊🐝 (@C6E_MUSIC) July 19, 2022
16. Cincinnati
I'm well aware the the Bearcats lost a ton of last year's historic Playoff squad. Sauce Gardner, Coby Bryant, Desmond Ridder, Myjai Sanders and a host of others are gone. In total, Luke Fickell had a ridiculous 9 (!) players drafted. That's an impressive feat for a premier Power 5 program, much less a Group of 5 squad. On top of that, Brian Kelly poached OC Brian Denbrock. It's a new era, for sure. But Fickell is still running that defense, and he actually returns a good chunk of his offense, including one of the nation's top red-zone tight ends in Josh Whyle. The addition of LSU back Corey Kiner will help replace Jerome Ford. A step back is imminent, but don't be surprised if a new-look Cincinnati squad sends a message in that opener against Arkansas.
15. Oklahoma State
I'm guilty of always underrating Oklahoma State, so I decided to stop doing that after Mike Gundy's squad was inches from a Playoff berth. The biggest void was Jim Knowles, who got poached by Ryan Day to run Ohio State's defense. Gundy made a savvy move to land Derek Mason, though. Mason has the ability to keep that defense afloat, but only 3 FBS teams return less defensive production than Oklahoma State (Nevada, Hawaii and Coastal Carolina). Spencer Sanders needs to take his game to the next level coming off a first-team All-Big 12 season that was good, not great. That's the key to Oklahoma State at least having another win-and-in Playoff opportunity.
14. Oregon
I'm out on Bo Nix, so don't mistake this ranking as me saying I'm ready for the former Auburn quarterback to figure things out in Year 4 as a college starter. But I'm in on Dan Lanning and an Oregon team that returns 14 starters, including all 5 on the offensive line. Alex Forsythe and TJ Bass should pave the way for a run-heavy Ducks team (I hope) that showed it could pound the rock at will last year at Ohio State. Honestly, if Oregon had a more consistent starting quarterback, it would be a preseason top-10 team, which is pretty rare for a program that finished poorly and was forced to overhaul its coaching staff.
13. Wake Forest
Yes, this is it. You know. My "team I ranked too high because I loved the returning starting quarterback." In my defense, we're talking about an 11-win team that was mostly a disaster defensively. That group just added Brad Lambert, who quietly helped Purdue to the nation's No. 34 scoring defense as the co-DC in 2021. Even if the offense doesn't quite post video game numbers like it did in 2021 when it finished No. 4 in scoring — even though that's totally possible with 9 (!) returning starters from that group — I have to think a defensive pulse is on its way. Thus, Dave Clawson's squad might not be fading in 2022.
12. Texas A&M
I'm lower on A&M than you are, reader of this column. If you believe A&M should be a preseason top-5 team, explain to me without referencing Jimbo Fisher's historic 2022 class. Last I checked, true freshmen classes don't instantly take a team that was 4-4 in SEC play and turn it into a Playoff contender. Add in the fact that Mike Elko is gone and there are changes galore in the front 7. Even if I have optimism that Haynes King can be the X-factor, I have questions about a mostly unproven group of pass-catchers along with an offensive line that took a significant step back in 2021. But I'm a Devon Achane believer, A&M will get at least some upgrade at quarterback and that secondary should be nasty. All signs point to a "good, not great" year for Jimbo Fisher's squad.
11. Arkansas
I did a 180 on this. In my way-too-early rankings, I thought the Hogs were getting too much love. But I loved the transfer portal moves Sam Pittman made, especially adding much-needed edge rusher Drew Sanders from Alabama. The more I thought about it, the more I realized that even though I have questions about replacing Treylon Burks (Jadon Haselwood can be WR1 without being Burks 2.0), Arkansas has an immensely high floor. KJ Jefferson is 1 of the top 10 returning quarterbacks in America — his deep-ball accuracy should bode well with Toledo transfer Matt Landers — and he has a veteran offensive line that plowed the way for the top rushing attack in Power 5. Jalen Catalon and Bumper Pool returning for Barry Odom's defense should help that group take another step after it went from No. 97 to No. 39 nationally. The Hogs haven't peaked by any means.
10. NC State
If you're coming up with the list of "trendy Playoff picks," NC State is on it. The Wolfpack are getting that kind of love for a couple of reasons. They're a 9-win team that ranks No. 12 in FBS in percentage of returning production with stud quarterback Devin Leary. It also helps that with more questions about Clemson than we've had in any time in the past 7 years, the path to win the ACC is there, especially if a top-15 defense with a whopping 10 returning starters takes another step forward. So why is there some doubt? Leary needs to find a new blindside protector, his top target Emeka Emezie is gone and so are NC State's top 2 leading rushers. Also, who did NC State really beat last year? Clemson was the lone win that came vs. a Power 5 team with a winning record, and that was at home in double overtime. Maybe pump the breaks on the NC State love fest.
9. Notre Dame
I'll admit that part of this ranking is based on thinking that Marcus Freeman gets it. His recruiting success certainly has me optimistic about how this team will play for him, even if I think Ohio State wins comfortably in the opener. Let's not forget that as bad as the Irish have been against Top-5 teams in the 21st century, it's a group with 5 consecutive seasons of double-digit wins. They didn't overhaul this staff when Brian Kelly left for LSU. There's a lot of continuity, though obviously replacing the invaluable Kyle Hamilton isn't a given. A veteran offensive line will have to keep a new signal-caller upright. If Tyler Buchner is the guy, he has to show he can consistently stretch the field. Even with a new-look offense — it's still being led by OC Tommy Rees — Notre Dame is poised for another top-10 season.
8. Michigan
If Michigan's offseason didn't make you scratch your head, you weren't paying attention. Jim Harbaugh openly flirted with leaving for the Minnesota Vikings job, and he lost both of his coordinators. Coming off a Big Ten title and a Playoff berth, it was hardly an offseason of momentum. So why No. 8? Blake Corum is one of the top returning backs in the country, and whether its Cade McNamara or JJ McCarthy at quarterback, they'll be protected by 3 returning starters from the Joe Moore Award unit. Ronnie Bell's return will be a huge lift, as well. Aidan Hutchinson and David Ojabo will be missed, but Michigan's defense shouldn't fall off the face of the earth. It should be a more balanced team in 2022. The Wolverines are capable of hanging in the Playoff race.
7. Clemson
It would've been nice if 2022 was finally the year Dabo Swinney embraced the transfer portal, especially coming off his worst season in 7 years, which ended with him losing both long-time coordinators. That's not usually the prelude to why a team is No. 7 in a preseason ranking. I'll take it a step further. DJ Uiagalelei didn't crack the top 100 in FBS in quarterback rating, and I'm not holding my breath on a turnaround. But Clemson is in this spot because as bad as last year felt, they still won 10 games. Their ground game progressed, which should carry over into 2022 even if Uiagalelei struggles and gives way to Cade Klubnik. Myles Murphy, Brian Bresee and Xavier Thomas should give Clemson one of the best defensive lines in America, which is why even in a post-Brent Venables world, I have faith in the Tigers to deliver a top-10 defense. Quarterback play will determine if this is truly a bounce-back year.
6. Oklahoma
I know what you're thinking — how could a team that lost what Oklahoma did possibly improve? It's not just the loss of Lincoln Riley and Alex Grinch. It's the bevy of transfer portal losses that made the Sooners' preseason outlook as conservative as it's been in the Playoff era. But I'm selling myself on Oklahoma because I believe they have a top-7 play-caller on both sides of the ball in Brent Venables and Jeff Lebby. The Dillon Gabriel-Lebby reunion is going to make 2022 feel like Oklahoma didn't skip a beat offensively. Disappointing Oklahoma season aside, I love the idea of Venables working with a group who has half of its starters back. The guy has had nothing but top-25 defenses for the past 9 years. I get the feeling that a scorned Sooners squad shows up with a chip on its shoulder bigger than any program in the country.
5. Baylor
When in doubt, roll with the coaches you have the most confidence in. There's a ton of doubt about teams No. 4-25, but I've got a whole lot of confidence in Dave Aranda. He delivered a historic No. 5 finish in Year 2, and dare I say, the Bears are capable of running it back. Yes, there are some huge defensive pieces gone, especially the ever-versatile Jalen Pitre. But Baylor is going to be even better on the line of scrimmage on both sides of the ball with 4 offensive line starters back and the immovable Siaki Ika returning at nose tackle. We saw Baylor's offense take a key step forward with Jeff Grimes running the offense after he engineered Zach Wilson's breakout 2020 season at BYU. That's why I'm bullish on Blake Shapen giving the offense more balance even though Baylor lost its top 3 receivers. Baylor is built to be extremely relevant once again.
4. Utah
All in. Absolutely, undoubtedly, all in on the Utes. I own all the Cameron Rising stock, which is admittedly a big piece of this. He took that Utah team to a different level once he took over for Charlie Brewer. With 3 returning starters on the offensive line, 1,000-yard back Tavion Thomas and elite tight end duo Brant Kuithe and Dalton Kincaid back, there's no reason Utah can't have a top-10 offense. Combine that with a Kyle Whittingham-coached defense and there's a lot to like. Replacing Devin Lloyd will be a challenge, but Utah still has a loaded secondary and 3 preseason first-team All-Pac-12 selections on defense alone. With Rising as the starter, Utah went 8-1 in Pac-12 play and was a ridiculous +153 (the only Power 5 teams with a better conference point differential were Georgia, Ohio State and Oklahoma State). Utah has the ingredients not just to beat USC and win the Pac-12, but also to finally end the Pac-12's Playoff drought.
3. Georgia
Kind of amazing isn't it? Oh, I assumed you asked "what does it say about Georgia that it had 15 players picked in the NFL Draft and there's no doubt that the Dawgs deserve to be a preseason top-3 team?" That's a credit to Kirby Smart and his staff for their ability to relentlessly recruit and develop talent. The passing game might have some questions at receiver, but it should be more prolific with Stetson Bennett IV getting a full offseason with the first-teamers. The tight ends room is second to none, and with the Kendall Milton/Kenny McIntosh combo, UGA is poised to have another elite ground game. Defensively? It won't be 2021. It just can't. Even though UGA has a preseason All-American at each level — Jalen Carter on DL, Nolan Smith at LB and Kelee Ringo at corner — the concern is what the secondary looks like without a defensive line that could consistently get pressure with 4. Can Georgia repeat? Time will tell, but they're 1 of 3 teams with a roster that's capable of being the last team standing.
2. Ohio State
It's wild to think that the Buckeyes lost 2 first-round receivers in Chris Olave and Garrett Wilson, yet they could easily have the nation's No. 1 offense. Again, that is. CJ Stroud is directly behind Bryce Young in any Heisman Trophy discussion, which makes sense considering the weapons he returns. Jaxon Smith-Njigba and TreVeyon Henderson might be the best WR-RB combo in America, and as usual, Ryan Day has a flurry of receivers ready to take flight. The questions with Ohio State aren't on offense. It's on defense. Day admitted a Rose Bowl win wasn't good enough, which was why he poached Jim Knowles from Oklahoma State for $2 million annually. His ability to get the defensive front back on track will be monumental. If that happens, Ohio State has a chance to right the wrong of 2022 and perhaps win its first national title in 8 years.
1. Alabama
Hey, just because it's obvious doesn't mean it's wrong. The Tide deserve that preseason No. 1 spot for obvious reasons. It's not often that the national runner-up returns the nation's top offensive player and the nation's top defensive player. Blessed, Nick Saban is. The skill-position additions from the portal were key. Jahmyr Gibbs is the modern, do-it-all back that Alabama lacked last year. Tyler Harrell won't necessarily be Jameson Williams 2.0, but he's going to stretch the field at a high level. Bryce Young has weapons on offense and Will Anderson could easily play alongside 5 All-Americans on defense (Dallas Turner is ready). The biggest question is of course on the offensive line. In a post-Evan Neal world, Alabama is hoping summer enrollee Tyler Steen can solidify a tackle spot after transferring from Vandy. But on the bright side, nobody is built better to overcome a less-than-vintage offensive line than Young. That's why there's no doubt about who deserves to start at No. 1.