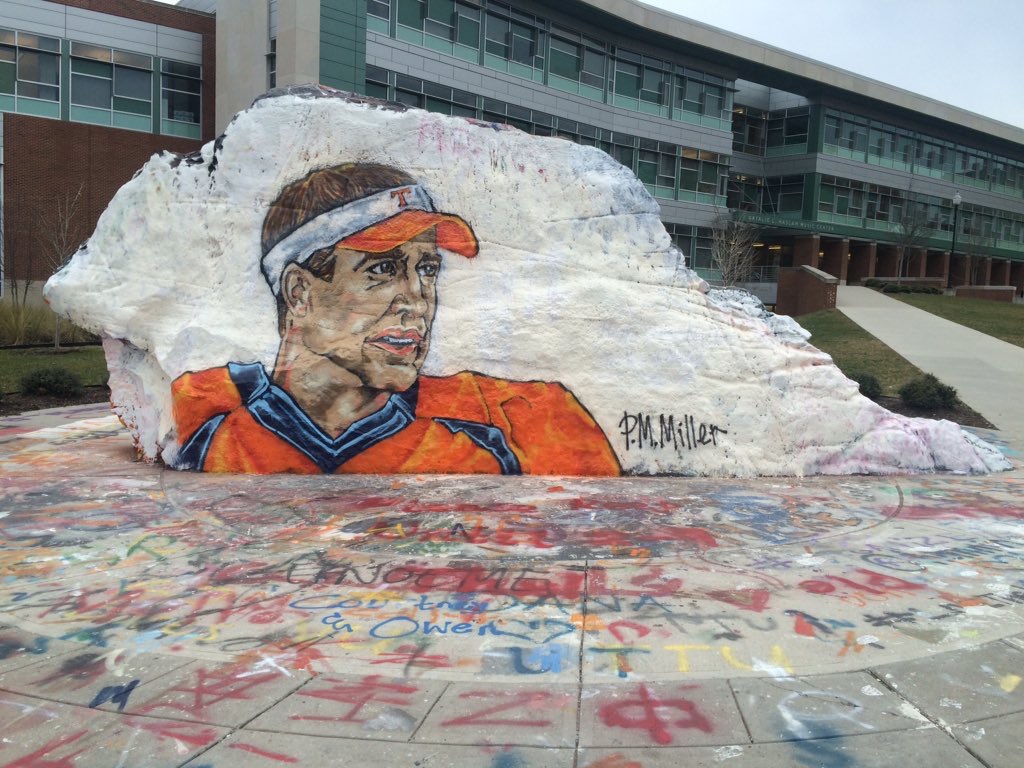 SEC
'The Rock' at Tennessee serves as a canvas for one dedicated young artist
The culture of Knoxville, Tenn. wouldn't normally be thought of as one that would seem to embrace graffiti, let alone refer to it as "art."
But on the campus of the University of Tennessee, in front of the Natalie L. Haslam Music Center, there has been an exception for the last half century.
"The Rock" is, in the words of Tennessee's student newspaper the Daily Beacon, "an open forum for students." A 98-ton chunk of Knox dolomite (similar to limestone), the object has long been a message center for students to express themselves with spray paint.
Constantly painted and repainted, The Rock may express political messages, artwork, marriage proposals, advertisements, Twitter addresses and hashtags, and whatever else people may wish to put on it. The Rock base is often surrounded by more traditional graffiti of its own and is such a fixture to the student community that WUTK, the campus radio station, refers to itself by the nickname "The Rock."
Not to mention it's kind of appropriate for a school whose unofficial fight song is "Rocky Top" and is just two hours from Rock City.
Of course, Tennessee being Tennessee, The Rock often is used to display messages of support for the Volunteers. On a couple occasions this decade, fans from Alabama and Kentucky have confiscated the granite canvas with messages of support for their own teams.
After all, it's more humane than stealing a mascot.
But recently, a rising Tennessee senior, Payton Marie Miller, has become renown for her artwork on The Rock.
A biochemistry student from Kingsport who graduated from the same high school as Vols legends such as Bobby Dodd and the Cifers brothers, Miller has, to date, never taken an art class at UTK.
However, she has shown a propensity for drawing and artwork for much of her life, and has become known for her drawings on The Rock, which she signs "P.M. Miller."
"When I grew up, my mom's parents collected art. It was a big hobby of theirs," said Miller. "It's always been a pretty big part of my life. I had a babysitter, Diane Brooker, growing up who encouraged me to draw.
"I started when I was 7 or 8."
Roughly a decade and a half later, her paintings on The Rock have been captured by the entity's Facebook page as well as the University of Tennesssee community's own snapshots on their cell phones.
When the Denver Broncos were in the Super Bowl this year, she drew a portrait of Peyton Manning with her self-funded spray cans. The Tennessee Walking Horse with an orange-clad rider was a popular portrait last fall.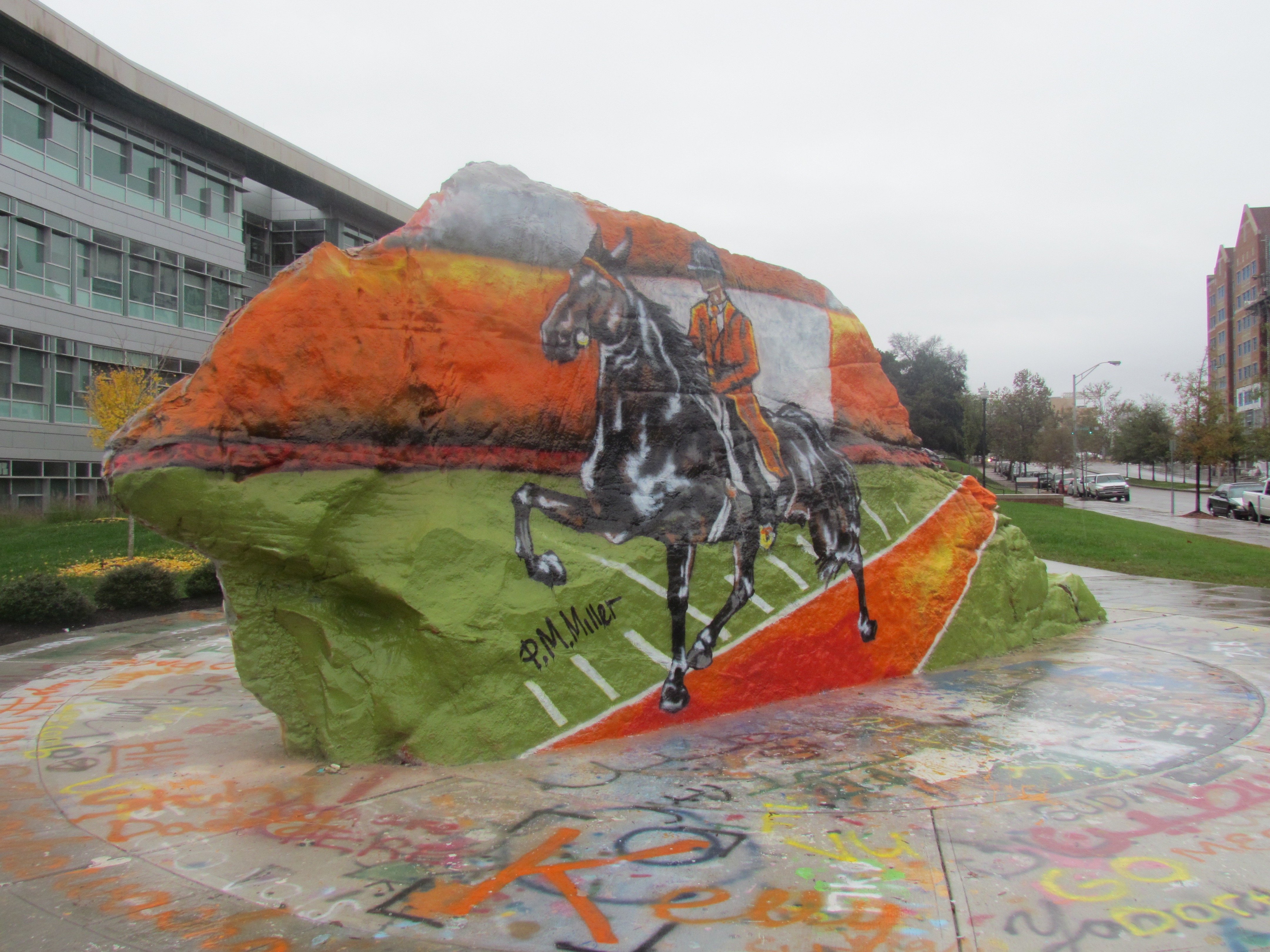 Tennessee's mascot Smokey is a common figure, usually with a checkerboard background, and she drew so much attention that ESPN sportscaster Kaylee Hartung helped her draw a mural with Smokey and UGA for a piece on "SEC Nation" that appeared before last year's Tennessee-Georgia game.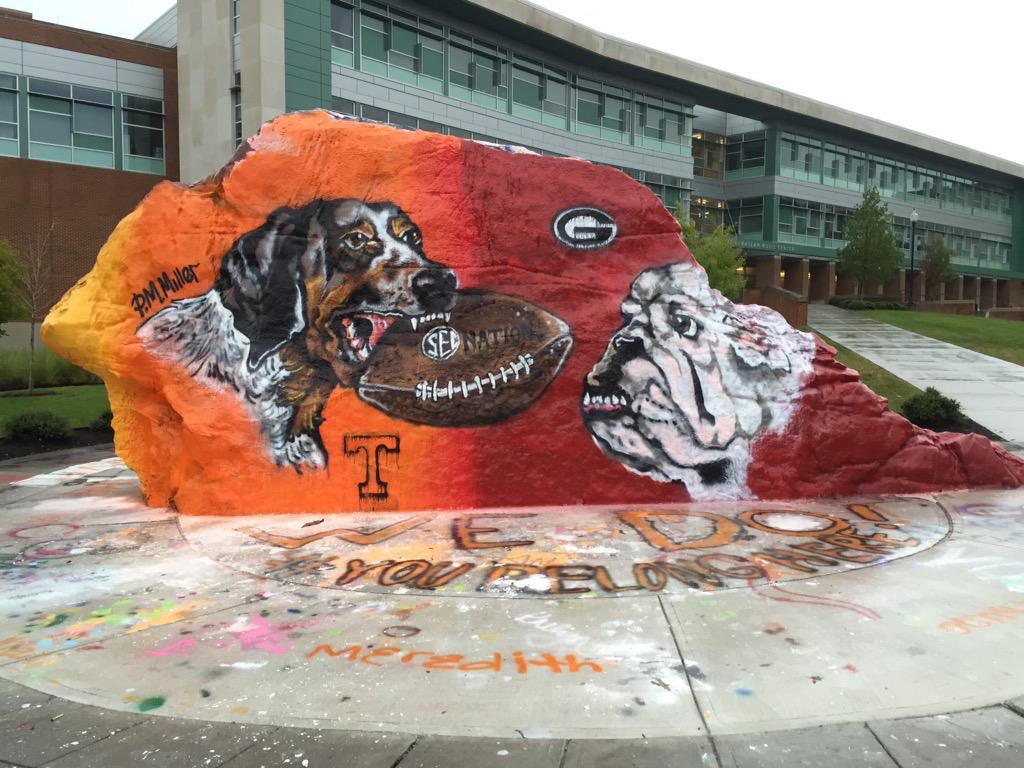 And when she decided she wanted to try to sell a piece of her artwork professionally, a small replica rock with Smokey had a top bid of $800 on eBay before she cancelled the auction, deciding instead to give it away to a close acquaintance.
A Miller mural on The Rock can take as long as eight hours to draw and often leaves her fingers numb from pressing the buttons on the can. She prefers Rust-Oleum as she feels their cans are the easiest to use.
When she decides to draw on The Rock, her father Craig makes the two-hour drive from Kingsport to make sure everything "stays smoothly."
All this for a work of art that will stay up for just two to 10 days.
"It depends on the picture. Depends on the reception from the football fans," she said. "The Walking Horse stayed up the longest. I've painted over my own painting.
"A couple of things I was reluctant to paint over. But that's sort of the beauty. It's limited edition. It's always changing. It's so understood across campus I don't think there's a lot of resentment."
Despite proclaiming herself "slightly neurotic," her personality has a youthful innocence, especially regarding her work. Her appearance is much more Southern Belle than Greenwich Village. She wonders if, in hindsight, she should have used an alias to sign her paintings with.
Perhaps the kicker is that she has yet to sell a piece of her artwork professionally, even when the demand for it might fetch a thousand dollars.
"The ability to paint was a gift," Miller says. "I have a hard time charging for the work I do."
The most amazing irony is despite a slightly different spelling Miller may have been the first person ever named after Peyton Manning. She was born on May 3, 1995, when The Sheriff had just completed his freshman season and the Vols posted an 8-4 record, a modest mark for the program in that era. It wasn't until two years later that parents in Tennessee started naming their children "Peyton" en mass.
Her favorite painting was one of her most recent: Cam Sutton and Jalen Rose as storm troopers clad in orange and white for the Vols' 2016 spring football game.
"Artistically, I've watched myself grow," she says.
This next football season figures to be one of great activity on The Rock. A presidential campaign will likely merit many messages, as will a Tennessee football team picked by most to win the SEC East.
Yet one wonders, will the legacy of The Rock be that it provided the canvas for Miller to become for Knoxville what Blue Sky is to Columbia, S.C. or Bill Bledsoe to his native Tri-Cities?