SEC
Here are my picks, tips and takeaways from my NCAA Tournament bracket
I know what you're thinking. You don't care about my bracket.
Well, obviously you do because if you didn't, you wouldn't have clicked on this story.
Point, Connor.
OK, so if I haven't frustrated you enough, let's talk brackets. More specifically, let's talk about my bracket. That's what you came here to see and yell about.
Who knows? Maybe you're sitting at home right now (or more likely at work) and you're racking your brain over whether to pull the trigger on that No. 1 seed going down in the Sweet 16.
DO IT.
That's the first thing that you'll probably notice about my bracket. I didn't give the No. 1 seeds a ton of love. I only had one in the Final Four and two in the Elite Eight.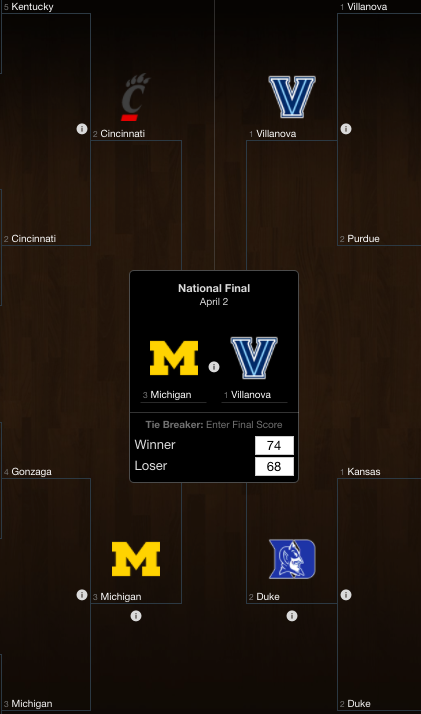 This is the first year in a while that I haven't had multiple No. 1 seeds in the Final Four. Why did I mix things up? I just think in a year in which there haven't been those dominant best few teams, that lends itself to the belief that a No. 1 seed is mortal.
Well, except Villanova.
Speaking of Villanova, I'll let you in on a little secret. I didn't pick the Wildcats because I had the most confidence in them to beat anyone on a given day. I saw them as the safest bet to at least reach a Final Four.
That's important to remember when filling out a bracket. Most of the time, the bracket pool winner doesn't have to perfectly pick the exact Final Four and national championship. But I don't want to have to sweat out my No. 4 seed national champion being an underdog from the Sweet 16 on. Give me a team that has a favorable road and who's been there before.
I have no problem with a chalk national title winner. I have more of a problem with a chalk Final Four and Elite Eight.
The odds are actually working against you. It's been 10 years since all four No. 1 seeds made it to the Final Four. And from 2009-17, only once did three No. 1 seeds make the Final Four. There's also this stat:
Don't pick more than 2 No. 1 seeds to reach Final Four. In 34 of 39 years either 0, 1 or 2 No. 1 seeds made it. Since all 4 made in in 2008, had just 12 in last 9 years.

— Chris Fallica (@chrisfallica) March 13, 2018
For what it's worth, the "all 4 No. 1 seeds in the Final Four" person usually isn't invited back to the bracket pool. Just sayin'.
I think about things like that every year when I break down my bracket. Another thing I find myself gravitating toward is the team on a long winning streak, or the team that might not have won its conference tournament but played extremely well down the stretch. I'm talking about teams that look like they figured it out.
Hello, Michigan. What's going on, Gonzaga? Oh, I didn't see you there, Kentucky. Yes, actually, I did see those teams there. That's why I have all three of them in my Elite Eight.
My West bracket is a good example of that theory: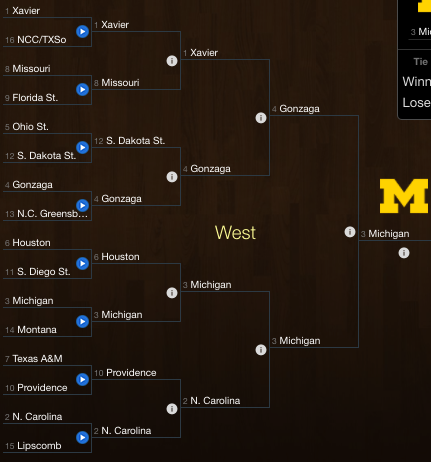 A lot of people are worried about Michigan with that 2-week layoff after winning the B1G Championship. Honestly, I am a little bit, too. It's a new hurdle to overcome, especially for a red-hot team like Michigan. I'll be sweating bullets if the Wolverines are going down to the wire with Montana.
But I like Michigan's body of work the last month because it wasn't just the product of a team hitting shots en route to a 9-game winning streak. The Wolverines defended extremely well and they proved that they can shut down high-powered offensive teams away from their home floor. That travels. And for all we know, Michigan's 2-week layoff could yield a fresh team by the time that second weekend rolls around.
Gonzaga also has that "team that just figured it out" look. The Zags enter the tournament having won 14 games in a row. This was a vastly different squad than the one that went to the national championship last year, so it took them a bit to gel. Now, it looks like they're clicking and ready to give Xavier everything it can handle.
I think we could see a similar narrative with Kentucky against No. 1 seed Virginia. It took the Wildcats awhile to figure out that the offense runs much smoother with Shai Gilgeous-Alexander calling the shots. We saw that throughout the SEC Tournament. He doesn't need to score 20 points to be the most valuable player on the floor, which will be huge against the defensively dominant Virginia squad.
Kentucky is a team that, in my opinion, is worth the risk. John Calipari took at No. 8 seed to a national championship with similar in-season issues, and his team could easily play above its No. 5 seed this year.
What about the Cinderellas?
OK, so chances are, picking a Cinderella team correctly isn't going to make or break your bracket. What can make or break your bracket is if a Cinderella knocks off one of your Final Four teams. Avoiding one of those early-round land mines should be your biggest goal opening weekend.
Cinderellas are, however, what make the opening weekend great, especially if they're as electric as Dunk City was back in 2013:
Obviously I'd love to say that I can predict the next Dunk City. I can't. But what I do like is the idea of a team that can play loose and catch fire. Mid-majors with high-powered offenses are intriguing Cinderella possibilities. I have the following mid-major teams winning first-round games as seeds No. 11 or lower (with their national scoring offense ranking):
No. 12 South Dakota State (No. 6)
No. 13 Marshall (No. 12)
No. 12 New Mexico State (No. 109)
No. 13 Charleston (No. 141)
No. 11 Loyola-Chicago (No. 216)
All of those teams besides Loyola average at least 75 points per contest. The Ramblers make up for it by allowing the fifth-fewest points per game.
I tend to avoid picking a bunch of Cinderellas to survive the first weekend simply because picking a team that I barely watched before conference tournament time to pull off multiple upsets just doesn't seem like a risk worth taking.
A few other things that I like to evaluate before projecting upsets and serious shakeups:
Don't dismiss the impact of a late-season injury to a key player
Don't overanalyze how far a team has to travel to play a game
Don't feel like you need "X" amount of upsets predicted in each region
Don't base everything on conference tournaments
So with that in mind, here's what each my regions look like (with Villanova beating Michigan in the national championship):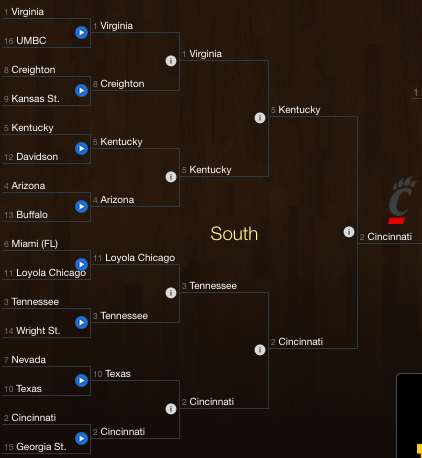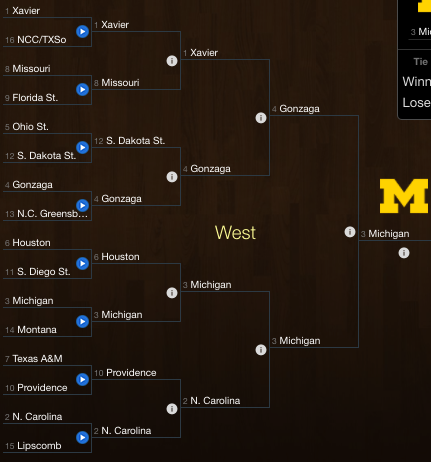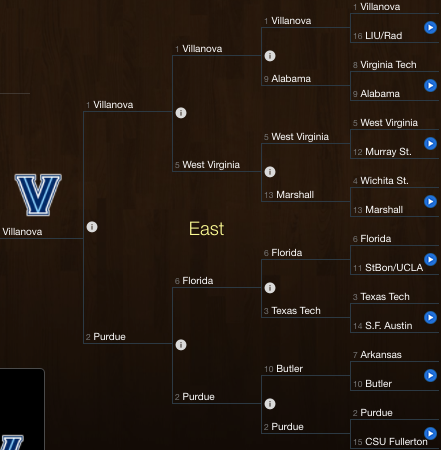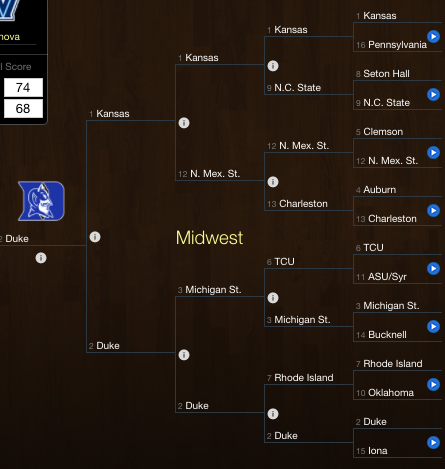 Oh, and I probably should've prefaced this by saying that I haven't won my own bracket pool since 2009 and that my wife dominates it every year.
So between the two of us, we've got you covered.