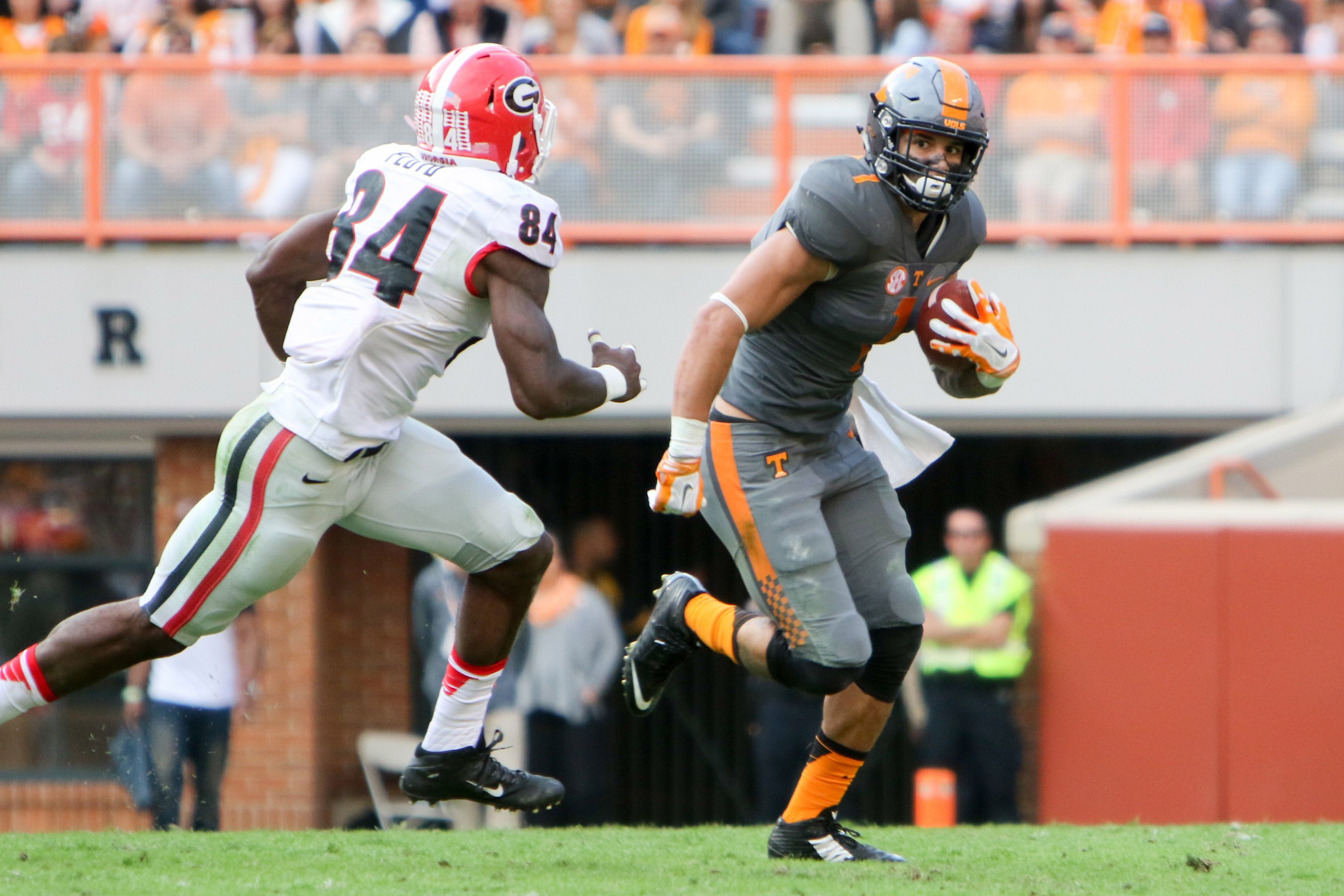 SEC
Toughest 3-game stretch for every SEC East team
All schedules are not created equal, but there is almost always one stretch of games that will define how the season unfolds.
In the always-competitive SEC East, every game matters. But it's still fun to look at the schedule and find those key matchups on which the season will turn.
With that in mind, here is the toughest three-game span for each SEC East school:
FLORIDA (Sept. 24 – Oct. 8)
at Tennessee
at Vanderbilt
LSU
Notes: The Gators start this run with a road trip to Tennessee, then follow with another game in the Volunteer state against the physical Commodores before coming home to face LSU. Obviously, the Tennessee game is vital in the East standings, and getting through this stretch healthy has to be a concern as well.
GEORGIA (Sept. 24 – Oct. 8)
at Ole Miss
Tennessee
at South Carolina
Notes: You could make a case for a later stretch that finds the Bulldogs facing Florida and Auburn, sandwiched around a trip to Kentucky, but a trip to Oxford, followed by a home game with Tennessee and then a trip to Columbia is even more challenging. Ole Miss and Tennessee are title contenders and the Gamecocks have won four of the past six against the Bulldogs.
KENTUCKY (Oct. 29 – Nov. 12)
at Missouri
Georgia
at Tennessee
Notes: For a team looking to find one more win after back-to-back 5-7 seasons, this late-season run could be key. The Wildcats visit Missouri, then come home to face Georgia before hitting the road again to face the Volunteers, where the Wildcats have not won since 1984.
MISSOURI (Oct. 29 – Nov. 12)
Kentucky
at South Carolina
Vanderbilt
Notes: Sometimes, it's not as much about beating your rivals as it is getting wins that can help with potential tiebreakers. This three-game stretch features SEC East games — home dates with Kentucky and Vanderbilt on either side of a road trip to the other Columbia to face the Gamecocks. Coach Barry Odom's Tigers can make a statement in the East if they can have some success here. The Vanderbilt-at Tennessee-Arkansas stretch might be tougher, but this is a pivotal stretch.
SOUTH CAROLINA (Sept. 1 – Sept. 17)
at Vanderbilt
at Mississippi State
East Carolina
Notes: The Gamecocks start the Will Muschamp era on a Thursday night in Nashville against Vanderbilt, following by another road trip to Mississippi State before a non-conference clash with the Pirates. After a 3-9 campaign in 2015, the Gamecocks — and Muschamp — need to taste success early in 2016 to avoid another losing season. Opening with two SEC road games is far from ideal.
TENNESSEE (Sept. 24 – Oct. 8)
Florida
at Georgia
at Texas A&M
Notes: For a team with designs on winning the SEC East, facing Florida and Georgia in back-to-back weeks trumps whatever else might be on the schedule. One way or the other, we'll know pretty early about the validity of the Volunteers' title claims. It doesn't get any easier on Oct. 15, either. That's when Alabama comes to town.
VANDERBILT (Oct. 1 – Oct. 15)
Florida
at Kentucky
at Georgia
Notes: Derek Mason is pushing for a bowl berth this season, and to get there, he must guide his Commodores through some rough patches on the schedule. A home game with Florida, followed by road tilts at Kentucky and Georgia is a tough stretch, but should Mason's men find a way to win two out three, he may get that postseason bid he's after. The three-game stretch Nov. 5-19 at Auburn, at Missouri and against Ole Miss is no picnic, either.