SEC
The continued Alabama/SEC outrage over UCF's national championship claim proves it was smart marketing
It's been a month, and UCF's name is still in your mouth.
By "you," I'm referring to anyone who continues to speak about the Knights' national championship claim after they completed their undefeated season by beating Auburn in the Peach Bowl.
"You" is Alabama running back Damien Harris, who wasn't a fan of the Pro Bowl introducing the hometown Knights as "national champions."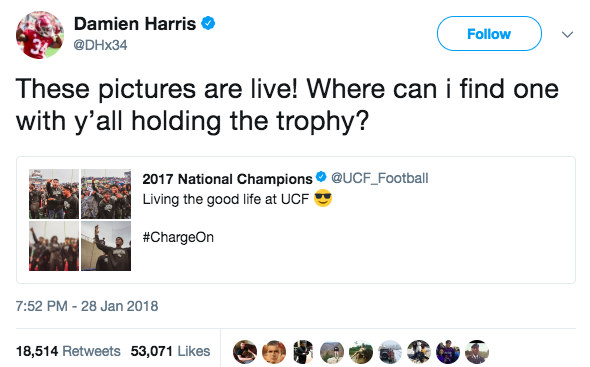 "You" is former UCF assistant and current Alabama offensive line coach Brent Key, who was triggered by the Knights' claim, as well.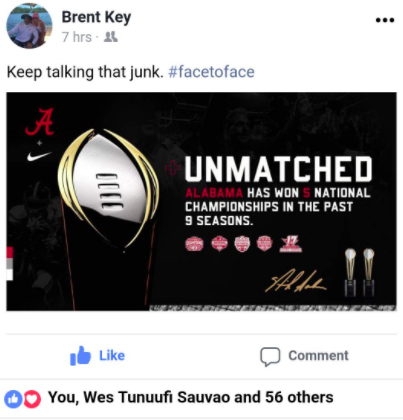 "You" is the SEC Network, which fired off this tweet 4 weeks after UCF knocked off Auburn.
Trophy or it didn't happen pic.twitter.com/kHuyNSb1Fb

— SEC Network (@SECNetwork) January 29, 2018
"You" is probably a lot of you who are reading this right now. You're still fired up about the fact that a Group of 5 school claimed it won a national title when it was Alabama who defeated Georgia in overtime to earn the College Football Playoff National Championship.
"You" are the reason that UCF made that claim in the first place. The fact that UCF is still being discussed by college football fans proves something.
It worked.
No, that's not my way of saying that I believe the Knights are the real national champs, or that they'd beat Alabama in a winner-take-all scenario. Believe it or not, that was never the point of all of this.
The point of UCF's claim was to elevate its program in an effort to capitalize on this window of opportunity. That's a hard thing for an Alabama fan or an SEC fan to understand. Alabama markets itself. At a place like UCF, it doesn't work like that.
Remember when UCF went 12-1 and knocked off Baylor in the Fiesta Bowl in 2013-14? It was a dream season for a Group of 5 team, but the Knights were hardly the first program to live that dream. Boise State, TCU and Utah all won New Year's 6 bowls against Power 5 teams in the previous decade. Sure, 2013 was a historic season for UCF, but how much did it really elevate the program?
Two years later, the Knights were 0-12. In other words, that 2013 season didn't carry any sort of momentum nationally.
Had UCF decided to treat its 2017 season like its 2013 season, it wouldn't have been remembered any differently. The record was slightly better, but the result was still the same. UCF would've been foolish not to market itself as the national champs. When's the next time the program is going to have an undefeated season? Probably never. It just happened to work out that the team UCF knocked off also beat the eventual national champs.
Why wouldn't the Knights take this opportunity and run with it?
This is a marketing dream. You get your own fans fired up, you get opposing fans riled up and you get everyone who cares about college football talking about UCF.
Some might say it's just like trying to turn 15 minutes of fame into 20. I say it's trying to turn one storybook season into a decade of stability.
UCF is now a national brand that will put "national champs" on every piece of recruiting/marketing mail it sends out. If that upsets people like Harris who can get 53,000 likes off one anti-UCF tweet, even better. That's exactly the way the Knights drew it up.
Live look at the mentions pic.twitter.com/ui45O1ry5N

— 2017 National Champions (@UCF_Football) January 28, 2018
Public perception will dictate how UCF is remembered over time. The majority of college football fans will still undoubtedly call Alabama "national champs." You can bet the marketing folks behind UCF's claim know that. The Knights are just trying to join that conversation. They're trying to break down the door that locked them out of that arena in the first place.
Only time will tell if change will come of the year that was. At the very least, UCF showed that the current system Playoff system isn't air-tight. That's ironic considering that when the BCS era ended, it was supposed to eliminate the "claimed national championship" discussion.
But even if the perfect storm UCF created doesn't spark any change, the mission will was still accomplished. The Knights marketed themselves as national champs all the way through National Signing Day (the February one). Recruits can decide for themselves if they believe UCF really did earn a national title. So can the general public. That includes Alabama fans/players/coaches.
And if they could spent another 7 months arguing about it, UCF would greatly appreciate it.