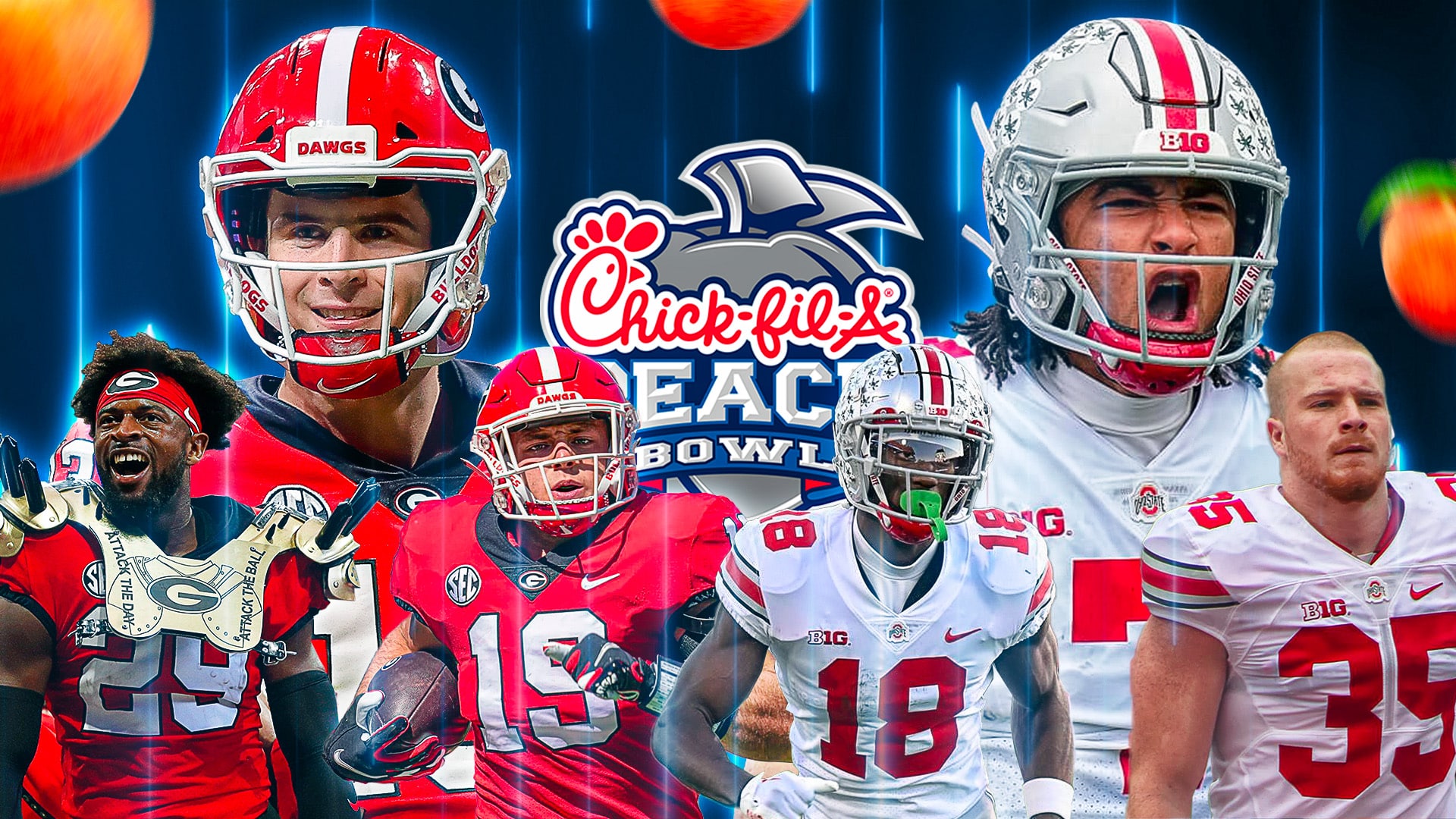 SEC
Ultimate Peach Bowl Preview: Georgia and Ohio State were built for this Playoff semifinal showdown
Everything you need to know about Saturday night's Peach Bowl Playoff semifinal collision between No. 1 Georgia and No. 4 Ohio State.
– – –
Considering their teams have been on a collision course in the postseason for years, it's probably safe to assume that Ohio State coach Ryan Day has not been dialing up Georgia coach Kirby Smart for professional advice. But if there's anyone in the business who can sympathize with the current state of Day's career, it's Kirby. He's been there.
After all, not that long ago, Smart occupied the position that Day finds himself in now: The ascendant young coach who'd won big in the early stages of his tenure, but whose rise suddenly seemed to have stalled out just short of winning the Big One. Smart, like Day, had never been a head coach before landing the top job at a traditional power, but had been groomed for years by a legendary mentor whose success he was expected to reproduce. (Nick Saban in Smart's case, Urban Meyer in Day's.) Smart, like Day, achieved immediate results, taking his team to the National Championship Game in Year 2 before watching the crown slip away. (To Alabama, in both cases.) And Smart, like Day, subsequently endured a period in which the loudest, most online factions of the fan base interpreted each setback as an existential crisis.
For Smart, his initial success quickly gave way to impatience over his repeated failure to get over the hump against Bama, which extended its head-to-head dominance against Georgia to 7 consecutive wins in the series (the last 4 of them coming at Smart's expense) last December. For Day, now, the central theme is not his astronomical winning percentage in his 4 years on the job, or even Ohio State's backdoor return to the Playoff after missing the cut in 2021. Instead, as of roughly 3 pm ET on Nov. 26, it's the demoralizing implications of losing the default superiority the Buckeyes had come to take for granted in their eternal blood feud against Michigan.
If a program's success tends to be cast in the head coach's image, so does the angst. Back when there were still doubts that Smart would ever take his alma mater all the way, they were all about the offense – specifically, the failure to field an elite quarterback who would transform Georgia's stodgy, outdated approach into one that looked more like the fully realized spread passing attacks that Alabama and LSU had ridden to national titles at the Dawgs' expense. (Ironically, Justin Fields' success running Day's offense at Ohio State after transferring from Athens played an outsized role at the time in shaping that narrative.) With Day, a former NFL quarterbacks coach who has remade OSU into a pro-style passing outfit, the alarm is inevitably sounding from the opposite direction. The Buckeyes are on their 3rd defensive coordinator in 4 years, and in both of their back-to-back losses against Michigan they were soundly whipped in the trenches – a departure from the gritty persona of pretty much every great Ohio State team there's ever been. As loaded as they are with blue-chip talent, and as prolific as the offense has remained throughout his tenure, there is palpable concern that Day's Buckeyes are the gridiron equivalent of a expensively engineered racecar that breaks down on anything other than a perfect track.
If he had the chance, Smart could reassure his slightly younger counterpart that, as long as he continues to stockpile 5-star recruits, there is a light at the end of the tunnel. Since the nadir of the Kirby years, a lopsided loss to Florida in November 2020 that eliminated Georgia from CFP contention for the 3rd consecutive season, the Bulldogs have won 31 of their past 32 games and singlehandedly revived the notion that defense can still win championships. (Although, in fairness, the offense is pretty good these days, too.) With 2 more wins, they can stake their claim as the first repeat champions of the Playoff era, cement UGA as college football's reigning dynasty, and secure Smart's seat at the pinnacle of the sport. At this rate, the brief interlude when there were widespread doubts he'd ever get there will be a distant footnote, forgotten even by the doubters themselves.
Ohio State, relegated to the underdog role for the first time since its last Playoff appearance in 2020, is not thinking so grandiose. Their flop in the defining game of the regular season left the Buckeyes' championship-or-bust outlook in a heap, and the hastily reassembled version after being granted a mulligan by the CFP committee isn't fooling anyone. They're not happy just to be here; they're just not happy, period. They're in it now less for the prospect of an upset than for respect, and for the reassurance that comes with it: That the baseline talent level is what they thought it was, that they're still viable national contenders, that their time will come sooner rather than later.
It's still possible, of course, that their time is right now, and that a rematch with Michigan awaits in the CFP title game, just as it did for Georgia last year against Alabama. Otherwise, the wait as Day enters Year 5 is about to start feeling more and more like a weight.
When Ohio State has the ball

Best players on the field
1. Georgia DL Jalen Carter (92.7 PFF grade | 7 TFLs | unanimous All-American)
2. Ohio State WR Marvin Harrison Jr. (90.2 PFF | 1,157 yards + 12 TDs | unanimous All-American)
3. Ohio State QB CJ Stroud (84.1 PFF | 87.7 QBR | 3rd in Heisman vote)
4. Ohio State OT Paris Johnson Jr. (83.4 PFF | 1 sack allowed | consensus All-American)
5. Georgia DB Christopher Smith (76.1 PFF | 50 tackles + 3 INTs | unanimous All-American)
6. Ohio State WR Emeka Egbuka (81.6 PFF | 1,039 yards + 9 TDs | 2nd-team All-B1G)
7. Ohio State OT Dawand Jones (83.8 PFF | 0 sacks allowed | 3rd-team All-B1G)
8. Georgia CB Kelee Ringo (70.2 PFF | 2 INTs | 2nd-team All-SEC)
9. Georgia LB Jamon Dumas-Johnson (73.6 PFF | 64 tackles + 8 TFLs | Butkus Award finalist)
10. Ohio State C Luke Wypler (83.3 PFF grade | 0 sacks allowed)
Ohio State's priority: Protecting CJ Stroud
Stroud spent most of the regular season atop the Heisman odds, for obvious reasons. Despite some notable declines compared to his prolific output in 2021, he still led the nation in pass efficiency and finished among the top 3 in touchdowns, yards per attempt, and Total QBR for the second year in a row. He has the requisite size, arm, athleticism and production of a future franchise pick at the next level, which he remains a virtual lock to become next spring. When it all lines up, he's arguably the most dangerous downfield passer in the college game. But the caveat in that sentence is a big one: Raise the temperature a little, and he starts to look very ordinary very fast.
Now, all quarterbacks struggle with pressure to some extent. In Stroud's case, though, the gap this season was steep enough to make his lack of creativity in the crosshairs a bona fide red flag. His Pro Football Focus grade on pressured dropbacks was an abysmal 34.0, which ranked 115th nationally among quarterbacks with at least 50 attempts — 1 spot below Iowa's much-maligned Spencer Petras. (On the other end of the context spectrum, Heisman winner Caleb Williams posted the top PFF grade under pressure at 86.6; no other potentially-draftable QB ranked outside of the top 50.) For a guy who's generally regarded as a plus athlete, Stroud is a reluctant runner, to put it mildly, with only 12 positive scrambles on the year and an emerging reputation for being too robotic to reliably make plays off-script. Against Michigan, he was 2-for-9 passing on pressured dropbacks for 20 yards and an interception, with zero scrambles for positive yardage.

Of course, if forcing him out of his comfort zone were as simple as typing the words, the Buckeyes wouldn't be here. In fact, between Stroud's processing speed and his veteran offensive line — anchored by aspiring first-rounder Paris Johnson Jr. at left tackle — he was the best-protected quarterback in the Big Ten, facing pressure on a conference-low 21.1% of his total dropbacks. All five starters up front are future pros with a combined 103 career starts and 7,132 snaps under their collective belt. If it's not the best o-line in the country, full stop, it will be the most imposing Georgia has faced this season.
The million-dollar question is whether Georgia's pass rush poses the same challenge to Ohio State. On paper, the answer is not as obvious as the Dawgs' dominant reputation suggests: They averaged just 2 sacks per game, a significant decline from the past 2 years, and ranked 111th in team sack rate per Football Outsiders. They also lost their best edge rusher, senior Nolan Smith, to a season-ending pectoral injury, leaving a void that understudies Robert Beal Jr. and Chaz Chambliss have not quite managed to fill. No individual UGA defender registered more than 3 sacks or 28 QB pressures on the year.
Then again, good luck convincing anyone who has actually watched the Dawgs that a pedestrian stat sheet is more compelling than the raw talent on hand. The roll call up front begins and ends with freakazoid DT Jalen Carter, who returned from a nagging knee injury at midseason and immediately reaffirmed his status as the nation's premier pocket-collapsing force over the last 6 games; 19 of the team's 26 sacks came in that span, a testament in large part to the outsized attention that Carter commands even when he's not personally recording the stat. The other name to know along the line is 5-star freshman Mykel Williams, the highest-rated member of Georgia's 2022 recruiting class, who came on late as the heir apparent at the "heavy" end position vacated by No. 1 overall pick Travon Walker.
And although they tend to keep it relatively vanilla, blitz-wise, when they need to, the Bulldogs can call on a couple of capable blitzers in linebacker Jamon Dumas-Johnson and slot corner Javon Bullard, who had a memorable afternoon against Tennessee crashing in from his nickel role. One way or another, if they succeed in preventing Stroud from planting his feet and throwing in rhythm Ohio State is in for a very long night.
Georgia's priority: Containing Marvin Harrison Jr.
Before the season, the hype surrounding Ohio State's blue-chip receiving corps was concentrated on Jaxon Smith-Njigba, a 5-star talent coming off a monster sophomore campaign in 2021. From the start, though, Smith-Njigba was a phantom presence, appearing in only 3 games due to a nagging hamstring injury that relegated him to "game-time decision" purgatory for effectively the entire season. He re-aggravated the injury in the Buckeyes' Oct. 22 win over Iowa, didn't see the field thereafter, and has finally been ruled out for the Playoff.
Instead, the spotlight has belonged to Harrison, a second-generation star who's quickly made a name for himself in his own right. At 6-4/205, junior is significantly bigger than his dad, but no less fluid, boasting a rare combination of size, body control and flawless hands that made him a weekly highlight machine throughout the season. Eighteen of Harrison's 72 catches were of the contested variety, per PFF, making him not only one of the nation's productive receivers but also the most viral, by far.
Marvin Harrison Jr. is a witch. pic.twitter.com/TUis0W1XMv

— Kevin Harrish (@Kevinish) November 12, 2022
Marvin Harrison Jr. makes an amazing catch every single week ? pic.twitter.com/koBhCsruqd

— CleBuckeye (@CleBuckeye23) September 18, 2022
— pickett's pool (@PickettsPool) October 22, 2022
Marvin Harrison Jr. AGAIN

— Dane Brugler (@dpbrugler) October 8, 2022
Marvin Harrison Jr. truly cannot be stopped pic.twitter.com/h9tD88J9lG

— Cam Mellor (@CamMellor) November 26, 2022
On the other side, Georgia's cornerbacks can't match Harrison and his only slightly less-decorated running mate, Emeka Egbuka, for box-score supremacy or postseason laurels. One thing they do have going for them, though, is their next-level length: Starters Kamari Lassiter and Kelee Ringo check in at 6-0 and 6-2, respectively, and were recruited specifically for their ability to hold up in hand-to-hand combat against bigger, NFL-ready wideouts in high-stakes games.
Ringo, in particular, is as close to the ideal specimen to line up across from Harrison as you're going to find at any level. Like all corners — even first-round locks — Ringo has his scars; PFF has him down for 35 receptions allowed on the year at 13.7 yards a pop, plus 8 penalties. Still, at his best he's one of the very few whose fluidity at his size puts him in the same class as a talent like Harrison.
Kelee Ringo basically ran the route for Cedric Tillman?

— PFF College (@PFF_College) November 5, 2022
The Tennessee game in general was a clinic in what the Dawgs are capable of against an elite passing attack: The Vols' star receivers, Jalin Hyatt and Cedric Tillman, averaged a pedestrian 10.1 yards on 13 catches and didn't sniff the end zone until well after the outcome was decided. Harrison and Egbuka are too good to imagine them getting boxed out to that extent, but the Buckeyes are going to need more than an acrobatic grab or two to put points on the board. They need their best players to put on a sustained clinic of their own.
The wild card: Ohio State's ground game
Contrary to what you may have heard lately, the Buckeyes can in fact still run the dang ball. As a team, they averaged a shade over 200 yards per game on the ground (not including sacks) on a healthy 5.5 yards per carry. But that output does come with a couple of caveats: 1.) They were far less productive against the top defenses on the schedule, running for just 66 yards against Iowa, 98 against Penn State, and 143 against Michigan. And 2.) The running back rotation has been plagued by injuries, with TreVeyon Henderson, Miyan Williams and true freshman Dallan Hayden all sidelined or limited in multiple games over the back half of the season. The leading rusher against the Wolverines, Arizona State transfer Chip Trayanum, was a converted linebacker who woke up that morning with exactly 1 carry to his name in an OSU uniform.
After a few weeks off, the depth chart for Saturday night figures to be relatively intact, with Williams, Hayden, and Trayanum all on track to play. (Henderson, another preseason headliner whose season didn't go as planned, is done for the year following foot surgery.) Just how much of a dent they're able to make against the nation's No. 1 rushing defense is another question altogether. Only 2 opposing offenses in the past 4 years have managed more than 4 yards per carry against Georgia while also scoring more than 10 points: Alabama in the 2021 SEC Championship Game and Missouri in an upset bid earlier this season, when half the Tigers' output on the ground came on one play.
Ohio State doesn't have to stage a reenactment of Zeke Elliott's breakout game in the January 2015 Sugar Bowl to give itself a chance. Stroud is the engine, and Bama's success in the aforementioned SEC Championship Game, when the Tide did just enough on the ground to give Bryce Young the breathing room he needed to deliver a career-defining performance through the air, is the blueprint. But the less Georgia has to worry about stacking the box, the more attention it can devote to ensure Stroud has no such space.
Key matchup: Ohio State OL Matthew Jones* vs. Georgia DT Jalen Carter
Carter is capable of playing every position along the line, making him a problem for Ohio State's entire front. Most of the time, though, he lines up opposite the right guard, which brings us to the asterisk: Jones, a second-team All-Big Ten pick who started the first 11 games at RG, remains on the bubble after sitting out the Michigan game with a foot injury. His replacement, redshirt junior Enokk Vimahi, lasted all of 16 snaps against the Wolverines before yielding to redshirt sophomore Josh Fryar, who finished the game with poor marks from PFF. Ohio State doesn't issue an official depth chart, and Jones' status for Saturday hasn't been determined one way or the other; if he can't go, further shuffling may be in order to avoid leaving an inexperienced backup at the mercy of a confirmed monster. (Note for the record that Paris Johnson started full-time at right guard in 2021 before shifting to left tackle in the offseason.) Whoever winds up in the hot seat, he'll be responsible for the steepest assignment on the field.
When Georgia has the ball

Best players on the field
1. Georgia TE/WR Brock Bowers (84.9 PFF grade | 819 yards + 9 TDs | Mackey Award winner)
2. Georgia QB Stetson Bennett IV (87.4 PFF | 86.3 QBR | 4th in Heisman vote)
3. Ohio State LB Tommy Eichenberg (89.1 PFF | 112 tackles + 12 TFLs | 1st-team All-B1G)
4. Georgia RB Kenny McIntosh (84.2 PFF | 1,159 scrimmage yards + 11 TDs)
5. Georgia TE Darnell Washington (86.4 PFF | 417 yards + 2 TDs | 2nd-team All-SEC)
6. Georgia OT Broderick Jones (78.5 PFF | 0 sacks allowed | projected 1st-rounder)
7. Ohio State DE Zach Harrison (86.1 PFF | 7 TFLs + 3 forced fumbles | 2nd-team All-B1G)
8. Ohio State DE JT Tuimoloau (75.1 PFF | 11 TFLs | 1st-team All-B1G)
9. Ohio State DB Ronnie Hickman (86.9 PFF | 51 tackles + 6 PBUs | 3rd-team All-B1G)
10. Georgia C Sedrick Van Pran (73.3 PFF | 0 sacks allowed | 2nd-team All-SEC)
Georgia's priority: Keeping everyone involved
The hallmark of Georgia's offense under coordinator Todd Monken is an everything-by-committee approach that exploits the Dawgs' depth at the skill positions at the expense of individual star power. In 3 seasons on Monken's watch, UGA has yet to produce a 1,000-yard rusher or receiver, even while finishing in the top 10 nationally in both total and scoring offense in each of the past 2. That's certainly not for a lack of viable candidates. It's one thing to have the luxury of spreading the wealth; pulling it off with that kind of consistency requires real commitment.
The numbers don't leap off the page from one week to the next, but they add up. The primary backs, Kenny McIntosh, Daijun Edwards and Kendall Milton, each logged a single 100-yard rushing game en route to a combined 1,923 yards and 23 TDs for the season. In the passing game, Georgia got more mileage out of its backs and tight ends than any offense in the country: McIntosh, Brock Bowers and Darnell Washington collectively averaged 13.8 yards on 115 catches, each of them posing a unique matchup problem due to their complementary roles in the run game. Among the wideouts, 6 receivers also had double-digit receptions, although only 2 of them, Ladd McConkey and Marcus Rosemy-Jacksaint, touched the ball in every game.
The upshot for opposing defenses is that there is no focal point and no sound strategy to account for the multitude of options Monken throws at them. How do you defend a scheme that can shift seamlessly from grinding it between the tackles to running the Air Raid with the same core personnel? If there's an answer other than "have better players," no one has found it against this lineup yet.
The Dawgs have averaged north of 6.0 yards per play in every game this season except a 16-6 slugfest at Kentucky in which they came in at a mere 5.6 ypp while attempting a season-low 19 passes. The Wildcats dared them to pound out a living on the ground and they did, rushing for 247 yards in a game whose outcome was never in doubt. If Ohio State wants to follow that blueprint after watching its run defense give way against Michigan (again), here's guessing Georgia will be more than happy to oblige.
Ohio State's priority: Putting the game on Stetson Bennett's arm
This space is an officially designated Stetson Bennett Respect Zone. Bennett retired the underdog narrative during last year's national championship run, which Georgia could not have completed without him. This year, he's rendered the premise mostly obsolete. While running hot and cold at times, in the Dawgs' 3 biggest games — against Oregon in the opener, Tennessee at midseason, and LSU in the SEC Championship Game — he was at his best, averaging 10.5 yards per attempt with 10 touchdowns (8 passing, 2 rushing) and no interceptions. His QBR scores in those games verged on perfection: 98.1 vs. the Ducks, 97.6 vs. the Vols, 96.7 vs. the Tigers. At this point in his career, whatever remains of the notion that his size, arm strength, or athleticism are liabilities on a big stage is woefully out of date.
That said, it remains true that Bennett has rarely operated in anything other than ideal conditions. The o-line keeps him clean, the running game keeps defenses honest, and the passing game emphasizes getting the ball out of his hands as quickly as possible. The defense never puts him in a situation where the scoreboard dictates he has to push the ball downfield to keep the team in the game.
Georgia has only trailed in the second half once this season, in a come-from-behind win at Missouri on Oct. 1, where the initial spark on both of its 4th-quarter touchdown drives was supplied by McIntosh on a couple of chunk runs into Mizzou territory. The answer to the question "what happens when Bennett must throw against a defense that knows he must throw?" has never really been resolved because he and his team have successfully kept that scenario at bay for 2 years running.
It also remains true that if you're looking for a glitch in Georgia's résumé, the downfield passing game is the most obvious place to start. Bennett does not possess a cannon and ended the regular season on a cold streak throwing deep, connecting on just 2-of-7 throws of 20+ yards over the last 3 games. Meanwhile, the absence of a true vertical threat is the Dawgs' most pressing personnel issue. That role was supposed to be manned this year either by junior Arian Smith, who has averaged 35.3 yards with 3 touchdowns on 7 career receptions, or sophomore AD Mitchell, who was on the receiving end of the 40-yard touchdown pass that put Georgia on top for good in last year's CFP Championship win over Alabama.
Instead, Smith has been a non-factor, while Mitchell spent nearly the entire regular season in limbo due to a lingering ankle injury, much like Jaxon Smith-Njigba in Columbus. (Unlike Smith-Njigba, Mitchell is still in the mix to play after returning to the rotation for a dozen snaps against LSU, his first action since early October.) Bennett's favorite downfield target in their absence, Ladd McConkey, has nearly as many drops on attempts of 20+ yards (4) as catches (6), per PFF; no one else has been targeted at that depth more than 6 times.
But then, against Ohio State's reeling secondary suddenly anything seems possible. The Buckeyes collapsed on the back end in each of their past 2 games, allowing Maryland and Michigan to throw for a combined 596 yards and 5 touchdowns on 9.6 per attempt. Ten of the Terps' and Wolverines' combined 40 completions in those games gained at least 25 yards, including all 3 of Michigan's TD passes, which covered 69, 75, and 45 yards, respectively. PFF assigned responsibility for those lapses to 9 different defenders.
With a month to put it behind them, there's hope on the Buckeyes' side that the rash of big plays at the end represented a random lapse rather than an ongoing trend. But the only way to find out is to force Bennett into obvious passing situations that leave him with no choice but to put them to the test.
The wild card: Ohio State's pass rush
If the only Ohio State game you caught in 2022 was its late-October win at Penn State, you might have sophomore DE JT Tuimoloau on your list of the most unstoppable players in America. On that afternoon, he was. With most of the country tuned in, Tuimoloau broke into the national consciousness in a big way against the Nittany Lions, forcing 4 turnovers in one of the season's most dominant individual turns.
J.T. TUIMOLOAU PICK SIX ?

THIS GUY IS UNREAL ?@OhioStateFB pic.twitter.com/sMn0dh5MpJ

— FOX College Football (@CFBONFOX) October 29, 2022
If you're a regular OSU viewer, you might be wondering where that guy was the rest of the year. Up to that point, Tuimoloau had been credited with only 1 sack in the Buckeyes' first 7 games, and he subsequently added only 1 more in the last 4. Altogether, his 30 QB pressures tied for 17th in the Big Ten, per PFF, which also singled out Tuimoloau in the loss to Michigan for his lowest overall grade since the opener.
So, which Tuimoloau shows up in Atlanta? The souped-up version that broke out in Happy Valley is a difference-maker who stands to ruin Bennett's night all by himself. The standard model is just one more piece in a good-not-great rotation with senior Zach Harrison and fellow sophomore Jack Sawyer that boasts more potential than production. If the Buckeyes have to get creative in an effort to turn up the heat on Bennett, they'll also be running the risk that they wind being the ones getting burned.
Special teams, injuries and other vagaries
Both kickers, Georgia's Jack Podlesny and Ohio State's Noah Ruggles, are seasoned vets who have been virtually automatic this season from short to medium range: Podlesny hit 22-of-24 attempts from inside of 50 yards, while Ruggles connected on 15-of-16. Beyond 50, it gets dicier. Podslesny is 4-for-6 from long range in his career, but 3 of those connections came in 2020. Ruggles has only 1 attempt from that distance (a miss) in 2 years as a Buckeye.
Neither team has done much of note in the return game, and is unlikely to have many chances, anyway — the punters, Georgia's Brett Thorson and Ohio State's Jesse Mirco, have allowed a combined 14 returns on 77 attempts, compared to 33 fair catches. If a game-changing special teams play is in the cards, it might be just as likely to come in the form of a blocked kick. The Dawgs have blocked 2 field goals, including the one DB Christopher Smith returned for a touchdown to open the scoring in the SEC Championship Game, while Ohio State's Lathan Ransom blocked 2 punts in consecutive weeks against Indiana and Maryland, both of which set up easy touchdowns.
Lathan Ransom does it again!

For the second straight week, he blocks a punt after making a big stop before it. ?@L8thanRansom x @OhioStateFB pic.twitter.com/zqa0Q0tvxK

— Big Ten Network (@BigTenNetwork) November 19, 2022
On the injury front, Ohio State's list of high-profile walking wounded on offense is well-documented. The Buckeyes won't have Smith-Njigba, who was barely on the field before calling it a season. But TreVeyon Henderson's absence is a big one, and the uncertainty surrounding Matthew Jones' availability up front might loom even larger. For Georgia, the question mark is hovering over a pair of offensive starters, Ladd McConkey and OL Warren McClendon, both of whom checked out of the SEC Championship Game with knee injuries.
As a rule, Smart keeps his weekly injury updates as vague as possible, which makes gauging their status difficult. For what it's worth, McConkey would be the bigger loss for the simple reason that McClendon's understudy at right tackle, sophomore Amarius Mims, is a next-level talent who has logged significant time with the first team and would already be a full-time starter almost anywhere else in the country. The wide receiver depth behind McConkey is also enviable, at least on paper, but McConkey has more clearly separated himself from the rest of the pack.
The bottom line
A lot of people have been looking forward to this matchup from the moment the confetti fell on Georgia's championship stage in January, and a 6.5-point spread is a sign of respect for Ohio State coming off easily its worst outing of the season. Even before the season, the Buckeyes were the only offense with enough proven firepower to plausibly envision them hanging 30 points on UGA's defense when it counts, and that's still the case even with last year's leading rusher and receiver both on ice due to injury. CJ Stroud and Marvin Harrison Jr. are the premier pass-catch combo in the college game, Emeka Egbuka is an unrivaled WR2, and man-for-man the o-line stacks up against any in the country. A dismal second half against Michigan isn't a sign that these guys have suddenly forgotten how to score.
Still, the stigma of getting pushed around at the line of scrimmage is hard to get past, especially for a defense that was hardly challenged by the anemic offenses that made up the rest of the schedule, and especially when you consider how easily Georgia overpowered the Wolverines in last year's Playoff semifinal clash in the Orange Bowl. These Dawgs are at least as imposing in the trenches, if not more so, and as long as they're making a living between the tackles the entire playbook stays open for Stetson Bennett IV and his assortment of dual-threat targets.
The only challenge they've yet to meet over the past 2 seasons is keeping pace in a shootout, for the very good reason that only one opposing offense has successfully managed to drag them into one, while nearly everyone else has found themselves underwater by halftime.
Ohio State would love nothing more than to make that two opposing offenses and take its chances that the defense can bend enough without breaking. But if the script unfolds any other way, it's the Dawgs' game to lose.
– – –
• Georgia 34 | Ohio State 24