SEC
Ultimate SEC road trip of 2014
With nothing but green in front of us for the 2014 season, every SEC team starts its path to the College Football Playoff. But another path that also starts is you, the fan, hitting up all 14 SEC football cities in 14 weeks.
It's a tough task; it'll take some money and an extremely flexible boss, but we're going to make it happen. You, the fan, will be able to hit great games every week, all the while hitting every SEC city and 12 different home stadiums.
The SEC's ultimate road trip. Go!
Week 1: Thursday, Aug. 28: Texas A&M Aggies at South Carolina Gamecocks, Williams-Brice Stadium, Columbia, S.C.
Skinny: The Aggies and Gamecocks will kick off the college football year, as well as the new SEC Network. Two teams replacing two quarterbacks with offensive-minded head coaches should set up for an awesome fireworks show.
Week 2: Saturday, Sept. 6: Ole Miss at Vanderbilt, LP Field, Nashville, Tennessee
Skinny: The SEC's only game of the week, and Nashville is one of the best cities in the country. If this game is anything like last year's, look out. While you're there, check out the Country Music Hall of Fame and hit every bar on Broadway. The Rebels and Commodores could turn this one into a track meet.
Week 3: Saturday, Sept. 13: Kentucky at Florida, The Swamp, Gainesville, FL
Skinny: An annual trip to The Swamp is a must, regardless of the opponent. Sure, you want it to be LSU or Florida State, but it just didn't work out that way for this year's road trip. Hit up The Swamp bar before you head into The Swamp.
Week 4: Saturday, Sept. 20: Mississippi State at LSU, Tiger Stadium, Baton Rouge, LA
Skinny: Could MSU play spoiler on the road at Death Valley? Don't be surprised if it happened, and you will be there to see it happen. You could justify going to every single LSU home game, because it's an incredible venue. Just remember to bring your appetite and your rowdy, because Tiger fans don't know anything other than rowdy.
Week 5: Saturday, Sept. 27: Tennessee at Georgia, Sanford Stadium, Athens, GA
Skinny: Tennessee and Georgia is a classic SEC East showdown, and it would be much better should the Vols pull off an upset. The Dawgs have won four of the last five and 10 of the last 15. Athens is a must-see town and venue. You wouldn't want to miss the Dawgs and Vols going to battle.
Week 6: Saturday, Oct. 4: Alabama at Ole Miss, Vaught Hemingway Stadium, Oxford, MS
Skinny: Picked as the potential biggest upset in the SEC West, the Crimson Tide's visit to Oxford could get interesting. The Rebels and Tide both have two of the most talented rosters not only in the division, but also in all of college football. Yes, of course, don't miss the game outside the game: The Grove.
Week 7: Saturday, Oct. 11: Georgia at Missouri, Memorial Stadium, Columbia, MO
Skinny: Faurot Field is an underrated venue to watch an SEC football game, and now that the stadium has expanded, it'll be even better…and louder. In the last two years, the Bulldogs and Tigers are 1-1 against each other, and both wins came on the road.
Week 8: Saturday, Oct. 18: Georgia at Arkansas, War Memorial Stadium, Little Rock, AR
Skinny: You'll see Georgia two weeks in a row against Arkansas, but that's okay. Mark Richt will let you sit in the family section. Arkansas hosting a game at War Memorial is an exciting venue to catch a football game.
Week 9: Saturday, Oct. 25: South Carolina at Auburn, Jordan Hare Stadium, Auburn, AL
Skinny: You haven't lived until you have seen War Eagle make its pregame flight, and if the hair doesn't stand up on your arms, you need to check your pulse. Besides, this game has both SEC East and SEC West championship implications.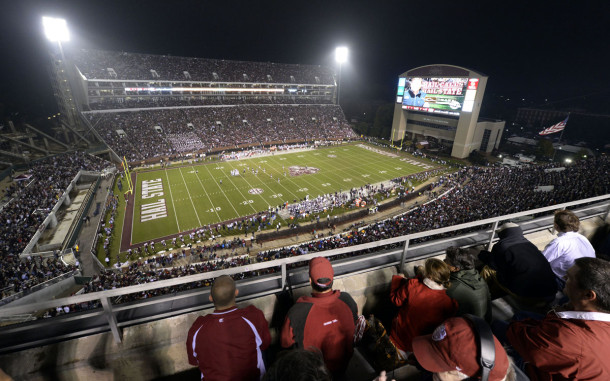 Week 10: Saturday, Nov. 1: Arkansas at Mississippi State, Davis Wade Stadium, Starkville, MS
Skinny: Starkville is one of the SEC's most underrated sports towns. Bulldogs' fans are passionate about their team and their university, and the newly renovated Davis-Wade Stadium is a beautiful venue. Just don't blink heading into Starkville, because you might miss it!
Week 11: Saturday, Nov. 8: Georgia at Kentucky, Commonwealth Stadium, Lexington, KY
Skinny: Ah, you're watching another Georgia game, but it's okay because you love SEC football, right? The University of Kentucky's campus is underrated when it comes to some of the best, and Commonwealth Stadium is in the middle of a makeover, too. If you come a day early, you can head on over to Rupp Arena and watch UK vs. Georgetown in basketball. Make a weekend out of it.
Week 12: Saturday, Nov. 15: Missouri at Texas A&M, Kyle Field, College Station, TX
Skinny: The former Big 12 foes are now SEC foes, just not permanent cross-divisional rivals anymore. There's no more Johnny Manziel, but Kyle Field is an awesome venue, and the TAMU fans are some of the best. They'll offer to buy you a beer. Guaranteed.
Week 13: Saturday, Nov. 22: Missouri at Tennessee, Neyland Stadium, Knoxville, TN
Skinny: Neyland Stadium will always be one of the greatest venues – if not the greatest – to watch a football game. On the banks of the Tennessee River, it sets up for the perfect atmosphere. But you better hope the Vols are on the cusp of making at least some noise, because it's been kind of empty the last few years toward the end of the season.
Week 14: Saturday, Nov. 29: Auburn at Alabama, Bryant Denny Stadium, Tuscaloosa, AL
Skinny: Last, and certainly not least, is Alabama vs. Auburn. After such a dramatic finish last year in Jordan-Hare, who knows what's going to happen this year. The Iron Bowl should once again decide the SEC West division winner, and this will be the best atmosphere of any college football game of the year. You have to be there!