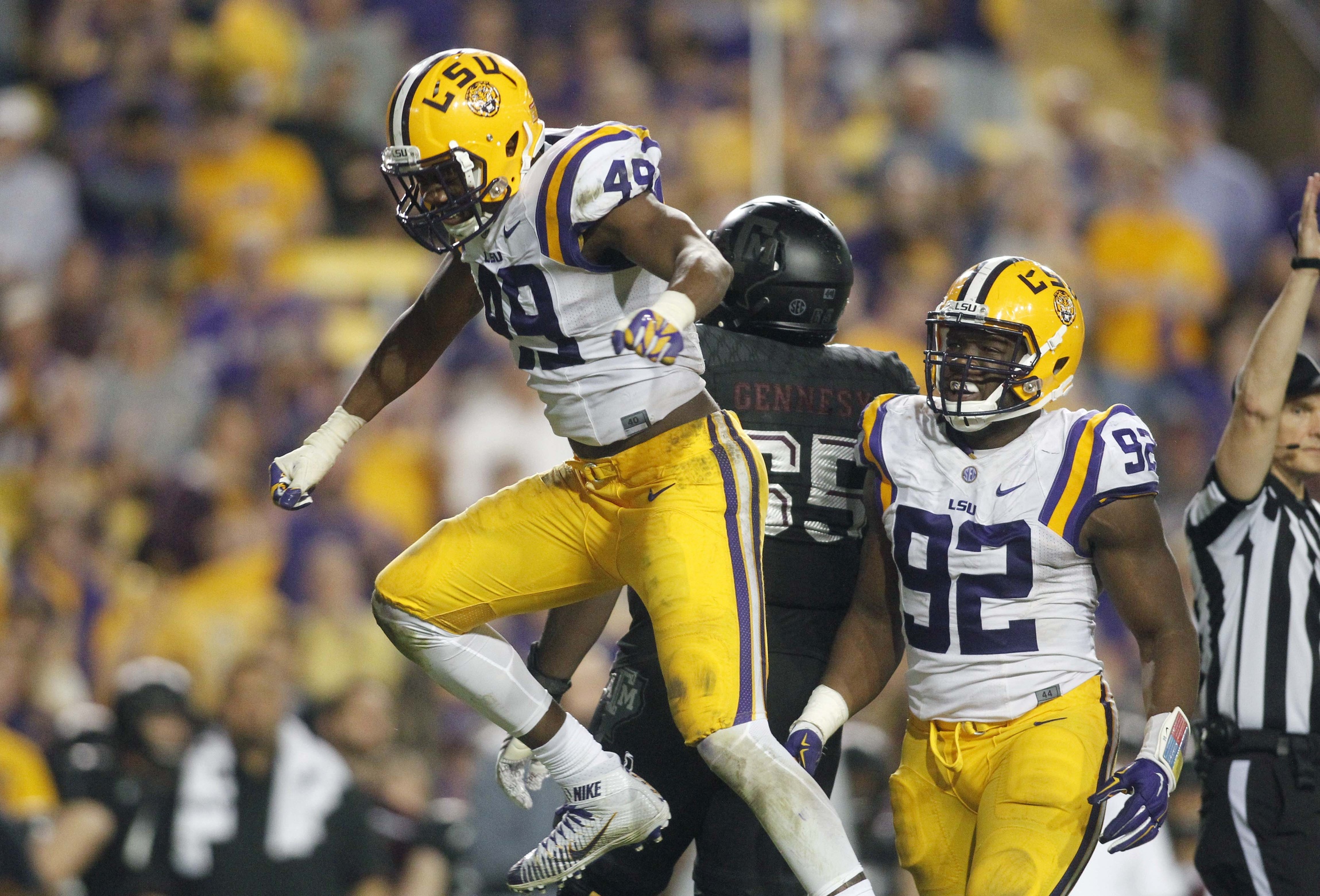 SEC
Underrated position groups around the SEC
The spotlight shines brightly on the SEC, and rightly so as the country's best conference. But here are a few position groups that might be flying under the radar just a little bit as the 2016 season slowly clips closer.
LSU defensive line: When the talk spun to defensive lines this spring, most of it was centered around Jonathan Allen and his mates at Alabama or the greatness of Myles Garrett at Texas A&M and his potential to be the first overall pick in the draft next spring. But the best D-line in the SEC resides in Baton Rouge, and no one's talking much about them.
This group is loaded. DE Lewis Neal came back for his senior year when he could have jumped an been an early-round draft pick. Sophomore-to-be Arden Key is a beast on the other side and there is a talent and depth at the defensive tackle spots. Add to that the fact that Ed Orgeron might be the best D-Line coach in the country and new coordinator Dave Aranda knows how to put pressure on QBs.
So why are they underrated? Part of it might be perspective. After last year's meltdown, it's hard to buy in to any hype that LSU can really win the SEC West, and another season of great defense may not change that. But that'll be a wrong assumption. This group is going to be nasty.
Tennessee secondary: There's so much hype in Knoxville that 2016 is finally the year that Butch Jones and the Vols win the SEC East. And there are plenty of good reasons. A veteran QB, a stable full of great runners and a tough and talented front seven. It's all good.
But what's been flying under the radar is how good this secondary will be. We all know about the greatness of corner Cameron Sutton, and another huge season is expected from him in 2016. Rashaan Gaulden, who missed last season with a foot injury, has been moved to safety this spring and top recruit Nigel Warrior should haven an immediate impact. Return specialist Evan Berry will join the mix at safety.
There is talent at corner beyond Sutton, both with current veterans and some key additions in junior college transfer D.J. Henderson and top-100 recruit Tyler Byrd. The Vols are deep and have a lot of movable pieces. Look for them to improve on the 11 interceptions they had last season.
Arkansas linebackers: The Razorbacks' defense was so bad last year – No. 117 bad against the pass – that no one got much hype about having a good individual season. That didn't do justice to linebackers Brooks Ellis and Dre Greenlaw.
Ellis isn't the fastest middle linebacker in the SEC, but he might be the smartest and the toughest. He's a rock, and a good leader. Greenlaw stepped up as a true freshman with 95 tackles and should be ready for an even better year in 2016 at outside linebacker.
What will help a lot is that the Hogs' defensive line and secondary should both be better, allowing Ellis and Greenlaw more opportunities to shine. Add Randy Ramsey back into the mix and getting booted off the team and then returning, and things could get better in a hurry. This will be a group to watch.
Ole Miss receivers: Laquon Treadwell is gone, and that's a big loss. But don't fret for Ole Miss. They will line up with a group of receivers who will become stars in their own right this year. Calvin Ridley can have the pub at Alabama, and the deep and talented groups at Texas A&M and other players will get plenty of publicity.
This group can't really fly under the radar for long with huge September games against Florida State and Alabama, and there's no denying they are already considered good. Where the underrated comes, it's that this group might just turn out to be great.
It helps, of course, that Chad Kelly is back at quarterback. He's the best in the league, and he makes everyone around him better. The same will be true for this year's collection of receivers. Quincy Adeboyejo (38 catches), Damore'ea Stringfellow (36) and Markell Pack (31) all had an impact last year and they will all make an even more breakout plays this year.
Tight ends throughout the league: There are many other position groups that hog the spotlight more than tight ends, but that might be a mistake this year.
Sure, Arkansas' Hunter Henry won the Mackey Award last year as the country's best tight end, but there are several others who might make a run for the same honor this year. Alabama's O.J. Howard became a star in the national championship game – five catches for 208 yards – and is back to do more damage and be a security blanket for whichever QB wins the job in Tuscaloosa.
He is in good company. Evan Engram will have a big year at Ole Miss, Jeremy Sprinkle will fill Henry's shoes admirably and be Austin Allen's favorite target, especially early. And expect big things in a timely matter from guys like Ethan Wolf at Tennessee, Sean Culkin at Missouri and Jeb Blazevich at Georgia. Look for DeAndre Goolsby to emerge at Florida as well.