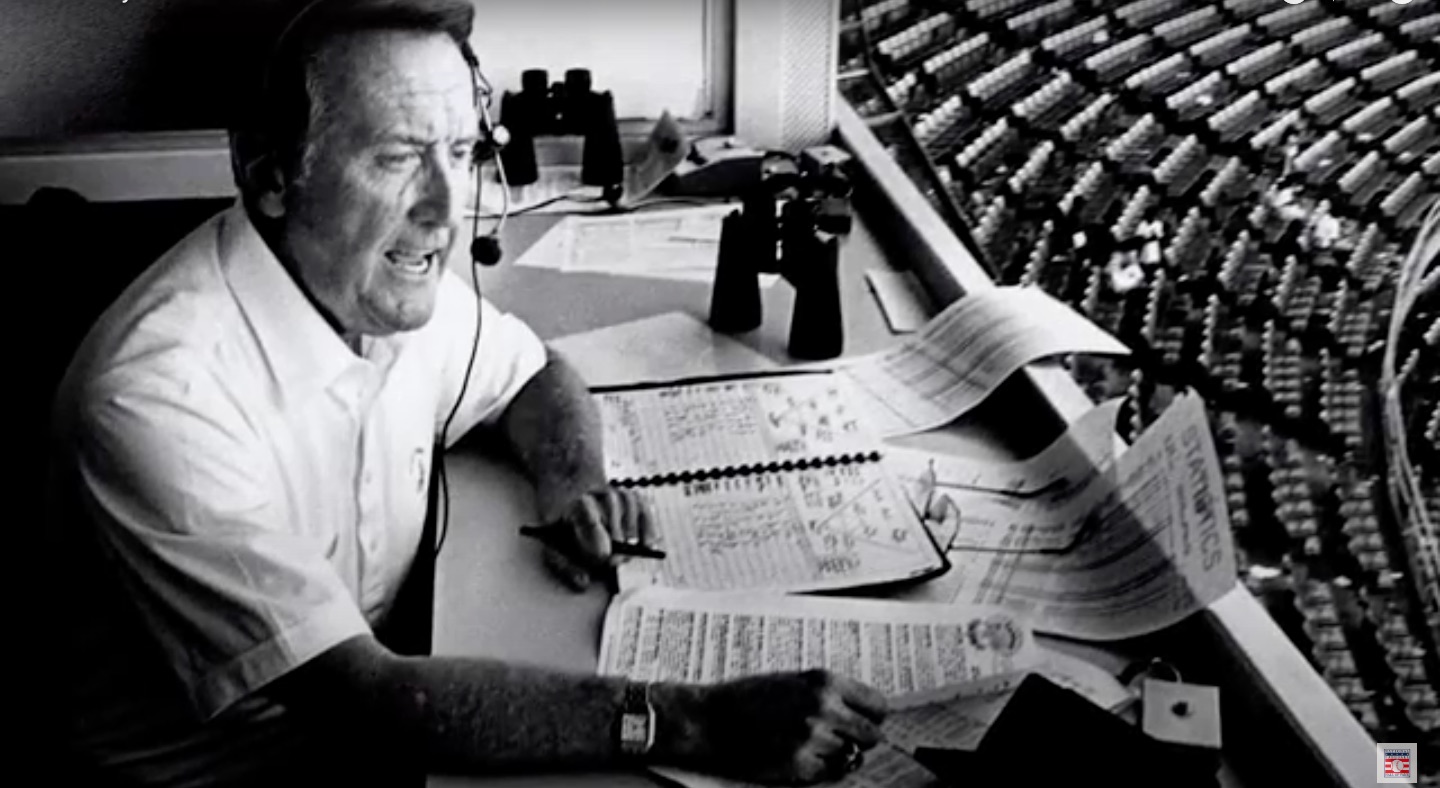 SEC
Vin Scully's passing a reminder to celebrate legendary broadcasters and the moments they immortalize
Broadcasters are part of the soundtrack of sports. They guide you through every game, big and small, throughout a season, a decade, a lifetime.
They join you in your living room, talking to you through your television. They speak to you through your radio as you listen to games on the go. They keep you company when you're driving down a lonely highway. They add to the atmosphere of a party, serving as a most-welcome guest.
The perfect call of the perfect play can give you chills, whether you're watching at home or listening in your car driving with the windows down on a 100-degree day in the South.
No one was better behind the microphone than Vin Scully, the legendary Dodgers broadcaster who sadly passed away on Tuesday at the age of 94. Scully will be remembered forever in Los Angeles and across the country as a whole.
Perhaps the best example of his unique way with words came when he called the ninth inning of Sandy Koufax's perfect game:
"There's 29,000 people in the ballpark and a million butterflies" — Vin Scully
The entire call of Sandy Koufax's perfect game in 1965 was brilliant, but the ninth inning was pure poetry.
I was 25 years from being born in 1965. Heck, my dad was only 7 years old when Scully made that brilliant call. He would have had no idea back then that, in 30-some years, he'd be listening to another all-time great broadcaster, Jack Buck, calling St. Louis Cardinals games while driving his son home from his Little League games. The same Jack Buck his dad, my grandfather, listened to on evenings spent on the farm.
Yet, even with all those years between Koufax's perfect game and now, I still get goosebumps listening to Scully describe Koufax fussing with his hat.
My wife's grandmother (or Yia-yia, as she comes from a very Greek family) is 97. She would have been around 3 years old when Scully was born in the Bronx in 1927. Yia-yia, born in New Jersey, grew up in Brooklyn, a stone's throw from the then-Brooklyn Dodgers' stadium. Now, as her memory fades, she has a habit of repeating stories.
She associates me with sports (an association I'm more than happy to have), so she's told me on numerous occasions about how she'd listen to Dodgers games on the radio, even though her parents told her baseball wasn't for girls.
She's told me dozens of times how she used to sneak out of school early to watch the Dodgers play. She'd spread her schoolbooks out across the bleachers to save seats for her friends, who weren't as bold as her and waited until school ended to head to Ebbets Field.
Did she ever cross paths with a young Vin Scully? Scully didn't take over as the Dodgers' broadcaster until 1950, when he was 23 and Yia-yia was 26. But, maybe, just maybe, a young Scully sat near my wife's grandmother in the stands at Ebbets Field on a sunny weekday afternoon when both of them should have been in school.
Yia-yia has told me those stories again and again, and I've listened to them intently every time. Because they make me feel like part of her family. And because eventually, like the unique voice of Scully, I won't be able to listen to them anymore.
Scully had the ability to span generations.
He also had the ability to span sports. His voice took us through "The Catch" by Dwight Clark:
"Dwight Clark is 6-4. He stands about 10 feet tall in this crowd's estimation!" — Vin Scully
Oh, and let's of course not forget that Scully got his start calling the wonderful sport of college football:
On this day in 1949 at Fenway Park, Vin Scully makes his professional debut. A College Football game: Maryland-B.U. pic.twitter.com/NsiAUhhIwd

— Vin Scully (@VinScullyTweet) November 13, 2013
* * * * * *
Scully's passing and the tributes being paid to him are a good reminder to celebrate those who help make sports so great. So, let's take a look at some of the most iconic SEC football calls of all time:
"There goes Davis!" — Rod Bramblett
The Kick Six was an iconic game. Fortunately, the legendary Bramblett was up to the moment:
"No-sir-ree!" — John Ward
This memorable call ends with Ward saying "Pandemonium reigns!" That line is just as great as "No-sir-ree!"
"Tyrie Cleveland! Oh my! I don't believe what I just saw!" — Mick Hubert
Hubert, who recently retired as the Voice of the Gators, is another SEC legend who had so many great calls. But, this Hail Mary to Tyrie Cleveland to beat Tennessee in 2015 stands out to me:
"Run Lindsay!" — Larry Munson
Munson had so many great calls behind the mic for Georgia, including the "Hobnail Boot." But this one takes the cake. Munson not only describes breaking his chair, his steel chair — he also delivers the memorable "Man, is there going to be some property destroyed tonight," line. Incredible:
Vin Scully's craftsmanship influenced Larry Munson's greatest call.

Wrote about those legends today (h/t @MrCFB for sharing):

?? https://t.co/tccHpHpzkN @DawgsHq pic.twitter.com/jKhPxnNthr

— Wes Blankenship (@Wes_nship) August 3, 2022
"MAN, IS THERE GONNA BE SOME PROPERTY DESTROYED TONIGHT! 26-21, DAWGS ON TOP!!!"@UGAAthletics #SECNTakeover pic.twitter.com/9Iliv6Gh47

— SEC Network (@SECNetwork) July 21, 2017
"Oh my gracious! How about that?" — Verne Lundquist
Uncle Verne was the voice of the SEC on CBS for a long time. Naturally, that meant he called some incredible moments. Perhaps the best were his calls of Johnny Manziel doing Johnny Manziel things (check out the 6:00-mark of the below video for that):
"I don't believe it!" — Keith Jackson
No college football broadcasting highlight reel would be complete without the estimable Keith Jackson, who was on the call for so many of the sport's biggest plays. Here he is calling a blocked punt at the end of the Alabama-Georgia game in 1985:
"And that's McGaffie breaking free!" — Brent Musburger
No, Mizzou wasn't in the SEC when this moment happened. But, indulge me for a minute, as this was a highlight of my college days. Gahn McGaffie running that opening kickoff back against No. 1 Oklahoma to set the tone for the Tigers' upset was the loudest I've ever heard Faurot Field get. I'm glad Musburger was on the call for it:
It's not unreasonable to think that all of the great broadcasters included above were influenced by Scully in one way or another. It's almost impossible not to be.
I'm sure there are plenty of great calls I've missed. If you have a memorable call you want to recognize, mention it in the comments.
Legendary broadcasters should be celebrated and thanked. Scully's passing gives us a chance to remember and celebrate his brilliance, yes. But, it also serves as a reminder to appreciate the joy and pain, love and loss, that great announcers are able to make us feel even more intensely.