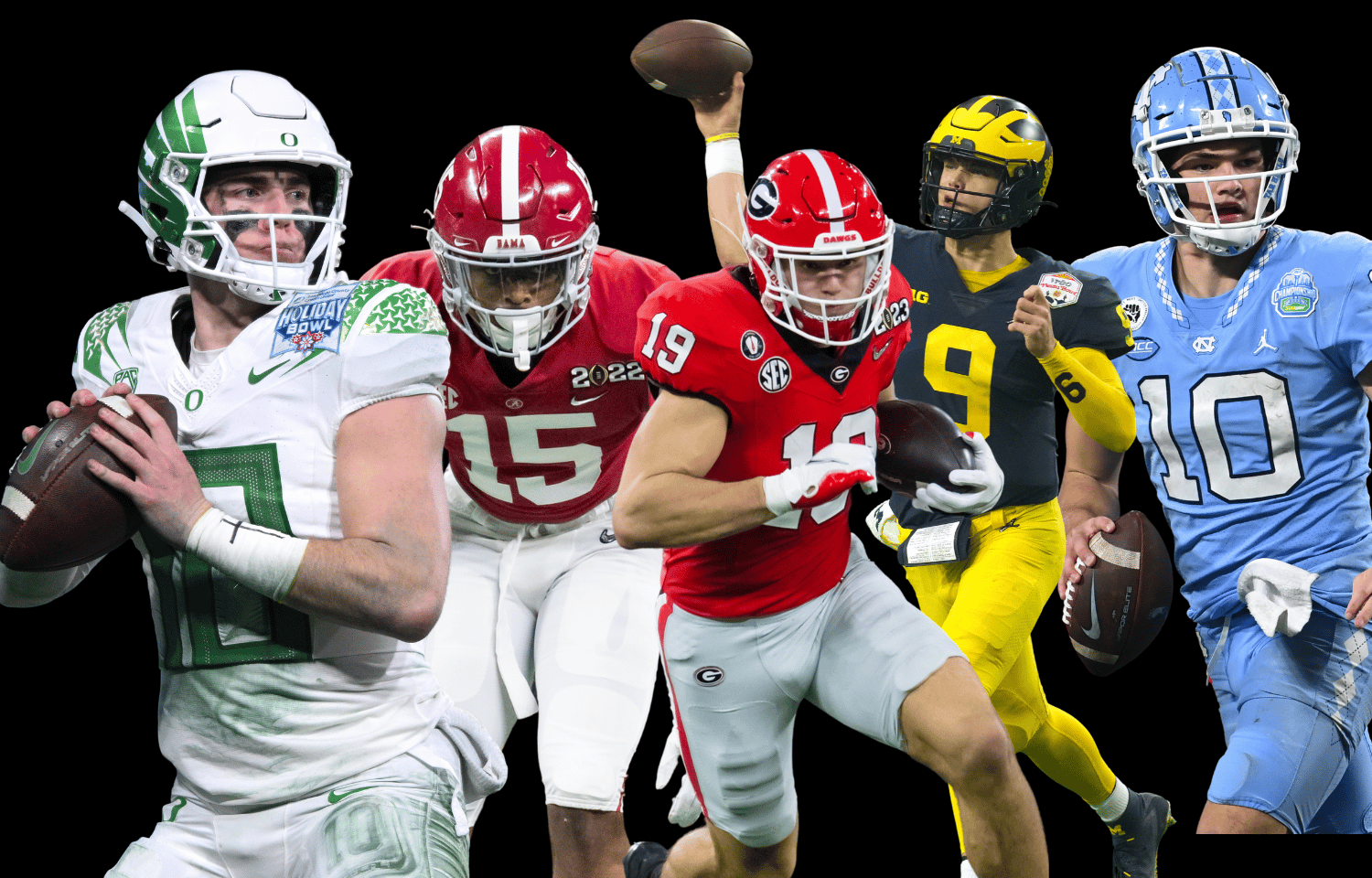 SEC
The SDS way-too-early Top 25 for 2023
It's late, but it's still early.
Yes, I know that all the other way-too-early Top 25s are already out. I'm not the first to cross the finish line, er, whatever it means to have the first way-too-early Top 25 ranking out. I'm not 2nd. Heck, I'm not even 3rd, 4th or 5th.
But a great human once said "if you're not 1st, you're last."
Whoops. Wrong quote.
A great human once said, "I'd rather be right than 1st."
Consider that my way of saying that the way-too-early Top 25 that you're about to read and totally agree with will be the best of all the rest.
As a reminder, this ranking is heavily weighted on what the previous season told us, the returning personnel and the transfer portal. I do NOT rank teams based on strength of schedule, nor am I trying to predict end-of-season rankings. I rank them based on where I think they'd be if they stepped onto the field today with the personnel they return.
Here's my way-too-early Top 25:
25. Mississippi State
The death of an active head coach is never something that you can be fully prepared for, but MSU set itself up well to avoid a step back in the post-Mike Leach era. Having an up-and-coming assistant like Zach Arnett to turn to will help, as will having a starting quarterback like Will Rogers who has 3 years of experience. MSU's new identity will be on the defensive side of the ball, where Jett Johnson should again lead one of the SEC's better units.
24. Wisconsin
This ranking is purely out of respect for Luke Fickell. We know the Badgers are on the heels of their worst 3-year stretch in 2 decades. But Fickell has done a tremendous job bringing in Phil Longo to update the outdated passing game, and with Braelon Allen returning to the backfield, there's hope that Wisconsin can improve immediately with one of the top 10-15 best coaches in the sport.
23. UCLA
Wait, didn't UCLA just lose Dorian Thompson-Robinson and Zach Charbonnet from a team that lost 3 of its final 4 games? Yes. But didn't UCLA also just add perhaps one of the most important non-quarterback transfer portal additions this cycle with tailback Carson Steele? Also yes. Chip Kelly went to the MAC to get Collin Schlee as his possible DTR replacement, at least until 5-star true freshman Dante Moore is ready. There's a roster that can stay afloat in the suddenly deep Pac-12.
22. UNC
It would've been interesting to see how high UNC would've been ranked had Drake Maye finished the year the way he started it. That didn't happen, though. Maye is still returning as a top-5 quarterback in America, but there are questions about his surroundings. Offensive coordinator Phil Longo is off to Wisconsin, and top targets Josh Downs and Antoine Green are both gone. But a more experienced defense should take some pressure off Maye.
21. South Carolina
Returning Spencer Rattler and Juice Wells was monumental. The Gamecocks were one of the 10-15 best teams in America in those final 3 games. Shane Beamer's program suffered some key portal losses with Jaheim Bell, MarShawn Lloyd and Jordan Burch, and it has to improve defending the run. But you know Beamer will get the most from his special teams units and as long as he continues to actively recruit the portal, there's plenty of reason to suggest the team we saw down the stretch will show up in 2023.
20. Texas Tech
There's a legitimate Big 12 contender in Lubbock. A defense loaded with super seniors and 9 returning offensive starters are running it back for Joey McGuire's squad. They looked like a different team down the stretch with former Oregon quarterback Tyler Shough as the starter. The Red Raiders have a chance to build on their best season of the post-Mike Leach era.
19. Kansas State
The Big 12 champs lost their heart and soul in Deuce Vaughn, but don't sleep on Chris Klieman's squad. Will Howard got some meaningful reps for an injured Adrian Martinez, and the Wildcats return 8 offensive starters. There's enough proven depth in the trenches to think Kansas State can defend its Big 12 title.
18. Tulane
Willie Fritz gave us one of the best stories of the year in college football. A historic 10-win improvement included a stunning late comeback against USC in the Cotton Bowl. Now the question is what the encore looks like. Michael Pratt is returning with an experienced offensive line, though replacing top tailback Tyjae Spears will determine if Tulane can deliver another top-20 offense and double-digit wins.
17. Texas
I truly believe that a healthy Quinn Ewers will be one of the biggest storylines of college football as Arch Manning waits his turn. I'm not sure Ewers was himself post-Alabama injury. Obviously we need to see Texas replace Bijan Robinson, but Steve Sarkisian has 9 returning starters to work with on offense and defensively, Texas had its best season since 2017. Coming off a year in which all 5 losses were by 1 score, a pressure-packed year awaits in Austin.
16. Oregon State
Is there a more underrated coach in America than Jonathan Smith? You could argue that Smith is the best hire from the post-2017 cycle after leading the Beavers to their best season in 2 decades. He now returns almost that entire offensive line — who had one of the nation's most consistent rushing attacks — to block for incoming transfer DJ Uiagalelei. Go figure that the former 5-star quarterback is the biggest question mark for an Oregon State team trying to win double-digit games in consecutive seasons for the first time in program history.
15. TCU
Why not more respect for the defending national runners-up, you ask? Well, we know that Max Duggan, Quentin Johnston, Kendre Miller and Tre'Vius Hodges-Tomlinson are all gone. We don't know how sustainable Sonny Dykes' Year 1 success will be at a place who exceeded 7 wins for the first time in 5 years. But the Horned Frogs are loading up in the transfer portal, which should keep them in Big 12 contention.
14. Clemson
So let's recap Clemson's 2022 season. Against the 4 teams that finished in the AP Top 25, it went 1-3 with an average scoring margin of -11. Yuck. You can't blame that all on DJ Uiagalelei. Cade Klubnik has sky-high expectations, but the bigger question might be on defense, where Myles Murphy and Bryan Bresee will leave a couple of massive holes on that defensive line. The Tigers get the benefit of the doubt for posting 12 consecutive seasons of double-digit wins, but this thing isn't trending in the right direction.
13. Oregon
Folks, the Pac-12 is good. It's good because it has solid coaching and battle-tested quarterbacks. Oregon, it appears, has both boxes checked with Dan Lanning and the ageless Bo Nix. The 10-win Ducks have a lot of momentum with a nice bowl comeback and an elite recruiting class, but the 2023 squad has to figure out some major offensive line turnover and they're losing a trio of standouts from a defense who lacked consistency.
12. USC
I know, I know. Caleb Williams is back. It's Lincoln Riley. It's the relentless recruiting of the transfer portal. But we've now seen Riley coach 4 different quarterbacks who finished in the top 2 of the Heisman Trophy voting, and all of them had the same postseason result. Then Riley decided to bring back Alex Grinch, who coached consecutive disappointing defenses under Riley (1 at Oklahoma, 1 at USC). If your reason for ranking USC as a top-5 team is based on the offense, you haven't been paying attention.
11. Washington
The Michael Penix Jr.-Kalen DeBoer combination is money in the bank. That much we know. What we need to see from the Huskies is if they can hang with Utah and USC, and if they can do so with a defense who let up 5.6 yards per play. But DeBoer is quickly establishing himself as one of the nation's better coaches, and they should continue to recruit the portal well and compete for a Pac-12 title.
10. Tennessee
I'm skeptical about Joe Milton consistently leading a top-10 team, but I'm not skeptical about Josh Heupel leading a top-10 offense. In fact, he had top-8 offenses in 5 consecutive years. Hence, why Heupel is 46-16 as a head coach. Returning Bru McCoy and Squirrel White will give Heupel a good shot of continuing that streak, though the Vols' 2023 upside will be determined by whether Tim Banks' defense can be a bit more consistent.
9. Notre Dame
The Sam Hartman addition is a huge reason I'm willing to put the Irish in the top 10. Pairing that with a Year 2 Marcus Freeman defense seems like an excellent combination, though I do think we need to see a bit more from the play-calling and returning skill-players to assume that Notre Dame is a legit preseason Playoff contender.
8. Utah
On the same day, we found out that Cam Rising AND Brant Kuithe are both returning for 2023. That's huge for the 2-time defending Pac-12 champions. Kyle Whittingham's team beat USC twice and absolutely deserves to be ranked ahead of the Trojans … but you can't put the Utes ahead of Penn State after the post-Rising injury result we saw in the Rose Bowl.
7. Penn State
Sean Clifford is finally out of eligibility, which has Penn State fans fired up because it means former 5-star recruit Drew Allar is up next. The Lions' backfield is loaded with Nicholas Singleton and Kaytron Allen both back after standout true freshmen seasons. But defensively, Penn State has a major to fill in the secondary with Joey Porter Jr. and Ji'Ayer Brown off to the NFL. Manny Diaz should lead another top-20 unit, though his group will be defined by improvements made against Michigan and Ohio State.
6. LSU
It's remarkable to think that Brian Kelly took an LSU team who had less than 40 scholarship players in last year's bowl game, and it turned it into the SEC West champs with a 10-win season in Year 1. He did that with true freshmen tackles, a transfer portal quarterback and a true freshman sensation linebacker in Harold Perkins. Those guys, along with possible preseason All-SEC receiver Malik Nabers, will be the Year 2 foundation.
5. Florida State
The ultimate good vibes team this offseason finished the year as well as Seminole fans could've asked for. A 10-win season with 3 losses by an average of 6 points suggests that Mike Norvell has FSU in its best place of the post-Jameis Winston era. That's right. Even better than 2017. Jordan Travis' return coupled with the top transfer portal class, headlined by former South Carolina tight end Jaheim Bell,, should have FSU fans feeling plenty optimistic heading into 2023.
4. Ohio State
The CJ Stroud era is over, but the Buckeyes are still loaded at wideout with Marvin Harrison Jr. and Emeka Egbuka back to work with former 5-star recruit Kyle McCord. And even if Ryan Day transitions out of calling plays, we should pencil the Buckeyes in for a top-5 offense. The questions will be on defense, where the Buckeyes fell apart down the stretch of 2022 after Jim Knowles looked like a worthy upgrade at DC. The good news is that with Jack Sawyer and JT Tuimoloau back, the Buckeyes should have some game-wreckers in the trenches. The bad news is that Ohio State is suddenly in a "need to prove it against Michigan" year to get more respect than the Wolverines.
3. Michigan
The Blake Corum return was massive to pair alongside a developing JJ McCarthy, and it's worth remembering a year after having a ton of personnel turnover, Michigan still went 13-0 en route to the Playoff, which was no small feat. So why not have the Wolverines at No. 2? Well, when was the last time we saw Michigan beat a non-Big Ten team on the big stage? The 2019 Notre Dame game? Maybe the 2017 opener against a Florida team who was about to be in free fall? That's the issue. You can't say Michigan's ceiling is top-2 worthy when it hasn't won a bowl game since 2015.
2. Alabama
Yep, I'm well aware that Bryce Young and Will Anderson are gone. But a team who does nothing but win double-digit games and sign top-3 classes with the best coach of all time gets the nod over Michigan and Ohio State, neither of whom have shown with their current coaches that they can hang with Alabama or Georgia. Alabama, meanwhile, hasn't lost to a non-SEC team since Clemson in the 2018 season. Dallas Turner and Kool-Aid McKinstry will headline a new-look Alabama defense that somewhat quietly finished No. 4 nationally in yards/play allowed. The Tide aren't going anywhere.
1. Georgia
I mean, the team that lost 15 players to the NFL Draft and just did that is going to get the benefit of the doubt until further notice. There's a talented quarterback room with Carson Beck, Brock Vandagriff and Gunner Stockton, and we know that Georgia will still have plenty of backfield options, as well as a passing game led by returners Brock Bowers, Ladd McConkey and AD Mitchell, as well as established incoming SEC receivers Dominic Lovett and Rara Thomas. And defensively, yes, you have to replace Nolan Smith, Kelee Ringo, Christopher Smith and Jalen Carter but after losing 8 defensive players to the NFL Draft the previous year and posting a top-5 unit, I wouldn't assume some massive regression is in the cards. The Dawgs deserve that top spot.