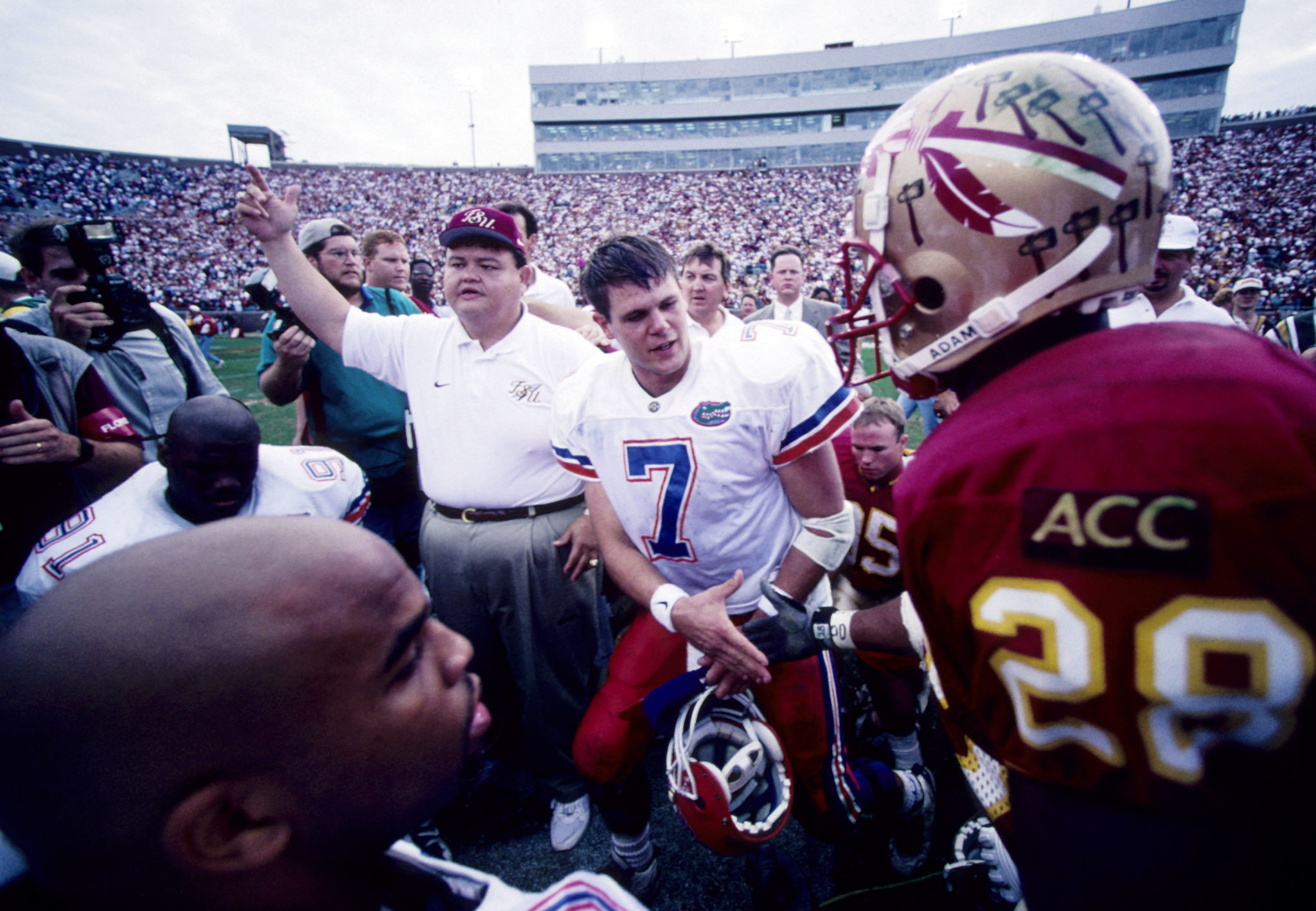 SEC
What Georgia and Alabama can learn from previous championship rematches
To win his 7th national title at Alabama, Nick Saban will have to do one of the most difficult things in sports: beat a great team twice in the same season.
It doesn't matter the sport, really. Beating a great team twice in one season is difficult. Sure, you can beat a "good team" twice. That happens often: Alabama beat a good, not great Florida team twice in 1999. Ditto Florida and a solid Auburn team in 2000. Both of those rematches came in the SEC Championship, where the regular season victor is 5-2 in 7 rematches all time.
But once you start playing for championships, it's great vs. great, elite roster vs. elite roster – and replicating a regular season victory has proven difficult. In fact, in games either played for a championship or with championship implications, history favors the team that lost the regular-season game.
Here's a look at 3 of the most well-known championship rematches ever played, what proved pivotal in turning the tide for the regular season loser in each contest, and what Georgia might be able to learn from each game as it seeks to flip the script Monday night.
2011: No. 1 LSU vs. No. 2 Alabama, BCS Championship Game
Nick Saban has first-hand experience in how difficult it can be to beat a great team twice in one season, having already flipped the script in a championship rematch.
The 2011 LSU-Alabama rematch is the game that gave us the College Football Playoff, more or less, and for that we should be thankful.
But the game wasn't easy on the eyes.
Alabama dominated No. 1 LSU 21-0 — exacting revenge for their 9-6 loss to LSU in Tuscaloosa during the regular season.
The key to the second game?
Making field goals. (Only half-kidding).
Mainly, it was winning the battle at the line of scrimmage that the Crimson Tide had lost in the first game.
In Game 1, neither team gained more than 301 yards, and Alabama lost because LSU stifled the two-headed monster of Trent Richardson and Eddie Lacy, holding the Crimson Tide duo to just 3.1 yards per carry.
Alabama's inability to consistently move the ball on the ground meant the Tide couldn't finish drives and settled for field goal attempts. Alabama's kickers missed 4 field goals (these were the pre-Will Reichard days, back when Alabama's kickers were anything but automatic), and LSU managed to win a game where its quarterbacks, Jarrett Lee and Jordan Jefferson, went 9-for-17 with 96 yards passing and 2 interceptions.
In the rematch, Lacy and Richardson pounded LSU's front for 150 yards at 4.3 yards per touch, a full yard better than in the November game.
The LSU defense continued to make Alabama settle for field goals, but this time, Alabama kicker Jeremy Shelley connected on 5-of-7 attempts, a reversal of the Tide's misfortunes from the regular season.
What Georgia can learn from Alabama's rematch win:
One interesting thing about the Tide's win? Saban said Alabama didn't tweak much. They just executed better.
"We didn't do much different," Saban told the media after the game. We did some things on offense from a formation standpoint to give them different looks, but mostly we just put a hat on a hat in the run game and knocked them back better offensively. Our special teams did a wonderful job. Our defense played well."
Could simply executing better be the key for Georgia on Monday night?
Kirby Smart mentioned Georgia failed to execute things it typically does very well, especially in man coverage technique and in the passing game, but the sense from most who watched the game is Georgia will likely need schematic changes, not just better execution, to win on Monday.
1959 Sugar Bowl: No. 3 Ole Miss vs. No. 2 LSU
The Rebels didn't win the national championship (it was won by unbeaten Ernie Davis and Syracuse) by beating LSU 21-0 in the Sugar Bowl to cap the 1959 season, but they did likely prevent LSU from winning a share of one.
The first game is more famous. Won by LSU in Baton Rouge on Halloween night, that game became immortalized thanks to this play by Billy Cannon.
Cannon's 89-yard punt return was the lone touchdown of the game, and it secured LSU a 7-3 win and Cannon the Heisman Trophy.
Years later, Cannon remembered the rematch, telling The Times Picayune: "Most people on our side forget how badly they whipped us in the Sugar Bowl. I never will."
The Rebels won the rematch 21-0, meaning that over 8 quarters against LSU in the 1959 regular season and bowl season, the Tigers never managed an offensive touchdown.
What Georgia can learn from that game:
It's hard to take much from a game that occurred 62 years prior, but it's noteworthy that Ole Miss did manage to beat a Heisman Trophy winner in the Sugar Bowl rematch, costing LSU a share of the national championship in the process. Georgia, of course, will need to defeat a Heisman winner in Bryce Young on Monday night.
1996 Sugar Bowl: No. 3 Florida vs. No. 1 Florida State
The mother of all revenge games, Florida dominated rival FSU 52-20 in the Sugar Bowl to win the program's first claimed national championship.
The Seminoles won the first game, 24-21, 5 weeks prior in Tallahassee. The key to the Seminoles' regular-season win was a ferocious pass rush that pounded eventual Heisman winning Florida quarterback Danny Wuerffel for 6 sacks,knocking him to the ground 21 times and hitting him 32 that November afternoon.
Raising the ante even further, Spurrier spent the month leading up to the Sugar Bowl rematch accusing FSU of foul play. Spurrier felt (with some justice on review of the game film) that Florida State coach Bobby Bowden and his defensive coordinator, Mickey Andrews, had condoned headhunting. As evidence, he used a comment made in the postgame by a FSU defensive lineman that the Seminoles had been "trying to knock Wuerffel out of the game," along with game tape of several hits that toed the line between legal and late.
The war of words offended Bowden for years, who told me a few years ago, "I wish Steve hadn't done that, and gone and made it personal like that. It wasn't fair and it wasn't true."
But Wuerffel, the Florida legend who won Sugar Bowl MVP honors in the rematch by throwing for 304 yards and 3 touchdowns against the nation's No. 1 defense, saw it differently when he spoke to SDS on the issue.
"Coach Spurrier loves to needle people. He told me when I was a freshman that it wasn't my fault we lost a game, it was his fault for being dumb enough to keep playing me. But this wasn't that, I didn't think," Wuerffel said. "This was Coach Spurrier doing what a parent or any good coach would do: advocating for his kid when he felt there was an injustice."
Of course, there was a strategic method to Spurrier's pregame war of words madness.
What he really wanted was to make sure the Big 12 officiating crew that would handle the Sugar Bowl game was ready to call the occasional personal foul that wasn't called by the ACC crew that handled the game in Tallahassee. It worked, as the Seminoles were whistled for multiple roughing the passer penalties in the Sugar Bowl game, including one on Florida's first possession.
What also worked was Florida's schematic changes.
Florida had played the majority of the first game with Wuerffel taking snaps under center. The result was that FSU's bookend All-American defensive ends, Peter Boulware and Reinard Wilson, were more easily able to get to Wuerffel.
To remedy this, Spurrier played majority shotgun, buying Wuerffel a second of precious time, which the Heisman winner used to full effect.
Spurrier put the shotgun in during the SEC Championship against Alabama, using it against a terrific Crimson Tide pass rush to help Wuerffel set a then SEC Championship game record for passing with 404 yards.
For contrast, Spurrier used the shotgun formation just 16 times in Tallahassee in the entire game. He used it 21 times in the first quarter of the Sugar Bowl.
"We just felt like it gave (Wuerffel) a little more time," Spurrier told SDS two summers ago. "We thought they'd blitz more, but once (Mickey Andrews) saw us in shotgun, they didn't, which worked out even better."
Spurrier said schematic changes weren't the whole of it, but it's noteworthy he also adjusted his blocking scheme in the rematch. Even in the shotgun, Spurrier used running backs and tight ends to block on 85% of Florida's pass plays, far more than usual.
"We didn't want to lose 1-on-1 to Boulware or Wilson," Spurrier recalled. "So we changed the way we blocked them. And we thought our receivers — Ike (Hilliard) Reidel (Anthony) and Quezzy (Jacquez Green) — could get open anyway."
Florida also utilized a silent snap count, at the time a relatively new concept, to keep the Seminoles off-balance.
Spurrier also challenged his team to stand up to Florida State's physicality.
"We got pushed around and bullied up there in the Tallahassee game," Spurrier remembered. "My message to the team was simple. Don't let them push you around."
It didn't happen again. Florida was more physical on both lines of scrimmage than FSU, aided by the return of future Pro Bowl tackle Zach Piller but fueled by anger about the first defeat more than anything.
"It was one we wanted so badly, for Gators everywhere," Spurrier recalled, before chirping. "What a special day for God to smile on the Gators."
What Georgia can learn from Florida's rematch win:
This one is probably more useful because, like Spurrier in 1997, Kirby Smart and Georgia likely need schematic changes to win. The intangibles are also remarkably similar.
Like Spurrier, Smart's ego was bruised in the first game, as Alabama eviscerated a defense he built that many were calling the best in college football history.
To remedy this, Smart will, like Spurrier, need to make schematic changes.
For one, expect Georgia to blitz more. Georgia simply has to get pressure on Bryce Young. Only 8% of Alabama's passing snaps resulted in "defensive havoc" (sack, scramble, throw away, hurry) in the first game. That number has to increase on Monday night. A heavy pass rush isn't necessarily in Smart's (or Dan Lanning's) wheelhouse, but with tremendous coverage linebackers like Nakobe Dean and a stable full of 4- and 5-star players in the secondary, it may make sense.
Like Spurrier, Smart is facing a coach on the other sideline who has his number. Smart is 0-4 against his old boss, with each loss different from the one before it. Before the 1996 FSU game, Spurrier's wife, Jeri, said she "never saw (Spurrier) more invested in a football game." I imagine the same is true for Smart. An SEC coordinator and close friend of Smart told SDS this week that the losing streak "is consuming Kirby in ways he doesn't even realize," an intense turn of phrase but one that captures the incentives for Smart Monday night.
Of course, Bowden was never Spurrier's boss or mentor.
But Smart knows that to get Georgia to the mountaintop, he has to finally vanquish his old boss, just as Spurrier knew that to win a national title in the 90s, he'd have to get over the FSU hump.
Finally, like Spurrier, Smart, who is also trying to coach his alma mater to a national championship, can challenge his team physically. Georgia finished the first game with 0 sacks and were out rushed by almost a yard per carry by the Crimson Tide. That has to change for Georgia to win Monday night.
Like Spurrier, Smart will challenge his guys to win 1-on-1 battles. They did it throughout the Michigan game, against an offensive line that won the Joe Moore Award as the nation's best. Can Nolan Smith, Travon Walker or Robert Beal win matchups against the non-Evan Neal side of Alabama's line that has leaked at times in 2021? Georgia will need to generate pressure on the right side of Alabama's line to win the game.
And what can Alabama learn from these tales of rematch revenge?
Alabama isn't going to allow Georgia to adjust in a vacuum.
The Crimson Tide won the first game without a vintage performance from Will Anderson Jr., the nation's best player. The Dawgs did a nice job on him in the SEC Championship Game, limiting him to 1 sack and just 3 pressures. Expect a better game from him Monday.
I think they'll need a better game from Anderson too, because Stetson Bennett IV can and will play better Monday than he did in Atlanta. You can beat Alabama on the backend of the defense, especially if you have a receiving room as deep and talented as Georgia. But without pressure from Anderson, the rest of the Alabama line doesn't scare you the likes of Georgia much, and the Dawgs have solid matchups with Ladd McConkey, George Pickens, and Brock Bowers if they can give Bennett IV time.
Further, even without John Metchie III, Alabama is likely to find creative ways to get Jameson Williams in favorable matchups. Bill O'Brien is masterful at this, and with his run game suddenly resurgent, Georgia won't always be able to play extra defensive backs. Even if the Dawgs do, Williams on a nickel is "Advantage, Alabama."
In the end, championship rematches tend to favor the regular season loser from an intangibles standpoint, opening the door for victory and revenge if schematic changes can be executed. Teams in these games are often even in the talent department, meaning the game is won "at the margins." In Atlanta, "yummy rat poison" was enough for Alabama. Monday night will be more difficult.