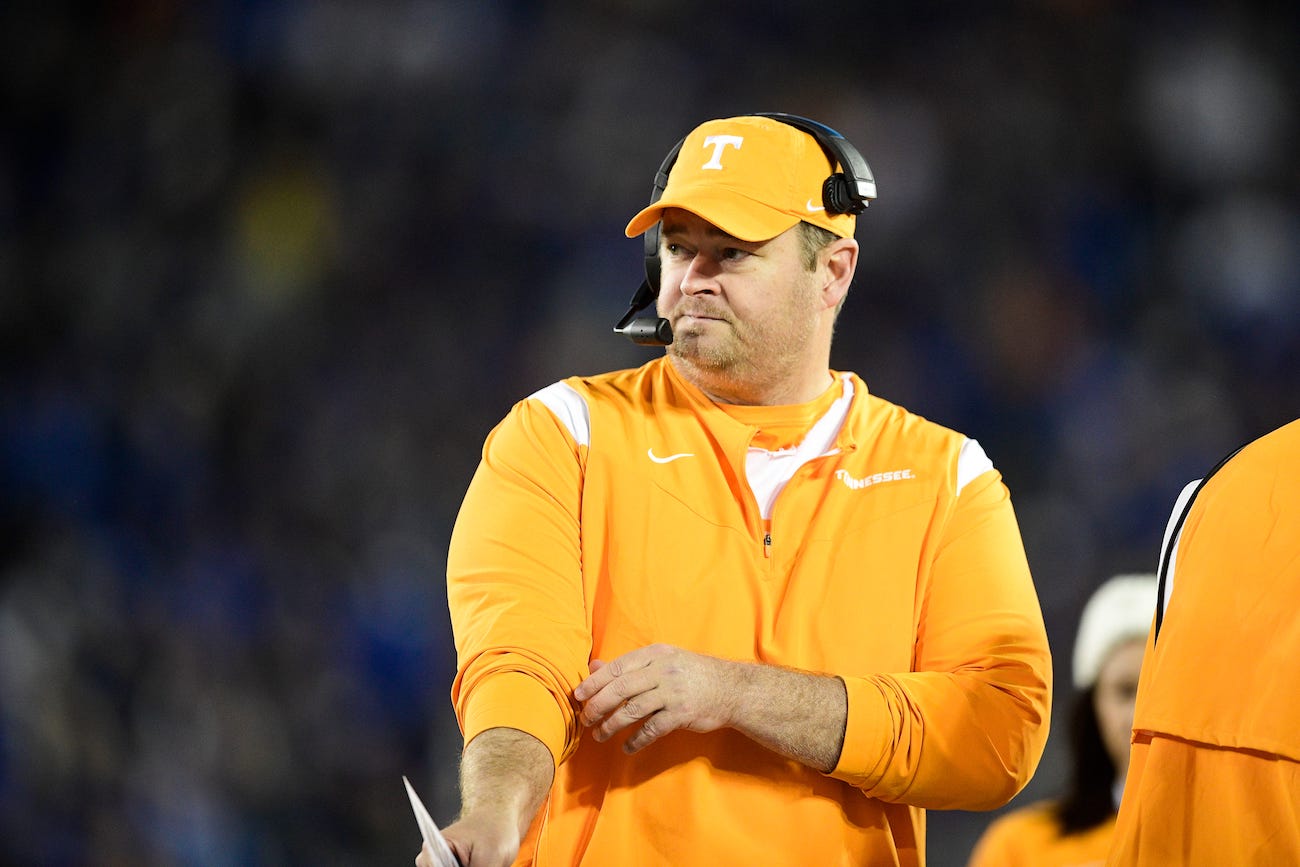 SEC
What if? Fanciful SEC scenarios as the coaching carousel spins wildly out of control
It's officially that time of year. Coaches across football are getting their walking papers — or in many cases, coaches are texting their walking papers on their way to a shiny new contract.
If your team is hiring a new coach, it's fascinating and exciting.
But if your team is or could be losing your coach … well, it can get stressful in a hurry.
As the 2021 coaching carousel spins wildly out of control, let's have some fun and ponder how many SEC coaches could be on the move … and where?
Bear in mind, we're not predicting this will happen. Maybe none of it will. But here's the worst nightmare for about half the fan bases in the SEC.
Josh Heupel: Tennessee to Oklahoma
It's a natural. The surprising loss of Lincoln Riley almost screams out for another offensive mind. And a former Oklahoma QB and Oklahoma assistant coach who has gone 35-13 as a head coach could fit the bill quite well. If Heupel had a little more P5 experience, this would feel like a slam-dunk offer, despite the way his assistant coach stint ended in Norman. As it is, OU might have to strike out on another candidate or two first, but Heupel is a very plausible hire.
For what it's worth, Heupel said Tuesday that he is happy at Tennessee and loves Tennessee … but he didn't mention "Oklahoma."
"What's happening with the Oklahoma job, Coach?"@ErikAinge3 asked Josh Heupel on The EA Show this morning.https://t.co/YiLrtq62Md

— 99.1 THE Sports Animal (@SportsAnimal991) November 30, 2021
Lane Kiffin: Ole Miss to Miami
#CometoTheU." Yes, Kiffin was mentioned for Florida and maybe even LSU, before the Tigers grabbed Brian Kelly. Now, the word is Kiffin wants to go to Miami. Given his Florida connections, a job in that state feels like a good fit. It's fun to think about: Kiffin having access to all of that South Florida recruiting talent.
Shane Beamer: South Carolina to Virginia Tech
Normally, a coach who just completed his first year as a head coach and went 6-6 wouldn't really be on the radar of a higher profile school. But first, Beamer's 6-6 season in Carolina was actually very impressive. And second, he — and his family — have plenty of history with Tech. Shane's dad, Frank Beamer, lifted Virginia Tech out of the football desert and built the program. Shane not only played at Va Tech, but he coached there under his dad for 5 years. This one makes perfect sense.
The long-shot division
Sam Pittman: Arkansas to Tennessee
If Heupel does leave town, Tennessee is stuck almost starting over … and they could do much worst than hire a guy who is an established program builder in the SEC. Pittman coached at Tennessee too, so while this feels pretty random, it wouldn't be the craziest hire possible … or …
Mike Leach: Mississippi State to Tennessee
If Tennessee decided to continue to go after offensive minds who can light up the scoreboard, Leach is always in that conversation. Yes, he and State seem to be a pretty good fit, but keep in mind that the Mississippi schools are always near the bottom of the football budgets for the SEC. Tennessee could throw money and prestige at Leach, and a move from Heupel to Leach would at least be systematically consistent.
Mark Stoops: Kentucky to Iowa
Admittedly, the job isn't even open. But Kirk Ferentz isn't getting any younger (he'll turn 67 before the 2022 opener and is 1 of the 10 oldest FBS coaches), and coaching at Stoops' alma mater is probably attractive in a way that taking millions from Oklahoma or somewhere else might not be. Additionally, culture-wise — and with his defensive-minded focus — Stoops fits so much better in Iowa than at those other schools.
Nick Saban: Alabama to retirement (or NFL)
Years ago, I used to forecast that at some point, Jerry Jones would back up the Brinks truck and refuse to allow Saban to not coach the Cowboys. That doesn't feel likely, but Saban's NFL failure with the Dolphins does have to rest at the back of his mind. Or, on the other hand, maybe a CFP title or a blowout loss to Georgia leaves Saban saying it's time to move along. There's a non-zero chance of this, but it's not much above zero.
Kirby Smart: Georgia to Alabama
C'mon, if Saban does retire (or leave), how long would it take to offer Kirby? Sure, he's a UGA guy and he's putting the finishing touches on a team that will make him a Bulldog legend … but …
Harsin, Drinkwitz, Lea: ?
Everybody's not upwardly mobile. Bryan Harsin and Eli Drinkwitz haven't been failures, but they also wouldn't be particularly attractive to other schools. Lea isn't going anywhere unless he learns that Notre Dame would take him back.