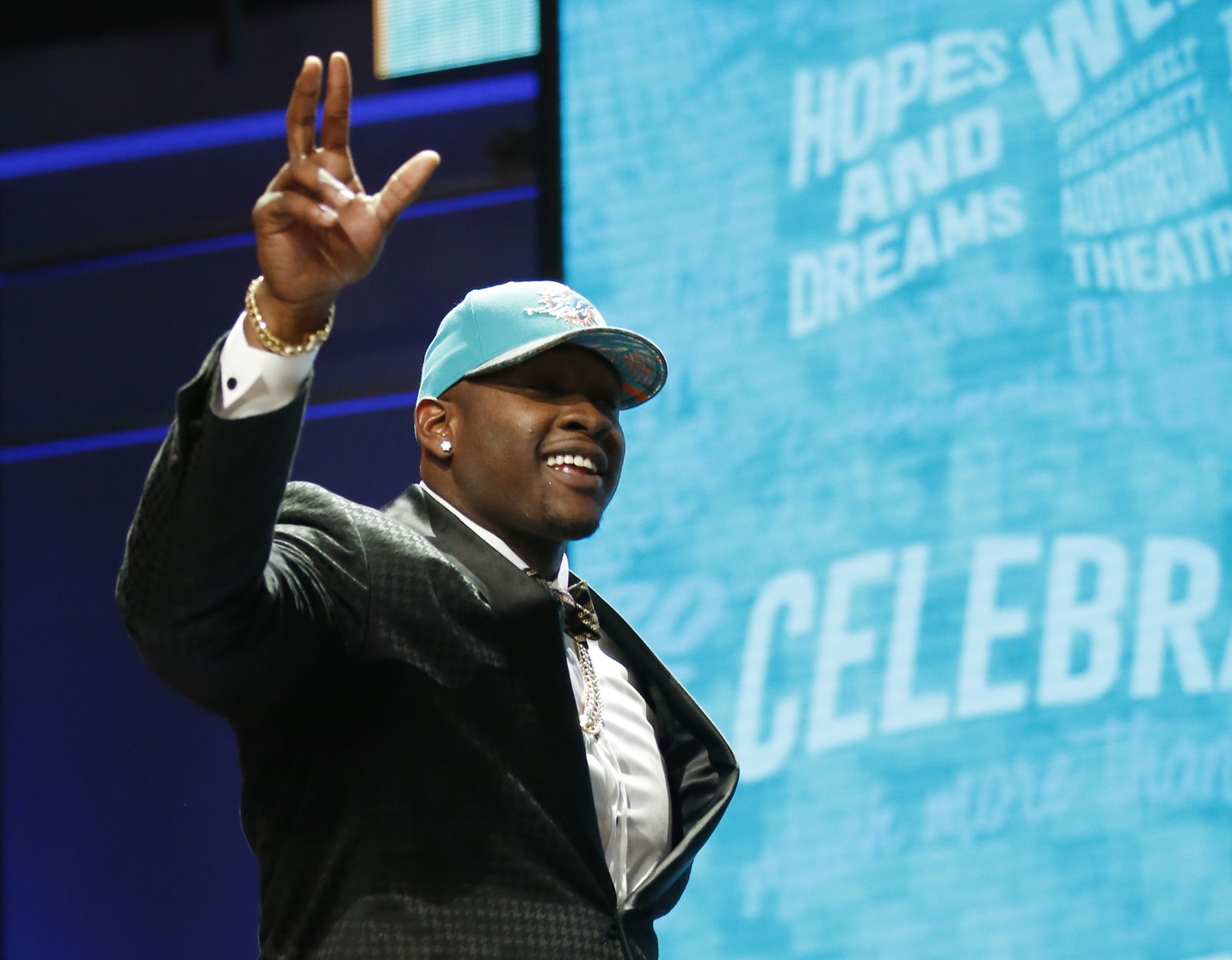 SEC
What Laremy Tunsil can learn from Warren Sapp about draft-day tumbles
When the NFL's regular season ended on Jan. 3 and the 3-13 Tennessee Titans were on the clock with the first pick in the draft, it seemed clear that Ole Miss left tackle Laremy Tunsil was going to be an obvious choice for them.
The Titans, after all, already had their young quarterback in Marcus Mariota, drafted No. 2 overall a year earlier. Tunsil, considered to be the guy that you simply pencil in at left tackle for a decade, would protect his back side for years.
That all changed when the Titans traded the pick to the QB-starved Los Angeles Rams for a boatload of other choices. A second trade-up for a QB followed, so Tunsil's initial fall wasn't so unexpected. It's a QB-driven league.
But what happened on draft night will live in infamy. As soon as the shake-my-head picture of Tunsil in a gas mask smoking marijuana appeared on social media – on his own verified Twitter account, no less – Tunsil's stock fell through the floor. One team after another bailed on him, including several who could have desperately used a talented left tackle. Two hours into the draft, the Miami Dolphins finally rescued him, selecting him No. 13 overall.
No. 1 to No. 13, just like that. Shocking.
Or was it? It's happened before. I lived through it in 1995 with Warren Sapp, who suffered a similar draft-night slide because of reports of drug issues. The best defensive player in the country coming out of the University of Miami, Sapp was considered a possible No. 1 overall pick, and top five for sure. He tumbled all the way to No. 12 to the Tampa Bay Buccaneers.
And for him, it turned out just fine. Sapp wound up being a perennial All-Pro defensive tackle, won a Super Bowl with the Buccaneers in 2003 and was inducted into the Hall of Fame in 2013.
The lesson to be learned for Tunsil? Just shut your mouth and get to work. Play your tail off and help the Dolphins win games, including some big ones in January some day. The money will come.
And people will forget all about draft night.
Sort of.
*** *** ***
Sapp never really forgot his draft-night slight, even through all the great times of his NFL career. He wasn't out for revenge on draft night, because he was surrounded by family in New York City at the draft and he hurt more for them. It was an embarrassing night, for Sapp and his family. The drug reports – later proven to be false – were costing him millions.
The Bengals passed at No. 1, the Redskins at No. 4. The Eagles, at No. 7, even passed on Sapp for a defensive lineman (Mike Mamula). When the Jets got on the clock at No. 9, the loud-mouthed Jets fans who took over the theatre, were screaming for them to take Sapp. They took tight end Kyle Brady instead, and everyone booed. Even at No. 11, the Vikings took a defensive lineman (Derrick Alexander).
Finally, the Bucs rescued him at No. 12 and the rest is history.
"You don't remember that 1995 draft? You don't remember Jets fans screaming 'We want Sapp' when they got Kyle Brady and booed him?" Sapp recalled a few years ago. "Nobody replays my draft because it was the biggest lie ever told, so they go to the Aaron Rodgers draft and they go to the Brady Quinn draft of guys waiting in the room. I'm the original guy that was sitting in that room like that."
Was retaliation against the teams that passed on him an issue on draft night? Absolutely not, surprisingly. That's what Sapp said a few years ago. The report – from the trusted New York Times – that claimed he tested positive for cocaine was proven false almost immediately.
"No, it wasn't. When you're sitting there watching your mother and grandma cry about the biggest lie ever told in front of your face and the world? Nah," Sapp said. "You really can't see past that moment right there as a 20-, 21-year-old. Anyone telling you they can is telling you a lie."
But it didn't take long for that anger to take hold.
And it never went away.
*** *** ***
The Bucs were horrible when they drafted Sapp in 1995 – and had been for a long while – but Tony Dungy was on board as head coach and he was changing the culture. They took Sapp and, 16 picks later, took Florida State linebacker Derrick Brooks. The two became cornerstones of one of the best defenses in NFL history. Both are in the Hall of Fame, and both proudly wear their Super Bowl rings and Hall of Fame jackets.
Sapp was the best defensive tackle I've ever seen. He could stop the run, but also could rush the passer like crazy, even from the inside. He was so fast for a 6-foot-2, 300-pounder. He still has one of my all-time favorite NFL Combine moments when, as a rolly-polly 300 pounds, ran a 4.69 in the 40-yard dash. There are wide receivers who don't do that. I'm a Florida State guy, and Sapp simply destroyed the Seminoles' offensive line year after year, an unblockable beast.
Sapp was a talented player, but he was an even better yapper. His lips never stopped flapping. I believed him when he said he wasn't out for revenge on draft night, but that changed by the time he got to training camp. Sapp, whose favorite word is "motherf—er," was said to have gone through the draft board at camp, pointing to one team after another, saying "Those motherf—— are going to pay, these motherf—— are going to pay." Right on down the list.
As it turned out, they all did. There's no doubt, 21 years later, that Warren Sapp was the best player in the 1995 draft. Time will only tell if the same can be said for Laremy Tunsil in 2037. (Yikes, 2037!!)
Who's that up to? Just one person, of course.
Laremy Tunsil.
*** *** ***
One last Warren Sapp story that makes me laugh every time I tell it. When the Bucs finally got over the hump and made it to the Super Bowl after the 2002 season, it was pure euphoria in the Tampa Bay area.
Newspapers and TV and radio stations quickly descended on San Diego after the Bucs had beaten the Eagles in Philadelphia. There was no bye week that year, so it was a mad dash to San Diego.
I was working as a sports editor at the Tampa Tribune at the time and just about every writer on the staff was dispatched to San Diego to write about the game. Certain writers were paired with players to write about them every day. The great Mick Elliott, one of the country's best golf writers and an occasional columnist, was assigned to Sapp.
Sapp, who read the papers often and knew all the Tampa Bay media people well, was in seventh heaven during the biggest media week of the year. And when Elliott continued to follow him around every day, Sapp had this all-time great line:
"The biggest game of my life and I get the 'motherf——' golf writer!"
That's Warren Sapp.