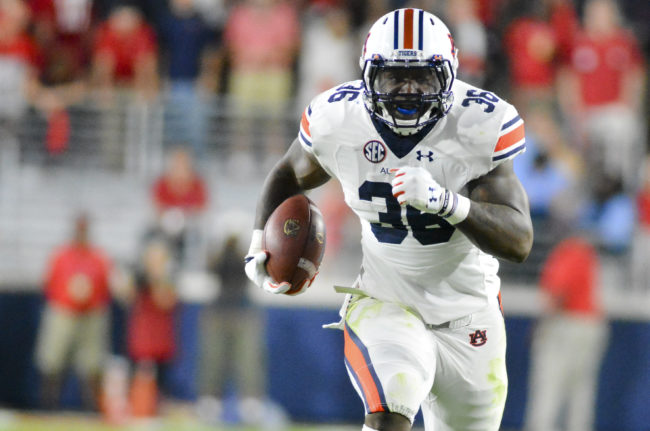 SEC
What you need to know about every SEC East opponent in Week 10
The first week of November could be a chaotic one for the SEC East.
Florida still has the inside track on the division title, but a trip to Arkansas could throw a serious wrench in those plans. A surprising Kentucky squad is just one game behind the Gators in the loss column and will look to stay in the hunt when it hosts struggling Georgia.
Missouri visits South Carolina, Vanderbilt faces surging Auburn on the Plains and Tennessee gets a breather from its brutal schedule against an in-state FCS foe.
As we enter the home stretch of the season, here's what every SEC East team is up against in Week 10.
No. 10 Florida (6-1, 4-1) at Arkansas (5-3, 1-3)
Arkansas PPG: 30.9
Arkansas allowed: 31.4
Strength: The Razorbacks have been significantly better at throwing the football than rushing it, an unusual dynamic for a Bret Bielema-coached team. Despite frequently getting hit behind a porous offensive line, junior quarterback Austin Allen has been the offense's guiding hand with a passer rating that ranks 24th nationally.
Must stop: The hard-nosed Allen has completed 62.2 percent of his passes for 256 yards per game and 18 touchdowns. He has three receivers with more than 400 yards this season, but junior Jared Cornelius is his big-play threat at just less than 20 yards per catch and four touchdowns.
Notable: Arkansas is 0-9 against Florida since joining the SEC in 1992, including a pair of conference championship game losses.
Georgia (4-4, 2-4) at Kentucky (5-3, 4-2)
Kentucky PPG: 27.8
Kentucky allowed: 30.9
Wildcats' strength: Behind the thunder-and-lightning running back duo of Benny Snell Jr. and Stanley "Boom" Williams, Kentucky has emerged as the 30th-best rushing offense in the county with 219.5 yards per game.
Must stop: Junior receiver Jeff Badet has been a great complement to the Wildcats' two-headed rushing attack, providing big plays on the outside with 24.8 yards per catch, which ranks second among FBS players. The defense is anchored by sophomore linebacker Jordan Jones, who is second in the SEC with 71 tackles and has eight quarterback hurries.
Notable: The Wildcats are just one win from making their first bowl game under coach Mark Stoops. They're one SEC win from posting their first winning record in the conference since 1977.
Georgia PPG: 23.2
Georgia allowed: 26.1
Bulldogs' strength: The defense that gave up bunches of points through the first month of the season has tightened up and is 18th nationally in total defense (326.1 yards per game). Georgia is especially stout against the run, giving up less than 110 yards a contest.
Must stop: Linebackers Natrez Patrick (49 tackles) and Roquan Smith (48) are the enforcers on defense with a combined eight tackles for loss and as many quarterback hurries. Despite being in the midst of a down year because of lingering effects of injuries and poor offensive line play, junior running back Nick Chubb is always a threat to shred opposing defenses.
Notable: Georgia has dominated the series 55-12-2.
Missouri (2-6, 0-4) at South Carolina (4-4, 2-4)
South Carolina PPG: 17.8
South Carolina allowed: 21.2
Gamecocks' strength: South Carolina's low-scoring offense has masked a truly strong defensive unit under first-year coach Will Muschamp. The Gamecocks rank 25th nationally in scoring defense and are even more stingy when it comes to defending the pass, giving up just 180.8 yards per game.
Must stop: Sack master Darius English is tied for fourth in the SEC with 6.5 in that category. The struggling South Carolina offense appears to be turning a corner under true freshman quarterback Jake Bentley, who has completed about 70 percent of his passes for 368 yards, four touchdowns and no interceptions in two starts.
Notable: South Carolina isn't out of the SEC East race, but it needs to win its remaining conference games and have Florida and Kentucky lose its remaining games, and Tennessee lose at least one more. If South Carolina is involved in a multiple-team tie at 4-4, the Gamecocks would hold tiebreaker advantages over Florida and Tennessee because the only way the Gamecocks can get to 4-4 is to also beat Florida.
Missouri PPG: 33.1
Missouri allowed: 30.4
Tigers' strength: Despite its struggles in SEC play, Missouri's pass-heavy offense has piled up more than 490 yards per game as the 21st-most productive unit in FBS.
Must stop: Junior receiver J'Mon Moore's 551 yards and six touchdowns are both top-three among SEC pass-catchers. Charles Harris is one of the most disruptive defensive ends in the country with 5.5 tackles for loss, four quarterback hurries and 3.5 sacks as a junior.
Notable: After losing their first two contests against the Gamecocks as SEC East rivals, the Tigers have won the last two.
Tennessee (5-3) vs. Tennessee Tech (3-5)
Tennessee Tech PPG: 24.6
Tennessee Tech allowed: 28.2
Strength: This FCS squad averages less than 100 yards on the ground per game and isn't good defensively, but its aerial attack is fairly decent. The Golden Eagles are putting up 245.4 passing yards per game with an array of talented receivers.
Must stop: Senior quarterback Michael Birdsong has accumulated 1,967 yards and 12 touchdowns on 63.3 percent passing, adding another three scores on the ground. Josh Poplar has been a stat-stuffing linebacker despite being just a sophomore, recording a team-high 84 tackles, 3.5 tackles for loss and two forced fumbles.
Notable: Tennessee Tech was created in 1909 as a private institution under the name of University of Dixie.
Vanderbilt (4-4, 1-3) at No. 11 Auburn (6-2, 4-1)
Auburn PPG: 36.2
Auburn Allowed: 16.0
Strength: The Tigers have quickly become one of the nation's hottest and most complete teams, beating opponents by an average of 20 points per game. But Auburn's biggest asset is its bruising rushing attack, which ranks third in the nation at 303.4 yards per game.
Must stop: Sophomore running back Kamryn Pettway, a steamrolling 240-pounder who has barreled his way to 169 yards or more in each of the past three weeks, is the SEC's leading rusher with 933 yards and seven touchdowns. Junior defensive end Carl Lawson has made a living in opposing backfields with nine tackles for loss, 7.5 sacks and an astounding 21 quarterback hurries.
Notable: Despite Auburn's success in recent matchups, Vanderbilt actually leads the all-time series 21-20-1.