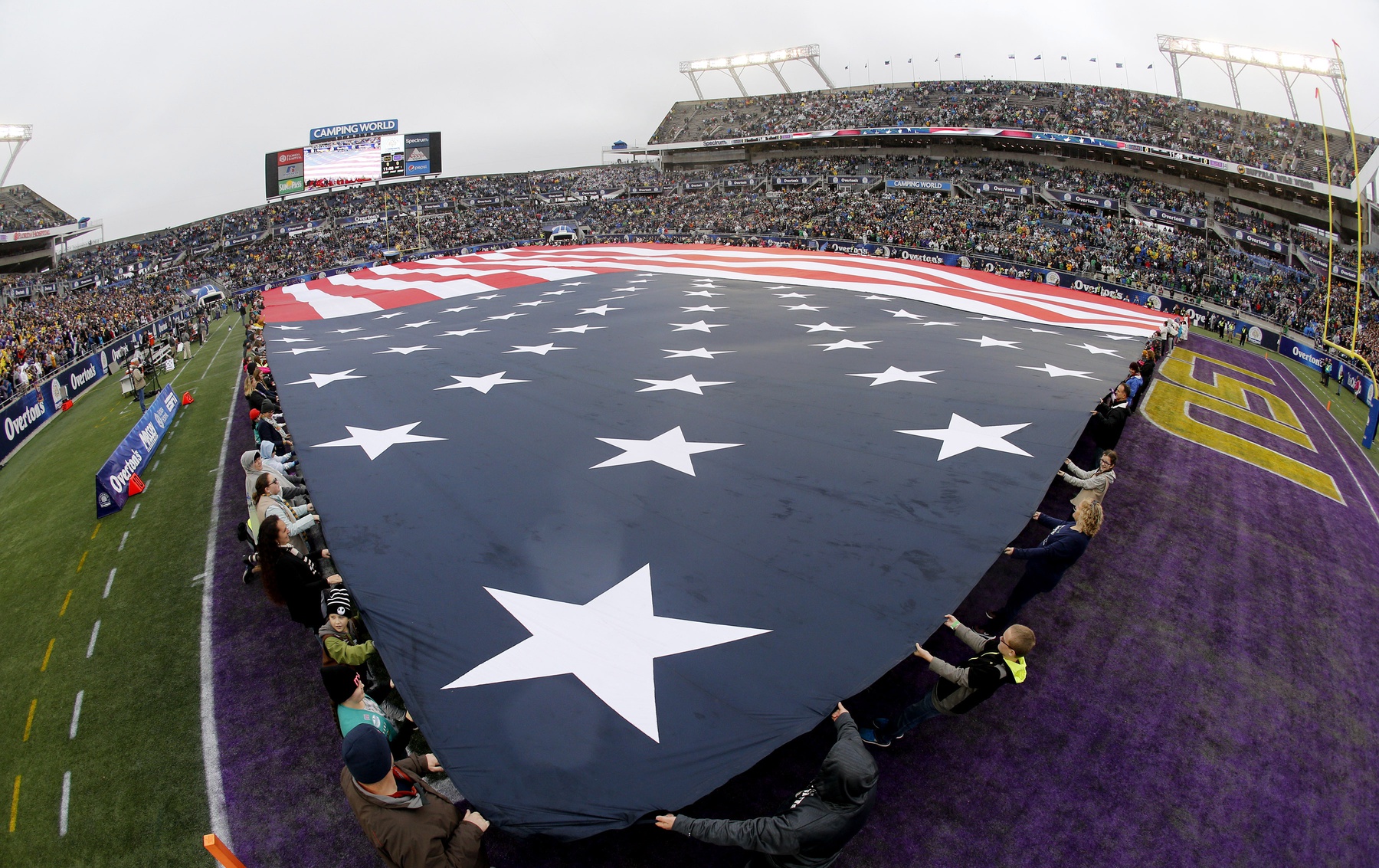 SEC
Who deserves to be called 'America's team' in college football?
I've got America on the brain. On Fourth of July — or any other day, really — I'm not alone.
I've also got college football on the brain. On Fourth of July — or any other day, really — I'm not alone on that, either.
But there's a question that we rarely seem to ask in college football. We ask it in professional sports, but maybe because of how regional college sports can be, we don't really discuss it. In this era of watching any team we want on cable TV, live streaming or even YouTube, I think it's about time we revisit the question.
Who's America's team?
The criteria is subjective. Since I'm the one asking the question, I'll create the criteria.
America's team is not simply your favorite team. America's team is who the majority of people find themselves rooting for in a big game if their team isn't in said big game. They have a national brand, too. Take gambling out of this discussion for now because that sways rooting interest more than anything.
This is perhaps a more interesting question to dig into during the postseason, when the average college football fan has nothing to do but watch bowl games for a few weeks.
OK, back to the criteria. In my opinion, America's team shouldn't be universally hated. I always found it weird that the Cowboys were labeled "America's team" in the NFL when it seemed like they had more haters than any other. I'll reveal later why I believe that misinterpretation is applicable when discussing America's team at the college level, too.
America's team is not at the center of nation-wide scandals. America's team is not one half of a historic rivalry that forces people to choose a side. America's team is not just a one-year Cinderella story (sorry, UCF). We're talking about how a program has been viewed over the course of several years.
America's team is relatable. Whether that's from a style standpoint or just the personality of the coach, that factor has to be there.
So are we ready to tackle this question? Sure, why not.
The obvious candidates I'm not so sure about …
Alabama, Michigan and Notre Dame
If you thought you had an answer to this question, let me jump back to the criteria for why I don't think these three teams should be called America's team. America's team shouldn't also be hated by so many. I'd argue that these teams, with maybe Ohio State, have the biggest fanbases. The problem is that they also have the largest amount of haters.
If Alabama, Michigan or Notre Dame get to a title game, the average person probably isn't rooting for them. Maybe it's that they have so many fans that makes them unlikeable to others. They're the types of programs that generate a hatred even from non-rival fanbases.
Either way, I think they're too polarizing to be America's team.
And just for the sake of argument, let's not include the service academies
I mean, that's too easy. Anyone can root for people who sign up to defend our country. This argument ends with the service academies. Just so that I can actually flesh this discussion out, let's assume that they're overqualified for this title.
The candidates who might actually make the most sense …
Boise State
I know what you're thinking. How could a Group of 5 school be considered America's team? And didn't I say Cinderella stories couldn't be in the running. Let me explain.
The Broncos are a nationally-recognized program — a key qualifier for being America's team — in part because of that blue field. The other part of why they're nationally known is because of how good they've been. They aren't just a Cinderella story. Does anyone realize that they won double-digit games 14 of 18 seasons this century? And Boise State won between 9-12 games in each of the 4 seasons of the post-Chris Petersen era, so this isn't just an early 2010s thing.
If Boise State gets on a national stage, people are rooting for them. Remember that 2006 Fiesta Bowl? Who outside of Norman, Oklahoma was rooting for the Sooners to beat the Broncos that night?
Oh, and what was Boise State's game-winning play called?
The freaking Statue of Liberty (via TheBSUBroncos):
It doesn't get much more American than that.
LSU
Actual question. Does anyone seriously hate LSU? Like, what specifically?
I'm not sure that I've ever heard someone unleash their hatred of the Tigers or hear a casual fan say "anyone but LSU." Maybe there's some anti-SEC hate directed at the Tigers when they get on the big stage, but LSU definitely doesn't have the enemies that Alabama or Notre Dame has. I think much of that is because Les Miles and Ed Orgeron aren't really ruffle-the-feathers guys. They're fun personalities that even the casual fan enjoys.
There's another reason besides not being hated that I think is applicable for LSU. If I was going to come up with the perfect way to explain college football to a foreign visitor, I'd take them to Death Valley on a fall Saturday night. That atmosphere is everything that college football is supposed to be about.
And for the people who make jokes at LSU's expense — you know who you are Steve Spurrier — I'd say winning 8-plus games in every season of the 21st century and winning a couple titles is pretty impressive. They were good enough that they weren't a 1-year Cinderella story when they got on the big stage, yet they weren't a team that was so dominant that it developed a bandwagon following.
Well, maybe it's time we make an LSU bandwagon for all of America to hop on.
Oregon
Perhaps Oregon was a better fit for America's team a few years ago than today, but it's still a nationally-recognized brand that doesn't have a lot of haters. I mean, besides Oregon State, who's Oregon's big rival? Adidas?
The Nike element is a major part of what Oregon has become in the 21st century. It's the new-school approach that made them liked by so many, but not just because they started winning games. For a while, it seemed like that Duck mascot was everywhere.
Fun times (via Dan Lyons):
They were the first team to start experimenting with different uniform concepts, and the Chip Kelly-coached team experimented with different offensive concepts. Now, both of those elements have become so engrained in college football that it almost feels like Oregon's brand is no longer unique like it once was.
While America's team doesn't necessarily have to be a yearly Playoff participant, it might be tough to include Oregon in the conversation after that 4-win season in 2016. Again, if we're talking 3 years ago, Oregon might have the best case of anyone. But I think I might've talked myself out of the Ducks as America's team right now.
Wisconsin
One of the things that should define America's team is being relatable. It shouldn't feel elitist, or like they look down on anyone (Duke basketball gives off that vibe). In many ways, that tells the story of Wisconsin. The Badgers are yearly contenders despite the fact that their roster is dominated by 3-star kids and walk-ons who become All-Americans. Wisconsin coach Paul Chryst looks like the guy who averages a 200 at your Tuesday night bowling league.
And besides, what's more American than beer and cheese?
Wisconsin stereotypes aside, the program really isn't hatable. I know Minnesota fans don't like Wisconsin because of that 14-year losing streak, and Iowa and Nebraska fans are frustrated that they can't replicate the Badger model. But nationally speaking, I don't think you hear the "anyone but Wisconsin" comment from a casual fan. Plus, anyone whose been to Camp Randall will tell you — like LSU — how awesome of a game-day experience it is.
Also like LSU, Wisconsin isn't annoyingly good, but it's a lock to finish ranked in the top 25. You probably find yourself nursing your New Year's Day hangover and while you watch the Badgers play in the Rose Bowl, which is as American of a postseason game as there is in the sport.
Unheralded recruits, beer, cheese, Rose Bowl…America's team? I can dig it.
The wild card candidate …
Mark Richt's Miami Hurricanes
Anyone who's 25 or older would probably say this is a ridiculous inclusion. They have too many memories of those Nevin Shapiro-era Hurricanes of the 2000s, or perhaps they despised the brash Miami teams that took college football by storm in the 1980s. For some, those memories last a lifetime and they'll always be why they can't stand Miami.
I get that.
But for the younger generation that doesn't even remember Jeremy Shockey, this current Miami team has potential. In case you missed it, the Turnover Chain was pretty much the coolest thing in college football last year. There were a whole bunch of people rocking homemade chains at every Miami game. I mean, everyone was getting into it.
After all that crap Paul was talking last week, it was only right I made him wear the Turnover Chain…..yeah I did that

Holla! pic.twitter.com/XKGPvU3U6J

— Jon (@JonVilma51) November 12, 2017
That has a shelf life of another year or 2 before we move on to something else.
Is it possible that Miami can actually take over the Oregon role as "America's team for the 25 and younger crowd?" I think it's possible. A team that stays out of trouble off the field and looks like it has a ton of fun on the field is extremely likable. Richt's goal is to build that in Coral Gables.
Who knows? Maybe Miami can become so likable that even the middle-aged college football fans can move on from the Hurricane hate that they've been hanging on to for decades. Now all Miami has to do is win a big postseason game for the first time in 14 years.
After all, America loves a winner.