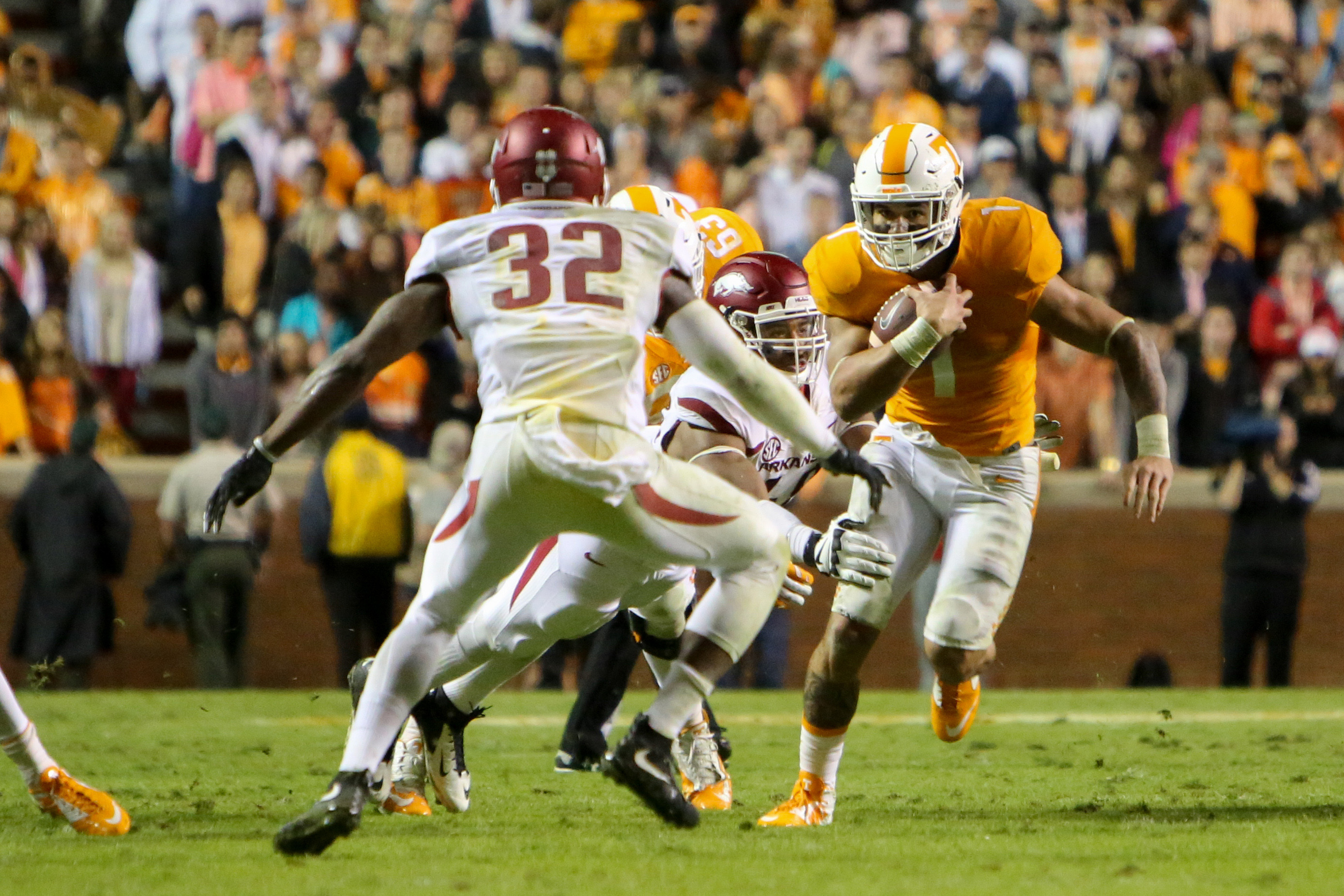 SEC
Who might join Leonard Fournette in the 1,500-yard rushing club?
For the first time in SEC history, three of its running backs had at least 1,500 rushing yards last season. Alabama's Derrick Henry (conference-record 2,219 yards), LSU's Leonard Fournette (1,953) and Arkansas' Alex Collins (1,577) all reached the plateau in 2015.
Henry has landed with the Tennessee Titans, and Collins is battling for a spot with the Seattle Seahawks. Fournette is back for his junior year and is currently the SEC's leading Heisman Trophy candidate, according to oddsshark.com.
So we're going to go out on a limb and say that Fournette is going to rush for at least 1,500 yards on his way to becoming a Heisman Trophy finalist. The question is, will any other SEC running back be part of the 1,500 club this year?
The answer is a resounding yes. In addition to Fournette, here are the RBs we feel will gain at least 1,500 yards on the ground in 2016:
Nick Chubb
Yes, he's coming off a major knee injury, and yes, he still has to beat out Sony Michel for Georgia's starting running back spot. However, something tells us that Chubb will be back in time for the start of the season and be just as good as he was before getting hurt.
Michel did a nice job by rushing for 1,161 yards and 8 TDs after the Bulldogs lost Chubb for the season on Oct. 10. Still, even he notices how quickly Chubb is getting back up to speed.
"He's getting better every day," Michel told redandblack.com last month. "He's moving a lot faster than I would think. He was looking good running at Tuesday's practice."
A year ago, Chubb was limited to 747 yards on 92 carries, but his average of 8.1 yards per attempt is what jumps out. It was even more impressive than his 7.1 yards per attempt during his freshman year, when he rushed 219 times for 1,547 yards.
It's entirely possible that some of Chubb's pre-injury explosiveness might be gone, but if Chubb is healthy enough to play and beats out Michel, a 250-carry, 1,500-yard season is not an unreasonable expectation.
Jalen Hurd
Tennessee is getting a lot of preseason publicity this year, and Hurd is one of the reasons why. The 6-foot-4, 240-pounder finished fourth in the SEC last season with 1,288 yards on 277 carries but needed 13 games to accumulate those numbers.
He's also not the only standout runner returning for the Volunteers. RB Alvin Kamara (698 rushing yards) and QB Joshua Dobbs (671) are two of the SEC's top returning rushers from 2015.
So even though there might not be enough footballs to go around in Knoxville in 2016, Hurd seems primed for a big junior year. To get to 1,500 yards, he will to have average 125 over 12 regular-season games.
More than likely, he will get 13 to reach the milestone. If Hurd reaches 1,500, which he should, he will break Tennessee's single-season rushing record currently held by Travis Stephens with 1,464 yards in 2001.
Jovon Robinson
Three years ago, Robinson led all JUCO running backs with 2,387 rushing yards. Last year, he was limited to just eight games, but he did average 5.5 yards per carry, which would have been ninth in the conference if he had enough attempts to qualify.
No matter who wins Auburn's QB battle — be it incumbents Jeremy Johnson or Sean White or newcomers John Franklin III or Woody Barrett — Robinson should be the focal point of the offense. Replacing two starting offensive linemen won't be easy for the Tigers, but it's up to Gus Malzahn and Rhett Lashlee to find a way to get Robinson 25 carries a game. That should be enough for him to crack the 1,500-yard plateau, a total only four other Tigers have reached before.
Other possibilities
Ralph Webb, who finished seventh in the SEC last season with 1,152 rushing yards, should become Vanderbilt's all-time, single-season rusher this year. He will need to increase his 2015 total by just 42 yards to supplant Zac Stacy, who set the record in 2011.
But to potentially get to 1,500 yards, Webb would more than likely need a 13th game, aka a bowl matchup. Taking a cursory look at the Commodores' 2016 schedule, that extra matchup doesn't seem realistic.
Kentucky's Stanley "Boom" Williams, who gained 855 yards on 121 carries for a whopping 7.1 yards per attempt last year, has a world of talent. However, it's unclear if his off-the-field issues are completely behind him. He was suspended for the South Carolina game in 2014 and didn't play against Eastern Kentucky last season because of what was called a "coach's decision."