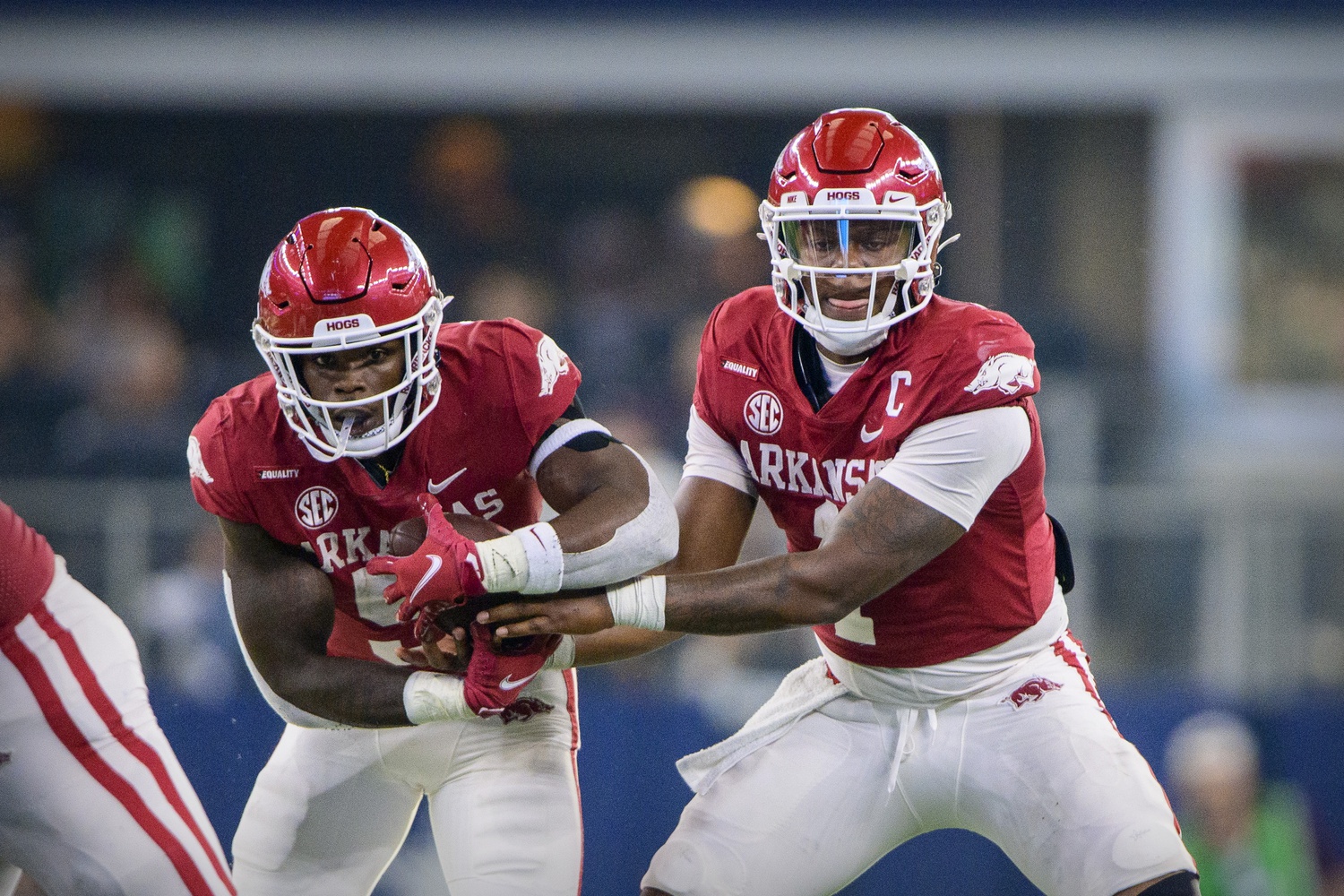 SEC
Who will have the SEC's best rushing attack in 2022? Look beyond the household names
Trivia time.
In 2021, who had the SEC's No. 1 rushing attack?
Maybe it was Alabama. After all, rinse and repeat with the Tide cranking out All-SEC running backs. Since Nick Saban took over, the Tide had 12 (!) backs earn All-SEC honors, including Brian Robinson last year.
Nope. Not the Tide. In fact, Alabama was No. 10 in the SEC in rushing yards per game.
OK, what about Mizzou? Tyler Badie was a revelation in Columbia. He not only ran away with the SEC rushing title, but he also earned All-America honors and ranked No. 1 among Power 5 backs in carries per game.
Nope. Not the Tigers, either. In fact, Mizzou didn't even crack the top half of the conference in rushing.
Surely then it was someone like Texas A&M, right? After all, the Aggies had a high-powered 2-headed attack with All-SEC selection Isaiah Spiller and game-breaker Devon Achane. They both finished in the top 7 in the SEC in rushing, so that's gotta be it.
Nope. Not even the Aggies led the SEC in rushing. In fact, A&M didn't even crack the top 5.
The correct answer to that question was … Arkansas.
On the surface, one might look at that and think it makes sense given what we expect from a team with Sam Pittman's smash-mouth identity. To a certain extent, that's exactly right. Go ask Texas or Penn State fans if it surprised them that Arkansas was the SEC's top rushing attack in 2021.
Rocket Sanders breaks it WIIIIIIIDE OPEN for Arkansas 🚀😤

HOW BOUT THEM HOGS?!

(via @RazorbackFB)

— 247Sports (@247Sports) September 12, 2021
But ask yourself honestly, non-Arkansas fans. Could you pick any Arkansas running back out of a crowd? Would your buddies be able to name a single player from that backfield? Probably not. That's because KJ Jefferson, a quarterback, was the team's leading rusher with 664 yards. No Arkansas running back finished among the top 15 rushers in the league. The only one who finished in the top 20, Trelon Smith, actually just transferred to TCU.
I don't expect Arkansas to have an All-SEC back going into 2022 or by season's end. No disrespect to Rocket Sanders, Dominique Johnson and AJ Green. They could all be phenomenal players in Kendal Briles' offense.
Do I fully expect Arkansas to have a top-3 rushing attack in the SEC, though? Absolutely. That's because we're entering a different era when it comes to projecting SEC rushing attacks.
If your buddy wants another trivia question, ask who finished No. 2 and No. 3 in the SEC in rushing last year. I bet they probably didn't answer "Ole Miss and Tennessee." If they somehow did, congratulate them. They're smart. Or maybe they just were able to look beyond the mustard bottles and golf balls to see that those teams combined for over 500 rushing yards that night.
To recap, that means the top 3 rushing attacks in the SEC failed to produce:
A) An All-SEC RB
B) A top-5 SEC rusher
C) An 800-yard rusher
D) A player who averaged 13 carries per game
E) All the above
It's "E." It's always "E."
How is that possible? And why should we expect that trend to continue?
Those answers are 2 of the same. It's pretty obvious what Arkansas, Ole Miss and Tennessee have in common. They all operate up-tempo offenses with those Baylor principles. They run more plays than anyone. Only 11 rushing plays separated those 3 offenses in 2021 (Arkansas and Ole Miss actually ran the ball exactly 588 times). They averaged between 44-45 runs per game compared to the next-closest team, Kentucky, which averaged 38.
At the same time, all of them became synonymous with a home-run hitting ability in the passing game, too. They were all among the top 4 in the SEC in passing plays of 50 yards. That's not service academy stuff.
It's more like early Gus Malzahn at Auburn. From 2013-17, Auburn never ranked worse than No. 5 in the SEC in rushing with that up-tempo offense with a mobile quarterback (at least pre-Jarrett Stidham). Go figure that the up-tempo attacks with prolific ground games became more popular immediately after Malzahn left the SEC.
This is about scheme. Ole Miss just lost basically its entire rushing attack from 2021. The mobile Matt Corral and Ole Miss' top 3 tailbacks (Jerrion Ealy, Snoop Conner and Henry Parrish) are all gone. Shoot, so is primary play-caller Jeff Lebby. But would it surprise anyone if Lane Kiffin picked up the pieces and repeated that formula with a slew of transfers that he just added? Nope, especially with 4 of 5 starters back on the offensive line.
It probably won't matter for Tennessee's overall number that Tiyon Evans left for Louisville. With Hendon Hooker and Jabari Small back, Josh Heupel can fill in the pieces to make sure the Vols have a 3-headed rushing attack that ranks among the SEC's elite.
keep thinking about this absolutely disgusting juke from Jabari Small pic.twitter.com/0TfQI6Bp87

— Smokey Vol (@theSmokeyVol) November 7, 2021
And Arkansas? As in, the team that returns Jefferson, Johnson, Sanders and Green? Yeah, I'd be stunned if that group wasn't among the top 3 in the SEC.
I bring this up because when it comes to evaluating ground games, we often get so obsessed with the individual, and understandably so. Not everyone can do the things that Tank Bigsby or Achane can do.
But to be one of the SEC's best rushing attacks, even in this pass-happy era, you need to average at least 200 yards on the ground per contest. You also probably need a quarterback who legitimately prioritizes that. Bryce Young is unbelievable and plenty mobile, but designed runs aren't a part of his game in the way that they are for someone like Jefferson or Will Levis. In each of the past 3 seasons, all of the top-3 SEC finishers in rushing had a quarterback finish with at least 290 rushing yards (Kellen Mond had the fewest with 294 rushing yards but that was only playing 10 games in 2020).
So who checks those necessary boxes to lead the SEC in rushing?
It's not Alabama, despite the possibility that Georgia Tech transfer Jahmyr Gibbs could walk into the conference and lead it in rushing. It's not Georgia, despite the possibility that Kendall Milton could be exactly what Georgia fans have been clamoring for and then some. It's not South Carolina, despite the possibility that a healthy MarShawn Lloyd could explode with his opportunity to become a workhorse back (I also have high hopes for Georgia transfer Lovasea Carroll).
Why? Because Young, Stetson Bennett IV and Spencer Rattler aren't used in that way enough.
We know what we're getting with Hooker and Jefferson after what we saw from them in 2021, and Levis projects to have an increased role as a runner after what he showed with his legs in the latter half of the season. Combined with the returns of Chris Rodriguez and Kavosiey Smoke, Kentucky could absolutely have a 3-headed rushing attack that rivals what Tennessee and Arkansas have.
Florida is another team that should crack the upper echelon, assuming Anthony Richardson is Billy Napier's guy. Even with the loss of the underutilized Dameon Pierce, the Gators still figure to be a run-first team with several backfield options.
Ole Miss is still a candidate because of scheme, but Jaxson Dart/Luke Altmyer are not at Corral's level as a runner. At least not at this point, though Dart ran for 1,100 yards and 12 touchdowns as a high school senior. Evans and Ulysses Bentley IV can develop a dynamic 1-2 punch and Ole Miss could still finish outside the top 3 in the SEC in rushing if the quarterback run game isn't emphasized like it was with Corral.
There are 2 sleepers that could be determined based on who wins the starting quarterback job. If Jayden Daniels is LSU's starter and if Haynes King is A&M's starter, both could absolutely push their teams into that category. There's enough talent in both backfields — Achane has legitimate All-American upside — to make a legitimate push into the top 3 if Daniels and King become the starters.
That's different than Auburn, who has one of the more promising 1-2 punches in the country with Bigsby and Jarquez Hunter, but is also likely facing the possibility of starting a non-mobile quarterback like TJ Finley or Zach Calzada.
If we were breaking this down into categories to try and figure out the most likely SEC teams to lead the conference in rushing compared to the least likely, here's how that would look:
SURPRISED IF THEY AREN'T TOP 3
WON'T BE SURPRISED IF THEY ARE TOP 3 BASED ON SCHEME + RUNNING QB
Kentucky
Ole Miss
Florida
NEED RIGHT QB BATTLE WINNER FOR TOP 3
PROBABLY NOT TOP 3 BECAUSE OF LACK OF RUNNING QB
Alabama
Auburn
Georgia
South Carolina
NOT TOP 3 BECAUSE GAME FLOW WORKING AGAINST THEM
SCHEME WILL NEVER YIELD TOP 3
Obviously, things can change. We're a few weeks away from the May 1 transfer portal deadline to play at a new school in 2022. We could see quarterback room shakeups that give us a clearer picture of what that could look like.
But regardless of those potential moves, just remember that key principle the next time someone mentions the subject of SEC rushing attacks.
Look beyond the individual. Scheme is a much better barometer for projecting the SEC's top ground games.