SEC
Would we be OK with a season in which the only prize was an SEC Championship? Absolutely
What once seemed like a message board fantasy could now become a college football reality.
Could the SEC really just have its own season that doesn't end with a national championship?
That's what's potentially on the table with the Big Ten and Pac-12 reportedly set to cancel the fall season. A 2020 season with just 3 Power 5 conferences (ACC, Big 12 and SEC) could exist. Or perhaps, could the SEC be the last one standing if all the other Power 5 conferences pull the plug on a fall season in 2020? I wouldn't bet on the latter scenario, but I also wouldn't rule out anything these days.
Would it be a true national championship? No, but would an SEC program still try to claim it as such? Um, absolutely.
Yes, SEC fans would be OK with this. Yes, the SEC would suddenly go from public enemy No. 1 to America's conference.
You know, just in case you thought 2020 wasn't weird enough.
If you don't think that's a possibility, perhaps you missed the AL.com report that the SEC was "holding firm" regardless of what the Big Ten decided. Even Paul Finebaum, who has stated doubt about a college football season at numerous points, said this on "Get Up" on Monday morning.
"As far as pushback, yes there is plenty of pushback," Finebaum said on the show. "I talked to an SEC source yesterday who said, 'We're still planning on playing. We have our schedule release coming up in a couple of days.'

"Remember, Friday night the SEC released the two additional conference games, so it just shows the incredible disconnect that we've talked about for three months, that is now mushroomed and has literally put everything on edge. As someone else told me early this morning, the college football season is not dead, it's just on life support right now."
The whole point of delaying the start of the season to Sept. 26 was so that it wouldn't be forced to make a definitive decision in early August like the Big Ten reportedly did.
The Big Ten failed in its plan of returning to camp, which it just did last week, only to bail on said plan before ever really testing it. There's no guarantee that the SEC plays a fall season, but moving camp back to Aug. 17 now looks like a wise move to increase those odds of happening. SEC commissioner Greg Sankey doubled down on that on Monday afternoon: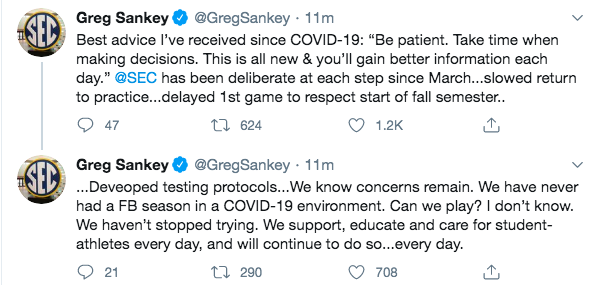 Picture this scenario.
Let's say the Big Ten and Pac-12, AKA the little brother without any power, elect for a spring season while the Big 12, ACC and SEC play in the fall but without a Playoff. If anything, that SEC Championship would have a national title-like feel. Forget the confetti and trophy ceremony. There would be full-on parades for this thing. Shoot, you'd probably have fans from across the country showing up at the victory parade just to pretend like their team won a championship.
Look, we can do this right here. Ohio State fans become Alabama fans, Michigan fans become Tennessee fans, Rutgers fans become Vandy fans, etc.
And to take a step back, think about how massive Florida-Georgia, Alabama-LSU, Alabama-Georgia and Florida-LSU would feel. Boom. Those are your Playoff quarterfinal games. The SEC Championship is truly for all the marbles, and not just in an "It Just Means More" sort of way.
The crazy thing is that Alabama could go 9-1 in this year, miss out on playing for an SEC Championship but claim a national title and it would still be more worthy than that 1941 squad. But hey, if that's the biggest annoyance by the end of 2020, I'll take it. Gladly.
The idea of anyone playing college football this fall still seems like more of a wish than a certainty. Seeing reports of unprecedented Power 5 cancelations finally made it real. For much of these past 5 months, the focus was supposed to be on putting together the proper safety protocols to not make such a drastic decision.
But during that time, Big Ten went rogue and announced its conference-only schedule … even though none of the other Power 5 commissioners knew that was happening after their daily meetings. Now, perhaps it's the SEC that goes rogue and decides that it actually wants to see its protocols through instead of punting.
Can you imagine how far out the SEC would puff its chest?
Fans would deal with a somewhat subdued game atmosphere in the event that stadiums are at 20% capacity. Would it take getting used to? For sure, especially if those games were some of the only football that the average fan would see on a fall Saturday.
By the way, can we take a step back and think about the recruiting dominance and league branding if the SEC did safely have a college football season while several other Power 5 conferences didn't? I mean, I know the SEC had 7 of the top 10 recruiting classes in 2020, but dare I say, it could get even more lopsided? Is that even possible? It's not like recruits can visit campuses yet. All many can probably do is sit at home and watch college football on Saturdays.
If Monday was any indication, buckle up. Shoot, if you didn't get nauseous from the college football roller coaster the past 3 days, you've got a tougher stomach than I have.
This thing has already gone completely off the rails. Who knows what the next dip or turn is. Reports indicate that the SEC isn't in any hurry to get off the ride.
If that ride lasts until January, we're in for quite the thrill.