SEC Tournament 2023: Alabama wins the championship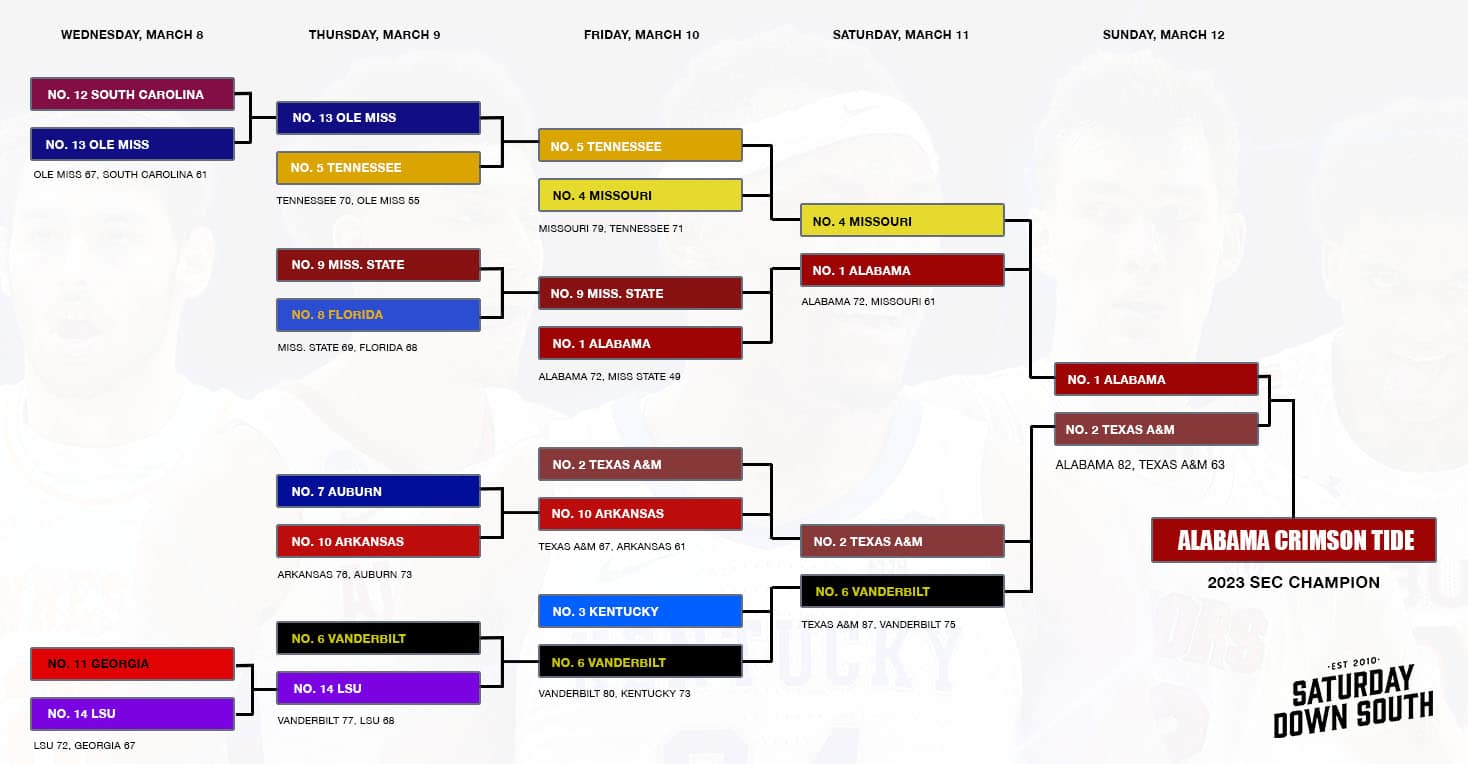 The Alabama Crimson Tide took down the 2023 SEC Tournament in emphatic fashion. The Tide beat the Texas A&M Aggies in the SEC Tournament championship game by a score of 82-63.
SEC Tournament Schedule & Results
With the 2023 SEC tournament field officially set, here is the schedule:
All times are central time.
First Round — Wednesday, March 8
Game 1: Ole Miss 67, South Carolina 61
Game 2: LSU 72, Georgia 67
Second Round — Thursday, March 9
Game 3: Mississippi State 69, Florida 68
Game 4: Tennessee 70, Ole Miss 55
Game 5: Arkansas 76, Auburn 73
Game 6: Vanderbilt 77, LSU 68
Quarterfinals — Friday, March 10
Game 7: Alabama 72, Miss State 49
Game 8: Missouri 79, Tennessee 71
Game 9: Texas A&M 67, Arkansas 61
Game 10: Vanderbilt 80, Kentucky 73
Semifinals — Saturday, March 11
Game 11: Alabama 72, Missouri 61
Game 12: Texas A&M 87, Vanderbilt 75
Championship — Sunday, March 12
Game 13: Alabama 82, Texas A&M 63
Final 2023 SEC Basketball Regular Season Standings
With the 2023 men's basketball regular season complete and the SEC tournament field set, here are the final regular season standings from this season of SEC hoops:
| | Team | Conf Record | Overall Record |
| --- | --- | --- | --- |
| 1 | Alabama | 16-2 | 26-5 |
| 2 | Texas A&M | 15-3 | 23-8 |
| 3 | Kentucky | 12-6 | 21-10 |
| 4 | Missouri | 11-7 | 23-8 |
| 5 | Tennessee | 11-7 | 22-9 |
| 6 | Vanderbilt | 11-7 | 18-13 |
| 7 | Auburn | 10-8 | 20-11 |
| 8 | Florida | 9-9 | 16-15 |
| 9 | Mississippi State | 8-10 | 20-11 |
| 10 | Arkansas | 8-10 | 19-12 |
| 11 | Georgia | 6-12 | 16-15 |
| 12 | South Carolina | 4-14 | 11-20 |
| 13 | Ole Miss | 3-15 | 11-20 |
| 14 | LSU | 2-16 | 13-18 |
SEC Tournament: The Kentucky Invitational?
Well, yeah, the big, bad basketball blueblood that lives in the SEC has definitely dominated the SEC Tournament since its inception in 1933. The Wildcats, fittingly, won that first SEC Tournament in '33 at the Atlanta Athletic Club. Since then, the 'Cats have tacked on 31 conference tournament crowns for good measure. So, absolutely, the SEC men's basketball tournament is a very prestigious event very much owned by one program.
But that hasn't meant that the rest of the field hasn't been trying. Or that those other programs not named Kentucky haven't had their moments in the sun.
Or that there haven't been SEC basketball powerhouses not colored blue that have developed through the eyes and ears and screams of the mad dash that is the SEC Tournament. If you don't agree, just go back a few decades when Billy Donovan's Florida program was the envy of college basketball. Sure enough, those Donovan-led Gators teams cashed in with 4 conference tournament championships.
So, the Southeastern Conference Tournament hasn't all been about Kentucky, even if many feel that way. It's been about powerhouse teams, powerful players and plenty of awesome moments. It's been about reminding SEC sports fans that football can fade away for a little while while basketball takes center stage. It's been about the array of venues, a long list of them, that have staged the SEC basketball tournament and those moments that have shaped them.
And now it's here again. It's early March. Time for another celebration of SEC basketball that's full of many colors — not just blue.
SEC Tournament history
From 1933 to 1950, the official SEC champion was determined by a tournament, except for 1935. But starting in 1951, a round-robin schedule was introduced, and the SEC title was awarded to the team with the highest regular-season in-conference winning percentage.
There wasn't an SEC men's basketball tournament for roughly a quarter-century, from 1953-78. But in 1979, the SEC basketball tournament was renewed with the winner receiving the SEC's automatic bid to the NCAA Tournament. Like the ACC Tournament, the SEC basketball tournament has been a major part of the college basketball season.
The 2020 SEC Tournament was canceled after the first round due to concerns over the spread of COVID-19. Initially, a decision was made to play the remaining games without fans in attendance, but as the situation progressed the event was ultimately canceled altogether.
Previous SEC Tournament winners
1933 — Kentucky
1934 — Alabama
1936 — Tennessee
1937 — Kentucky
1938 — Georgia Tech
1939 — Kentucky
1940 — Kentucky
1941 — Tennessee
1942 — Kentucky
1943 — Tennessee
1944 — Kentucky
1945 — Kentucky
1946 — Kentucky
1947 — Kentucky
1948 — Kentucky
1949 — Kentucky
1950 — Kentucky
1951 — Vanderbilt
1952 — Kentucky
1953-78 — No tournament
1979 — Tennessee
1980 — LSU
1981 — Ole Miss
1982 — Alabama
1983 — Georgia
1984 — Kentucky
1985 — Auburn
1986 — Kentucky
1987 — Alabama
1988 — Kentucky
1989 — Alabama
1990 — Alabama
1991 — Alabama
1992 — Kentucky
1993 — Kentucky
1994 — Kentucky
1995 — Kentucky
1996 — Mississippi State
1997 — Kentucky
1998 — Kentucky
1999 — Kentucky
2000 — Arkansas
2001 — Kentucky
2002 — Mississippi State
2003 — Kentucky
2004 — Kentucky
2005 — Florida
2006 — Florida
2007 — Florida
2008 — Georgia
2009 — Mississippi State
2010 — Kentucky
2011 — Kentucky
2012 — Vanderbilt
2013 — Ole Miss
2014 — Florida
2015 — Kentucky
2016 — Kentucky
2017 — Kentucky
2018 — Kentucky
2019 — Auburn
2021 — Alabama
2022 — Tennessee
2023 — Alabama
Top 10 moments in SEC Tournament history
It's hard to rank 1 through 10 because, really, these 10 moments could've been ranked in any order and made sense. They were all great. They were all memorable. And they all meant something really big to the program associated with it. But for the purposes of ranking them, here it goes.
1. Georgia survives a tornado — literally:
The Bulldogs have won only 2 SEC Tournament titles. The first came in 1983. The second one, 25 years later, was a little more memorable, if for no other reason than it happened in the aftermath of a tornado that ripped through Atlanta and literally ripped the roof at the Georgia Dome.
The tornado of 2008 forced the tournament to reschedule the Friday night games and move the rest of the games to Georgia Tech's Alexander Memorial Coliseum (now McCamish Pavilion). The only people allowed to attend the games were media and the players' family members.
But it didn't affect Georgia, which just happened to be the worst team in the SEC during the regular season. So, in a most-unlikely SEC tournament came a most unlikely champion, as the Bulldogs knocked off Arkansas, 66-57, in the championship game behind tournament MVP Sundiata Gaines.
2. Kentucky takes down the Hogs:
Going into the 1995 SEC Tournament at the Georgia Dome, Arkansas was the king of college basketball. The Razorbacks were the defending national champions. They had "Big Nasty" Corliss Williamson. And they had the "40 Minutes of Hell" pressure defense that had become a fixture in the sport during the previous several years.
But Kentucky was pretty good, too. The Wildcats would win the national championship the following season in 1996. In 1995, the 'Cats settled for the SEC Tournament crown, twice rallying in the title game to outlast Arkansas, 95-93, in triple overtime behind tournament MVP Antoine Walker.
The classic championship game also set the all-time Southeastern Conference Tournament attendance record, with 30,057 fans at the Georgia Dome. It is considered one of the greatest games in SEC basketball history, regular season or tournament. Arkansas ended up falling 1 game short of a repeat national title, losing to UCLA in the national championship game.
3. Dontae dominates the Cats:
Kentucky got a slight detour on its way to winning the 1996 national championship. A few weeks earlier in the SEC Tournament at the Superdome in New Orleans, Dontae Jones turned in one of the most memorable performances in tourney history against one of the best teams in SEC history.
Jones wouldn't let Mississippi State lose in the championship game against Rick Pitino's mighty Wildcats. He poured in 28 points and ripped down 11 rebounds to lead the Bulldogs to an 84-73 victory. Not surprisingly, Jones was named tournament MVP after helping Mississippi State win its first Southeastern Conference Tournament title in program history.
While the Wildcats ultimately got the last laugh in capturing the national title, Jones and the Bulldogs did pretty well themselves in the Big Dance, making it all the way to the Final Four before losing to Syracuse in the national semifinals.
4. Barkley left in disbelief:
Of Kentucky's astounding 32 SEC Tournament titles, this might be one of the most memorable, because of how it happened and who it happened against. The 1984 SEC men's basketball tournament final at Memorial Gymnasium in Nashville was a low-scoring grind between top-seeded Kentucky and No. 2-seed Auburn.
The Tigers were led by a young man by the name of Charles Barkley. But the "Round Mound of Rebound" couldn't rescue Auburn at game's end. Instead, the dramatic final that had 20 lead changes belonged to the Wildcats and specifically to Kenny Walker, who made the winning shot at the buzzer to lift Kentucky to a 51-49 victory.
The famous snapshot amid the chaos at the end was Barkley slumped to the floor, sitting there for a couple of minutes in disbelief — and agony. Barkley was named SEC basketball tournament MVP despite being on the losing team. That classic SEC final would be the future Hall of Famer's last game against an SEC opponent.
5. Volunteers rule as tournament resumes:
The SEC Tournament had been on hiatus since 1953. But after a quarter-century of there not being a tournament, Tennessee was more than happy to resume the conference's annual tradition in 1979 by winning its fourth SEC Tournament championship.
The tournament magic for the Volunteers happened that March in Birmingham. Tennessee was the regular-season champion and received a double-bye into the semifinals. After toppling Auburn in the semis, the Vols had to deal with Kentucky in the championship game and they worked overtime to earn the trophy, outlasting the Wildcats 75-69.
Point guard Terry Crosby led Tennessee to the title, being named to the all-tournament team. But just like Auburn's Charles Barkley in the 1984 SEC Tournament, the 1979 Tournament MVP — Kentucky point guard Kyle Macy — would come from the losing team.
6. Florida dynasty flexes its muscles:
For Florida, it was another SEC Tournament and another Southeastern Conference title in 2007 at the Georgia Dome. By the very end of that season, the Gators were celebrating an even bigger title, becoming the first team to win back-to-back national championships since Duke in 1991 and '92.
But before the Billy Donovan-led Gators accomplished that, there was the business of winning a third consecutive SEC basketball tournament title. Florida did that, too, and did it easily, winning its 3 tournament games by an average of 19.7 points. The Gators also had an astounding 4 players make the all-tournament team — Al Horford, who was the tournament MVP, Corey Brewer, Joakim Noah and Taurean Green.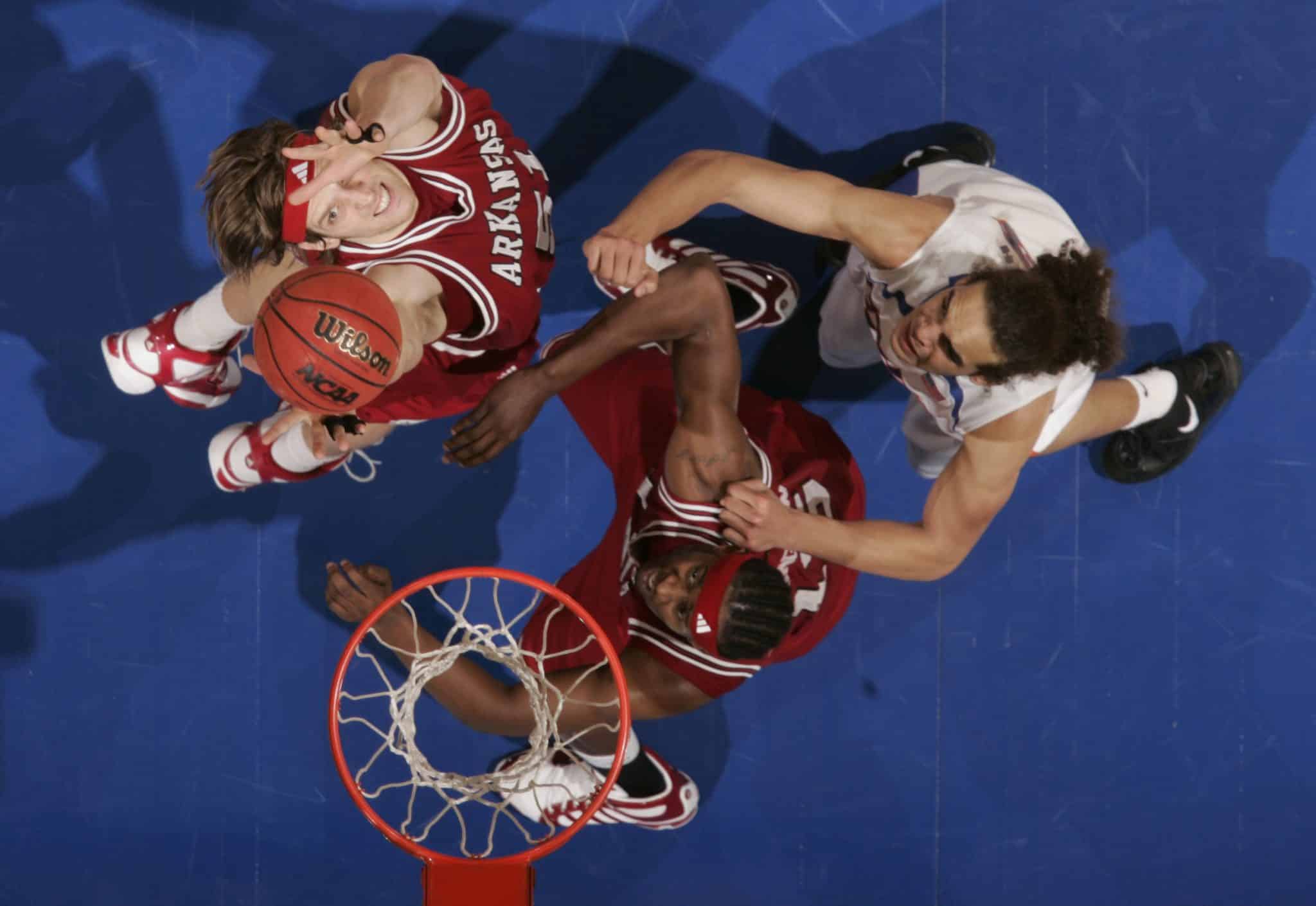 In the championship game, the mighty Gators disposed of Arkansas, 77-56, before heading on their journey to a repeat national title. After that year though, Florida finally fell off its perch and wouldn't win another SEC Tournament title until 2014.
7. No rest for Coach Brown:
At the 1987 tournament at the Omni Coliseum in Atlanta, the ever-colorful LSU coach Dale Brown threw down the gauntlet — and apparently threw his alarm clock out the hotel window.
Before the tournament started, Brown, who was never shy in speaking his mind, told the world he would not go to sleep for as long as his Tigers kept advancing. This was just to prove to his players that there shouldn't be a "fatigue factor" for a team that absolutely needed to win 4 straight games to win the tournament.
LSU cooperated with its coach, who apparently didn't get a lot of sleep that week. The underdog, 7th-seeded Tigers beat Mississippi State, Florida and Georgia (in double overtime) to reach the title game. According to reports, Brown even tried to convince members of the media that he was not sleeping by calling their hotel rooms in the middle of the night. But then, finally, the Tigers lost to Alabama in the final, and Brown finally got some sleep.
8. Finally, it's the Rebels' turn again:
Ole Miss isn't steeped in basketball tradition. It didn't win its first SEC basketball tournament title until 1981, and for more than 3 decades it stayed that way until the 2013 tourney in Nashville.
The Rebels finally broke through in 2013, but it was anything but easy. Ole Miss was a solid No. 3 seed, but it was going up against top-seeded Florida in the championship game, a Gators program that had won multiple national titles in recent years and knew how to win in the big moments.
The Rebels trailed by as many as 14 points. But instead of folding, they fought back behind tournament MVP Marshall Henderson. Ole Miss pulled out a 66-63 victory to deny the favored Gators and finally grab that elusive second SEC Tournament title.
9. Vandy stuns a stacked UK team:
This was very similar script to the 1996 script. A loaded Kentucky team that would eventually capture the national championship is denied the SEC Tournament championship by a gutsy opponent eager to finally taste some postseason glory.
This time, at the 2012 tournament in New Orleans, it was Vanderbilt that did the trick. The Commodores weren't intimidated by the John Calipari-led Kentucky team that featured Anthony Davis, Michael Kidd-Gilchrist and Terrence Jones. The Wildcats had gone 16-0 in the SEC during the regular season and had only lost once all season, on a buzzer-beater at Indiana.
But it was finally Vandy's time, at least in the SEC Tournament. The veteran Commodores, who lost to Kentucky twice in the regular season, captured their first SEC Tournament crown since 1951 behind tournament MVP John Jenkins, taking down the Wildcats, 71-64.
10. The Big Blue wrecking crew:
We end the countdown by saluting the program that has dominated the SEC basketball tournament far and away. And we do it not with a moment in particular but with a mighty impressive stat. Between the 1992 and '96 SEC Tournaments, Rick Pitino's Kentucky teams ripped off 14 consecutive SEC Tournament victories, the longest tournament winning streak since the event resumed in 1979.
So, for the sake of having a specified time or year, it would be 1996, when the Wildcats' ridiculous Southeastern Conference Tournament run of victories finally ended with a loss to Mississippi State in the final. Kentucky captured 4 consecutive SEC Tournaments from 1992-95, so those consecutive SEC tourney victories were piling up by the year — until the Wildcats ran into a possessed Bulldogs team in that memorable 1996 final.
And just for the sake of history, we should mention that after Kentucky was dethroned by Mississippi State in '96, it then resumed its SEC Tournament dominance by winning the titles in 1997, '98 and '99. That's 7 SEC men's tournament championships in an 8-year run of dominance, with 2 national championships in 1996 and '98 sprinkled in.
Venues where the SEC Tournament has been played
The venue list for the SEC Tournament reads like a grand tour of the South, which is perfectly fit for a conference brimming with Southern pride.
The tournament has been staged at 19 different venues across 7 states.
Old Louisville Gardens still has hosted the most SEC basketball tournaments after staging 12 in a row from 1941-52. Rupp Arena in Lexington, home to those blueblood Kentucky Wildcats, hosted 3 tournaments in 1982, 1986 and 1993.
The since-demolished Georgia Dome in Atlanta hosted 11 SEC Tournaments, the second-most ever, between 1995-2014. The Atlanta Athletic Club hosted the first 2 tournaments in 1933 and '34, McCamish Pavilion in Atlanta hosted in 2008 and the Omni Coliseum in Atlanta was the host in 1987.
Bridgestone Arena in Nashville has hosted 9 tournaments and will host its 10th in 2023. Alumni Memorial Gym in Knoxville hosted 4 SEC Tournaments, from 1936-40. Memorial Gymnasium in Nashville (2), The Pyramid in Memphis (2) and Thompson-Boling Arena in Knoxville (1) have combined to host 5 SEC Tournaments.
Legacy Arena in Birmingham, Alabama, hosted 6 SEC basketball tournaments from 1979-92.
Amalie Arena in Tampa, Florida, has hosted 2 Tournaments, in 2009 and 2022 while the Orlando Arena got its only turn in 1990. The tournament has come to Missouri once, in 2018 when it was hosted by the Enterprise Center in St. Louis.
The men's SEC basketball tournament has been held in Louisiana at 4 venues: the Caesars Superdome in New Orleans in 1996 and 2003; the Huey Long Field House in Baton Rouge in 1938; the Smoothie King Center in New Orleans in 2012; and the Pete Maravich Assembly Center in Baton Rouge in 1988.
We do not target any individuals under the age of 21. We support responsible gambling. If you feel like you're losing control over your gambling experience, call 1-800-GAMBLER (NJ, PA, WV), 1-800-9-WITH-IT (IN), 1-800-BETS-OFF (IA), 1-888- 532-3500(Virginia) 1-800-522-4700 (NV, TN), 1-800-522-4700 (CO, TN), 1-855-2CALLGA (IL), 1-800-270-7117 (MI).
About Saturday Down South | Ethics and Editorial Standards | Privacy Policy | Terms and Conditions | Do Not Sell My Personal Information