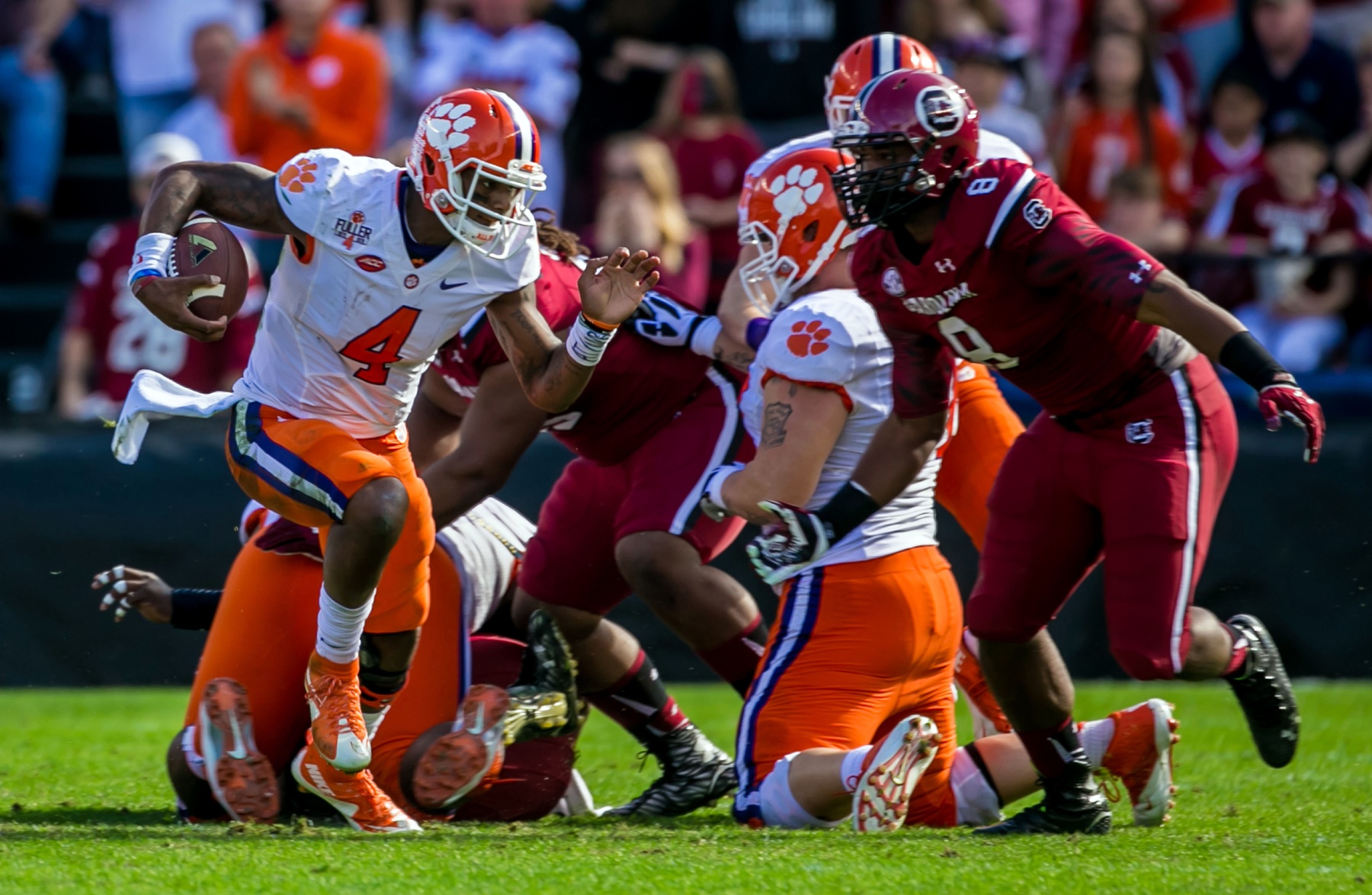 SOUTH CAROLINA
4 best QBs South Carolina will face in 2016
After its first losing record in more than a decade, there is plenty of room for growth at South Carolina.
The Gamecocks' inability to stop the run is the only thing that kept its pass defense from being the worst in the league last fall. The team finished ninth in the SEC in yards allowed with 212.4 per game, despite facing the third-fewest attempts (347).
The lack of attempts allowed South Carolina to allow only one 300-yard passer. That was Greyson Lambert's highlight reel day, which saw him complete 24 of his 25 pass attempts for 330 yards and three touchdowns.
He's back for another year at Georgia, but he might not be the starter when the Gamecocks host the Bulldogs on Oct. 8. Aside from that game, there aren't a lot of quarterbacks with pedigree on the schedule for 2016.
In fact, only Georgia (if Lambert starts), Missouri and Clemson are slated to start quarterbacks with significant experience in their respective systems this fall.
That doesn't mean there won't be challenges. Here are the four best quarterbacks that the Gamecocks will face this season:
1. DESHAUN WATSON, CLEMSON
2015 stats: 4,104 yards, 35 TD, 13 INT; 1,105 rushing yards, 12 TD
Skinny: On his way to becoming the the first FBS player to throw for 4,000 yards and rush for 1,000 more, Watson finished third in last year's Heisman Trophy voting. He's a favorite this year and one of eight returning starters on one of the nation's best offenses.
He's also 2-0 against the Gamecocks, with a combined 548 yards and three scores while rushing for another 127 yards and five more touchdowns. He takes the in-state rivalry pretty seriously, too.
"My high school coach was a big Clemson fan and I told him, as long as I'm the starting quarterback here, I'm not going to lose to South Carolina," Watson told USA Today.
2. JOSHUA DOBBS, TENNESSEE
2015 stats: 2,291 yards, 15 TD, 5 INT; 671 rushing yards, 11 TD
Skinny: Like Watson, Dobbs has had success against the Gamecocks. He's also 2-0 against them as a starter, with 556 yards and four touchdowns passing in those games.
He also had a career day in a 45-42 win back in 2014, passing for 301 yards and two touchdowns and rushing for 166 yards and three scores. He's one of nine returning starters on a team that's favored to win the SEC East, and keeping him in check will be difficult.
3. TREVOR KNIGHT, TEXAS A&M
2014 stats: 2,300 yards, 14 TD, 12 INT; 399 rushing yards, 5 TD
Skinny: Knight lost the starting job at Oklahoma to Baker Mayfield last season, and decided to play his final college season with the Aggies. A strong spring helped him beat out Jake Hubenak for the starting spot.
He'll have shaken off any rust by the time Texas A&M visits Columbia in Week 5, and he'll be throwing to Christian Kirk, Josh Reynolds and the rest of the Aggies' talented receivers. His career numbers don't jump off the page, but his experience and the quality of his weapons make him a dangerous opponent.
4. GREYSON LAMBERT, GEORGIA
2015 stats: 1,959 yards, 12 TD, 2 INT; 1,105 rushing yards, 12 TD
Skinny: Lambert has a five-star recruit, Jacob Eason, breathing down his neck for the starting spot, but there's a chance that Kirby Smart will choose to bring the newcomer along slowly. South Carolina might prefer to face the true freshman.
Lambert struggled at times in 2015, but he was nearly perfect against South Carolina in a 52-20 win.
Even if Eason has unseated Lambert by the time Oct. 8 rolls around, it still won't be an easy day for the Gamecocks. Eason has better physical tools than Lambert, and by that point, should be comfortable in Jim Chaney's offense.