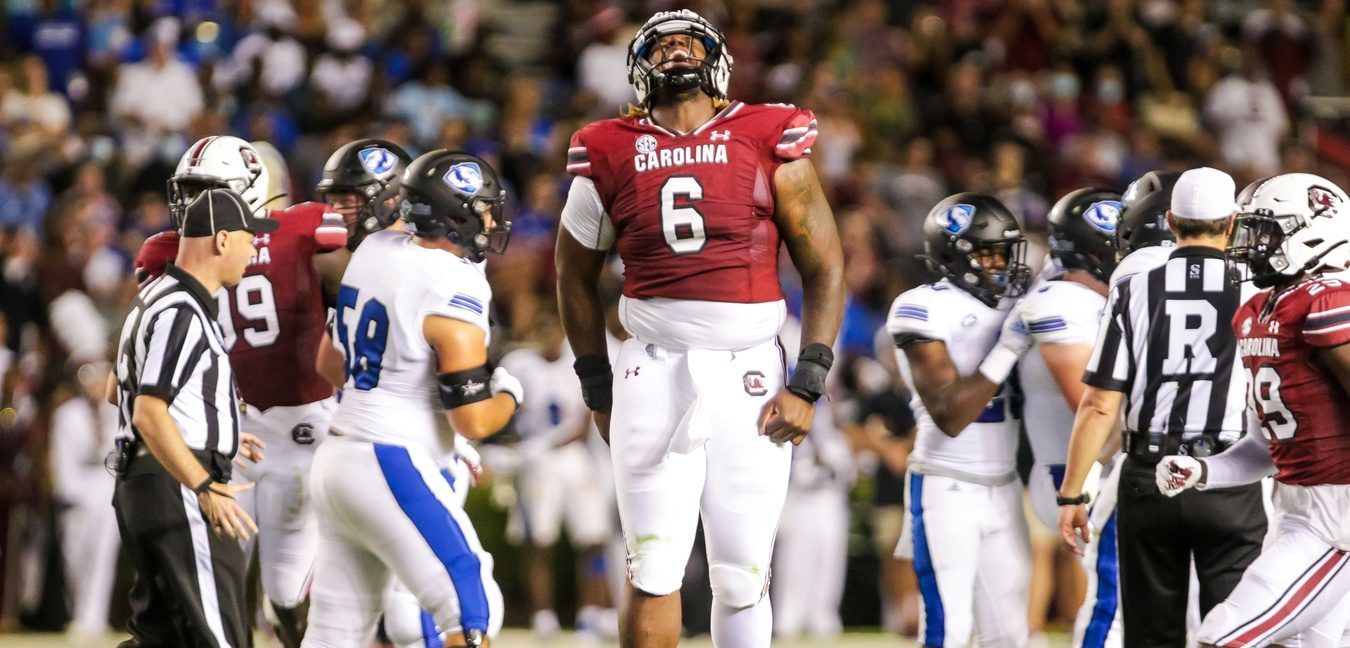 SOUTH CAROLINA
7 way-too-early predictions for South Carolina's defense in 2022
South Carolina's defense last year made a splash with the number of takeaways, a pleasant surprise led by Jaylan Foster and the secondary.
Now the attention will shift to the defensive front, both because of departures and the 5-star linemen who are expected to grow into their recruiting hype.
Here are 7 way-too-early predictions for South Carolina's defense in 2022.
Scoring average drops
The Gamecocks were 7th in the SEC last year giving up 24 points per game. The challenge once again is to somehow bottle up the offenses from Georgia, Clemson, Texas A&M, Tennessee and even Missouri. All those teams scored at least 30 points against the Gamecocks last season.
One way to slow down those offenses is to upgrade the pass rush after the Gamecocks were 12th in the SEC with 26 sacks a season ago. The Gamecocks will have to deliver on the talent and it will translate to a tough defense.
Zacch Pickens increases sack production
The former 5-star will develop into a notable NFL Draft pick after he passed on the draft a year ago. Pickens will chip in 7 sacks a year after he collected 4, as the Gamecocks' defensive line lives up to the high school recruiting hype. Pickens, who has appeared in all 35 games over the past 3 seasons with 20 starts, will become an All-SEC type player.
Pickens' play will be one of the main storylines for the Gamecocks in 2022, as he was one of the top recruits of the past 5 cycles, and an in-state product on top of that. Shane Beamer's recipe for success is on landing and developing in-state 5-star players like Pickens.
Jordan Burch improve NFL Draft stock
With the departures of Kingsley Enagbare and Aaron Sterling, Burch has a clear opportunity to step into the edge rusher role and have a significant role on the defensive front. Burch, a third-year player, has appeared in 21 games over the past 2 seasons with 1 start. Although he hasn't lived up to the hype of being a hometown 5-star recruit, Burch has a chance to round into form as an NFL Draft prospect.
No player has come into USC in the past few years with more hype or belief than Burch, the hometown hero from Hammond School in Columbia. The 6-6, 268-pound pass rusher was rated the No. 8 prospect overall in 2020, and as a first-time starter, Burch has every opportunity to step into his hype and expectations.
Cam Smith makes All-SEC team
Cam Smith returned to polish his game and become a more complete defensive back. Smith worked at nickel this spring, and received rave reviews. The 6-foot, 185-pounder is in line to become an NFL Draft pick next spring. He'll become an All-SEC defensive back by midseason.
Smith has been a reliable cornerback for a couple of years, even back to the coaching change when he offered stability to the secondary. Smith battled a foot injury in August but became a starter, and in 11 games he had 3 interceptions — 2nd on the team behind Foster — and was the 6th-leading tackler with 41. Smith also had a team-high 11 pass breakups and earned 2nd-team All-SEC honors.
Clayton White emerges as a top DC
Arguably the most underrated, or overlooked, coordinator in 2021, Clayton White will be in demand entering the 2022 hiring cycle, either as a coordinator at a blue blood program, or as a head coach.
As the defense shifts to a more front 7-oriented unit in 2021, White will show his versatility and balance as a coach. Think of it this way. If he were to make a job interview-type presentation at the end of this season, White would have the ball hawk 2021 defense, and a projected dominant front this year, why wouldn't he be an appealing hire?
Mohamed Kaba becomes a breakout candidate
As breakout candidates go, they don't come much easier to pick out of a list than Kaba, who has garnered high respect by coaches dating to the Will Muschamp era. The junior linebacker figures to play a more significant role this season, and after he's earned SEC All-Freshman honors from the league's 14 coaches in 2020. Kaba has appeared in 22 contests over the past 2 seasons. A bit of foreshadowing for this season came at the end of last season when Kaba recorded 25 of his 32 stops the season's final 6 games.
Transfer Devonni Reed makes an immediate impact
With so much focus on the defensive front, Reed will step into the Jaylan Foster role and assume the ball-hawk nature that fueled the 2021 defense. The Central Michigan transfer brings loads of experience, including 43 games for the Chippewas, and with young players on the back end, he'll provide some stability in the secondary.
A 4-year starter, even in the MAC, is a valuable addition to the defense.