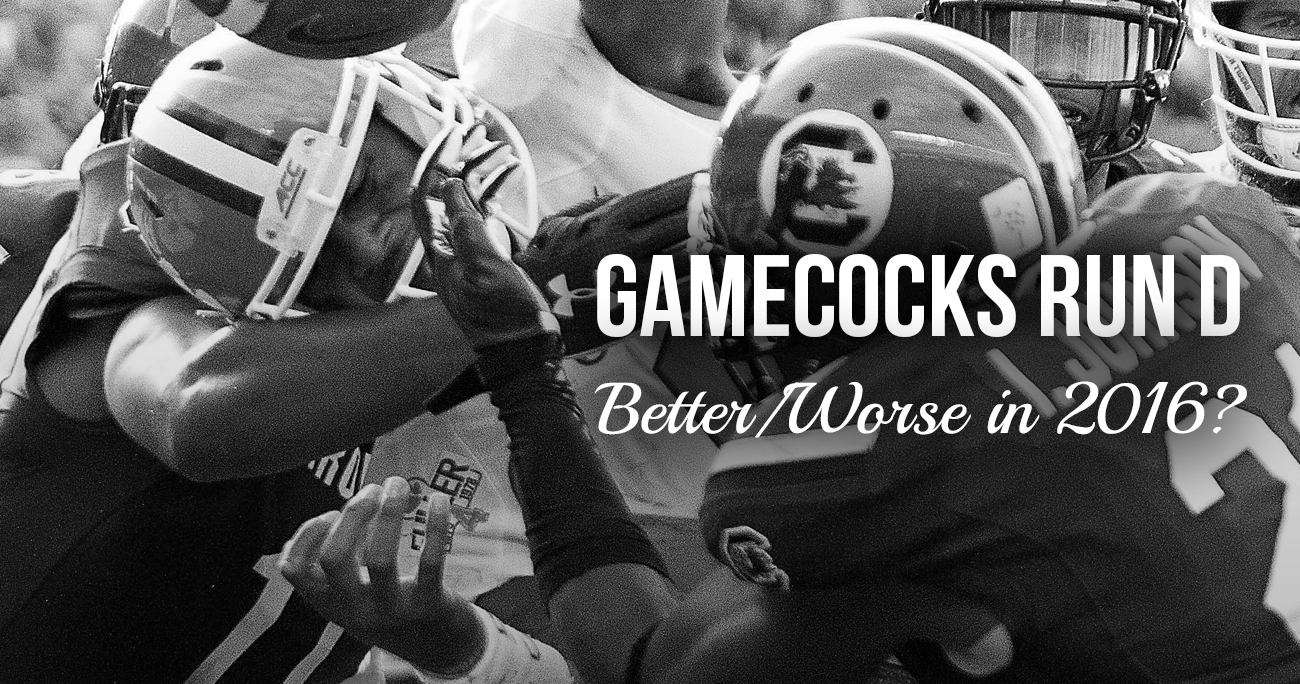 SOUTH CAROLINA
Better or worse in 2016: South Carolina run defense
There were plenty of reasons South Carolina stumbled to a 3-9 record in 2015. But when looking at the factors that contributed to the worst season since 1999's disastrous 0-11 campaign, an inability to stop the run has to be near the top of the list.
No SEC team allowed more yards per game, a higher yards-per-carry average or more touchdowns than the Gamecocks. Seven opponents rushed for more than 200 yards in a game, and three topped the 300-yard mark, led by LSU.
The low point was allowing 350 yards on the ground to an FCS in-state school, The Citadel, in a 23-22 home loss. In that game, two Bulldogs cracked the 100-yard mark. Eleven other players accomplished that feat against the Gamecocks in 2015 as well.
The new coaching staff, led by the defensive minded Will Muschamp, brought in 10 players for the front seven in this year's recruiting class with an eye towards remedying the problem.
The numbers suggest that there is plenty of work to do in that area:
2015 STATS
Rushing yards allowed per game (SEC rank): 217.4 (last)
Most yards allowed in 2015: 396, LSU
Rushing TDs allowed (SEC rank): 26 (last)
100-yard rushers allowed: 13
FRONT SEVEN
Skai Moore's neck injury is a blow to a linebacker corps that was poised to be a potential position of strength for new coordinator Travaris Robinson's defense. But despite the loss of the team's best defensive player — and the leader in both tackles and interceptions in 2015 — all is not lost at the position.
Seniors T.J. Holloman (63 tackles, 2 INT) and Jonathan Walton (43 tackles, 1 sack), as well as junior Bryson Allen-Williams (23 tackles, 1 INT) have experience in the middle and on the strong side, and either Holloman (below) or another senior, Larenz Bryant, will get first crack at filling Moore's spot on the weak side.
Moore's injury could also mean that true freshman and Columbia native T.J. Brunson finds his way into the rotation a little sooner than perhaps was intended.
The defensive line is a different story. Despite three starters and two more players from the two-deep roster for the season finale returning to campus this fall, the wave of newcomers and a few other roster holdovers has thrown the entire lineup into flux.
The new staff is adamant that the best players will play, no matter how young. And, according to Muschamp, he's going to need plenty of bodies.
"Big guys in the Southeast, especially early in the year, I don't ever want those guys playing more than eight snaps in a row," he told The State newspaper. "Once a big guy runs out of gas, he's done. You're not going to get him back. The most exerting thing you do in football is pass rush. So if you play a team that's throwing it a lot and you rush the passer a lot, then you get no pass rush."
The post spring depth chart featured only one of those returning players, Marquavius Lewis in the starting lineup at defensive end. Lewis (pictured) had 45 tackles, 4.5 tackles for loss and three sacks last season. Darius English (28 tackles, six tackles for loss, four sacks) is listed as a reserve at the other end spot.
Early enrollee Keir Thomas and redshirt freshman Daniel Fennell are in the mix at defensive end while Kelsey Griffin, Taylor Stallworth, Ulric Jones and Abu Lamin occupy the tackle slots on the current depth chart. Of that group, only Grffin and Stallworth have any significant experience.
Boosie Whitlow, a lanky and athletic defensive end who showed flashes last season, could line up as a "Buck," or a defensive end/linebacker hybrid.
Aside from Thomas, a few more of the incoming freshmen will likely need to play in 2016 to provide the sort of depth Muschamp wants. Kobe Smith, Darius Whitfield and Aaron Thompson are the most likely candidates.
Secondary enforcer
With the graduation of Isaiah Johnson and T.J. Gurley, who combined for 133 tackles in the secondary last season, the Gamecocks will be looking for new players to step forward from the safety spots to help the running game.
Jordan Diggs (48 tackles) made 10 starts at strong safety last fall, but missed the spring with a shoulder injury. Diggs (pictured) figures to get the opportunity to reprise his role in 2016.
Seniors Chaz Elder and Chris Moody played sparingly last season but find themselves in the mix for the starting spot at free safety. Chris Lammons is listed as a starter at corner, his natural position, and free safety coming out of spring, so he may wind up in the safety rotation when the season gets rolling.
GREATEST CONCERN
Does an influx of talent, both coaching-wise and on the field, counterbalance what seems destined to be a lack of experience on the defensive front?
Stopping the run starts on the line, and aside from Lewis and English, every name on the spring depth chart and any other player who could be added in the summer is either a freshman, undersized, lacking college experience or some combination of the three.
Creating a cohesive and effective unit from this many new faces while introducing a new scheme will be a tall order for the coaching staff. How well they manage it could hold the key to any improvement against opposing rushing attacks.
ONE STAT THAT MUST IMPROVE
With such dismal overall numbers, picking one that needs improvement is a bit of a challenge. But the Gamecocks could be better in the middle of the field.
In 2015, the South Carolina defense faced 137 rushing plays from its 40-yard line to the opponents' 40-yard line. On those plays, the Gamecocks were last in the SEC by a wide margin in yards allowed (776), average yards per carry (5.7) and rushes of at least 20 yards (10).
This quick change in field position often led to points, which put pressure on an offense that was unequipped to handle it.
BETTER OR WORSE IN 2016?
If we were just talking about the scheme or the players running it, it would be tough to find many reasons for optimism for the South Carolina run defense in 2016.
But this unit doesn't exist in a vacuum, and a few other things suggest that the overall numbers could be better.
First, the Gamecocks trade North Carolina, UCF and The Citadel for East Carolina, UMass and Western Carolina in the non-conference slate. UMass and UCF are both below average FBS foes, but ECU and Western Carolina won't bring the same sort of running attack that UNC and The Citadel (pictured) did last season.
LSU dropping off the schedule doesn't hurt, either. UNC, LSU and The Citadel combined to rush for 954 yards and seven scores against South Carolina last year.
The other factor is an improved offense. No matter who wins the quarterback derby, it's safe to say that the team should be able to move the football more consistently. Not constantly being behind, which increases opposing running attempts, should help improve the overall stats.
The makeover of the Gamecocks' defense is by no means complete, but 2016 could be a good first step when all the final stats are tallied.