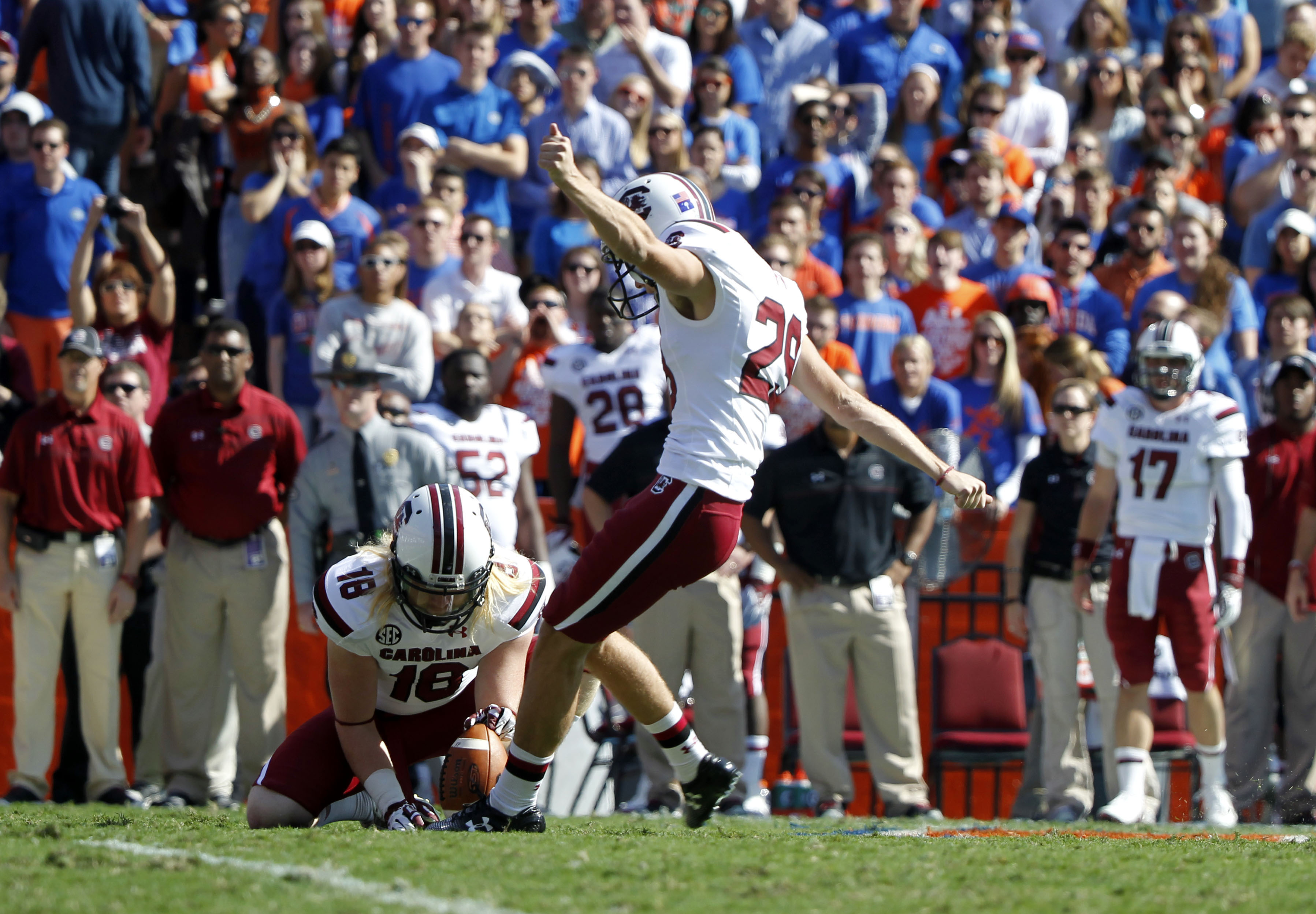 SOUTH CAROLINA
Better/Worse in 2016: South Carolina special teams
If there could be a silver lining from South Carolina's 3-9 campaign in 2015, it would have been the special teams units.
Both the place kicking and punting were solid and the coverage teams ranked near the top of the conference. Aside from lacking a home run threat on punt returns, there really wasn't much to complain about.
With a new coaching staff and a host of newcomers, it will be interesting to see if the Gamecocks can replicate that sort of success in 2016.
2015 STATS
FG-A: 20-28
Longest: 52 yards
Punting average (SEC rank): 44.3 (4th)
Kickoff return avg (SEC rank): 23.4 (3rd)
Kickoff return TDs (SEC rank): 1 (tied for 2nd)
Punt return avg. (SEC rank): 4.6 (13th)
Punt return TDs: (SEC rank): 0 (tied for last)
Kickoff/punt return TDs allowed: 0 (tied for first)
The KICKER
Elliott Fry made 20 of his 28 field goal attempts and all 25 of his extra point tries. His success rate on field goals (71.4 percent) ranked near the bottom of the SEC, but seven of his eight misses came from at least 40 yards out.
His percentage has dipped in each of the last two seasons, however, so he'll be looking to reverse that trend as a senior. He'll have the advantage of working with the same snapper (Drew Williams) and holder (Sean Kelly) that he did last fall.
How ever he fares in his last season in Columbia, he'll be having a good time doing it.
The PUNTER
When he isn't holding for Fry, Kelly handles the punting duties. He averaged 44.3 yards per punt in 2015, ranking near the top of the SEC.
He had 14 punts of at least 50 yards, pinned opponents inside their 20 25 times and did all of that with only four touchbacks.
He was one of the league's best in 2015, and should be right there again.
The RETURNER
Rashad Fenton didn't return a kick until Week 6, but finished the year with the fourth-highest kick return average in the league at 26.1. He may get a little more work in the secondary as a sophomore, which may mean some more opportunities for the speedy A.J. Turner on kick returns.
Fenton, Turner and Chris Lammons are all in contention to replace Pharoh Cooper as the punt returner, and it shouldn't be tough to boost the numbers in that department.
COVER TEAMS
The Gamecocks finished in the top half of the conference in kickoff return coverage, allowing 19.1 yards per attempt. They were also one of the 11 SEC teams not to allow a kickoff return for a touchdown in 2015.
The punt coverage unit was also effective, ranking fifth in the league while allowing 8.1 yards per return. New special teams coach Coleman Hutzler, a member of Jim Harbaugh's coaching tree with stops at Florida, New Mexico and Boston College, will try to keep the return units strong in his first season at South Carolina.
SPECIAL MOMENT
On Oct. 10 at LSU, Fenton settled under a kickoff for his first time as a college player. He caught the ball at the 4, took a couple of steps to the left, and then found a gaping hole in the middle of the Tigers' coverage team.
Ninety-six yards later, Fenton produced South Carolina's first kickoff return for a touchdown since Matthew Thomas' effort against Virginia in 2002.
It was a bright spot in an otherwise forgettable day for the Gamecocks in Tiger Stadium.
ONE STAT THAT MUST IMPROVE IN 2016
South Carolina's punt return unit needs to take a step forward. Last fall, only Ole Miss averaged fewer yards per return than the Gamecocks' 4.6 and it's been three full seasons since the team returned a punt for a touchdown (Ace Sanders, 2013 Outback Bowl).
Cooper had a heavy workload with the offense last season, which may have limited his effectiveness on punt returns. This year's returner isn't likely to face that issue.
Field position matters, and getting a little more out of this unit would go a long way toward helping the new-look offense.
BETTER/WORSE IN 2016
Sometimes, a team's stats will dip in some areas slightly without causing much of an impact on its record. That's likely in store for South Carolina's special teams units this fall.
Fry and Kelly should post similar numbers, while the kick return numbers should also hold steady. And it will be a surprise if the punt return numbers don't improve a bit as well.
It seems unlikely, however, that the kickoff return teams will fare as well again. In 2015, the Gamecocks faced a league-low 15 kickoff returns and ranked near the bottom in the SEC in punt returns faced with 10.
Kelly may be able to keep the punt returns down to a similar number, but any improvement from the offense will lead to more kickoff returns for opponents — and that is likely to hurt the average a bit.
Special teams weren't a problem for South Carolina in 2015, and even if the stats dip a little, those units should be solid again this fall.