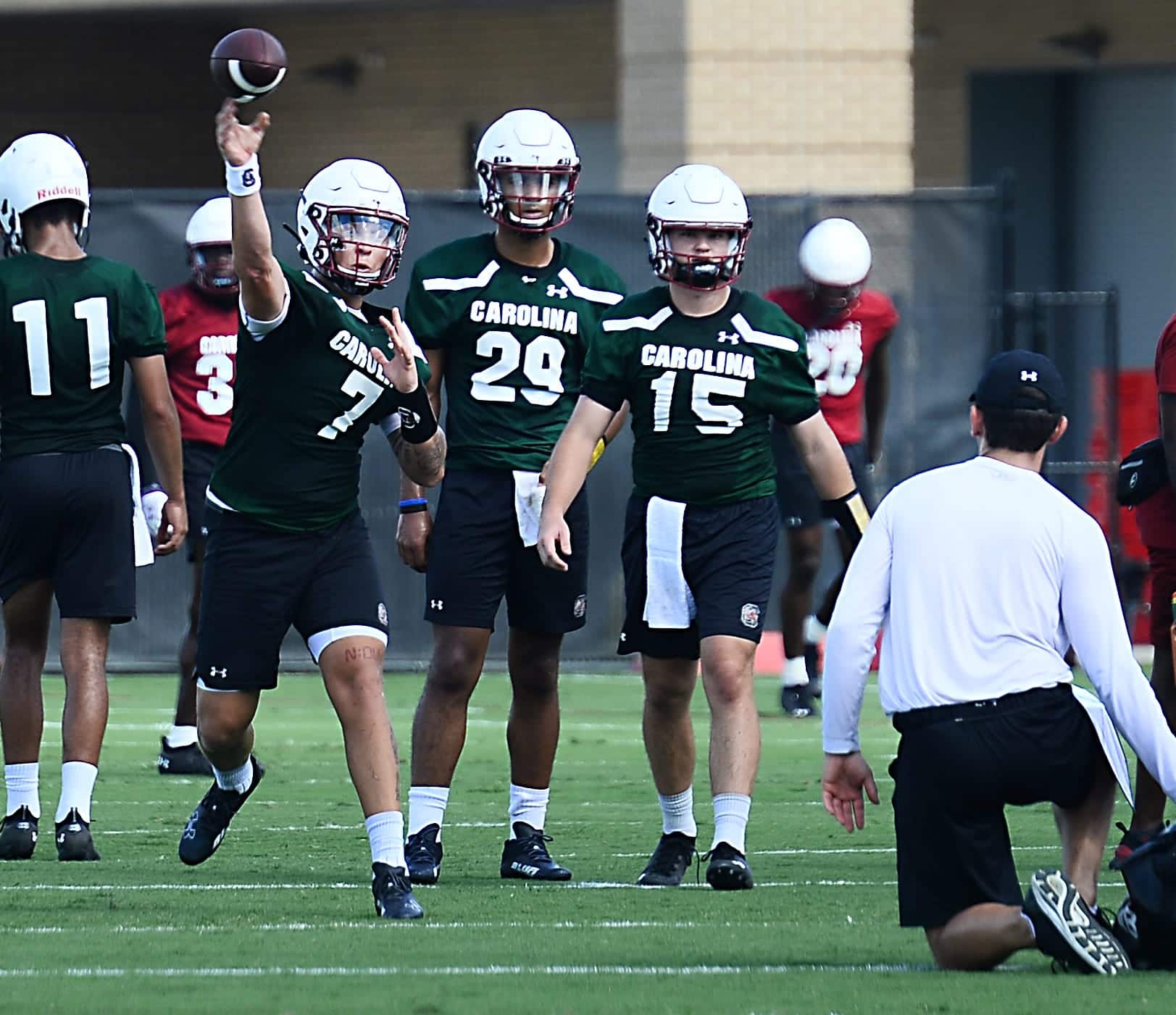 SOUTH CAROLINA
Hayes: Shane Beamer rebuilt South Carolina for games like Georgia
It was this time last year when the video went viral, and Shane Beamer let everyone know what the rest of college football would soon deal with in Georgia.
He ran his hands through his hair, and looked like he wanted to puke after the third game of his first season as the South Carolina coach ended with a 27-point loss.
"They've got like 100 5-star football players on their defense," Beamer said of the Georgia defense. "There wasn't some magical scheme they came out with. They're really freaking good."
Translation: We have to get better talent. Quickly.
So Beamer and his staff patchworked a 7-win season in 2021 — still an unreal thought considering they used 3 quarterbacks who had no business playing in the SEC — and immediately got to work on 2022 with an eye on this game.
Look, if you're going to get better, if you're going to drastically change what you do and who you do it with, what better bar to reach than the one in your division with "100 5-star players" on defense?
In early December, Beamer sold Oklahoma tight end Austin Stogner on playing in Columbia, not knowing that Stogner would soon convince former Oklahoma quarterback Spencer Rattler to visit South Carolina. By the second week of December, both had committed to play for the Gamecocks.
The first big steps to completely changing the face of the offense were complete. Soon after that in early January, Antwane "Juice" Wells — the No.1 receiver in FCS at James Madison — committed to South Carolina, and 2 days after that, Wake Forest tailback Christian Beal-Smith joined.
In less than 6 weeks since the end of the 2021 season, Beamer and his staff reshaped the offense and went from cobbling together first downs and points in 2021, to big dreams of throwing the ball vertically and stressing defenses.
Even those defenses with 5-star guys.
"If we're going to be what we want to be, we have to show up in the big games," Rattler told me earlier this summer. "That's why we all came here."
That begins Saturday in Columbia.
The new offense is a week removed from another big game last week at Arkansas, when too many mistakes — too many dropped passes and missed opportunities, including 2 deep balls by Ahmarean Brown — led to an ugly loss.
This offense is still learning to play together, still trying to find consistency with an offensive line that struggles to set a tone. Beal-Smith wasn't healthy late in fall camp and doesn't have a carry.
WR Corey Rucker, who had 9 TDs last year at Arkansas State, still hasn't gotten on the field because of injury. Moreover, the keys to last year's offense — WRs Josh Vann and Dakereon Joyner — have barely played and haven't yet found their role.
It's a collection of talent that has been around each other for 1 offseason and is trying to live up to expectations of foundational change. With some bruised egos.
"Last year is over," Beamer said. "Whatever the crap happened in 2021 with our football team, you don't just get the right at any position — offense, defense, special teams — to automatically just assume that role."
Now here they are in a moment they've all waited for: the big stage against the defending national champions in front of a raucous home crowd.
At some point, it will click for this offense, for a collection of talent thrown together to force change. Players will find roles and comfort, playing fast will take over and someone — maybe even Georgia — will have to deal with a dangerous offense.
Rattler made 8-10 terrific throws against Arkansas — NFL throws — but has spent much of the first 2 games of the season avoiding pressure. He has been sacked 9 times already.
Wells might be the most productive receiver in the SEC this season. He already has 15 catches and is averaging 16.3 yards per catch. He's a legit deep threat and has the dynamic ability to take a 5-yard hitch and turn it into an explosion play.
Now, reality: Despite the record number of NFL Draft picks from last year's Georgia team — including 5 from defense in the first round — there's little difference between last year's crazy good defense and this year's group.
One NFL scout told me this week the Georgia defense, "looks like the same guys with different numbers. It's uncanny."
But Beamer didn't build this offense with the idea of avoiding Georgia and zeroing in own the rest of the SEC. He's coming at the Bulldogs.
"There's a great belief in our program," Beamer said. "I don't have to rally them to make them believe. They believe. I don't have to sit here and convince these guys that we can win the football game. We have a bunch of competitive dudes who can't wait to go and compete on Saturday."
That, of course, is better than the alternative: Puking at the thought of the Georgia defense.