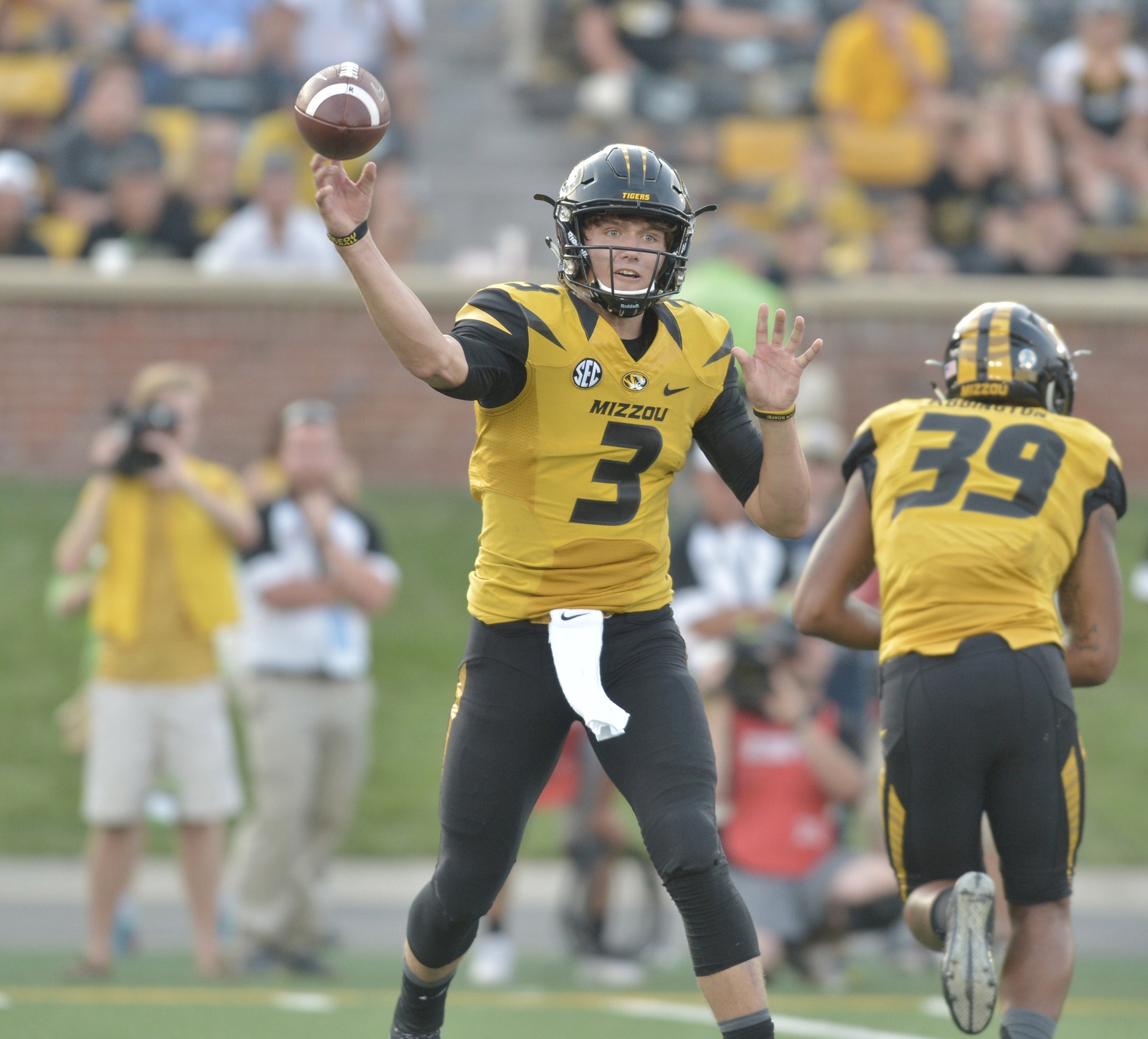 SOUTH CAROLINA
Position-by-position edge: South Carolina-Missouri
Taking a position-by-position look at Saturday's matchup between South Carolina and Missouri at Memorial Stadium (noon ET, SECN):
QUARTERBACK — South Carolina: It's tempting to call this a push, but I'm going to give a slight edge to the Gamecocks. Both Lorenzo Nunez and Drew Lock are true freshmen. Both were highly touted recruits, Lock slightly more by most services. Both have put up similar passing stats. Lock has a few more yards (225-202) while Nunez has one more touchdown (2-1) and no picks (Lock has one). Two stats nudge this in South Carolina's favor: Nunez has made a start, while Lock has not. And Nunez is far more mobile, rushing for 123 yards in the win over UCF last week.
RUNNING BACKS — South Carolina: Brandon Wilds won't play in this game for South Carolina, but Shon Carson and David Williams have combined for more yardage with fewer attempts than their Missouri counterparts Ish Witter and Russell Hansbrough (267-236). To be fair, Hansbrough has battled an ankle injury all season, skewing the stats more than a little. If he were fully healthy, he'd be enough to tip this matchup back in the Tigers' favor. South Carolina is hoping that his return to 100 percent happens later, rather than sooner.
WIDE RECEIVER, TIGHT ENDS — Missouri: South Carolina's Pharoh Cooper is the best receiver in this game for either team, but Missouri boasts a little more variety. Receivers J'Mon Moore (13-154, 2 TD) and Nate Brown (11-159, 2 TD) should offset the injury absence of tight end Sean Culkin (knee). Culkin's likely replacement, Jason Reese, has four receptions for 45 yards this year, with three coming last week. Cooper has been solid with 17 grabs for 220 yards and two scores, but he has two more catches than every other wide receiver on the roster combined. Tight end Jerell Adams (9-132, 1 TD) is the team's second-leading receiver.
OFFENSIVE LINE — South Carolina: The Gamecocks offensive line has allowed only five sacks this season and is clearing the way for almost 210 rushing yards per game. Center Alan Knott, injured two weeks ago, is not likely to play, but freshman Zack Bailey has performed well in his absence. The Tigers are last in the SEC in rushing with 108.5 yards per game and have allowed seven sacks in four games. Starting right tackle Nate Crawford won't play with an ankle injury, pushing Taylor Chappell from left guard to right tackle (where he made 10 starts in 2014) and adding senior Brad McNulty to the lineup at left guard.
DEFENSIVE LINE — Missouri: The Tigers have been a bit better than South Carolina up front so far this season. Missouri leads the SEC in total defense and defensive ends Charles Harris and Walter Brady each have three sacks on the season. South Carolina is 13th in total defense and 11th against the run. However, the Gamecocks do have five defensive linemen with at least one sack while Dante Sawyer leads the team with two.
LINEBACKERS — Missouri: I'm going to assume that Kentrell Brothers plays with his sore ankle. Otherwise, I'd go the other way here. Brothers leads the nation with 52 tackles and also holds the team lead with two interceptions. Michael Scherer (24 tackles) and Donavin Newsom (19 stops) round out an experienced group. Skai Moore is the standout for South Carolina, with 40 tackles and a team-high three interceptions. Jonathan Walton has battled several nagging injuries this season on his way to 20 tackles. T.J. Holloman also has 10 tackles and two picks on the season.
SECONDARY — Missouri: The Tigers lead the SEC in pass defense and are 13th nationally. Corners Aarion Penton and Kenya Dennis have combined for 32 tackles and three pass breakups while Ian Simon (12 tackles) and Anthony Sherrils (17 tackles, 1 INT) start at the safety spots. Jordan Diggs has the lone interception for the South Carolina defensive backs this season, but Isaiah Johnson, T.J. Gurley and Al Harris Jr. are all in the top five on the team in tackles.