SOUTH CAROLINA
Shane Beamer explains why he called out CFB writer over Duke's Mayo Bowl
Shane Beamer did not appreciate when CBS Sports reporter Dennis Dodd mocked the mayonnaise bath that followed the Duke's Mayo Bowl. The two have since buried the hatchet, but Paul Finebaum wanted to talk about the exchange with the South Carolina head coach.
Beamer recently appeared on "The Paul Finebaum Show."
"I sent that," Beamer said of his 'find some joy' quote-tweet of Dodd. "We won the game and I was certainly excited about the win. Was driving back on Interstate 77 with my wife and children on the way back to Columbia and saw that tweet. And it wasn't so much, I certainly added that to the end because of the expectations that a lot of people didn't think we could accomplish this year. But more so, the whole reason for that tweet, Paul, was in my mind, it was diminishing what our kids accomplished."
"The joy that I saw on that field after the game and the joy that team had in the locker room. I mean, to win seven games here at South Carolina after we hadn't been to a bowl game in a few years, that was a big, big deal for South Carolina football," Beamer added. "And a big, big deal for our football program and the players on our team. I know how excited they were about that win and I took that tweet of his to insinuate that he was making light of it, that bowl games aren't good. People want to talk about there's too many bowl games. All you had to do was watch our game and see the joy and passion that our players played with."
Dodd said he would cite the mayo bath when talking about whether some bowl games were relevant, which rubbed Beamer the wrong way. The South Carolina head coach called Dodd miserable, reminded the CBS writer of his preseason prediction and hashtagged "Find Some Joy," which became a t-shirt promoted by the team.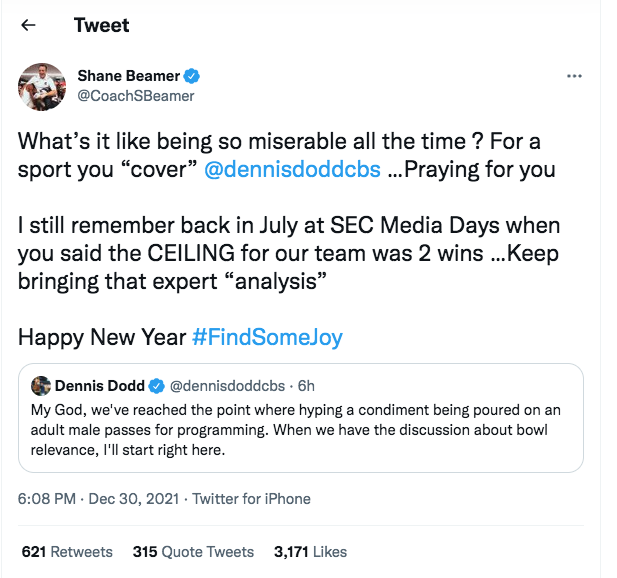 It didn't take long, however, for the 2 to talk things out.
I called @CoachSBeamer on Friday. Glad we were able to catch up today. Great conversation. Looking forward to the new year for coach and @GamecockFB. Onward and upward. https://t.co/HALexBWVlh

— Dennis Dodd (@dennisdoddcbs) January 2, 2022
[H/T On3]