Shane Beamer says he had 'good conversation' with reporter he called out over Duke's Mayo Bowl coverage
Shane Beamer and Dennis Dodd appear to have patched things up. The South Carolina head coach and CBS Sports reporter each tweeted Sunday that they had a positive conversation days after the "find some joy" tweet.
While many college football fans enjoyed the "mayo bath" storyline of Dec. 30's Duke's Mayo Bowl, Dodd wasn't a fan. In a since-deleted tweet, Dodd took a shot at the big deal surrounding the mayonnaise being dumped on the winning coach and wrote, "When we have the discussion about bowl relevance, I'll start right here."
Beamer took exception to Dodd's tweet and did not hold back, calling him miserable, dunking on his preseason prediction for South Carolina and asking him to "find some joy" in the New Year.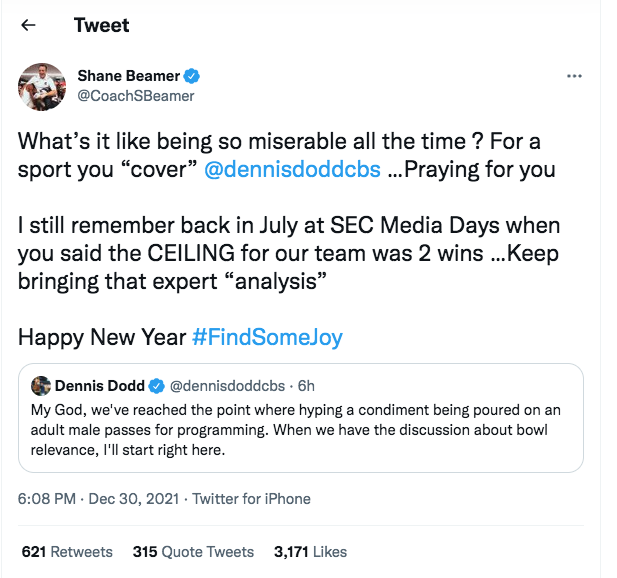 On Sunday, Dodd and Beamer each tweeted about a phone conversation. Beamer called it "good" while Dodd said it was "great."
I called @CoachSBeamer on Friday. Glad we were able to catch up today. Great conversation. Looking forward to the new year for coach and @GamecockFB. Onward and upward. https://t.co/HALexBWVlh

— Dennis Dodd (@dennisdoddcbs) January 2, 2022
No word if Dodd got a free Find Some Joy t-shirt.
There's never been a better time to #FindSomeJoy 😎 https://t.co/iG1C6onOgF pic.twitter.com/5RSttxixph

— Gamecock Football (@GamecockFB) January 1, 2022