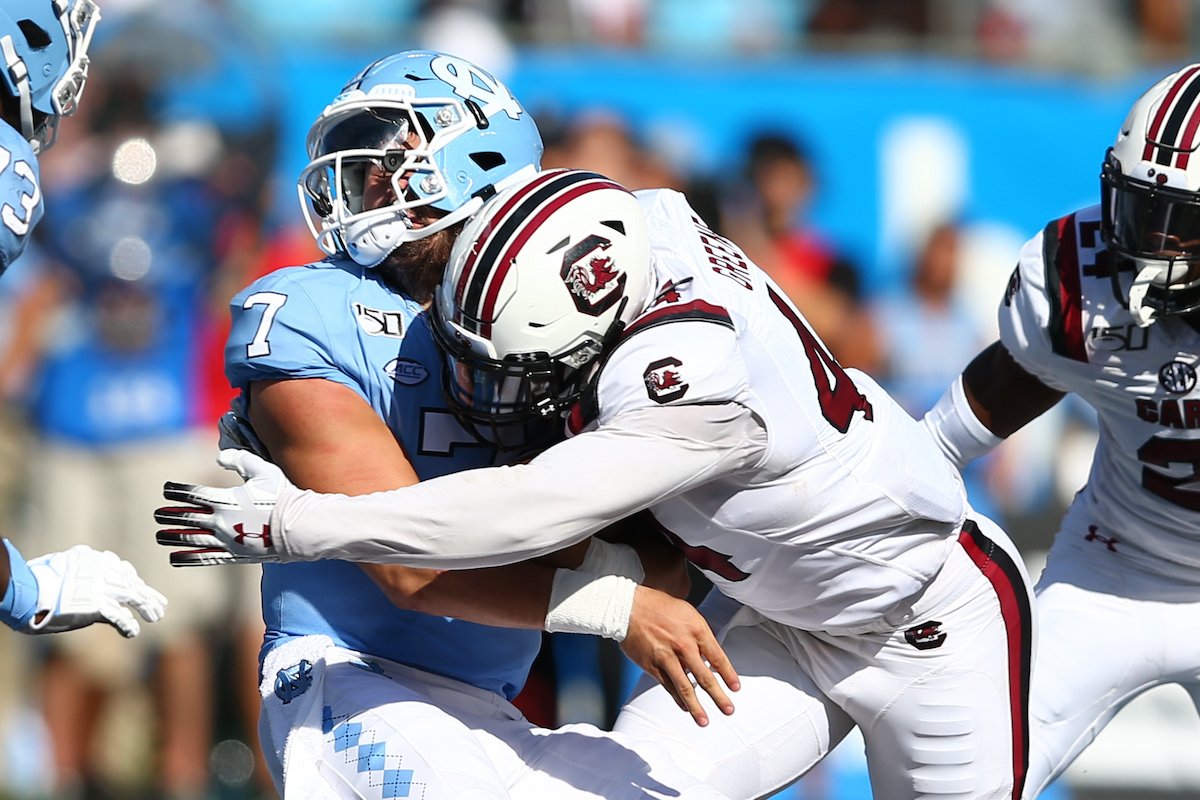 SOUTH CAROLINA
Skeptic's guide to South Carolina's 2022 season
The Shane Beamer era will begin to take shape this season. Was the 2021 season, which exceeded expectations, the beginning of a special run? Or was it an aberration?
The Gamecocks are projected to win 5.9 games this season, according to ESPN's Football Power Index, and despite the expected preseason ranking, most national viewpoints see the Garnet and Black taking a step back this season from the 7 wins of 2021.
If that's true, here are 6 reasons the Gamecocks will fall short this season relative to last season:
Spencer Rattler can't do it alone
Arguably the biggest quarterback transfer in the country, the Gamecocks are putting a lot of weight on Rattler's shoulders to help the program reach the next step. Many of the following issues will fall at Rattler's lap, as he can only carry this program as far as his supporting cast allows him, and given the options available out wide, in the backfield and protecting him, Rattler and the Gamecocks still have plenty to prove.
After all, to be the next coming of Connor Shaw takes a strong roster and several things outside of his control. Remember, Jake Bentley and Ryan Hilinski were each viewed positively, either after their first few games as a starter, or coming out of high school as a recruit.
The first 6 games will reveal the kind of offensive coordinator Marcus Satterfield is, and whether he learned any notable changes to make from being in the program for a year now. Having a winning record with Arkansas, Georgia and Kentucky on the schedule in the first 6 games won't be easy, especially with 2 of those on the road. Responding to what's expected to be a bruising start will tell a thorough tale about this Gamecocks team.
Offensive line still has questions
It has been just about since the golden days of the Steve Spurrier era that the Gamecocks have had a solid offensive line. In more recent years, it seems they have 1 or 2 All-SEC caliber players, but plenty of questions down the line. There's plenty of experience returning, but that may not be a good thing if they can't elevate their play to a couple of seasons ago when Kevin Harris eclipsed 1,000 yards. Offensive line coach Greg Adkins saw at least 4 games last season quickly reach alarming territory.
But in the current iteration of the SEC East, the Gamecocks should be able to more than hold their own against division defensive lines. The fact that it's not a solid area is concerning, especially when 7 players on the line have starting experience.
Linebacker depth is a concern, too
One of the more veteran linebackers in the SEC returns from last year's season-ending injury in Sherrod Greene. The Gamecocks have another veteran in Brad Johnson. What they really need is Mo Kaba and Debo Williams to step right in, however, that's not automatic. Greene and Johnson have had their share of injuries, and Kaba and Williams are not exactly proven commodities yet.
Getting younger linebackers more experience, and insulating the defense against injuries will be a priority for Clayton White.
Finding WR depth
The Gamecocks rarely have a problem finding a No. 1 wide receiver, and that player is typically among the best in the SEC. The problem comes down the line. Who is the No. 2 option? This year, the plan appears to be Josh Vann, Jaheim Bell, who is arguably the program's most dangerous receiving weapon to start the season, and Xavier Legette. Bell and Legette have the best chance to grow into that complementary role.
This group likely needs a player we're not thinking about right now, be it Ahmarean Brown or Mike Wyman to grow into a supportive role. This will be an interesting position for Justin Stepp and Marcus Satterfield in terms of development and strategy.
Feature back
To the extent primary running backs still exist in the current era of college football, the Gamecocks have several options, but will one establish himself?
MarShawn Lloyd is seemingly the front-runner, but there's also Juju McDowell and Christian Beal-Smith. Will it take a player like Harris to carry the weight of the running game? Lloyd certainly has to prove he's fully back from the knee injury, but everything indicates he is in recent months. The feature running back will go a long way toward keeping pressure off of Rattler, and allowing him to find those multiple receivers beyond the primary target.
Kicker job still open
Replacing Parker White will be one of the more underrated storylines of the upcoming season. You can't just replace the all-time scoring leader and act like it was a smooth transition. For a team that is likely to be in tight games against several division opponents, a clutch kicker is incredibly important.
The first step will be Mitch Jeter or Alex Herrera clinching the job during fall camp. The next step will them delivering when it matters most, and extending the Beamer Ball special teams narrative.