SOUTH CAROLINA
South Carolina returning to long-awaited black alternate uniforms vs. Tennessee?
South Carolina could make its long-awaited return to black uniforms this weekend against Tennessee according to defensive lineman Gerald Dixon who leaked the info during Tuesday's press conference previewing the matchup with the Vols:
Defensive end Gerald Dixon said the team is "supposed" to be wearing some black this weekend. #Gamecocks

— Spurs & Feathers (@SpursFeathers) October 28, 2014
Steve Spurrier fields uniform questions almost weekly on his radio call-in show and it appears the fanbase's request will finally be answered.
RELATED: Gamecocks' 2014 uniform update
South Carolina's official equipment account confirmed the noise, but stopped short of revealing the Gamecocks' expected black on black combination:
If we pull this Houdini magic trick it will be epic, I will say that…

— Gamecock Equipment (@GamecockEquip) October 28, 2014
"Supposed" – generally assumed or believed to be the case, but not necessarily so.

— Gamecock Equipment (@GamecockEquip) October 28, 2014
Before Spurrier's arrival in 2005, black was a primary color on gamedays.
During Lou Holtz's final campaign, South Carolina ditched garnet as its primary color for black and donned black helmets throughout the season for the first time since 1974. South Carolina hasn't worn the black helmets since Holtz's final season ended with a brawl at Clemson.
Under Spurrier, South Carolina has worn white shells throughout and only seven times has taken the field in black jerseys — 2006 vs. Tennessee, Georgia and Mississippi State, Florida (2009), Florida (2007), Kentucky (2007) and Auburn (2011).
South Carolina last donned alternate uniforms at LSU during the 2012 season, debuting Under Armour's battle grey Wounded Warrior combination under the lights in Death Valley.
The Gamecocks haven't worn black jerseys since a 2011 home loss to Auburn when officials made the team switch to its base alternates after camouflage numerals on Wounded Warrior threads were deemed to difficult to read during pre-game warmups.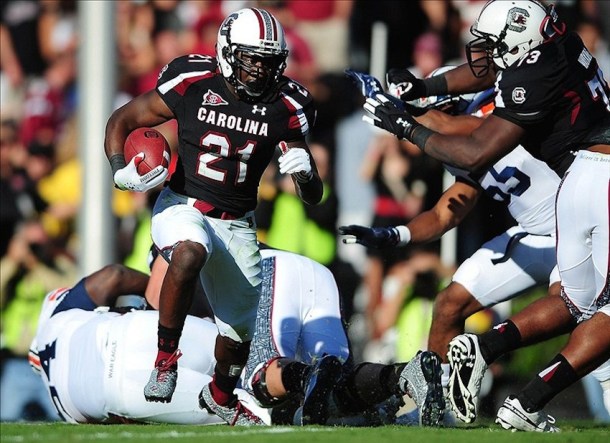 The Vols unveiled black alternate jerseys with orange numbers during a win over South Carolina in 2009, so the Gamecocks are returning the favor perhaps. It was Lane Kiffin's only season in Knoxville.
We've created a potential look for Saturday's game against Tennessee: