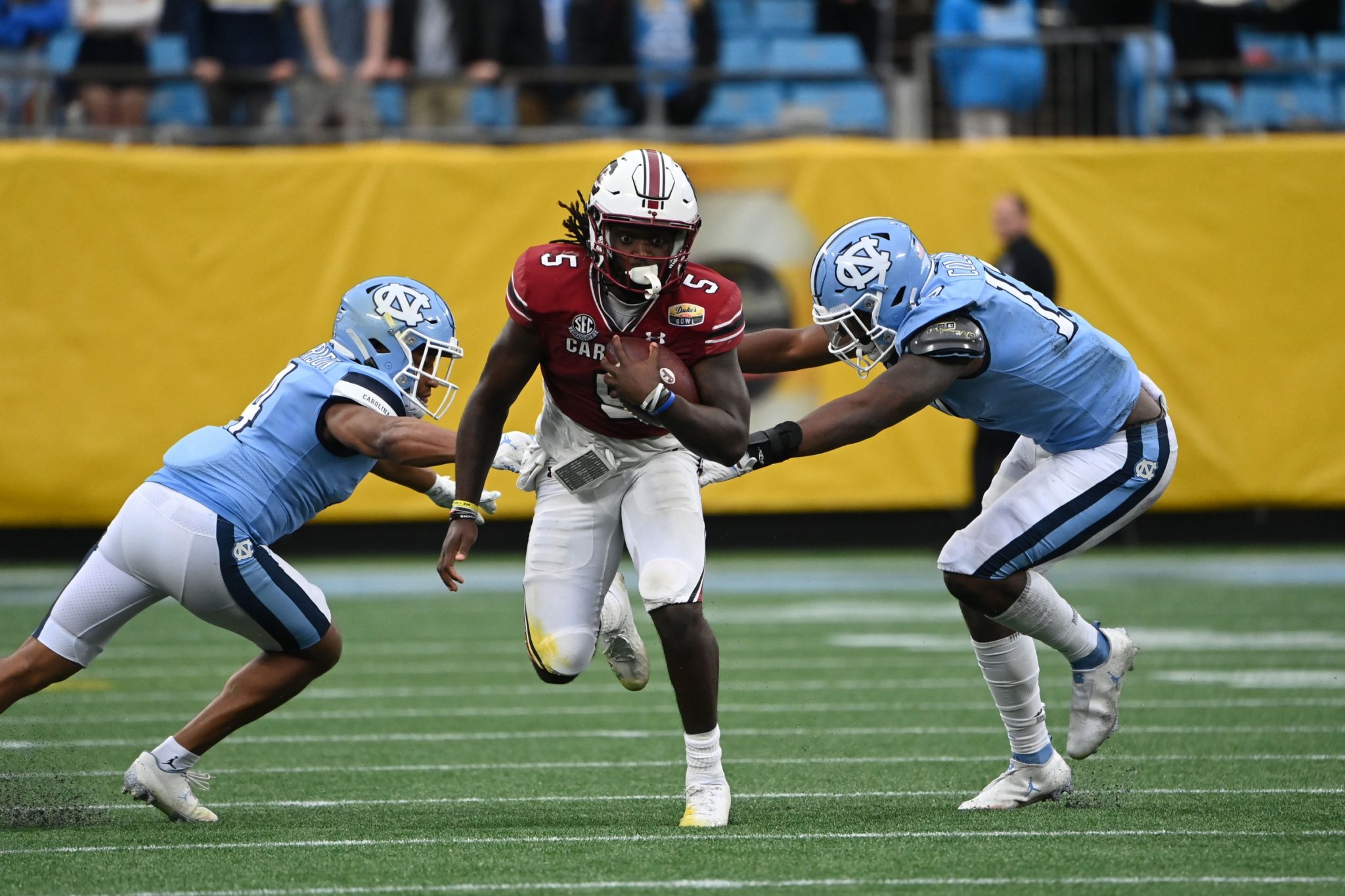 SOUTH CAROLINA
South Carolina football: Dakereon Joyner proves yet again why he's the ultimate Gamecock teammate
Dakereon Joyner has long been known as an unselfish teammate, and one of the best character guys in the South Carolina program. Long before his heroics Thursday in the Gamecocks' 38-21 victory over North Carolina in the Duke's Mayo Bowl.
The clearest picture of his commitment to the program came when he played in one game during his first season on campus in 2018 and took a redshirt. He ultimately moved from third-string quarterback behind Ryan Hilinski and Jake Bentley, to slot receiver. Then after Bentley's injury 2 years ago, he was moved back to QB. Until Thursday, Joyner was most remembered for relieving Hilinski in the huge upset at Georgia also in 2019.
Joyner also battled hamstring injuries and a concussion along the way, but quit never entered his mind. He didn't think about transferring. Or doing anything else besides being a quality teammate. Keep in mind, this is a former Mr. Football from the Palmetto State, and a highly touted dual-threat recruit. He is an outlier among modern quarterbacks who end up second- or third-string in August, and then you look up, and he's smack dab in the middle of the game plan against North Carolina.
Remember, the Gamecocks had Collin Hill and Luke Doty play quarterback in the time between Joyner's snaps at QB. Then the latest move was Jason Brown entering the transfer portal. Five quarterbacks have taken snaps, but none of them put on the kind of show Joyner did against the Tar Heels. There he was in Charlotte, waiting to help the team. It's not a surprise to those who have followed his Twitter feed for nearly 2 years. After all, his Twitter handle is @Cant_StopCinco. No one, evidently, could stop him. Not a coaching staff, or position switches or a bowl opponent's defense.
Confidence thrives on honesty, on honor, on the sacredness of obligations, on faithful protection and on unselfish performance. Without them it cannot live. When GOD says it's SHOWTIME, there isn't a single person that can say CUT. I was never taught to quit something I started! pic.twitter.com/AKqAUifWTw

— Kereon Joyner (@Cant_StopCinco) January 7, 2020
It's the kind of thing that was not overlooked by Will Muschamp, Mike Bobo, and now Shane Beamer, or probably any other coach to walk through the facility. Offensive coordinator Marcus Satterfield is certainly one of those coaches, and he made the call to move Joyner back to quarterback once again.
Beamer after Thursday's game recalled the brief conversation at the beginning of bowl practice when Satterfield said, "Hey, we're going to use DK some at quarterback. And I was like 'OK, that's good. Let's go.'"
Joyner didn't blink.
"He just kind of put the personnel in, going into the meeting, seeing my name on the script, that was that," Joyner said.
By the way he played to beat North Carolina, certainly early in the game, you'd never know Joyner had not thrown a pass in a game since the end of the 2019 season, late in a loss to Texas A&M. Joyner in the bowl game was 9-for-9 passing for 160 yards and a touchdown, and chipped in 10 carries for 64 yards, including a run of 17 yards.
Reflecting back on his last 4 years with the Gamecocks, Joyner said to never give up on your dreams, and while adversity will come, it's how you overcome it. He said he was thankful and grateful for the opportunity.
He credits wide receiver coach Justin Stepp for preventing him from quitting the sport.
"Everything was just kind of not going my way, but I've got a family that prays," he said. "It means everything. I went through so much adversity. I could've quit so many times. It feels like a dream."
Joyner gave us all a lesson we can learn from by his character the last 4 years, and especially how it paid off in Charlotte.