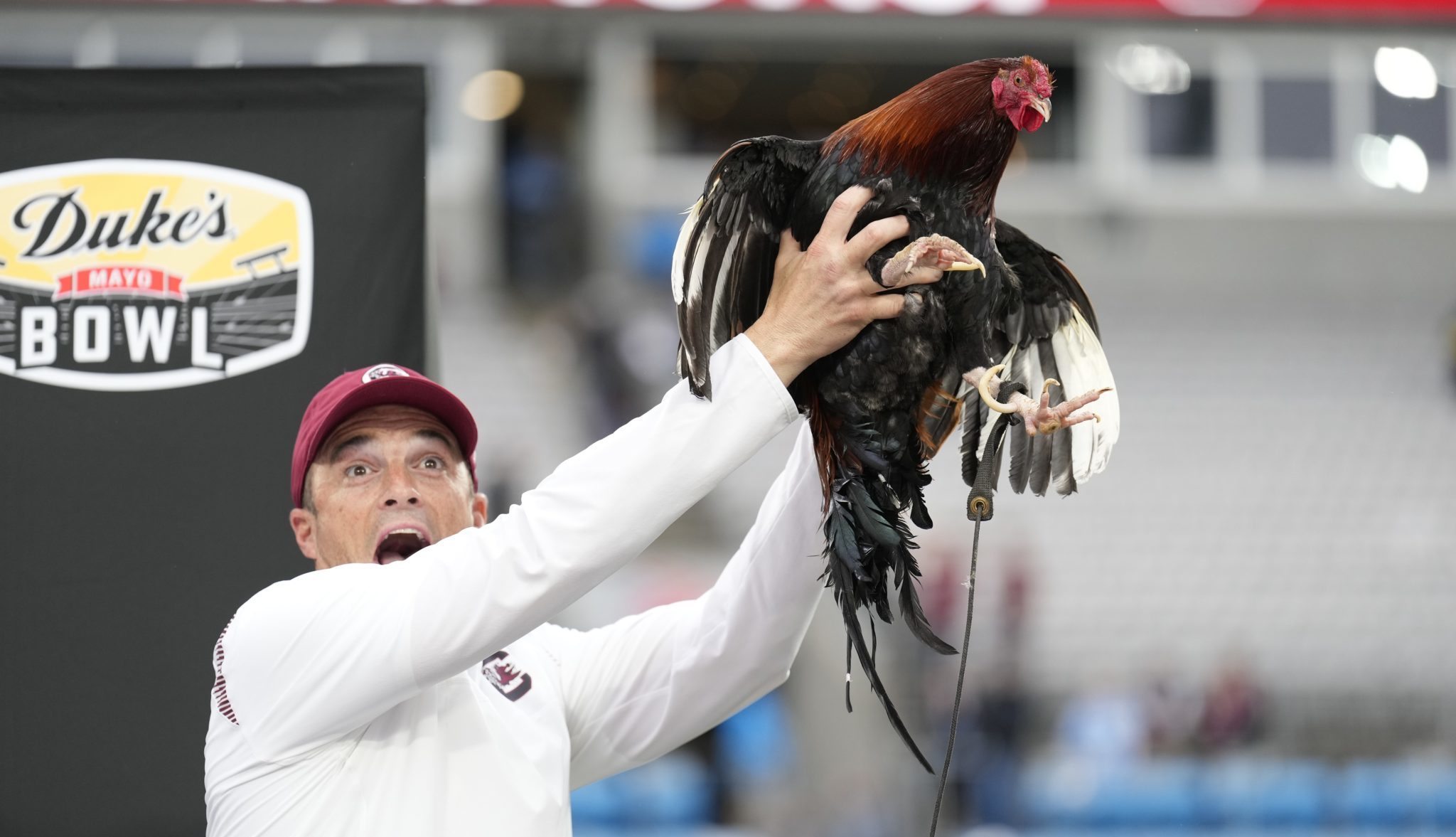 SOUTH CAROLINA
South Carolina football: Way-too-early look at 2022
As Shane Beamer recovers from the Mayo bath he received in Charlotte, the Gamecocks will look to translate that momentum to the 2022 season, and a host of roster upgrades. There's no truth to the rumor that the song of the spring will be a take off on the Def Leopard hit, "Pour Some Mayo on Me!"
South Carolina exceeded expectations in a big way in 2021, as the Gamecocks were largely picked to win 2 or 3 games, and not come close to beating the likes of Florida, Auburn, or win a bowl game — much less get to one — by 17 points.
So, why don't we take a quick look back at the 2021 season and then look ahead to what we should expect from the Gamecocks in 2022?
What worked in 2021
Beamer's message of positive affirmation, staying together and believing in one another ultimately paid off in the end, and the rushing offense fueled those wins over Florida and Auburn.
Clayton White may have had one of the more underrated performances as an SEC coordinator as the defense became a strength, especially in the turnover category. That was highlighted by former walk-on turned star safety Jaylan Foster who not only led the team in tackles with 97, but also produced 5 interceptions, which was among the nation's leaders all season, and finished tied for 4th in America.
The quarterback situation, as fluid and ever-changing as it was, was largely effective, as the silver-screen story of Zeb Noland, from graduate assistant to multi-game starter was one of the best stories of the season. Jason Brown's performance against Auburn, with 3 touchdowns, which got the Gamecocks bowl eligible, was one of several examples of Marcus Satterfield managing 3 quarterbacks who each played in at least 5 games, and Brown and Noland played in 7 games. And then nobody will ever forget Dakereon Joyner's bowl performance. The quarterback-turned receiver returned to QB and went 9-for-9 for 160 yards and a TD. He added 64 yards rushing in a dominant win over rival North Carolina. Joyner is set to graduate and hasn't announced his plans, but he is eligible to return if he so chooses.
ZaQuandre White parlayed a strong spring into an equally impressive regular season to the point that he could elect to opt out of the bowl game in preparation for the NFL Draft.
What didn't work in 2021
The offensive line struggled for most of the year, and was especially a problem in the loss to Texas A&M when the Aggies had 3 sacks. Georgia and Kentucky each had 2 sacks, and 5 tackles for a loss against the Gamecocks. Then the Tennessee game was almost over before it started. By that point, Gamecock faithful wondered after the 2-2 and 3-3 start if it was more of the same from the Will Muschamp years of not stringing together multiple solid performances.
The offensive line was a main reason Kevin Harris, despite a huge bowl game, finished with just 657 rushing yards and 4 touchdowns. Without his 182 yards in Charlotte, the Gamecocks were barely over 1,000 rushing yards from their top 2 backs.
As well as White and the defense did, Marcus Satterfield was equally troubling, even to the point where play-calling was called into question, and his future with the program was a topic near the end of the season.
QB situation
With Brown entering the transfer portal, and Noland going back to his budding coaching career, the depth chart should look like Oklahoma transfer Spencer Rattler, Luke Doty provided his foot injury is healed, and Colten Gauthier.
Rattler, a 2021 preseason Heisman Trophy candidate, will look to reset his career in the minds of NFL scouts and rekindle the magic that helped him throw for 28 touchdowns as a redshirt freshman for Oklahoma in 2020 before he lost his starting job to Caleb Williams.
Key losses
The Gamecocks are losing a good portion of the top players on defense, from Kingsley Enagbare and Aaron Sterling up front, to Foster on the back end. (There was some good news, however, when Zacch Pickens announced he was returning.) Then there's WR Josh Vann, who easily led the team in receiving, and was the only consistent target early on, plus Nick Muse and his experience and leadership at tight end. White's versatility will be missed.
Also, Parker White, who became program's all-time scoring leader, will be difficult to replace, as he hit 16-of-17 field goal attempts this past season.
Key returnees
Juju McDowell and MarShawn Lloyd will provide a natural thunder and lightning-type duo, as they each flashed in 2021, and will be given more responsibility going forward. Pickens will anchor the d-line. Cam Smith at cornerback is another reliable option as he was one of the better cover corners around, and a stabilizing force in the secondary. He made 3 interceptions, and had 11 pass breakups.
On the offensive line, Vershon Lee, Jovaughn Gwyn and Tyshawn Wannamaker, who was named an All-SEC pick by the coaches, will be the foundation of a mostly revamped offensive line. For the defensive front, Jordan Burch, T.J. Sanders and Mo Kaba are among the key players back. Nick Barrett is a 300-pounder who saw time in 9 games, so that's solid experience.
Key recruits
The Gamecocks have signed 4 recruits who are rated as 4-stars in the class of 2022. The top 2 recruits in the 2022 signing class were QB Tanner Bailey and DB Keenan Nelson Jr. Nelson is a 4-star and versatile to play around the back end, and the Gamecocks beat out the likes of Penn State, Georgia and Oregon for him.
Another key newcomer will be former Oklahoma TE Austin Stogner, who played a major factor in landing Rattler, and who Beamer used to coach at Oklahoma. Stogner was slowed by a serious infection following a thigh bruise, but it's easy to see how the 6-foot-6 and 251-pounder could slide into a Nick Muse or Jaheim Bell role, or better yet, be a dual-threat with Bell. In 2020, Stogner made 26 catches for 422 yards and 3 touchdowns in just 8 games.