SOUTH CAROLINA
South Carolina staffer calls out Ole Miss fans, alleges despicable behavior
A South Carolina staff made serious accusations against Ole Miss fans following the Gamecocks' 59-42 loss at Ole Miss.
Jessica Jackson, the Director of On Campus Recruiting at South Carolina, tweeted late Saturday night that Ole Miss "fans are absolutely trash. It's embarrassing how they have spit on us, thrown trash at us and even had a fan jump on the field and charge us. Disgusting place."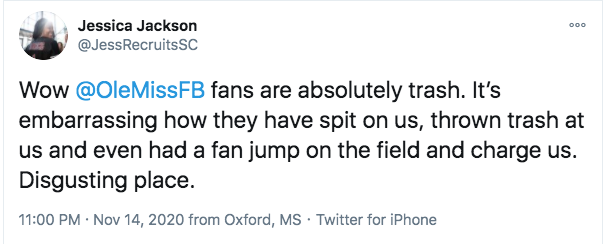 It was unclear when or where this might have happened as it didn't interrupt the game, or lead to any obvious distractions on the sideline. But by raising these accusations, it's clear that both programs will look into it, and the SEC office could understandably get involved to conduct some kind of investigation.
In terms of the game, it was an offensive shootout.
Ole Miss rang up 708 yards of offense, including 513 passing yards for QB Matt Corral, who had four touchdown passes.
South Carolina RB Kevin Harris' 243 rushing yards on 25 carries for five touchdowns was overshadowed by the points and yards given up by the defense.
Ole Miss is scheduled to play Texas A&M next week, while South Carolina is set to meet Missouri.