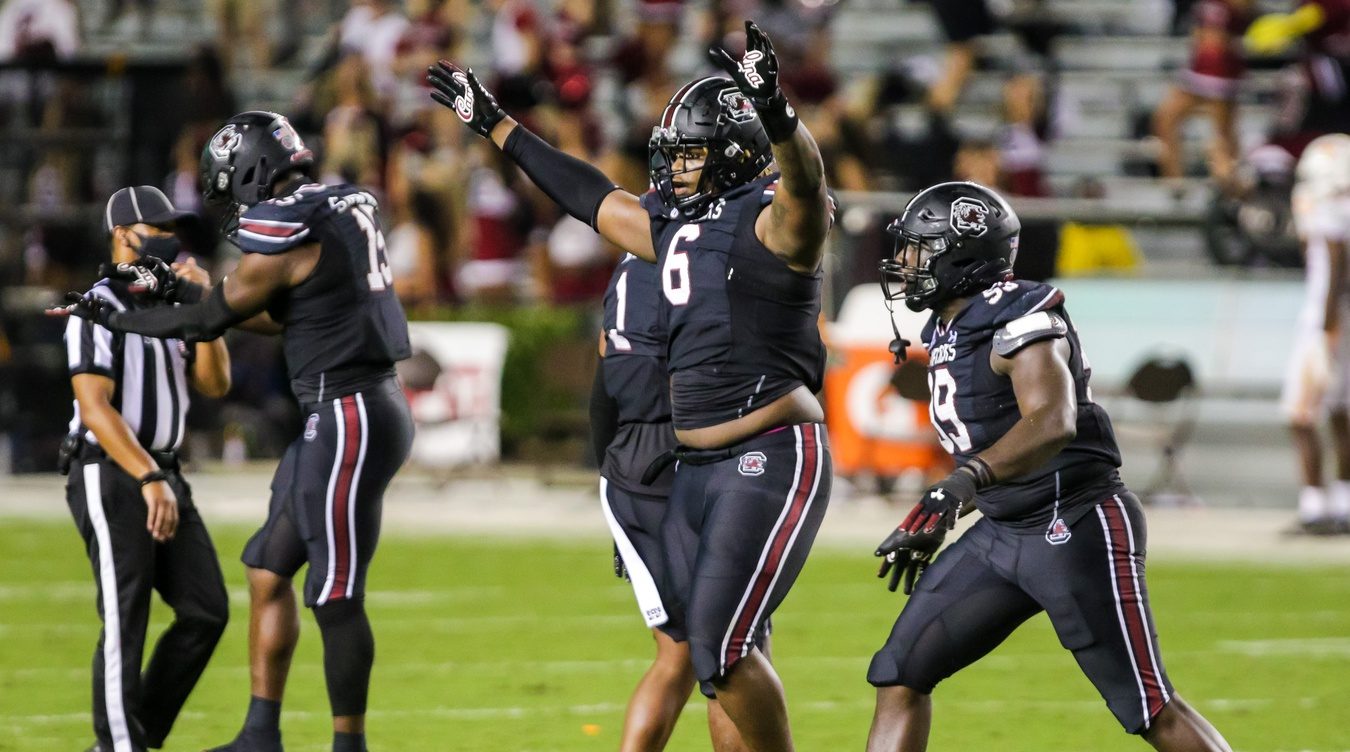 SOUTH CAROLINA
South Carolina's young defensive linemen delivering early production, but Will Muschamp wants more
They have not yet cracked the starting lineup as South Carolina continues to lean on its depth along the 8-deep defensive line. But the Gamecocks' 5-star prospects (Jordan Burch and Zacch Pickens), and another blue chip (Tonka Hemingway), have made their presence felt in 2 games.
The good news, for the most part, is the starting lineup is producing, as Aaron Sterling, Keir Thomas, Jabari Ellis and Kingsley Enagbare have raised little alarm, especially for an 0-2 team. That's allowing the young stars to emerge at their own pace, which is standard at places like Alabama, LSU and Georgia.
After the Florida loss, coach Will Muschamp spoke about the defensive line.
"We've got to be more firm, got to get more knock-back up front," Muschamp said. "Too many times they got a surge on us. They're a bigger group on the offensive line. It's a good offensive line. We've got to get more knock-back and hold point better up front than we did, consistently. We did at times and we did well, but I don't know, consistently, that we did that."
Enagbare has 12 tackles, 2 sacks, 2.5 tackles for a loss and a forced fumble. Thomas has 8 tackles, including a sack. Ellis and Sterling have made plays, too. Overall, 4 of the 10 tacklers play on the defensive line.
So how about those 5-stars? Well, Burch, a freshman, made his presence felt early against Tennessee when he stuffed a run for a tackle for a loss. He then had 2 tackles, including a 4-yard TFL against Florida, when he stopped speedster Kadarius Toney.
hello, Jordan Burch! elite burst to get into the backfield for his first career tackle and TFL pic.twitter.com/naCwrQnqRu

— Marc Whiteman (@MarcWYFFNews4) September 27, 2020
Pickens has added 5 tackles against Tennessee and chipped in 1 against Florida.
But one of the key plays of the young season came from Hemingway, another freshman who forced a fumble of Florida QB Kyle Trask that LB Ernest Jones recovered near midfield.
"The young defensive linemen Tonka and Jordan Burch continue to play well," Muschamp said on his TV show after the Florida game.
Muschamp has preached for a while that he wants more plays like the one Hemingway made. For as well as the D-linemen have played, Muschamp has said it's not enough.
"We've got to be more opportunistic and we weren't very much in training camp," Muschamp said. "We didn't get the ball off our offense enough in training camp. We want 3 (takeaways) each game, that's our goal and we include a 4th-down stop in that. We've got to continue to try and find ways to get the ball off people."
Muschamp added, "We need to make more momentum-changing plays — gaining possession, gaining field position and getting our offense back on the field and we're not making those plays right now."
Pickens and Burch have taken on added visibility because of the recent play of touted recruits such as Javon Kinlaw and, to a lesser degree, a few years earlier Jadeveon Clowney. The expectation is to deliver production like Clowney did when he was named SEC Freshman of the Year.
Pickens had 16 tackles and 1 quarterback hurry in 12 games in his freshman season. In the spring, Pickens said new position coach Tracy Rocker, a veteran assistant across the SEC, will be a guiding light.
"Coach Rocker is determined to get this dog out of me," Pickens said, per The Big Spur. "He knows it's in me, but that's a work in progress, too. But he's going to get it out of me."
With Vanderbilt on tap this week, the clock continues to tick for Pickens and Burch as expectations to make game-changing plays ramp up for this team as it looks to climb to .500 and make any noise in the SEC East.
Muschamp is aware of the precedent set by the likes of Kinlaw, who blossomed considerably the second half of his career. The focus at the moment is on the secondary from a defensive standpoint, but sooner than later, plenty of eyes will focus back on the 5-stars, and wonder, did they live up to the hype?