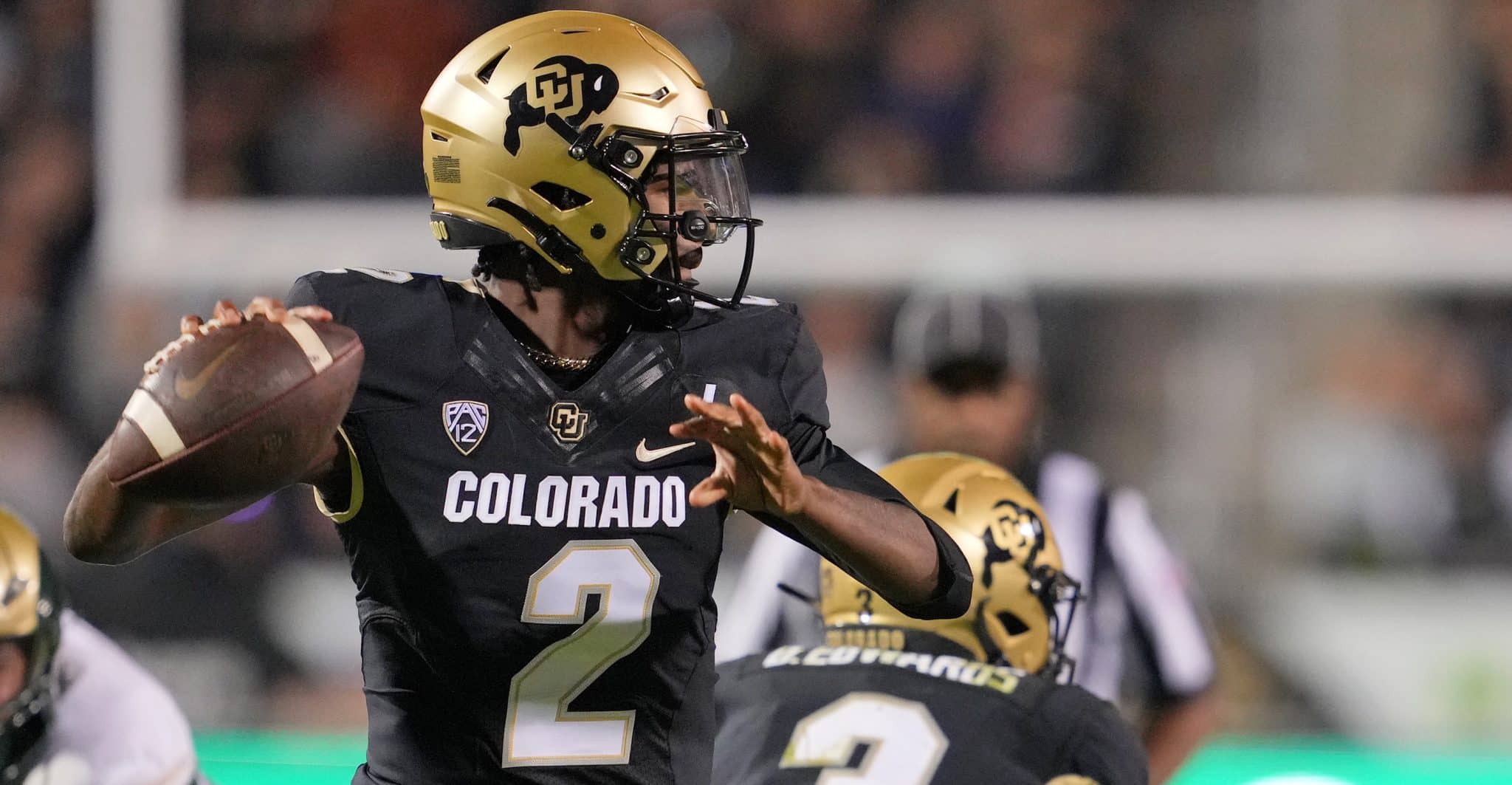 COLORADO
3 takeaways from Colorado's dramatic double-overtime victory over Colorado State
Colorado survived.
After a week of talk and a week of hype and every sports talk show setting up shop in Boulder to highlight the 18th-ranked Colorado Buffaloes and head coach Deion Sanders, Colorado State walked into Folsom Field looking to prove it belonged. And let's be clear here: for most of the evening, Colorado State was the better football team.
And yet it was Colorado that walked off with a 43-35 win over the Rams.
The Buffs are 3-0.
Here are three takeaways from the game.
Shedeur the conductor
Colorado was dead in the water deep into the fourth quarter. Quarterback Shedeur Sanders was doing everything in his power to keep CU in the football game, but the Buffs had yet to crack the Rams' defense and get into the endzone.
When CSU punted from just past midfield, up eight, and gave CU the football back with 2:02 to play, it felt like a moment for Sanders to cement his status as a top player in the country.
Colorado took over at its 2-yard-line.
With the game on the line, Sanders drove the Buffs 98 yards in seven plays and 1:30.
He had completions of 11, 16, and 26 yards before hitting Jimmy Horn Jr. for a 45-yard touchdown.
JIMMMMMMMMYYYYYYYY @Tooswiftj5

? ESPN pic.twitter.com/zqIwevvjY5

— Colorado Buffaloes Football (@CUBuffsFootball) September 17, 2023
Sanders then pulled off the two-point conversion to tie the game and force overtime.
And later he delivered this throw that effectively won it in the second OT period.
WOW

Shedeur takes a hit but gets the throw off for the @CUBuffsFootball 2-point conversion ? pic.twitter.com/k7TNgfYgKj

— FOX College Football (@CFBONFOX) September 17, 2023
Sanders is a magician with the football. Just the latest in a line of elite quarterbacks tearing it up in the Pac-12 conference this season.
It took him a bit to find spots to attack in the Colorado State secondary, and he threw his first interception of the season in the game, but it wasn't a careless mistake by any means. As the game wore on, Sanders just continued to go exactly where he needed to go with the ball.
He finished the game 38-for-47 passing for 348 yards, four touchdowns, and the one interception.
Colorado has a bona fide star playing quarterback.
Buffs have to figure out the run game
Colorado's offensive deficiencies were clear in Weeks 1 and 2. The Buffs couldn't run the football.
It didn't matter against a TCU team that couldn't make an open-field tackle to save its life. And it didn't matter against a Nebraska team that couldn't stop turning the football over. But it mattered against the Rams. Colorado had just 70 rushing yards on 25 attempts.
TCU, for whatever reason, chose not to heat up Shedeur Sanders. Nebraska did and it worked. Colorado State did and made him uncomfortable for long stretches of the game.
CU's drive chart before the game-tying possession at the end:
3 plays, -1 yard, interception
3 plays, 20 yards, fumble
7 plays, 71 yards, touchdown
4 plays, 11 yards, punt
3 plays, 2 yards, punt
3 plays, -5 yards, punt
3 plays, -1 yard, punt
4 plays, 24 yards, punt
8 plays, 43 yards, missed field goal
10 plays, 43 yards, field goal
11 plays, 52 yards, field goal
There's one good drive in there.
When you can't run the football and give your offense some semblance of balance, you put the entire burden on your quarterback's shoulders. Sanders has been brilliant to this point, enough to overcome the deficiencies against TCU and Nebraska because he piloted an explosive passing attack.
Colorado State sacked him four times and kept most everything in front of them. Before that final drive of regulation, the Buffs had one play that gained more than 20 yards through the air. They had five against Nebraska and six against TCU. That was a huge part of CSU being in this game. In nonconference play, the Buffs played with fire a bit. Two of the three games were barn-burners that relied on Sanders bailing them out.
In Week 3, it was Colorado State and Sanders that bailed them out.
Jay Norvell masterclass
Colorado State's head coach ignited a war of words during the week by calling into question Deion Sanders' professionalism.
Fitting, then, that his team went out on Saturday and looked like one of the most undisciplined groups in the country.
Colorado State should have won that game in regulation, and it probably should have had the game put to bed well before the final buzzer.
What will lose you close ballgames on the road? Losing the turnover battle (four giveaways for CSU, two takeaways) and penalties.
Colorado State was flagged 17 times for 187 yards.
Thirteen of those penalties came against the Rams' offense, though the defense was hardly free from blame. Mohamed Kamara was flagged for a facemask on a minimal second-and-10 gain from Sanders in overtime, resulting in a first down. On the very next play, he was ejected for targeting after launching into Sanders well after he'd thrown the football.
CSU was flagged for four unsportsmanlike conduct penalties. It was flagged four times for blocks below the waist. A coach can explain away a few procedural mistakes in a raucous road environment. But Colorado State gave the football game away with careless, reckless play. And that's not even mentioning the disgusting hit CSU's Henry Blackburn put on Travis Hunter that sent the CU star to a nearby hospital.