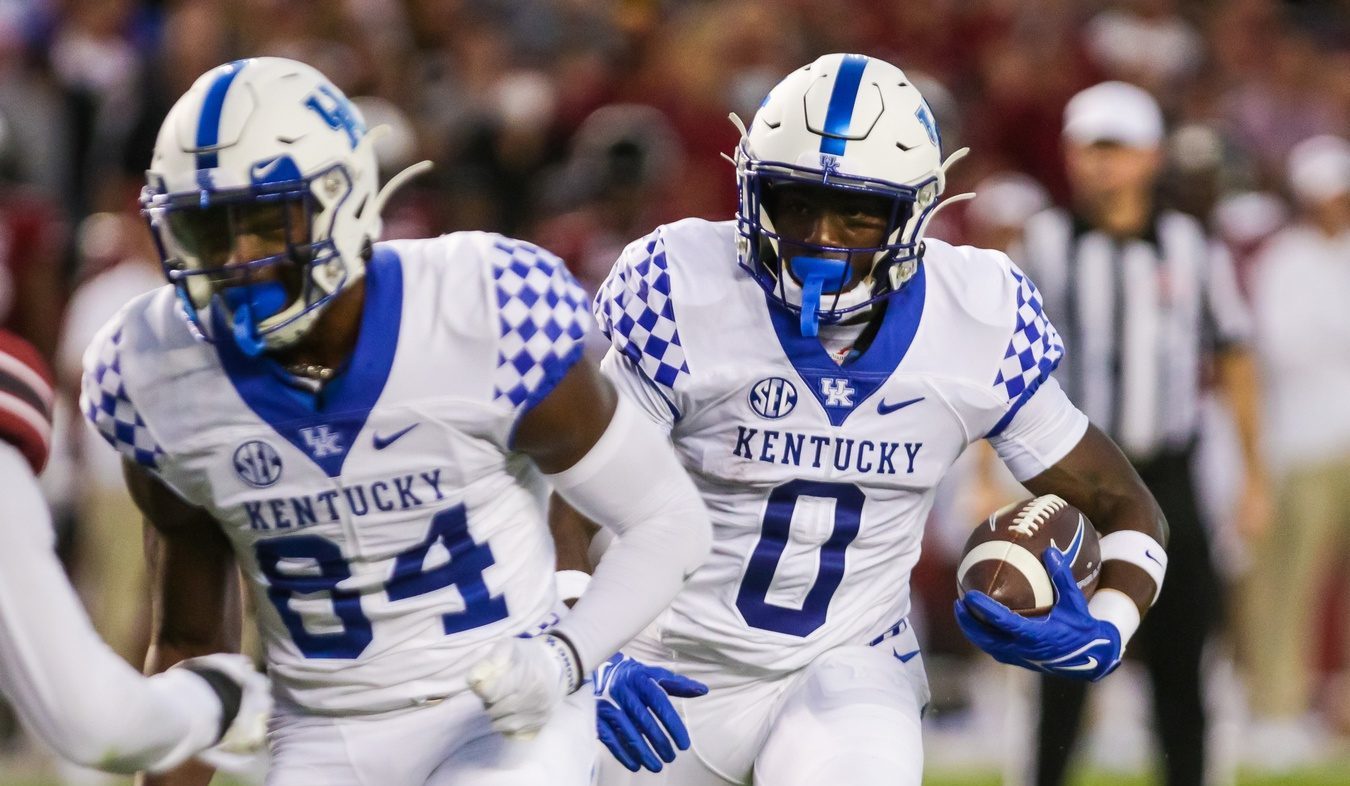 KENTUCKY
Kentucky football: Glass half full/glass half empty, UK better fill it for October
It was the best of times, it was the worst of times. Not in revolutionary France — in Lexington, Ky.
First, the good news: The Wildcats are 4-0 and sport one of the SEC's top rushers in Chris Rodriguez Jr. and one of the top receivers in Wan'Dale Robinson. The Wildcats have won a pair of conference games, and their defense has ranged from very decent to very good. The glass is half full.
But the bad news: Kentucky is -9 on turnovers and has turned the ball over a whopping 11 times. Yes, Liam Coen's new offense has shown improvement through the air, where Kentucky is averaging 238.5 yards per game, or about what they averaged in 2019 and 2020 — combined. But Will Levis has thrown 5 interceptions, and UK has put the ball on the ground an astonishing 14 times, losing 6 of those fumbles. For the sake of perspective, UK's opponents have fumbled once, and the Wildcats did not recover. Despite outgaining opponents by about 180 yards per game, UK has had to hang on for dear life several times. The glass is half empty.
A good example of both came Saturday night. UK outrushed South Carolina 230-58. The Wildcats had 22 first downs and were 6-for-12 on third-down attempts. Carolina had 12 first downs and was 3-for-12 on third downs (and 0-for-3 on fourth). And UK held on for dear life for a 16-10 victory in Columbia, largely because it lost a trio of turnovers. Rodriguez had a pair of fumbles, each of which UK recovered, but wide receiver Josh Ali lost a pair, and Levis turned a deep pass to Robinson into a virtual punt with a first-half interception.
"Anytime you win an SEC game on the road, it's a good thing," Mark Stoops said after the game. "But we didn't make it easy."
The Cats haven't figured out how to make it easy just yet. But they have figured out winning ugly, close games — as 3 consecutive wins by 7 points or less is the first time UK has run such a streak since 1933. For that matter, since the 2016 season, when Stoops turned around Kentucky's 5-year streak without a bowl, the Wildcats are 18-7 in games decided by 7 points or fewer. On the one hand, that's a lot of wins. On the other hand, that's a lot of close games.
But here's the rub for the Wildcats. As good as 4-0 has been, Kentucky has to clean up 11 turnovers to only 2 forced for October. The month opens with Florida coming to Lexington next week, and LSU follows the week after that. Kentucky will then travel to Georgia, have an off week, then head to Mississippi State. Kentucky is certainly on pace to be competitive with LSU and Mississippi State. The Wildcats figure to have their hands full against Florida, and they might need a couple extra hands just to hang on down at Georgia. But they probably can't go -2 or -3 on turnovers and win most of those games.
"It's obviously something that we need to get fixed," Levis said after the game. "But it goes to show that we can still go and win games like that. It goes to show how much potential we have left with this team."
Maybe it does. Or maybe it shows how sloppy the UK offense can be with the football. But either way, it's time to turn around the turnovers for UK … before that half-full glass dries up completely in a competitive October.