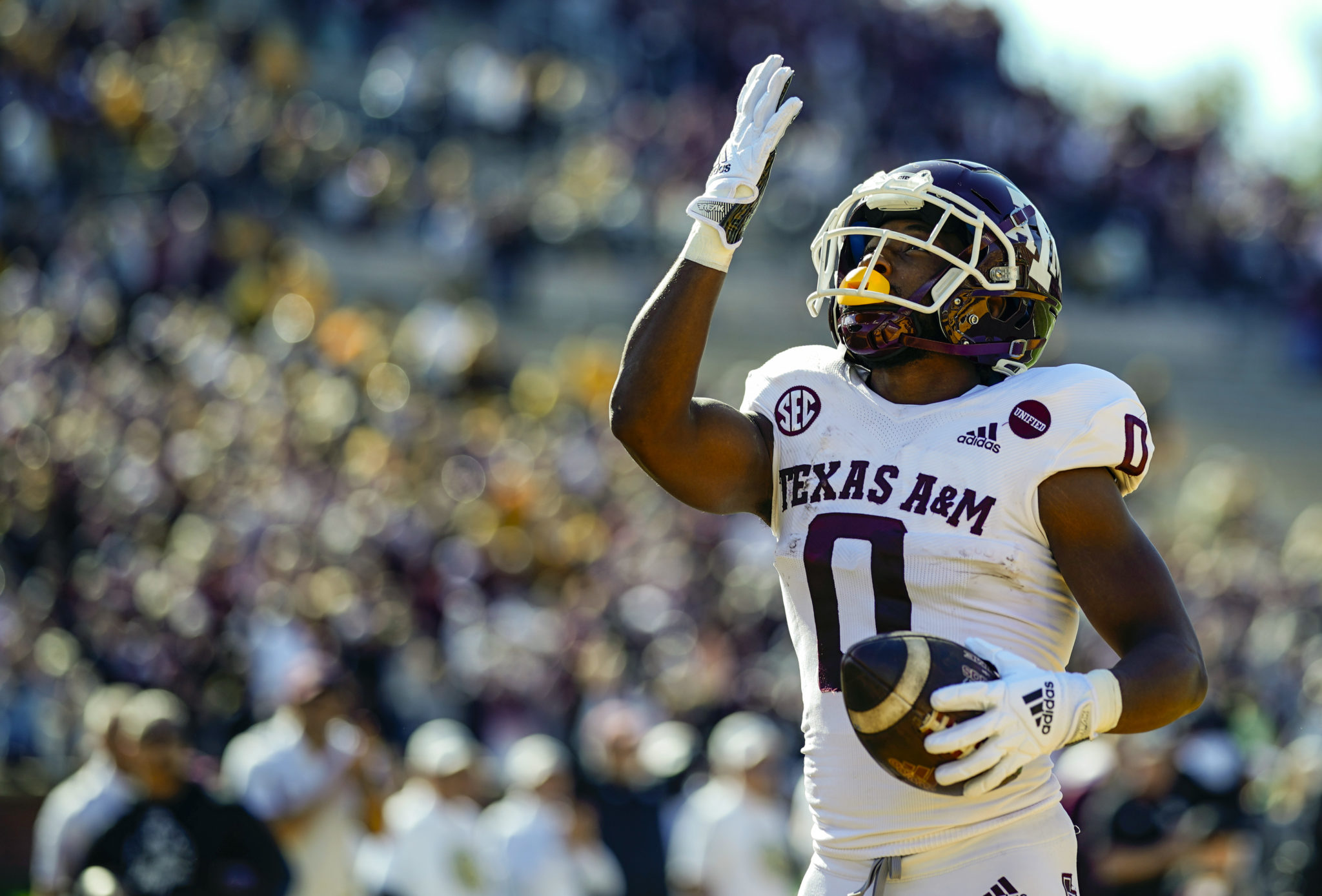 TEXAS A&M
10 most critical questions Texas A&M must answer in 2022
There's a lot going on in College Station leading up to fall camp and the 2022 season. NIL allegations, the verbal sparring between head coach Jimbo Fisher and Alabama head coach Nick Saban. The arrest/suspension and reinstatement of star Ainias Smith. And, of yes, football. There are some big questions that will need answering before the Aggies tee it up in September.
Here are 10 key questions that must be answered before the 2022 season arrives.
1. Does Fisher ride with LSU transfer?
Fisher likes an experienced quarterback. He likes a leader who will take care of the football. LSU transfer Max Johnson has those qualities. In 373 pass attempts for the Tigers last season, Johnson threw just 6 interceptions while piling up 2,814 passing yards and 27 touchdowns. Those key points appear to be enough to overcome the challengers for the position.
2. How long before 5-star Conner Weigman takes over?
Aggieland has been waiting for the day that 5-star quarterback Conner Weigman becomes the starting quarterback. How much longer is the wait? It appears to be at least another year, considering Fisher reached into the transfer portal to pluck a veteran QB. But does Weigman become "the guy" by the end of this season?
3. How will Ainias Smith respond?
Smith was poised to represent the Aggies at SEC Media Days in Atlanta. That plan was nixed after he was pulled over after speeding. That led to other charges. But those charges were dropped and now Smith has been reinstated and cleared for fall camp. Media Days could have been a stepping-stone type moment to build his brand. Will Smith use the experience as motivation?
4. What effect will "cheating" allegations have?
With all the trash talk about Fisher's misuse of the NIL, one has to be concerned as to how he and the team will handle the noise? It can be a big distraction if allowed to fester, or Fisher could use it to rally the troops as they circle the wagons.
5. Are the Aggies over the 8-4 hump?
Eight-win seasons have become the unofficial ceiling for Texas A&M, it seems. The Aggies have won 8 regular-season games in 6 of the past 9 years. They have become defined by it. They haven't won more than 8 games in a season since the days of Johnny Manziel, when the 2012 Aggies recorded 10 regular-season victories.
ESPN's FPI projects a similar outcome this fall, too, favoring the Aggies to win 7.4 of their games.
6. How concerned should we be about the left side of OL?
The Aggies must fill the shoes of Kenyon Green (NFL 1st-round pick – Houston Texans) and Jahmir Johnson on the left side of the offensive line. Australian Jordan Spasojevic-Moko and redshirt freshman Trey Zuhn III could provide the answers. Keep your fingers crossed.
7. What will the defensive line look like?
You don't lose talent like DeMarvin Leal, Michael Clemons and Tyree Johnson, and not feel it. The Aggies' top 3 in tackles for loss, combining for 32.5 of them last season, including 24 of the Aggies' 35 sacks, will be hard to replace. And that's not even counting Jayden Peevy, who recorded 43 tackles, 6.0 for loss, and 2.0 sacks in his final. Yes, the 2022 Aggies' defensive line will look much different. Young and talented players like Fadil Diggs, Shemar Turner, and McKinnley Jackson will have to be ready to step up.
8. How will new DC fit?
While questions must be answered along the defensive front, the man to make those decisions will be a new face himself. DJ Durkin comes to College Station after stints with Notre Dame, Stanford, Florida, Michigan, and most recently, Ole Miss. Will his style fit with the personnel at Texas A&M, and again, most importantly, how does he rebuild the defensive line?
9. Who steps up at WR?
Smith is obviously the Aggies' go-to receiver in 2022, but where will help come from to take the pressure off? Moose Muhammad III, Yulkeith Brown and Jalen Preston have the most experience, but is freshman Evan Stewart ready to make the jump to the big stage? He caught 7 passes for 75 yards in the spring game.
10. Is Devon Achane ready for the spotlight?
He nearly rushed for 1,000 yards last year (910 yards) in only 130 carries. Now that Isaiah Spiller has departed after rushing for 1,000-plus yards in 2 of the last 3 years, it seems a certainty that Achane will fill those shoes and become the face of the Texas A&M offense in 2022. It's a lot of pressure, but with what should be a strong offensive line to run behind, Achane should be ready to meet the challenge.