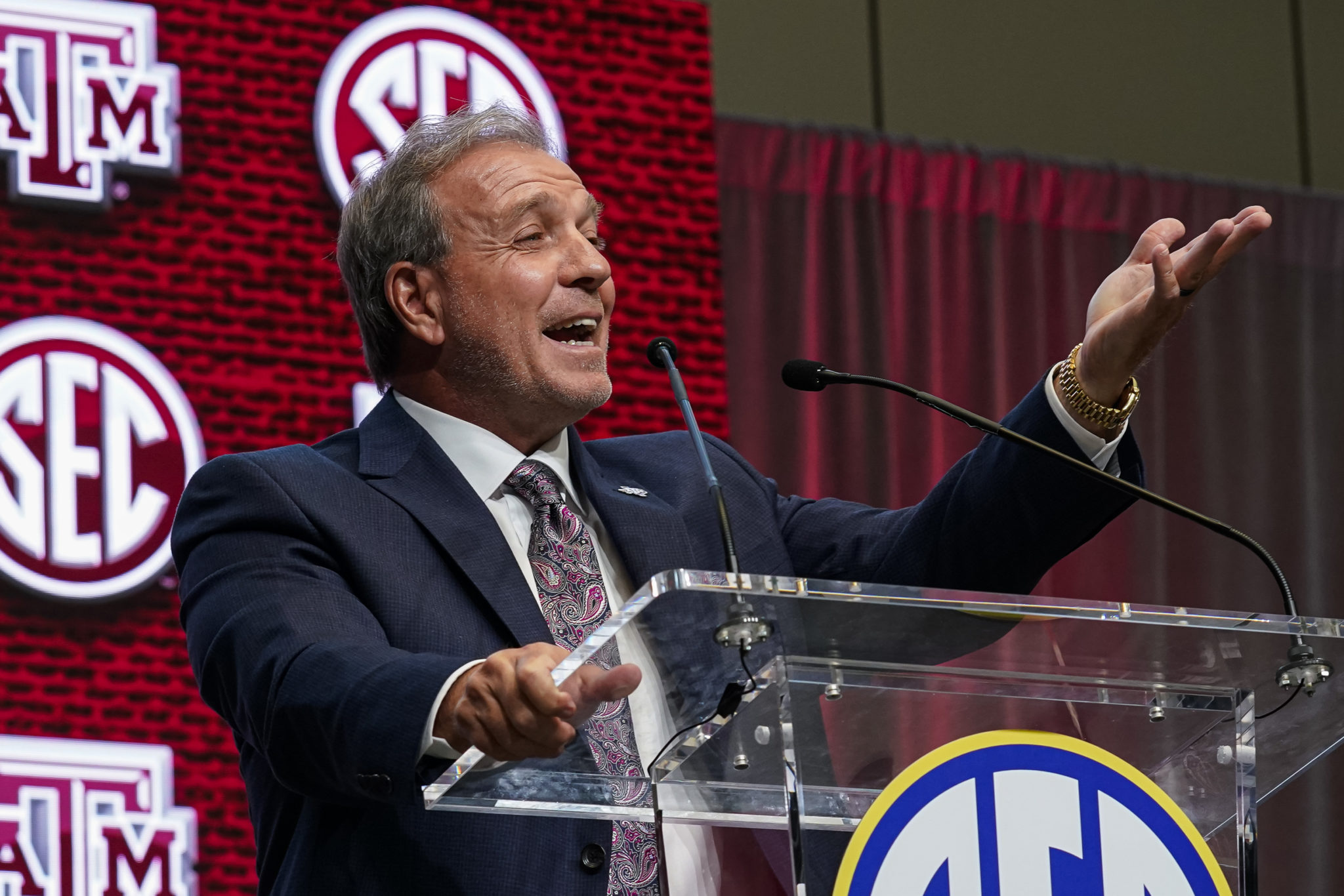 TEXAS A&M
Hayes: Dear Jimbo Fisher, it's time to win big. Now
The offseason theater of the absurd is over. It's time to focus on what's important at Texas A&M.
It's time for Jimbo Fisher to start stringing together double-digit win seasons.
It's easy to point to the first week in October as the most anticipated moment of 2022, where the "narcissist" and "God" — otherwise known as Alabama coach Nick Saban — gets his payback.
But instead of drilling down on Saban's revenge — and frankly, Saban started this he said/he said recruiting mess, what's the revenge? — and how it plays out late with Alabama up 3 touchdowns, maybe the story is why we assume Alabama would be up 3 touchdowns in the first place.
You don't land 4 consecutive top-5 recruiting classes — the last of which, in February, was declared the greatest of all time and the impetus for the offseason shenanigans — and are on the short end of a 3-touchdown deficit in any game.
But here we hare, settling for the notion that Alabama is up here, and Texas A&M is way down here.
"Everybody in this league has players," Fisher said. "Everybody in this league has good coaches. It's what you do and how you play."
That's where things aren't necessarily adding up.
The Aggies clearly have the coach. Fisher won a national championship at Florida State, and has a history of strong player development.
The Aggies clearly have the players. There's no more complaining about what was left from the previous staff, or the buy-in from players. Those 4 straight top-5 recruiting classes are all tied to Fisher.
Guess what that means? Time to win big.
No more 8-win seasons and Gator Bowls — or finding a way to get out of the Gator Bowl.
No more strange losses (Mississippi State in 2018 and 2021, LSU in 2021, Auburn in 2018-19). No more building a culture, or becoming a team that knows how to win close games, or any other overused coaching crutch.
Players win games. When you have elite players and an elite coach, there are no excuses.
When you have all of that, and an administration that's so completely committed to every aspect of your plan, they give you a $2 million-a-year raise after a disappointing season, there's only one answer.
A national championship.
"The goal for this team is to compete for a national championship," Texas A&M guard Layden Robinson said. "Nothing has changed. We know our standard."
Getting there may have gotten easier at the end of last season, which ended with LSU QB Max Johnson's late touchdown pass with 20 seconds to play capping a wild comeback — and yet another strange and demoralizing loss for Fisher at A&M.
But 2 days after Fisher signed a record-breaking recruiting class that eventually included 8 5-star players, Fisher got the biggest recruit of all when Johnson left LSU for Texas A&M.
For the first time in 4 years at College Station, Fisher may just have a quarterback who can win a championship. Johnson isn't the most physically impressive player, but he has a high football IQ and, according to Fisher, is "very coachable."
Translation: I can scream at him, and he can take it.
Fisher's hard coaching of quarterbacks is the stuff of legend, television cameras constantly showing him in the ear of his players. One time, he even threatened to bench his Heisman Trophy-winning quarterback.
When I asked Fisher what he likes about Johnson, he immediately said, "he knows where to go with the ball."
Johnson had a TD/INT ratio of 35/7 during 2 dysfunctional years at LSU, at least half of the last season in Baton Rouge played with the realization that his coach (Ed Orgeron) would not return. What happens when Johnson is surrounded by talent on both sides of the ball?
What happens when the quarterback "who knows where to go with the ball" has a deep and talented receiving corps that can stress defenses from any of three positions (wideout, tight end, running back)?
What happens when he has a coach with a history of developing first-round NFL Draft picks?
"He brings a ton of energy," Aggies safety Demani Richardson said. "He came in here and did his work. Nothing will be given to him. He's going to earn everything. Those are the guys you love to play with."
Johnson made three critical throws on the game-winning drive last year against Texas A&M, deflating a tired defense with each pinpoint completion. But like most things at LSU the past 2 seasons, the negative far outweighed the positive.
So here he is, on a loaded team with a championship coach who hired two former Power 5 head coaches in the offseason (Steve Addazio, DJ Durkin) and was minding his own business until Saban brought him on stage and into the light.
Now instead of talking about his team and its potential, or about making good on that ridiculous, ironclad $95 million guaranteed contract, Fisher walked to the podium at SEC Media Days and the first question he heard was — I swear I'm not making this up — "Do you feel you owe Nick Saban an apology?"
"We've been a top 10 program once," Fisher later said. "Been top 15 a couple of times. Yeah, I think we are a top 10 program."
Guess what that means?
Time to win big.