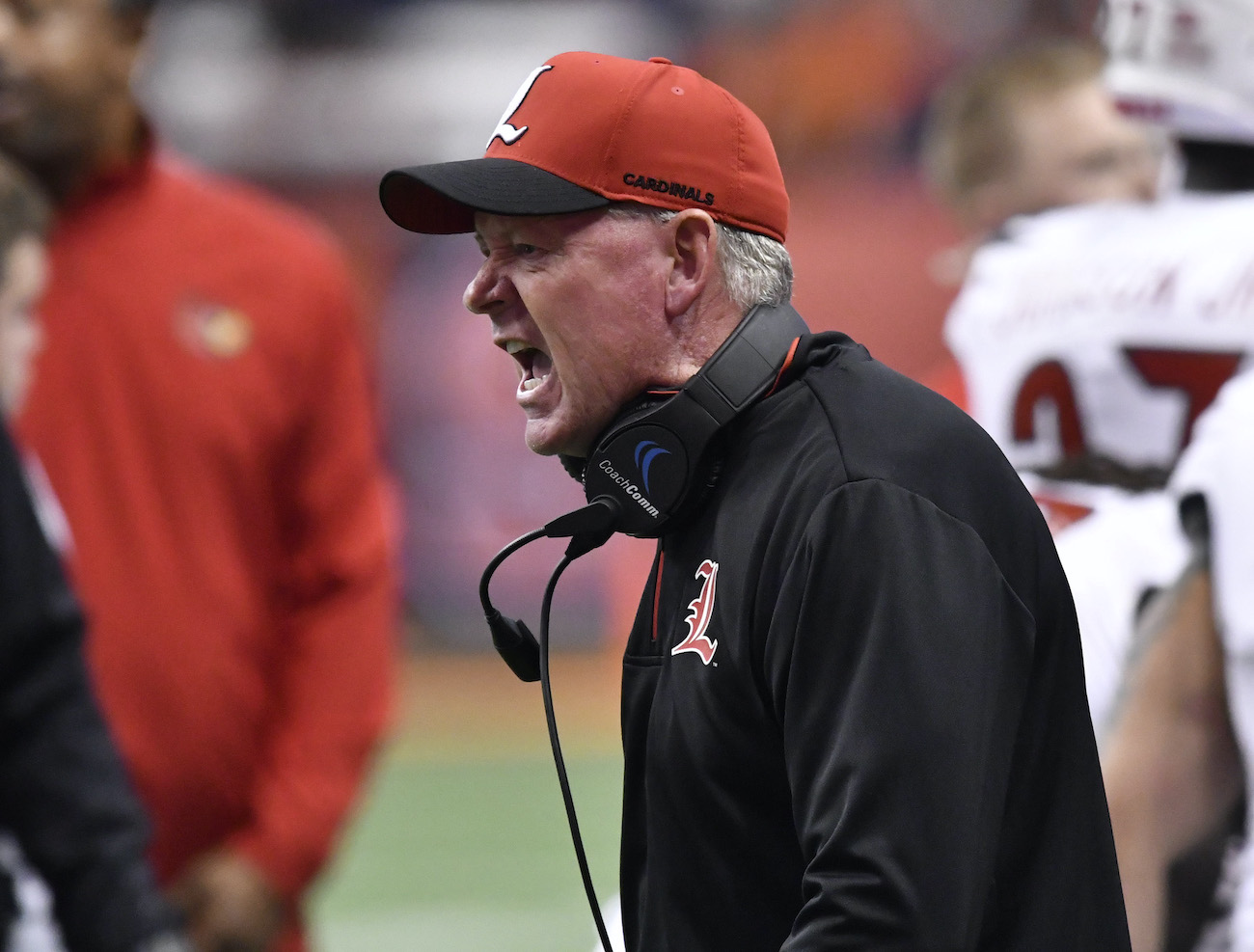 TEXAS A&M
Hayes: Why Bobby Petrino is the absolute last person Jimbo Fisher should hire
Editor's note: This column originally published on Dec. 12, 2022 as part of Matt Hayes' weekly First and 10 column. Wednesday, ESPN reported that Texas A&M is finalizing a deal to hire Bobby Petrino. SDS' Matt Hayes weighed in on the possible marriage soon after reports surfaced that it was possible.
Of all the moves Jimbo Fisher could make this offseason, this is the most dangerous.
And impulsive. And short-sighted. And reckless.
And reeking of desperation.
Bobby Petrino is a helluva offensive coordinator, and quarterbacks coach and play-caller. Bobby Petrino is a horrible assistant coach.
It will end at some point for Fisher at Texas A&M, and it will more than likely end badly. The history of failed coaches in College Station is the ultimate roadmap.
The end will come quicker with Petrino by his side.
We're 5 years into the Fisher experiment at Texas A&M, and 247Sports is reporting that Fisher will interview Missouri State coach — and longtime coaching mercenary (I say mercenary, you say conman) — Bobby Petrino for the Aggies' vacant offensive coordinator position.
The idea of Fisher and Petrino — two of the biggest egos in the coaching fraternity (and I say that with no malice, it's who most coaches are) — standing side by side trying to win SEC games is frightening. Not because of the potential impact on the game, or the Aggies or the SEC.
But because of the inevitable implosion, simmering from the moment they sit at the same table for the first staff meeting to introduce Petrino to an already combustible situation. The only thing lacking is ignition.
Ladies and gentlemen, I give you the match to set the thing ablaze: the quarterback position.
Fisher believes he knows a thing or two about the quarterback spot. He's coached 2 No. 1 overall NFL Draft picks (JaMarcus Russell, Jameis Winston), has 4 first-round NFL Draft picks at the position (Christian Ponder, EJ Manuel) and he'd just as soon keep his unofficial title of head ball coach/offense — but no one is hiring a guy who got pushed out of a dream job with a $95 million parachute.
Fisher has to make this work.
But instead of hiring a young, charismatic offensive coordinator with new ideas and the ability to recruit quarterbacks and skill players, the first move is apparently Petrino. The one guy who will absolutely make sure it doesn't work.
It's unthinkable, really. Petrino doesn't have the temperament to be an assistant coach. Hasn't since he was a quarterbacks coach/OC with NFL's Jaguars in the early 2000s, when then Jaguars coach Tom Coughlin called him the best play-caller he'd ever been around.
Petrino wanted bigger, better things and instead of waiting and working his way through the NFL, he jumped for the offensive coordinator job at Auburn in 2002, and a year after that, the head coach job at Louisville.
He hasn't been an assistant since, but between then and now, his massive ego and need for control of all things football, led him to:
— Be part of a failed coup in the early 2000s to unseat Auburn coach Tommy Tuberville. Auburn officials wanted Tubs replaced, and flew clandestinely to Louisville to interview Petrino in the middle of the season.
The coup was exposed, and Louisville officials were furious. They stuck with Petrino, who rebuilt the program over the next 2 years and won big.
— After getting a massive raise from Louisville and declaring he's a lifer there, Petrino left soon after to coach the NFL's Falcons.
— Before his first season with the Falcons ended, he walked out on his team to accept the head coaching job at Arkansas.
— After leading Arkansas to a top 3 ranking and the Sugar Bowl, he later lied about a relationship with a subordinate, and was fired despite his successful run.
— He resurfaced 2 years later at Western Kentucky, trying to reboot his career and proclaiming he was there for the long haul. After 1 season, he left to return to Louisville.
— Coached Heisman Trophy winner Lamar Jackson, before it eventually all unraveled and he was fired after 5 seasons.
— Two years later in 2020, in yet another reboot, he agreed to coach FCS Missouri State.
This is the guy who is going to play well with Fisher? The same Fisher whose own legendary ego dates back to his days as the coach-in-waiting at Florida State, where he forced the university's hand to push iconic coach Bobby Bowden out 1 year early — or Fisher would walk.
That move took unthinkable stones.
This move would top that — and eventually collapse the whole thing he's trying to put together in College Station.
2. A bold, bad move
Years ago I wrote a profile of Bret Bielema arriving at Arkansas and cleaning up the mess Petrino left behind.
It wasn't just the inappropriate relationship with a subordinate or lying about it to his superiors or the infamous motorcycle crash that unearthed the unseemly events.
It was how Petrino's management of the program had worn down all involved. Yep, they were top 3 at one point under Petrino — but there were cracks everywhere.
One Arkansas staffer told me, "He was an ass—-, but he was our ass—-."
Last week, I reached out to an assistant coach on that staff of more than a decade ago, and asked him about the idea of Fisher hiring Petrino.
"I can't begin to imagine what that's going to look like," the former Petrino assistant told me. "I've never been around a more dysfunctional and demeaning environment than what we had (at Arkansas). I thought, well, he's just coaching hard. No, it was humiliation at times — for players and coaches."
Bobby Petrino is not an assistant coach. There will be power struggles between he and Fisher, and there will be a winner and a loser.
Understand this: Petrino is a terrific coach. He will whip the offense into shape, and they will score points — but the interaction between 2 mega personalities won't work, and will eventually bleed over into the locker room and on the field.
The losses will mount while the offense will be among the SEC's best. At some point, someone will have to answer.
Take a wild stab in the dark who gets fired? I'll give you a hint: the guy with $80-something million remaining on his contract.
Not interim Aggies coach Bobby Petrino.
3. The wrong choice, The Epilogue
Hiring Petrino will eventually lead to conflict of egos over how the offense is run, the plays are called and the quarterbacks are coached. That conflict then soils everything.
Fisher needs a coordinator who has the chops to handle full control of the offense, and the humility to allow Fisher to peek under the hood every once in a while and give opinions.
No chance that happens with Petrino.
He can always throw a ridiculous amount of cash (A&M is good for it) at an OC of an SEC rival to weaken its program in the process. Like Kendal Briles at Arkansas, or Charlie Weis Jr. at Ole Miss.
Or he can hire Petrino, and move ahead the clock that's already ticking on his departure.