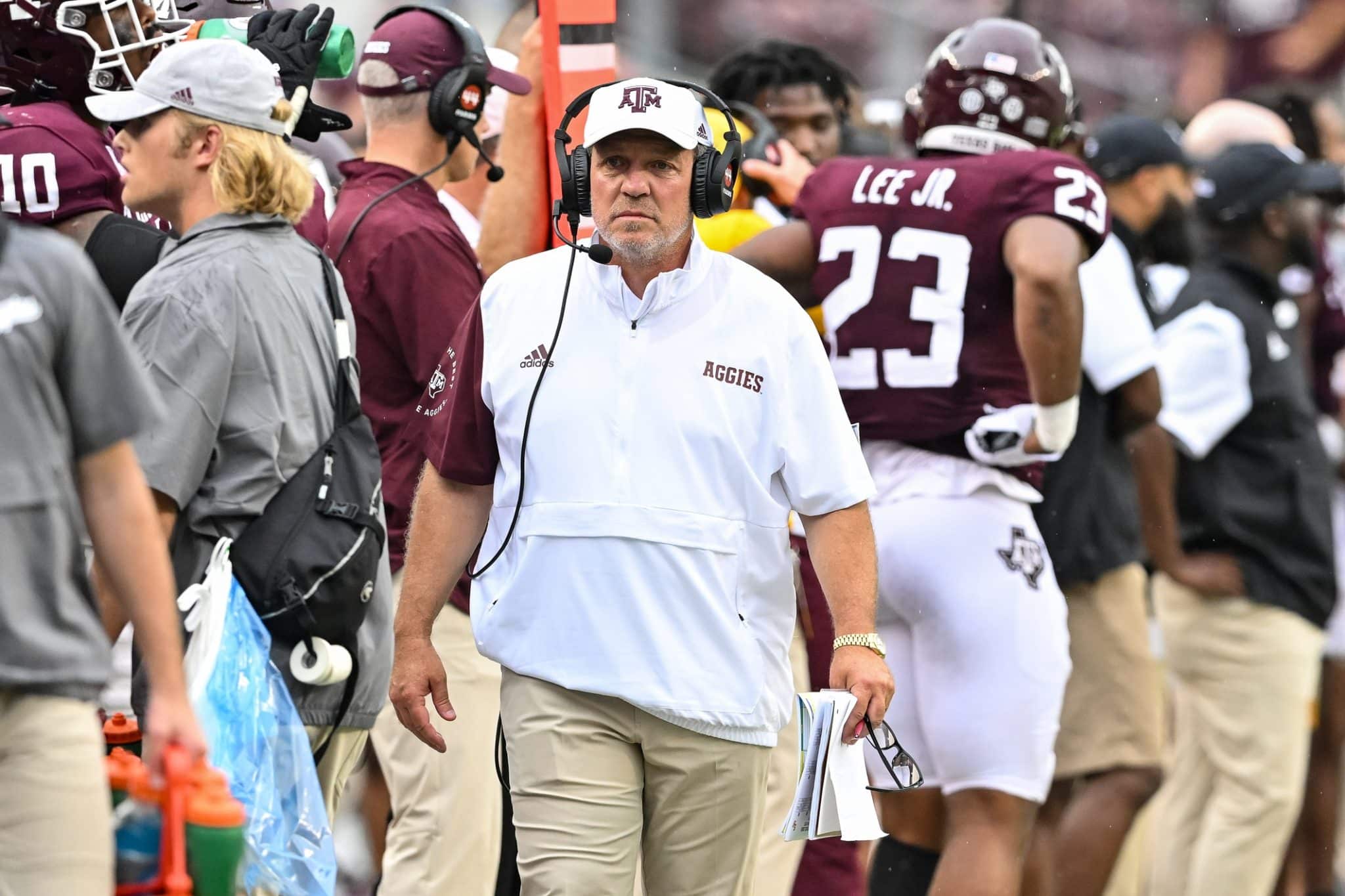 TEXAS A&M
Jimbo Fisher should be embarrassed, as should anyone who bought into the Texas A&M hype
I didn't get it then, and I don't get it now.
I don't get why so many people convinced themselves that a Texas A&M team, fresh off an 8-4 season without a single appearance in a conference championship in the 21st century, was considered a no-doubter preseason top-6 team. Not with what the Aggies lost on their defensive line, and not with a totally unproven starting quarterback.
Yet there the Aggies stood on Saturday afternoon as the No. 6 team in the country. That is, until Appalachian State showed up, collected its $1.5 million and showed the Aggies that money doesn't buy everything.
Kiss that No. 6 ranking goodbye. Kiss that "contender" buzz goodbye, too.
In Year 5, Jimbo Fisher just lost at home to a Group of 5 team. Elite coaches don't do that. Elite coaches don't watch their offense score a single touchdown against a Group of 5 defense, much less one who got tagged for 63 points last week.
Horrible. Forget about the money A&M paid, and forget about the fact that a guy making 1/20 the money Fisher is just took his team to the woodshed in College Station (what an awesome moment that was for Shawn Clark).
Let's instead process why Fisher's offense, which hasn't produced a top-30 passing offense since a certain Jameis Winston was on his team, is still stuck in neutral. How is it that Haynes King is still unable to execute the offense in Year 3? That was what people said about Zach Calzada. For those who bought into A&M, the quarterback improvement was considered a significant selling point for the Aggie believers.
It was a rough afternoon for Desmond Howard's national championship pick, which was based on … what?
RIP pic.twitter.com/KeOrwzMnzn

— Connor O'Gara (@cjogara) September 10, 2022
Also of note, Howard failed to recognize where Max Johnson transferred during a Week 1 College GameDay segment. The answer was A&M, though that didn't really matter on Saturday. Johnson's most screen time came with a postgame handshake with Appalachian State quarterback Chase Brice, who outplayed King in every way.
But Fisher didn't bail on King. He didn't give Johnson any time to operate in the offense. He said afterwards that he thought about giving Johnson second-half reps, and that he would've had A&M had more possessions. The problem is that when Appalachian State, who was without its top tailback, can sustain long drives and your offense is held to 9 first downs all day, well, you don't exactly get a ton of possessions.
Stubborn Fisher, at his best. Lord knows troubleshooting starting quarterbacks isn't in his wheelhouse. Ask 2017 Florida State or 2021 A&M fans about that.
I feel bad for Aggie fans. I do. They were sold hype by too many people who do this for a living. Those people also probably sold A&M's historic recruiting class as a reason to buy into the Aggies as a Playoff contender in 2022. Right. Because true freshmen classes typically provide the backbone for Playoff teams.
Reality is that A&M is an extremely average football team. If Devon Achane doesn't make a huge play — he had a 95-yard kickoff return to tie the game — good luck finding consistent sources of offense with the Aggies. A team with major turnover at the pass-catcher positions looks like it doesn't have anyone who can consistently get separation. That includes Ainias Smith, who was held to 21 yards of offense.
But Saturday's loss wasn't the byproduct of 1 player. It was the byproduct of a coach who has slipped behind in the top tier of elite coaches in the sport. Fisher's decision to shuffle his offensive staff didn't pay off, and so far, neither did his decision to pick King as his starting quarterback.
This is the type of loss that a Year 5 coach is supposed to avoid. It's not Fisher's fault that he's on a $95 million contract, but it is the burden he signed up for. And unfortunately for A&M, it signed up for an additional $86 million with Fisher's name on it, which is what he'll be owed after this season.
If you're still selling yourself on Fisher maximizing the talent of this historic class he signed in 2022, think about this. On Saturday, A&M had 56 4/5-star recruits on the roster. Appalachian State had 1. The Mountaineers deserve all the credit in the world for going into Kyle Field and punching the more talented team in the mouth.
The Aggies lack an offensive identity, and they lack a coach known for troubleshooting. That was the case last year, but it also had the No. 3 scoring defense in America. The latter prevented A&M from having a 6-6 season.
Who knows what's in store for this A&M team. All we know is whatever buzz the Aggies and their apologists thought they had is gone.
Maybe they get it now.